Last Sunday, we went to pay respects to my hubby's deceased ancestors; as part of fulfillment of the custom of honoring the dead.
It is part of the Chinese custom/tradition for newly weds to pay respects; and in a way, 'inform' each other's ancestors of the new member in the family.
The week before, my hubby joined me in visiting my grandparents' grave, and last Sunday, it was my turn.
We proceeded to lunch after the prayers and rituals, and it was pouring with rain.
Lunch was at a rather prominent Chinese restaurant in the Bayan Lepas area;
Double Good Restaurant
.
Their service was really good, as their attentive staff were standing outside the restaurant to attend to the customers and even provided umbrellas. They ran to our cars and sheltered us with the umbrellas leading to the restaurant!
This is what I call service :)
We were led into their neighboring restaurant shoplot (they have two shoplots now; adjoined to each other) and the place was already crowded with customers.
We were seated, and welcomed the warmth inside the restaurant compared to the chilly wind out there.
We ordered our food, which were served really promptly.
Mixed Vegetables (MYR7.00)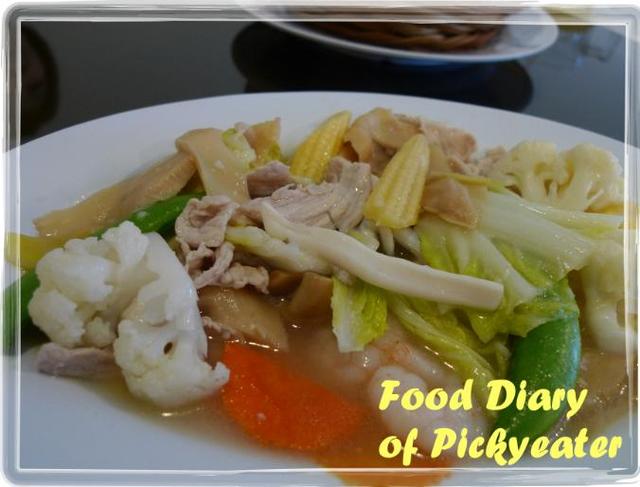 A simple dish favored by everyone; which solves the problem of having to decide on which vegetables to have. As the name suggests, there is a mix of cabbage, sweet peas, button mushrooms, corn, green peas, cauliflower, carrots stir-fried with slices of ginger, garlic, shrimps and cuttlefish.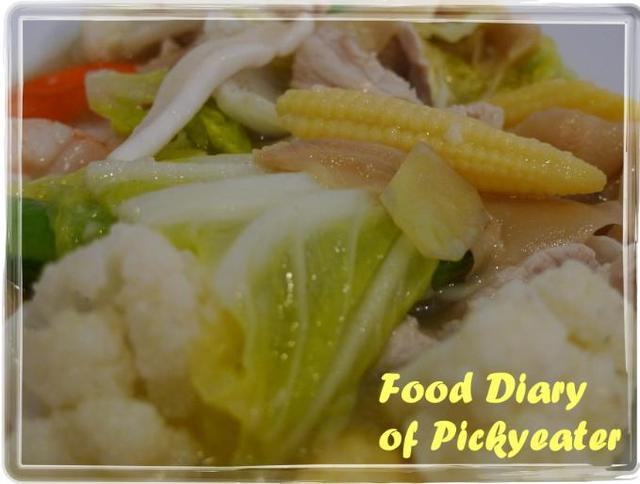 The star of this post, and in the restaurant's menu.
They are famous for their
Claypot Indonesian Prawns,
and no, this is not an Indonesian restaurant.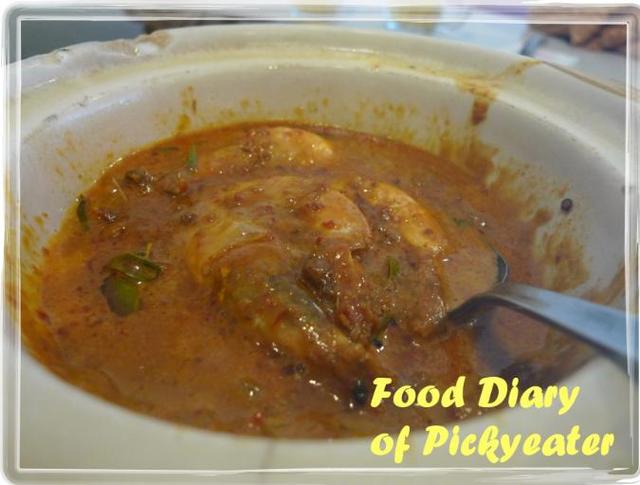 At
MYR15.00
, there are only 4 prawns; which was rather pricey.
The highlight of the dish lies in the thick gravy of the curry which was rather appetizing when served with fragrant and hot white rice.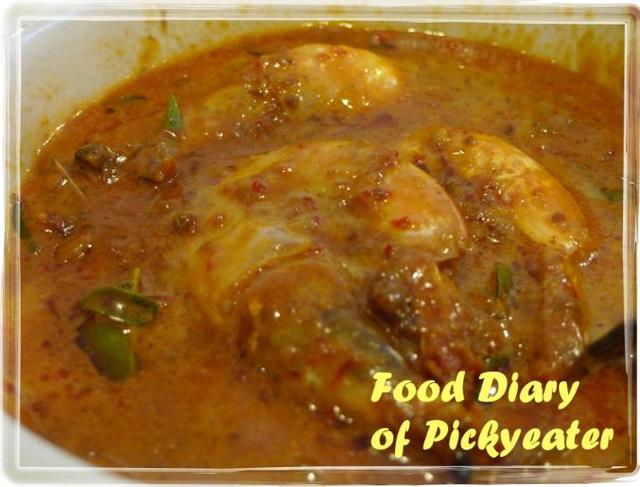 This is one of their signature dishes in the restaurant.
We ordered a few other of the dishes as well; we can't be feasting on four prawns in a claypot alone, can we? :p
Braised beancurd with crabmeat (MYR8.00)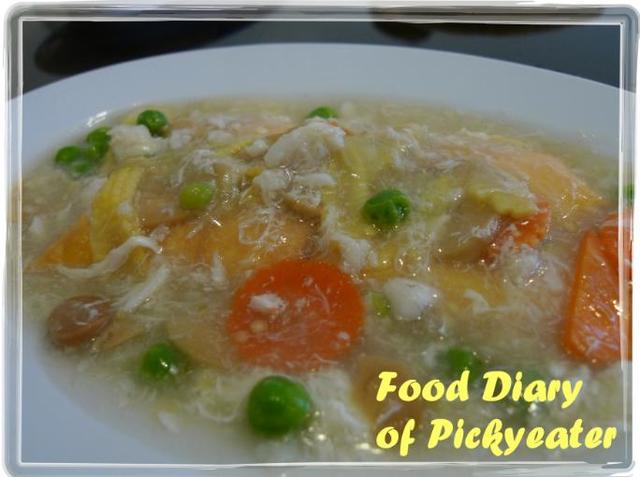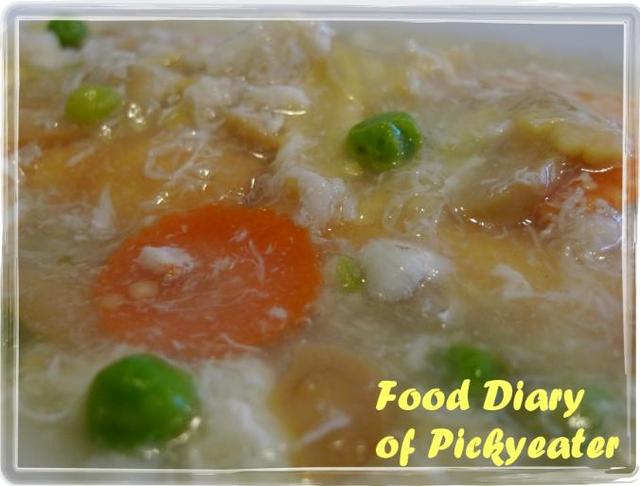 They used the Japanese style beancurd which is made of egg; with a silky smooth texture and taste.
The beancurd were lightly fried and served with a thick and starchy gravy made with egg whites, starch (obviously!) and crabmeat.
Stir-fried squids with dried chilies (Kung Pow Style) - MYR7.00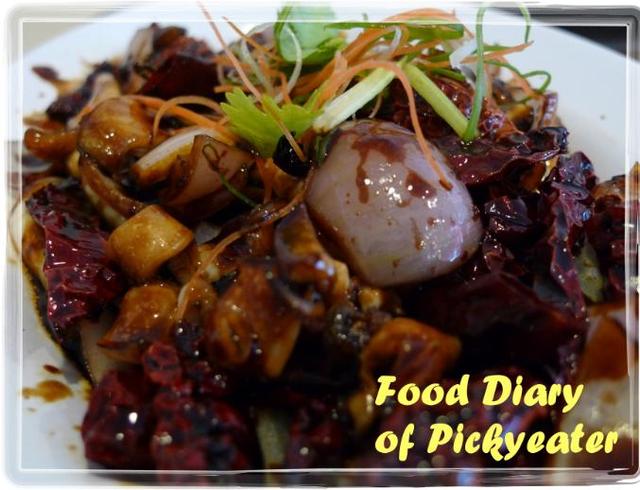 I think there were more dried chilies compared to the squids.
Claypot Seafood (MYR15.00)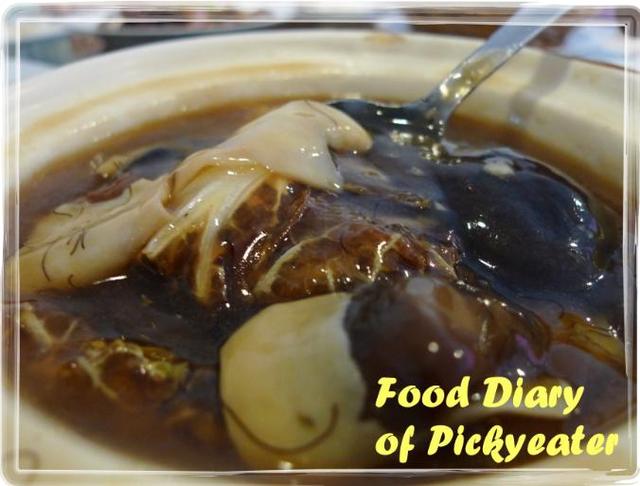 This is a braised pot of mixed seafood; such as slices of sea cucumber, fish maw, and Fatt Choy (or also known as black moss), and mushrooms.
I have been here a couple of times myself, and I think they have slowly evolve over the years, building their very own base of regular customers and expanding their business at the same time.
Overall the food and service here is not bad, but the portions can be rather small for the prices charged.
They are quite popular in Penang though; with another branch outlet in Juru Autocity across mainland.
Good place to try for Chinese home style dishes if one is longing for a Chinese meal ;)