A trip to a Chinese populated country is not complete without as much a taste of the local Chinese flavors.
Sure , it was a treat to be pampered by all the indulgent and aromatic home-served hot food directly from the kitchen and specially prepared by a local no less; but still nothing beats that fun of navigating your way through the streets relying on the hopeless street guides and just taking your pick like you were blindfolded. I am sure you get what I meant by that; especially when you are on travel.
I am not complaining that I get the comforts of home cooking; which I must consistently emphasize, as I did enjoy a tad bit of the local tastes scouring the streets of Shanghai, Hangzhou and Suzhou in my earlier posts albeit some of the rather unpleasant meals which I wish to just push to the back of my mind so that it is conveniently forgotten but I did too found the ones that I could sing praises for; though tarnished by the image of the dining environment.
Well, there you go, one can't expect the best of both worlds, and a culinary journey through Asia is one of the most exotic and tantalizing; if not the most fulfilling for the bravest of the gastronomic explorers.
It was then on the day that I was about to board the plane that my mind floated to this matter and with a rumbling empty stomach since our early awakening from 4 in the morning for the two-hour ride to the international airport here in Pudong to meet the check-in time, we were immediately drawn to a dainty little cafe located near our terminal.
Free of our gigantic luggages (well, they seemed to have grown in size since we first packed them) though we still have some hand luggages and an hour or so to kill, we made a beeline to the vacant cafe.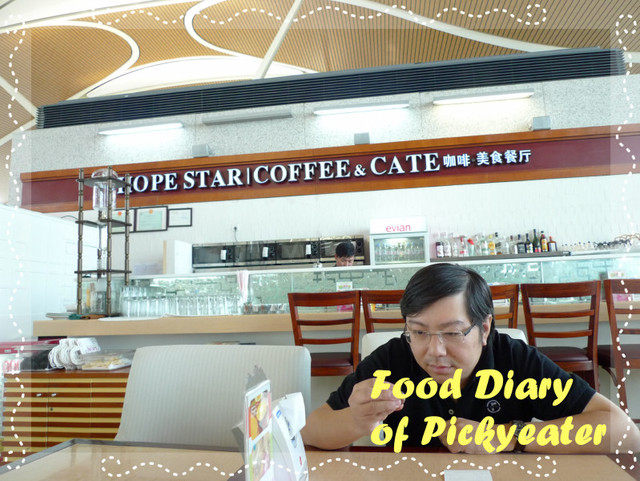 Hope Star Coffee and Cate
; nope, it is not Cafe, but rather it is really a capital T there and it is no spelling mistake either. I can verify for that, as
Cate
, is a word used for
' a choice or dainty food; or a delicacy'
as defined in the dictionary.
I was quite impressed with the usage of the word Cate here; as though I knew of its existence, I have not come across anyone using this word at all to describe what they were selling; to sum it all up in brevity and clarity and it was exactly what Hope Star was conveying to all the potential customers.
I'd say, a really good name for a place that serves coffee and simple delicacies to tempt the appetites of the weary travellers loitering around the terminal, waiting for their flight; and may I say, Cate is just exactly what I am looking for to polish my overall trip to China.
A bowl of hot udon noodles with seafood in soup
sounded exceptionally appealing when one is running away from the cold winter weather outside the airport and the purportedly turned up A/C inside the airport and the tastes of the noodles just did not disappoint.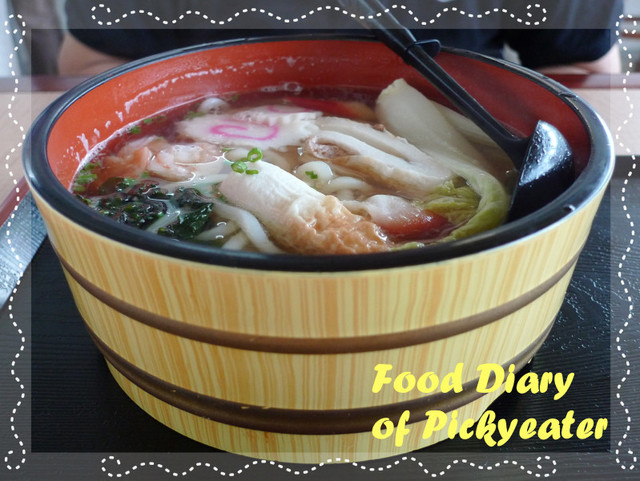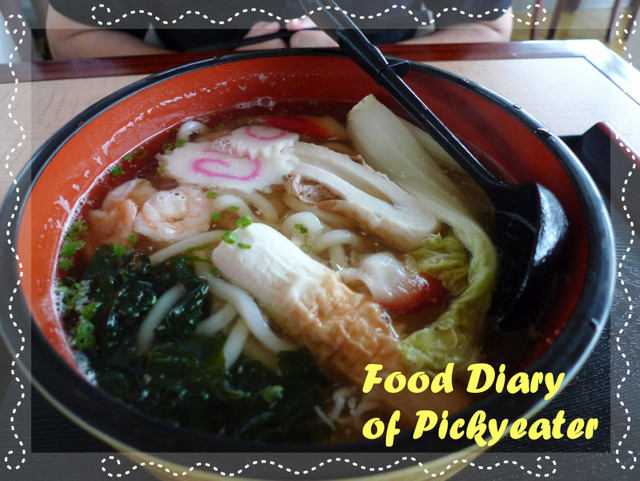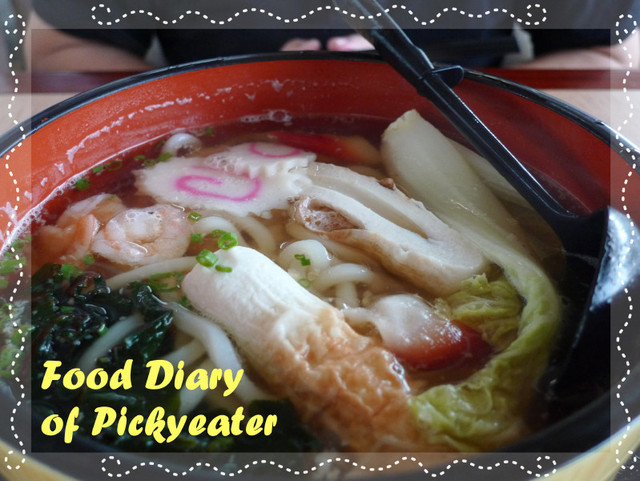 Realizing that we did not really get a good taste of the Chinese dim sum, that fact was no longer intact with the discovery of dim sum on the menu here; though the choice were not aplenty.
Har Gao/Shrimp Dumplings
were one of the few choices, and I knew I had to have them (I am devoted to this!)
It took a few more minutes for this arrive and I take comfort in the fact that the extra time was for the making of this dim sum rather than shoving the ready made ones sitting there in the freezer into the microwave for an instant heat booster.
The price difference was huge from the first glance at the menu; and I can say that it was a few times more than what I would normally pay for a decent basket of this back home but the size of the bamboo basket used to serve this seemed to challenged that of my usual ones when it arrived.
Yes, we are talking about a giant-sized dim sum basket; if there was ever one and I wondered whether there is a need for such exaggeration to prove to me that the prices charged were worthwhile. *Laughs*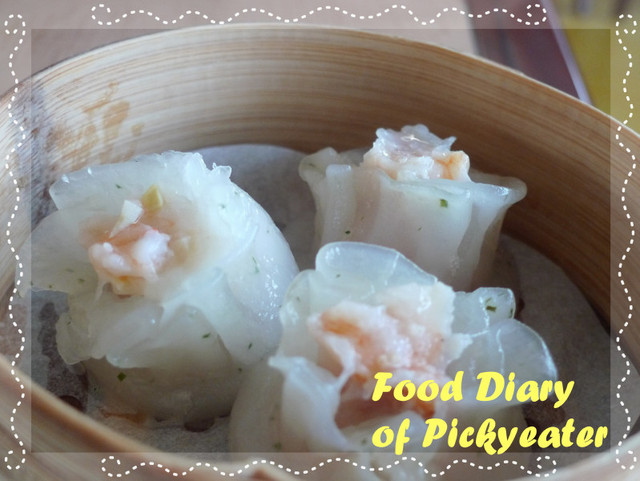 To be fair, basket size aside, the dumplings were indeed larger in size too; which did compensate for that exaggerated factor earlier and I am pleased to see of this place; compared to some of the extortions and throat wrangling prices versus food and eating outlets in airports, which I am sure many have had encounters with.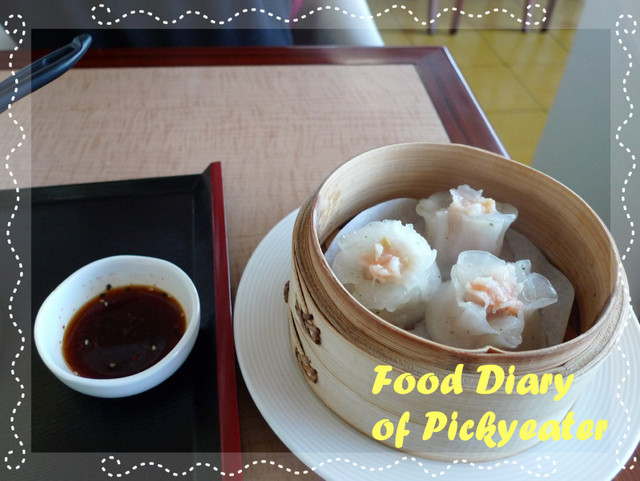 The shrimps were alright; fresh but the outer skin was just a little too thick and mushy for my liking, but it was a decent effort of a highly publicized dim sum. After all, we have grown with stereotypical minds setting that rule that the best local food are never to be found in places like the airport, and we just can't get away with it.
However, there is always an exception to every rule and I must say that of this place; Hope Star which serves nice food and offers excellent service to their customers. Prices may be a little more than what one can expect of the local eateries in the town; but hey, this is the best one can get when one is traveling or about to take off.
I'd say we were lucky and it was probably fate that I managed to grace my trip to be able to say that I have tried even dim sum from China; the place of the origins of the Chinese cuisines, to say the least.