Food courts housing hawker stalls (or small shop outlets) selling assorted food and drinks are common sights in Asian countries; and can range from squatting on little stools by the road with your bowl of noodles in your hand, to mid range where hawker stalls are sheltered by aluminium roofs to higher class areas with air-conditioning and properly maintained tables and chairs and probably one or two in uniforms to clear away the dirty plates.
People's Park Food Court in Chinatown, Singapore probably belongs to the mid range of food courts as the hawkers are housed in small shoplots next to each other in order and properly maintained tables and chairs fill the food court for convenient dining of all sorts under one roof.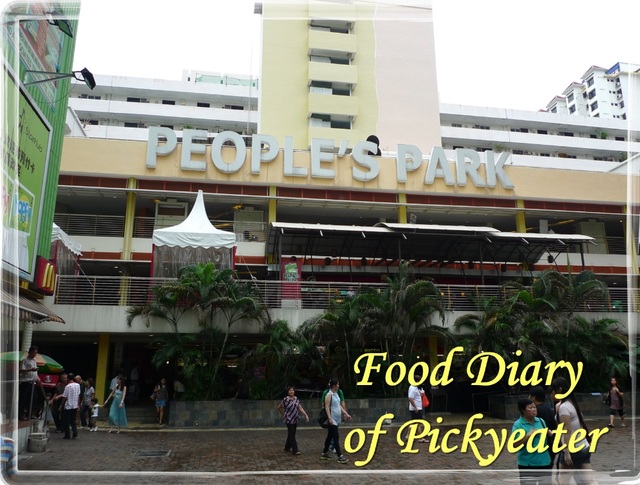 This is my second time to this place; the
first time
was in the year 2007 and I was there really early for breakfast, and majority of the stalls were still closed.
This time, I was treated to a wider variety of stalls available as I arrived there at noon and at the peak hour of lunch on a Sunday.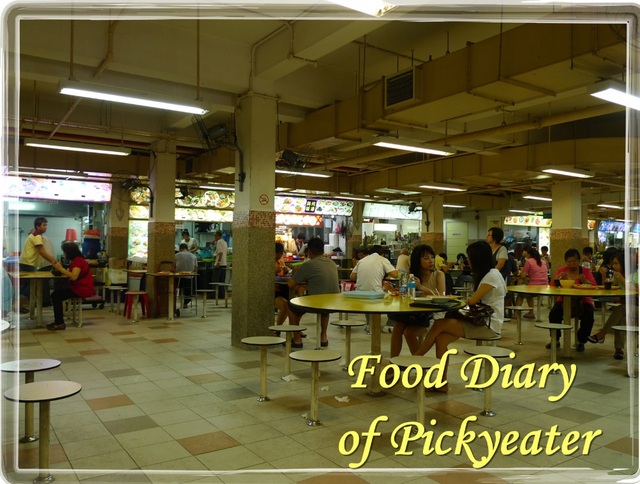 The food court is a really large one, and offers endless variety of hawker food; from Asian choices of rice, noodles, local delights, snacks and even desserts and drinks with its long line of hawker stalls.
I was here for a quick lunch, as it was my last day in Singapore and I wanted to revisit Chinatown before I fly home.
There were just too many stalls and halfway through, we just decided to settle on our choices and to eat with the limited time left.
My choice; Mixed Fish Soup (SGD$4)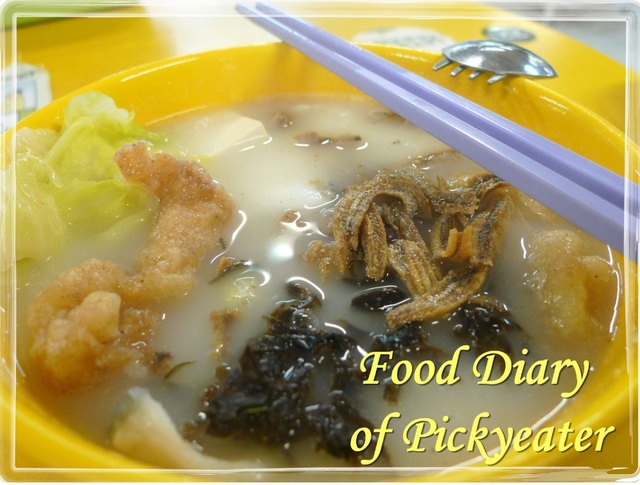 It is a bowl of anchovies-flavored soup; with pieces of thick fish fillets of both fried and steamed variants in it. There were also crispy lettuce leaves and seaweed in it, adding to the taste of the soup.
(I was unable to scoop up the fish fillets as I had to balance my camera with one hand and hold my bag at the same time, leaving me with no hand to hold the spoon)
I have always liked fish, and therefore this is just my type of meal.
Singaporean Laksa (SGD$2.50)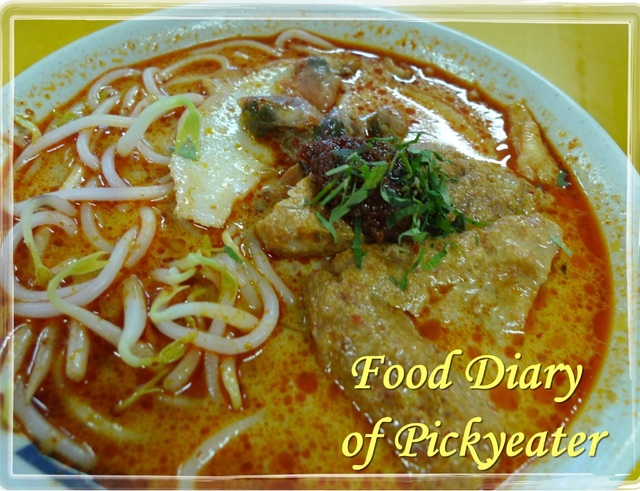 This is different from the famous Penang version of Laksa, as this had a more creamy texture as coconut milk was used to produce the broth.
It was more of what we would call Curry Mee (Noodles) in Penang, rather than Laksa.
(For your information, Laksa is a type of spicy soup with noodles originating from the Peranakan culture and can be found in a few versions; from the Northern part of Malaysia to the Eastern and Southern part; Penang, Johor and Sarawak. The famous Penang laksa that I have mentioned is a spicy with a fishy taste, as shrimp paste and shredded fish slices were used to thicken the broth which tastes sourish.
Check
this post
to find out about Laksa)
The People's Park Food Court is not hard to locate, as its prime location in the midst of Chinatown makes it accessible by train directly.
It is also surrounded by shops and malls like OG and People's Park Complex.
Well, if it is not to your taste, it is never hard to find food in a place like Chinatown.