Breakfast is the most important meal of the day, if the doctors do not emphasize enough to make you comprehend this, well, let me reiterate the statement.
It is the first meal to kick start the day after more than six hours of not filling your body with food/energy.
It is called breakfast, because you break your night long fast and recharge your body the first thing when you wake up.
In fact, it is quite hard to skip breakfast with the many options available.
You don't have to opt for heavy meals to fill your day, as light but nutrition-packed choices are good enough to get you energized for a brand new day.
There are just so many to choose from; from toasts and plain white bread with jam/butter or even peanut butter if you please, to healthy oats porridge and cereal, or noodles and congee as the Asians do, or the good old ham/bacon/sausages with eggs and baked beans on the side.
Top it with a cup of hot coffee or tea or milk, or like me, a glass of fresh fruit juice and it keeps you happy for the rest of the day.
I love breakfasts, and I don't have to choose among the meals in the day to tell you that it is my favorite meal of the day.
I look forward to breakfasts, as I love to start my day with a different pick although I do tend to stick to some old favorites such as Chinese dim sum, or sometimes cake/bun with fruits and juices.
Typically when I am travelling, I may not have much to choose from, depending on the place I travel to, but still I enjoy hunting for the local styles of breakfast when I can (unless I get to enjoy lovely buffet spreads at five star hotels :)
I was in for a treat (did I mention that my hosts were lovely people who took extremely good care of us?) on my recent trip as I awoke to homey breakfast in the morning.
Steamed white buns and orange juice lay in front of me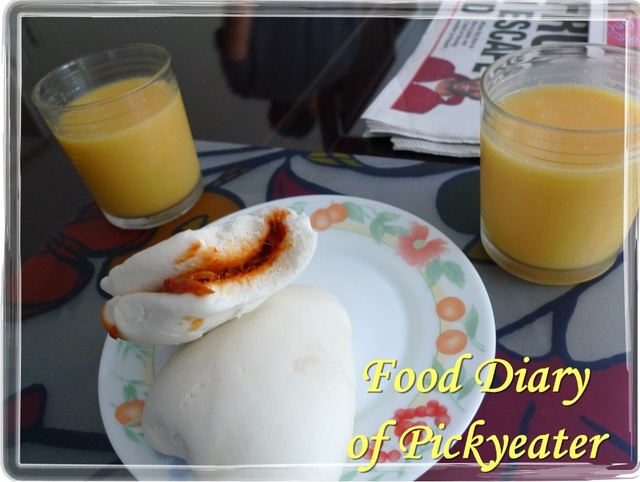 These white buns are the typical Chinese "Bao" (plain steamed buns) but these were not plain, as it was stuffed with homemade sambal tuna.
(Sambal is a term in Malay for ground chili paste typically used as condiments)
Judging from the color of the sambal tuna here, you'd bet that it was spicy!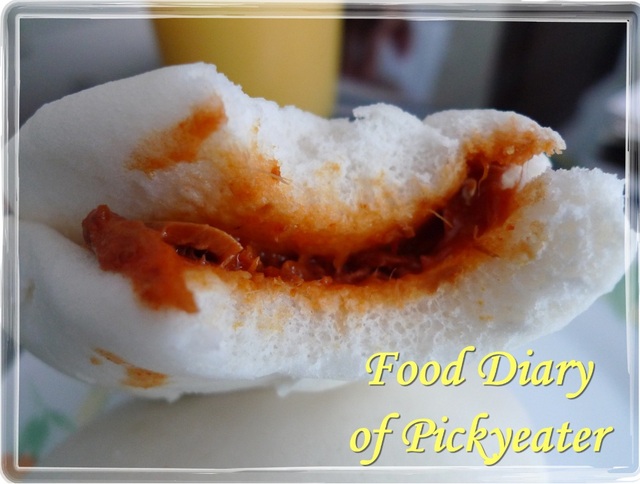 It was a creative, not to mention a fiery way to spice up a plain white bun for breakfast!
(Malaysians and Singaporeans somehow do take a fancy to having a little bit of spice here and there in their food:)