This Italian outlet has brought fame to Pulau Tikus on its location in Belisa Row.
The restaurant is more often than not, seen fully infested with diners during the dinner hours and take note, even foreigners/Caucasians are spotted enjoying a bite or two in this classic little Italian restaurant.
I have personally heard good reviews and recommendations from friends who have been there, and it was high time I paid the glamorous little Italy a visit.
It was indeed a charming little place; with nicely laid tables with those typical checkered tablecloths and it just seems like you are in Europe; doing a little al-fresco dining yourself when you choose to sit along the corridor.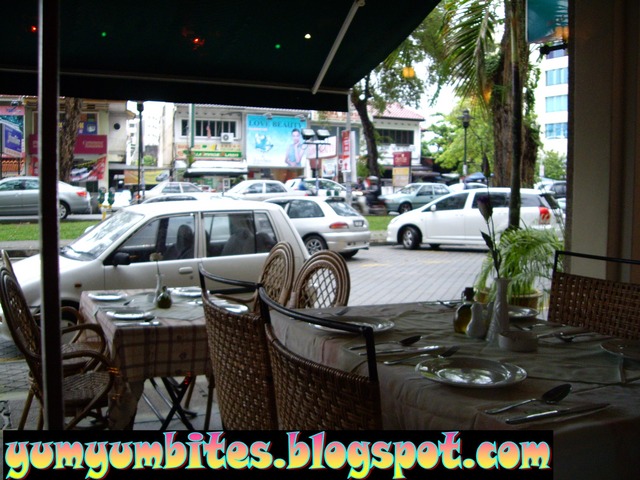 Once you step inside, the dim environment inside in contrast to the natural light outside just makes you feel warm and romantic with the accompanying Italian tunes.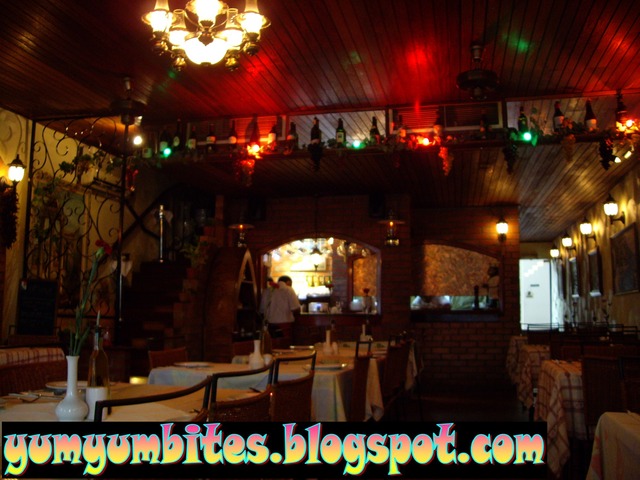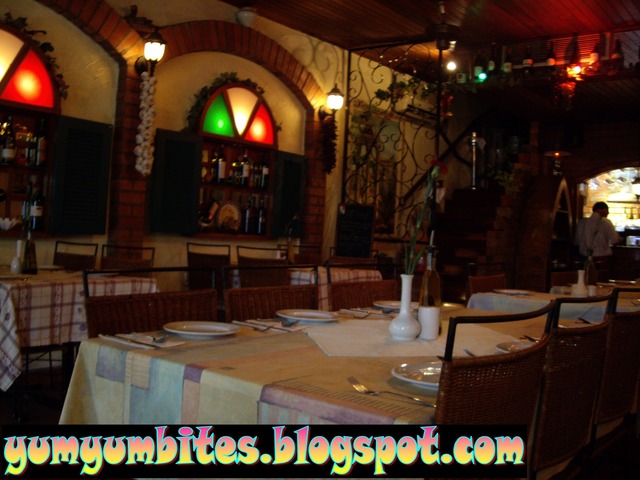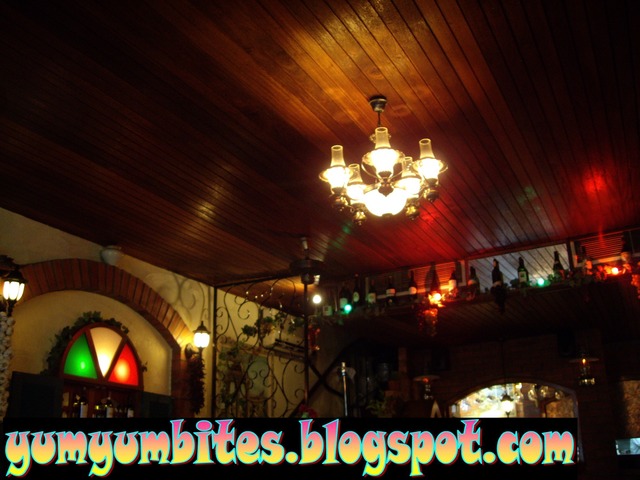 I even reminisced of Venice with those soprano-like tunes; you know along the canal and in those gondolas, ahhh...lovely!
The walls were lined with all the wines and the unique design of the restaurant really resembled those in Italy; and you are definitely reminded of it by the colors on the stained glass on the wall!
I observed how attentive and observant their servers are over here; and they have excellent manners with the customers.
The manager/supervisor of the restaurant himself was walking around and he walked to the tables outside; patting the tablecloths and positioned the cutleries in ther right place.
Wow, that's what I call professionalism in the dining industry!
In other words, I am also impressed by their perfectionist attitude:)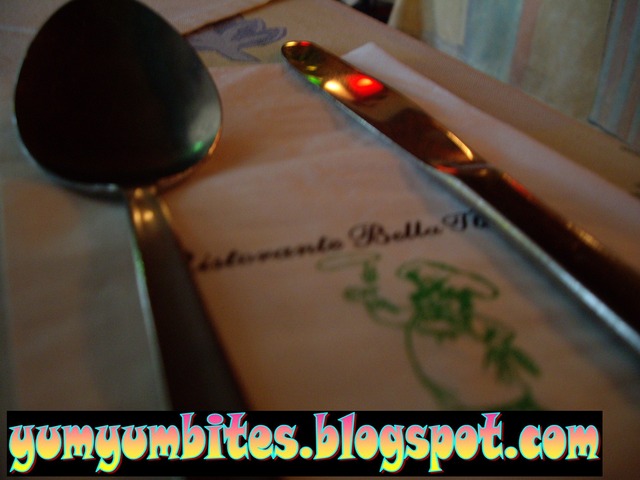 No wonder everything is so spick and span here! Thumbs up!
Of course, when you are in a place like this; with a good reputation and also such high quality of service, the price to pay will not be low either.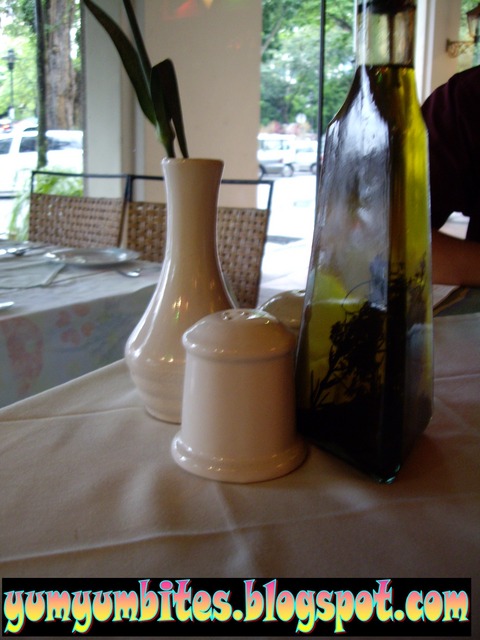 Compared to other Italian restaurants, I rank Bella Italia as one of the higher-priced ones and it could be due to the location and also their status as an Italian fine-dining restaurant.
Nevertheless, it was also time to taste and speak for myself the food after all those ravings I've heard.
Furthermore, it's been a year since my trip to Italy and with that Italian taste, I could do a comparison on how they rate compared to the authentic cuisine.
Seafood salad (I think it was about RM25-29 for this)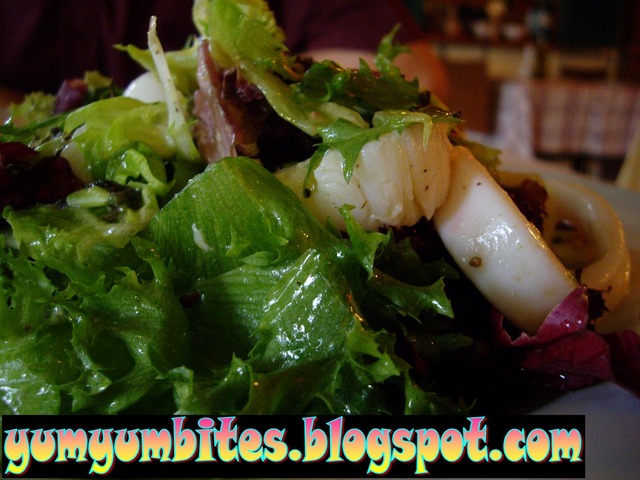 Served with fresh lettuces and olive oil; not forgetting a generous amount of fresh squids, prawns, mussels, fish chunks and fat juicy scallops, this was definitely an appetizing dish!
To give you a better view of this highly-priced salad; I must say it was not just any ordinary seafood salad you can find in other restaurants.
I am not olive-oil tolerant, but I am singing my praise for this salad due to the fresh and juicy seafood which was included here.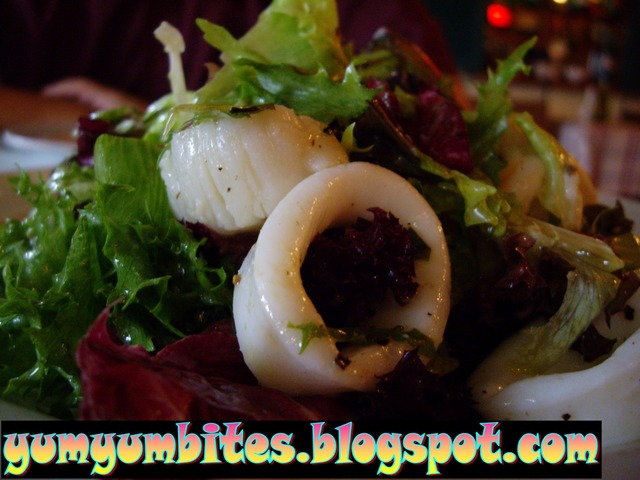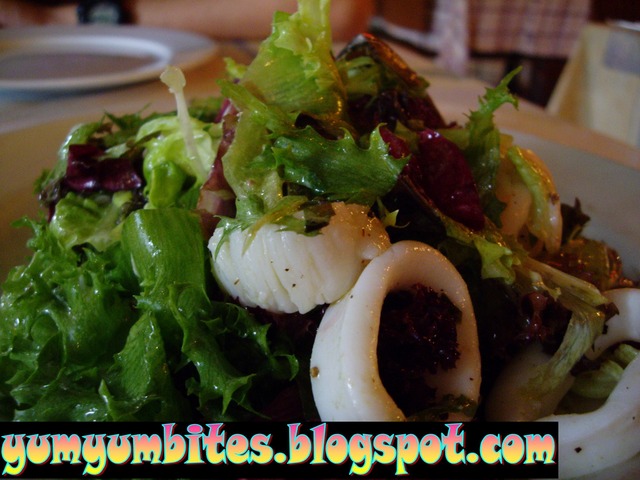 When I say generous, I really mean generous; there were easily 4-5 big fat scallops, 2-3 prawns, 2 mussels, and lots of squids (which were also large-sized) and tiny fish chunks.
Thumbs up:)
For the main, we ordered the Pan fried seabass served with dill sauce (this was about RM36 or 38 I think)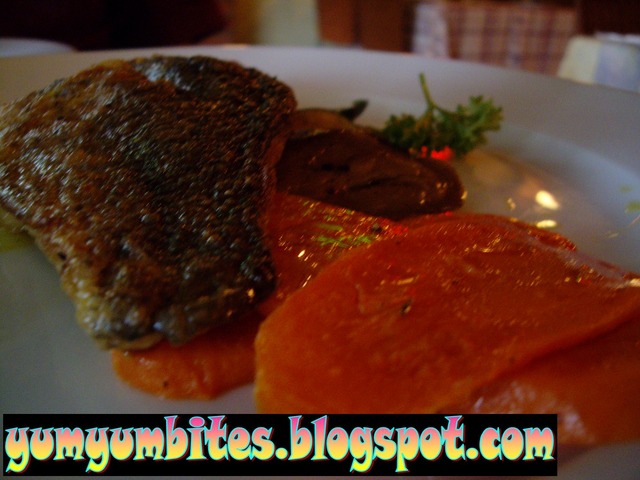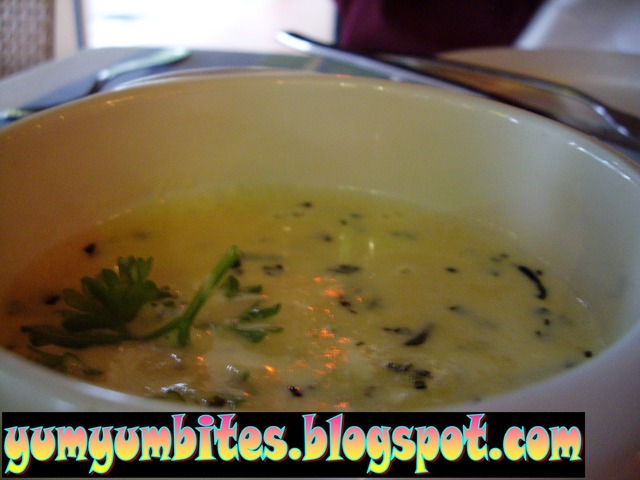 It was a side of a seabass fillet they used in this dish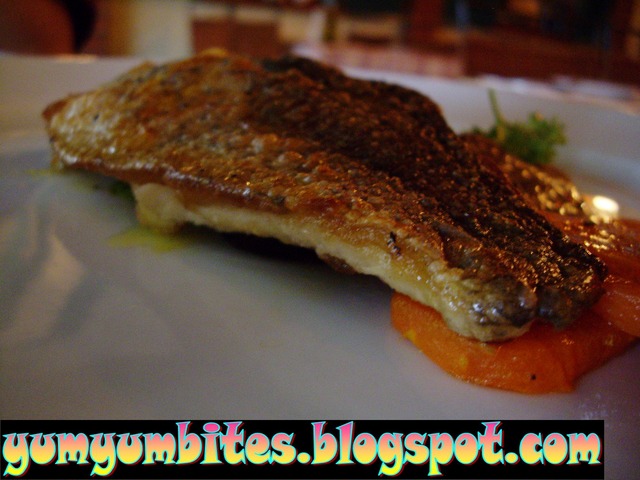 The fish fillet was lightly fried to maintain the freshness of the fish and also the succulent taste of the flesh.
It was truly enticing as you were filled with the fresh fried aroma in your nostrils while you bite softly into the smooth and tender flesh; breaking the light crispy layer and tasting the juicy flesh!
I enjoyed every bite of this dish!
Too bad there's no room for dessert after that, I am not really a generous foodie, ain't I? I should have more room for food...but there will always be a next round.
I heard the tiramisu here is really good, any other recommendation?
It was a pleasant dining experience here, and I am pleased with the courteous and friendly staffs; full of 'please', 'thank-yous' and smiles =)
I am definitely glad I made this trip and I have also made it to the statistics of giving the thumb for this Italian restaurant; for its authentic taste of Italian cuisine and also, the freshness in their ingredients as we know how Italians pride in their finest and freshest seafood, vegetables, etc.
I am indeed singing my soprano praises for the nice little walk down Italian coast...LA LA LA~