The opening of this striking cafe in colors of red, white and black has attracted the folks from the Free Trade Zone and also the flogging community to flock to see what they have to offer in joining the competition with the other eatery outlets.
Thanks to most of the floggers, I have also been enlightened with the reviews and also the full menu of their offering, courtesy of
Cariso
:)
I went there for dinner; as catch-up session with my friend and we were both enthusiastic to try out this new cafe which seems to be pretty hyped out with the cool design and the colors (I must mention the colors!;)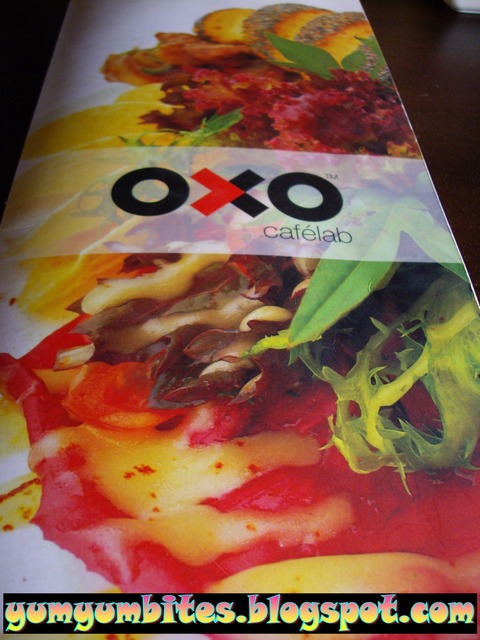 The menu is so colorful on the front; that I was already excited by the items that are ready to welcome my appetite.
I already had the expectation of what they had to offer after the full menu publication by Cariso (really thanks to her~)
We both ended up ordering from their list of set dinner; and we had a choice of either the soup of the day or the salad, to which somehow we both picked the salad.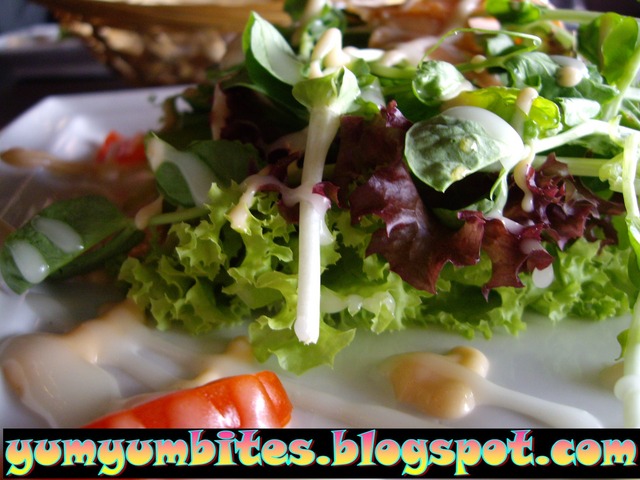 It was very artistically presented; this Mixed salad with Bed of Lettuce served with Norwegian Smoked Salmon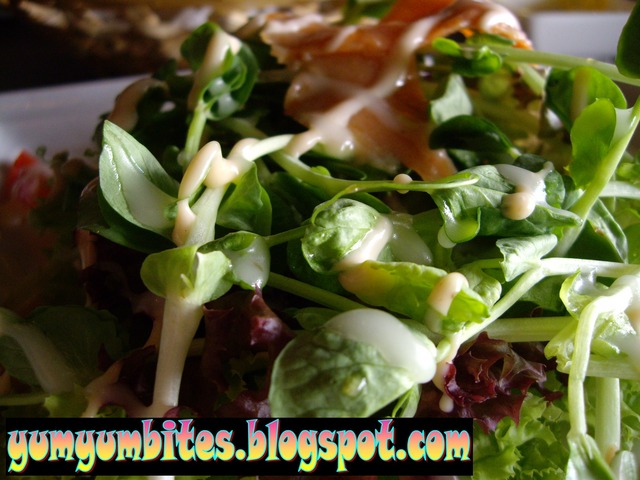 Unfortunately, I find some of the vegetables in the salad dried up (there's black/yellowish streaks on the edges of the leaves).
Well, I am a picky person and since veggies fall under one of my fave food category, I just have to say that this salad was not up to the expectation.
Moving on to the main course
I ordered S05; which was Grilled Fish Fillet, Emperor Prawns and Potato served with Fresh Orange Butter Sauce (RM16.40)
I was eagerly waiting for this; since it was one of the recommended-to-order item on the menu.
Furthermore, it was rather good value for money, you get the fish fillet and note that, there's even Emperor Prawns! Pretty good deal I must say...
Until it came...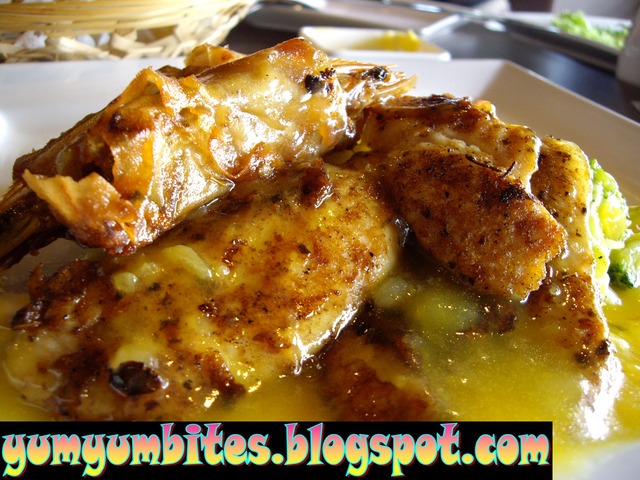 Now, can someone please tell me, where did you spot the Emperor Prawn(s)???
I rubbed my eyes again, and snapped a few photos of it, so my dear blogger friends, do you see it anywhere?
This closer shot; if you happen to point at the topmost on the left, yeah, bingo!
That's the Emperor Prawn's HEAD only!!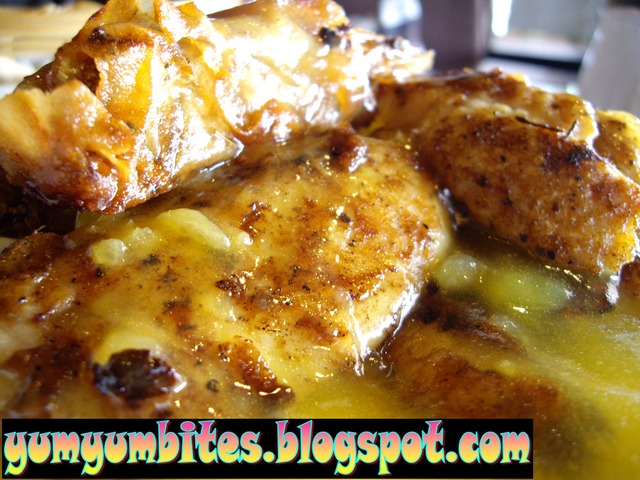 There is another empty head of the prawn somewhere; I remembered there were two.
So the Emperor Prawns....was actually the Emperor's Head...erm, I meant, Prawn head!
Man, I tell you, I felt so cheated then!
Even the fish fillets were such small 2-3 pieces that I think even a kid's meal served in other cafes would serve larger portion?
However, not that I mind, since this is good enough for me...but my friend kept noting on how small it is and how deceiving this dish is....and the prawns...SIGH!!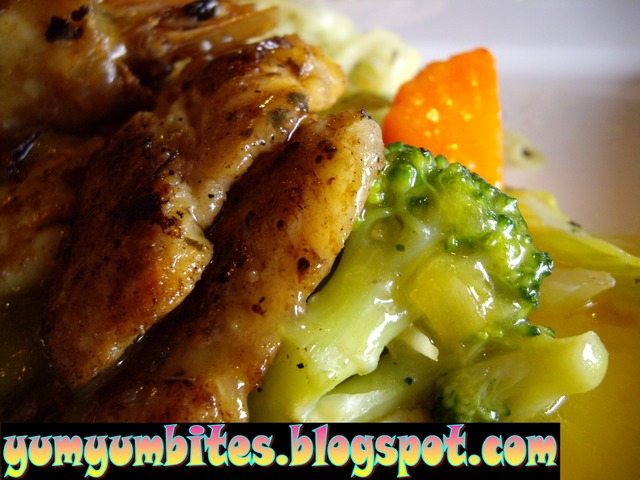 Okay, portion aside, back to the quality of the food.
Well, the gravy was not too bad but the fish fillet was slightly burnt on the side...hmmm, that is not a mistake to be made by any good chef.
It's supposed to be Grilled, not Burnt fish fillet!
Of course, I was trying to reason perhaps that's why my prawn(s) had only the heads...since they've probably lost the rest of the body in the fire? Probably ended up charcoal-ED?
Whatever...
Moving on, my friend's main course was S08, Japanese Style La Mien with Beef and Superior Miso Soup and Condiments. (RM18.70)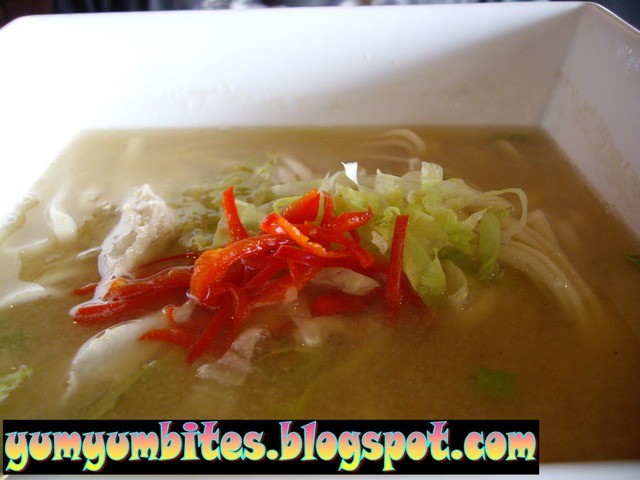 Again, something out of our expectation as we were anticipating this to be served in one bowl.
Well, it was unique though; the way they served the noodles and the beef separately.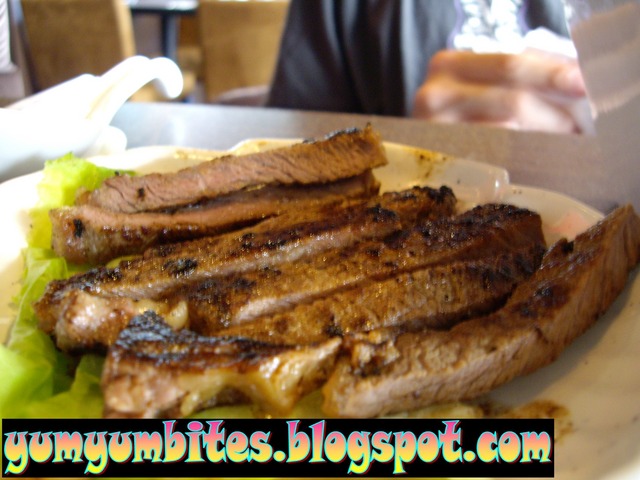 Tastewise, I don't think my friend was particularly impressed as he even mentioned that the beef was a little coarse and dry.
Well, at least he had the beef and not the bones....unlike my prawns(I had to mention again!)
It didn't take very long to finish our main course; and desserts were served.
Well, this deserves a mention because this is one of the cafes that is finally not serving me ice-cream for dessert!:P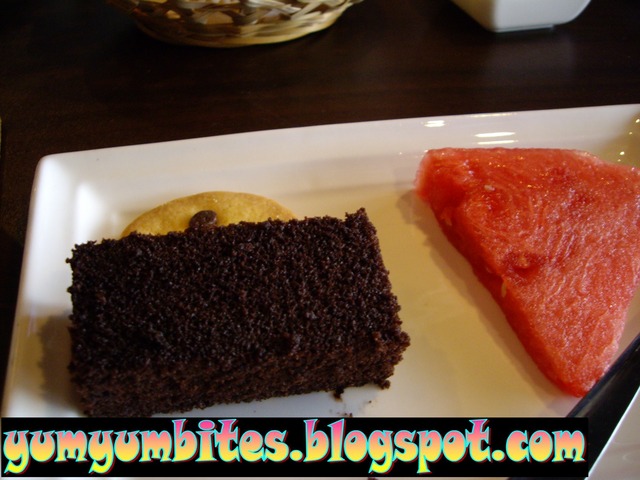 They serve 3 different types; a slice of watermelon (to quench your thirst, or to cool you down after your unexpected dish), a piece of brownie and a choc chip cookie.
It's unique and at least something different from the conventional...finally=)
Frankly, I was looking forward to this new cafe which I thought would be interesting for me to add to my list of places soon.
Too bad, they disappointed me; or was it I had too high of an expectation in the first place?
Another few things I need to mention as well here, something we observed during our meal there.
1. We requested for one of the menu to be retained on the table shortly after the order, and when our salad arrived, the supervisor came and asked, "Is there anything else you would like to order?" and he just took away the menu.
Erm, I think it was pretty early then and I don't think they lack that much of the menues there, so it was a little awkward.
2. The supervisor was there training and reprimanding the new staff (I believe a few of them are new). He was teaching them how to serve and also reminding them that he used to come from a hotel or sth.
Hmmm...big no-no to actually give instructions/training in front of your customers.
You see, we were both there to release stress from work, and somehow we felt stressed there.
We tried to be nice to the poor young staff who were just so nervous.
3. The dessert was served suddenly while we were in the middle of our meal.
Are they in such a hurry to kick us out?
In summary, the ambience and the place was actually great and I felt cosy there though there seem to be lots of flies around.
They even had MTVs on those LCD screens while we waited for our meal.
The food quality was not too bad but they had to be improved; for the price charged, and again, I hope there are no further deception such as my case with the prawn heads...I must mention it AGAIN!
After we left, we realized that we should have complained on the spot about that prawn head; as compared to what is stated in the menu.
YEAH, how come I overlooked that?
Was I too struck in the head upon seeing the prawn head? (pun intended)