After reading about the set lunch promotion from
Food Promotions
, I invited my family to Tropicana City Mall one Saturday afternoon (when I was back home) for a nice lunch.
The mall was still pretty new, and renovations are still underway in most of the shops.
Santini Cafe is located on the ground floor, and is just next to San Francisco Steak House. Apparently, they are sister companies owned by the Tai Thong group.
Now, isn't that an interesting piece of news?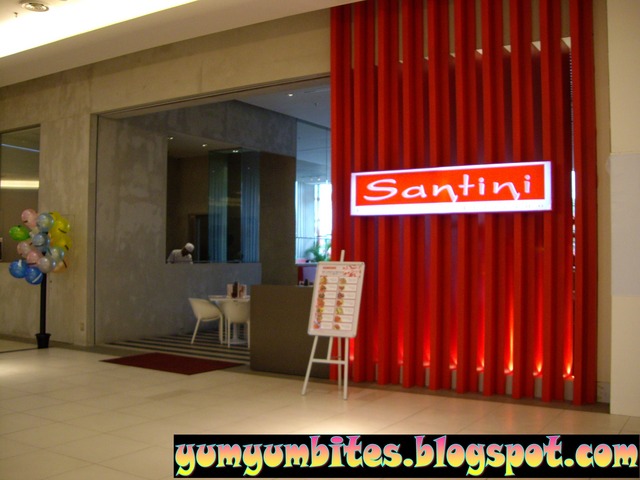 It is still pretty new as well, and they have really cheerful and enthusiastic people standing outside the cafe, waiting to tell you all about their lunch promotions.
They must be pretty happy that we walked in after their brief explanation.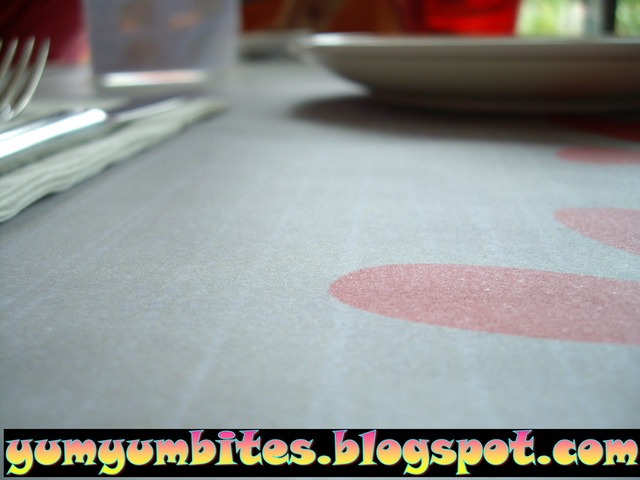 As we sat ourselves down, the same staff who stood at the entrance just now (Indian guy), walked to our table again, and with an extremely friendly attitude, repeated whatever he said outside for our benefit again.
In fact, he even described the preparation and the type of food we are getting ourselves into.
I am very impressed; this is what I call self-initiative and proactiveness without even being annoying to the customer.
There are 4 choices for the daily set lunch; as follows (refer to the one for Saturday)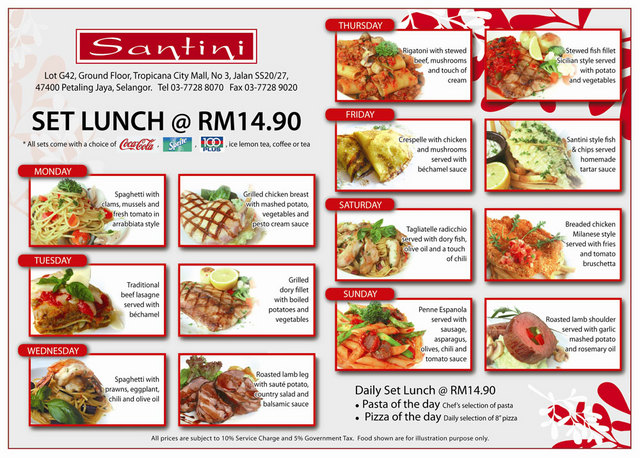 There is the tagliatelle radicchio which as he explained, looks like koay teow (haha, nice description for Italian food) or you can choose to stuff yourself with the Milanese breaded chicken.
Besides these 2, you can also opt for the Pasta of the Day; which was the Spaghetti with tomato sauce and mussels or Pizza of the Day (which they claimed are oven-baked and have this really thin crust that we must try).
We took them all; since we are in the right number =)
We were quickly served (service is prompt here) the breads, buns and butter usual only this cafe is a little out of the ordinary.
We get the french loaves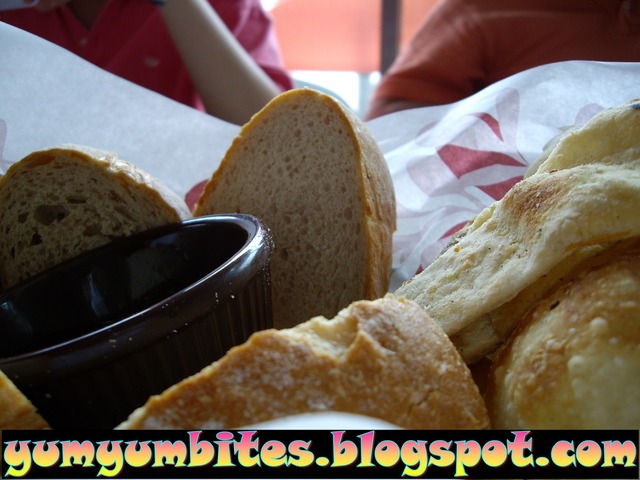 There's even rye bread in the bread basket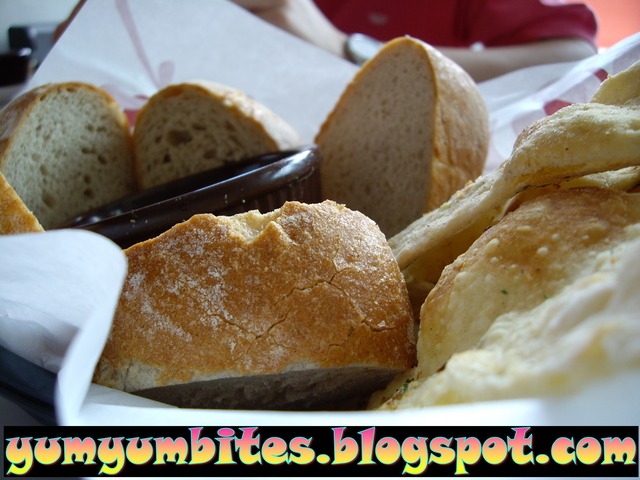 Instead of the usual butter, we have the parmesan cheese condiments and the spices to go with your bread.
Interesting start =)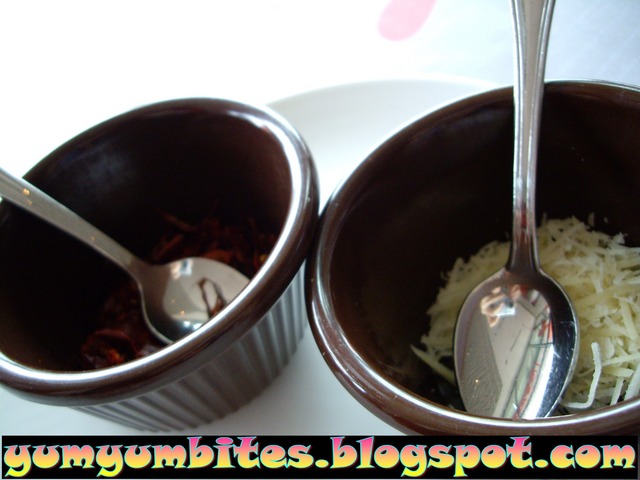 There's even a carasau bread which has garlic spread on it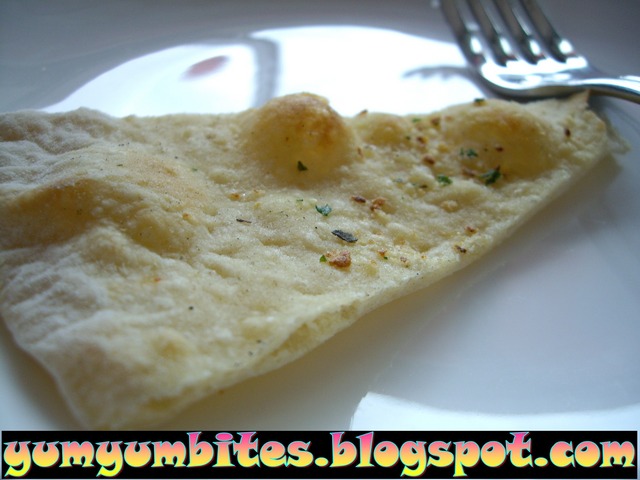 This tastes like your naan, or your tosai, as some commented (Smiles)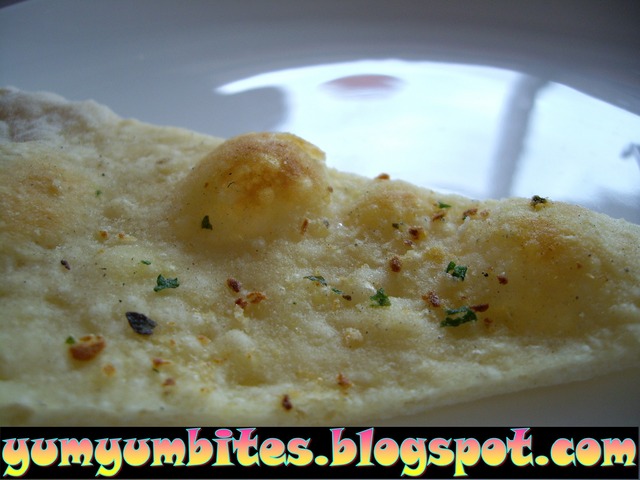 It was pretty good, and it was not too overwhelming in the garlic scent or oily.
The set lunches also come with the free flow of drinks; choices of Coke, Sprite, Iced Lemon Tea, Tea and Coffee (yeah, get it, refillable, FREE flow - what you get in Chilies)
Mind you, these don't come in small glasses either!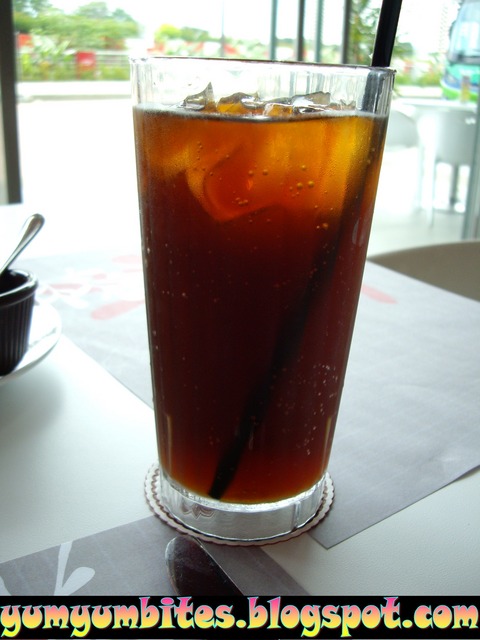 I've probably downed a few spoonful of sugars from a mug like this!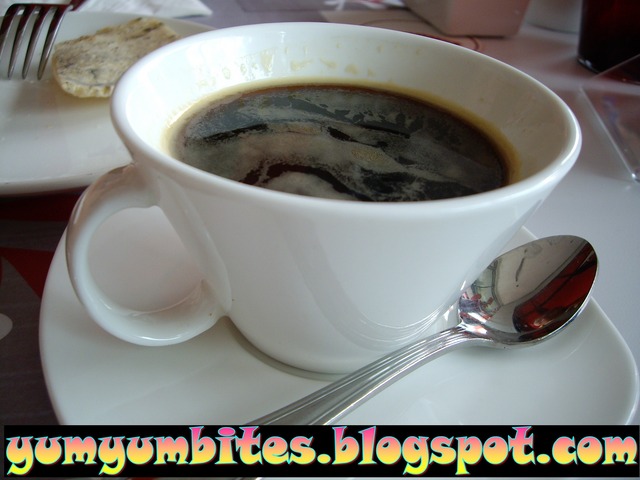 Even coffee and tea's refillable =)
How's that, coffee-lovers?
Breaded Chicken Milanese Style served with fries and tomato bruschetta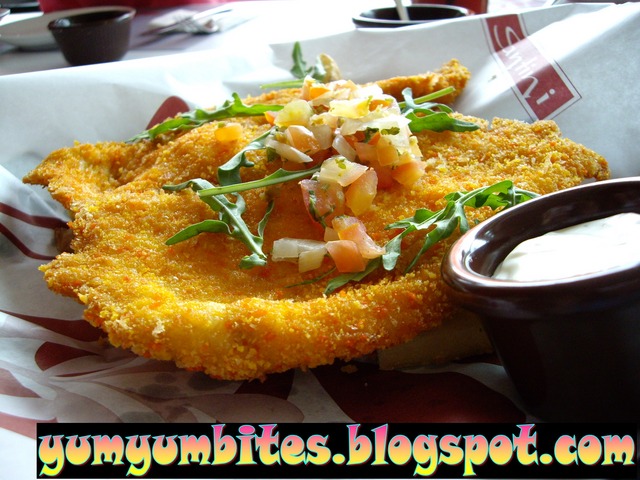 Everyone came to a mutual consensus that this was one of the best choice for the set lunch that day.
The chicken was breaded and fried to golden perfection.
The serving style was similar to that of Chilies' and they have definitely loaded the fries in this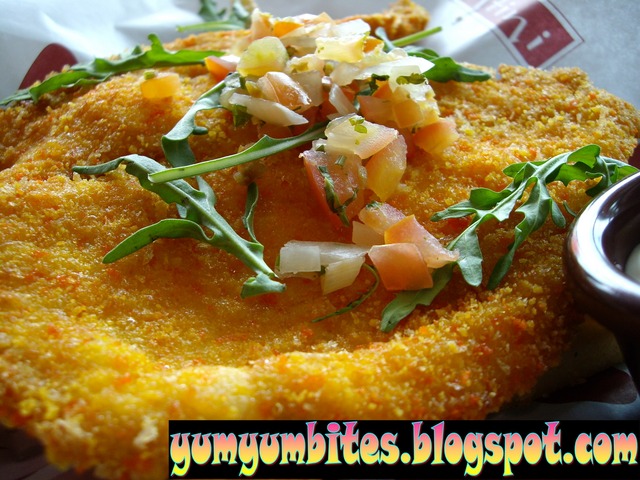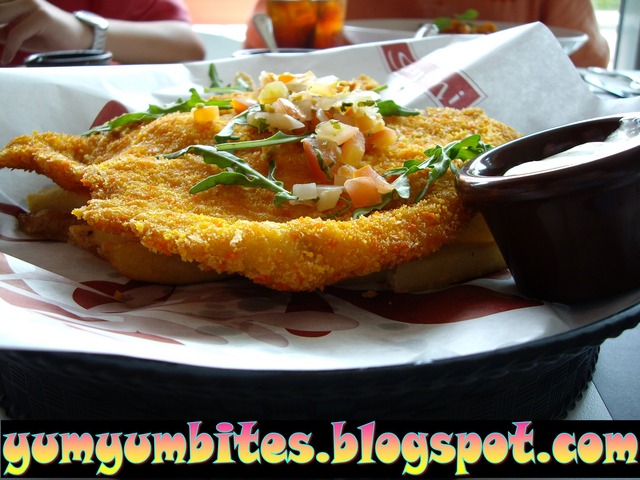 Tagliatelle Radichhio served with dory fish, olive oil and a touch of chili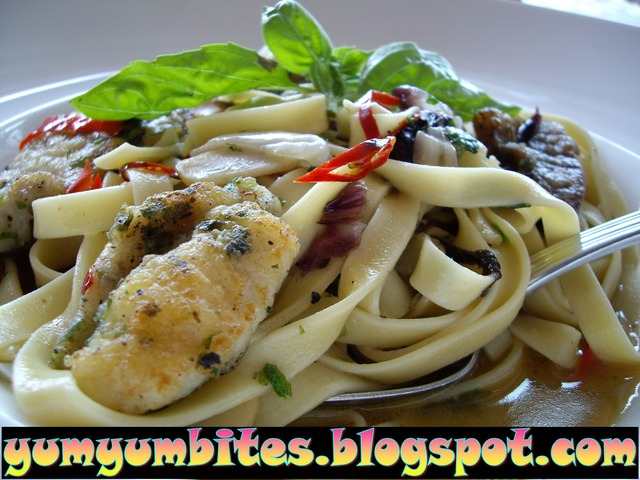 I couldn't contain my disappointment when I saw the small chunks which they call dory fish.
The plates were, OMG, huge that it's even bigger than my face!
The amount of pasta in it, hmmm, those tagliatelle which is like hardened koay teow could even go on top of my head and make my hair.
It was oily, and I was not too keen on this dish, I am gonna have to pass the next time I hear some weird name for a pasta.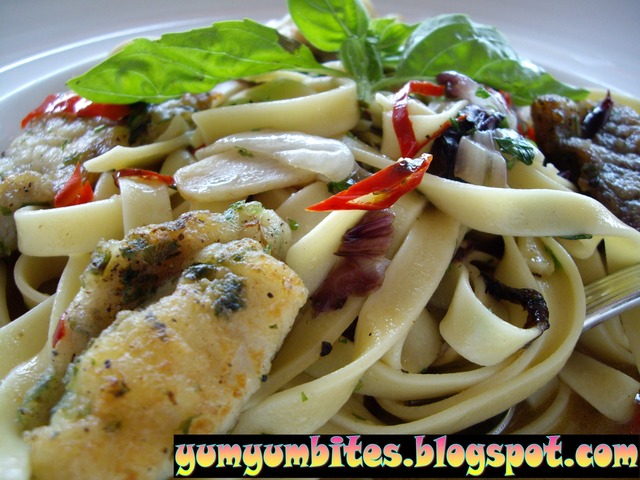 Pasta of the Day; Spaghetti with tomato sauce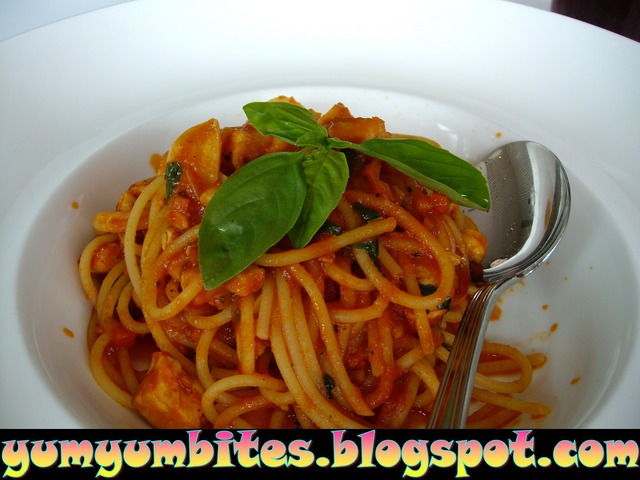 Looks appetizing but apparently, some of the spaghetti strands do not seem to be properly cooked as they were still hard. Let's say they taste like your hardened mee; not as hard as your Mamee sticks though.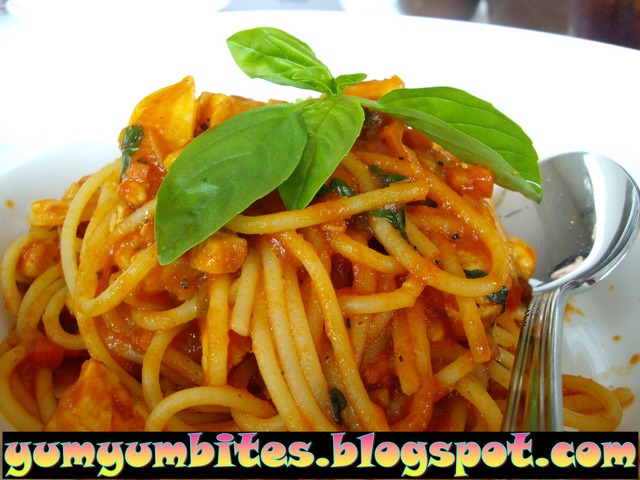 Anyway, they still beat the tagliatelle radicchio hands down.
Pizza of the Day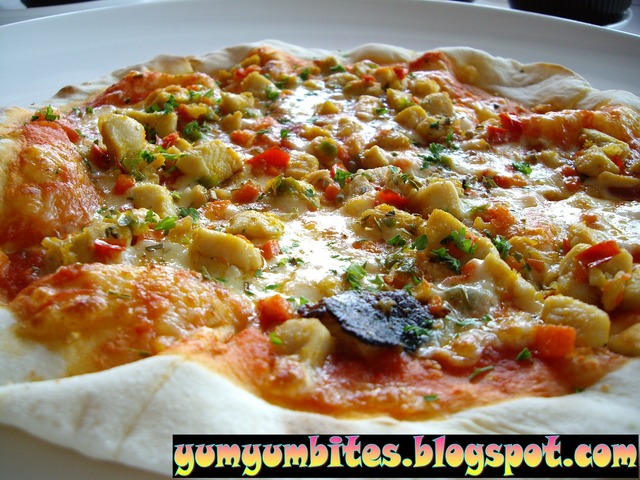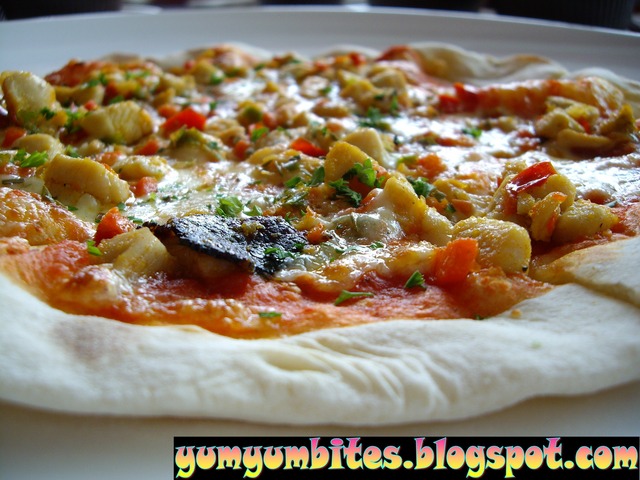 This, on the other hand, was not too bad. As the guy said, it is thin crust and served with chicken (more like chicken floss) and mozarella cheese, this is a winner.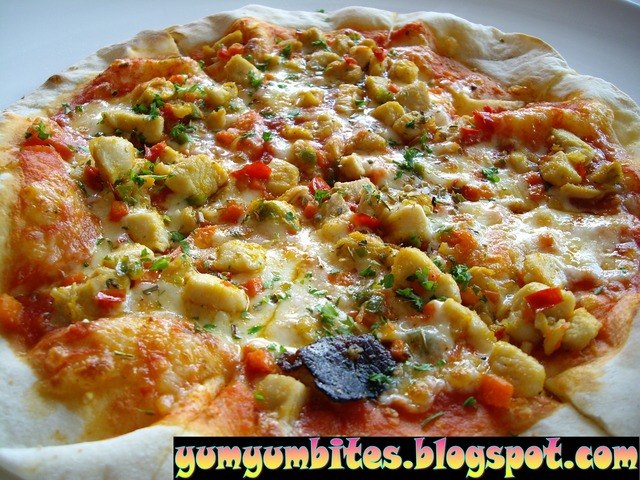 Perhaps the baking in the oven had to do with the good and unique taste that is just not in the other pizzas that we have tried.
We were too stuffed to try their desserts; and they have recommended a few; including a unique creme brulee; which looked so enticing in the menu snapshot.
Well, there will be another time, it is a really a great place to dine in and to share banter with your family or friends and I for one, second that warm and pleasant service provided by their well-trained staffs.
Thanks to Food Promotions, I have found another nice place for Italian food/set lunches in KL =)