I am still so slow in posting my old festive food; from last year, and with two more days to CNY, I simply must finish posting the Winter Solstice food so that I can start posting on the food to look forward to the Lunar Chinese New Year!:)
Anyway, this is a simple and short post, on this colorful dessert;
Tang Yuen
, or simply known as
Glutinous rice balls in sweet soup.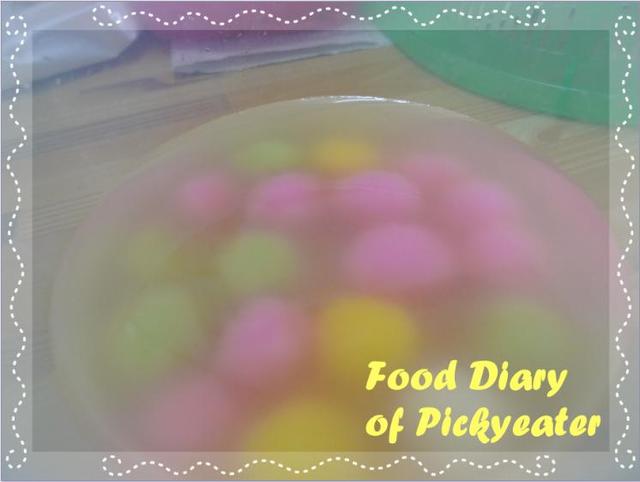 This is a must-have for the
Winter Solstice
festival, as it signifies for a new year and that we are becoming wiser with age. In simple terms, it is as though we are celebrating a year older with this and also to wish for a good year.
At the same time, the main significance of this rice balls; which are made of glutinous rice flour, is the meaning of unity in the family.
Traditionally, this dessert is usually prepared and served after the reunion dinner on Winter Solstice where the whole family gather around the table to make the dough together and to roll them into these round little balls.
My mum told me that it is an activity to be done by the whole family, as a sign of keeping the family together.
If you have noticed, the Chinese love round shapes; as it means infinity and also unity.
You will find a lot of Chinese love round dining tables in their homes :)
After making these round balls from the kneaded dough (which can be differently colored to make your dessert more colorful), they are then cooked in a sweet soup made of sugar, ginger and pandan leaves.
It can be served in an hour or so, although typically it takes longer as the family will be indulging in conversations!;)
Today, the trend of making these at home have significantly decreased as there are just so many being sold out there and for the sake of convenience, most are opting to buy it directly from the supermarkets or markets rather than making them at home.
Furthermore, the health conscious or even those who are not into sweet things, are not really enthusiastic about this dessert anymore.
In fact, there are even people who are no longer observing the Winter Solstice festival anymore.
I think the key is not about how tasty or delicious this dessert is, but rather its meaning and significance, do you agree?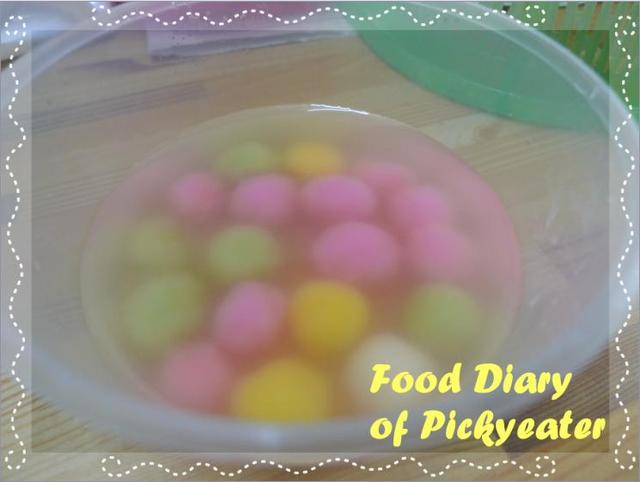 I am not really sure about the full recipe; but the ingredients are as below:
Glutinous rice dough (to be kneaded a few times to make it more flexible) - can be purchased from stores or markets
Pandan Leaves
Sugar
Ginger
To cook: (May not be accurate, try at your own risk!:P I'd recommend checking other recipes out there too:)
1. Knead the glutinous rice dough
Optional: you can separate the big dough into seveal smaller-sized dough and color them (use permitted coloring; typical colors are red, green, yellow, or for a healthier option, you can try natural fruit coloring too ;)
2. Cook the pandan leaves, sugar and ginger on a slow boil (Sweetness to your taste)
3. Make small little round balls; not too small nor too big, from the dough
4. Throw the little balls into the boiling sweet soup, and stir.
5. Cook for about 30-60 minutes (double check with other recipes)
It is really simple to make, as mentioned above, and I am sure you can find many more recipes out there too!;) (Probably better than mine)
This is one of my mum's favorite dessert as well :)
For more information, you can check out the Wikipedia page
here