How long has it been since you have had a meal at a fast food outlet? I mean, like really sit down, order, stare at your plate, and eat while your orders come one by one and you glancing at the waiter checking off each dish off the list?
It has been so long for me, that I can't even remember when; and the fast food I am referring to are chains like McDonald's, KFC, A&W, and Pizza Hut which seem to appear all around the world.
I remember ordering them as take-aways (oh wait, our secretary did the ordering, we just eat), and Oh, maybe the last time I was at a fast food was with my colleagues at McDonald's last December...oh, never mind.
Recently, we had vouchers for KFC/Pizza Hut (in case you didn't know, they belong to the same parent company) from our recognition awards at work, full moon (baby shower) reciprocal/thank you gifts, etc and we get to spend them on fast food, YEAY! (one more step to health suicide)
After doing take-aways a couple of times, we decided to have some fun dining and catching up at the fast food restaurant,
Pizza Hut
with the family.
It's good, to feel the difference between the take-away and dine-in; besides the environment, that is.
Menu for the dine-in and take-away is different; that's obvious :)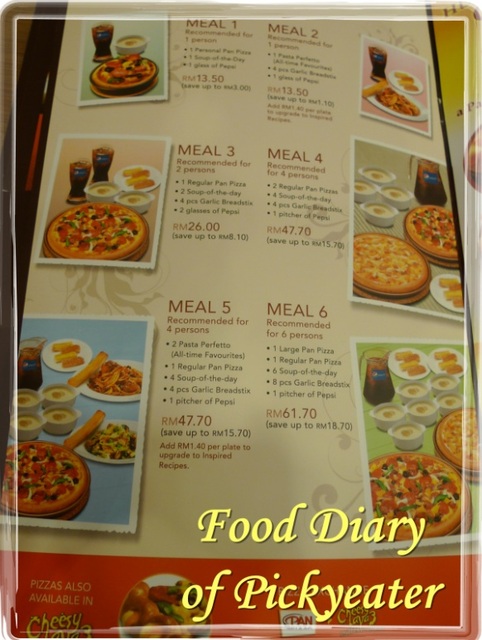 For starters, any meal set you order comes with soup and you don't get it when you do take-away.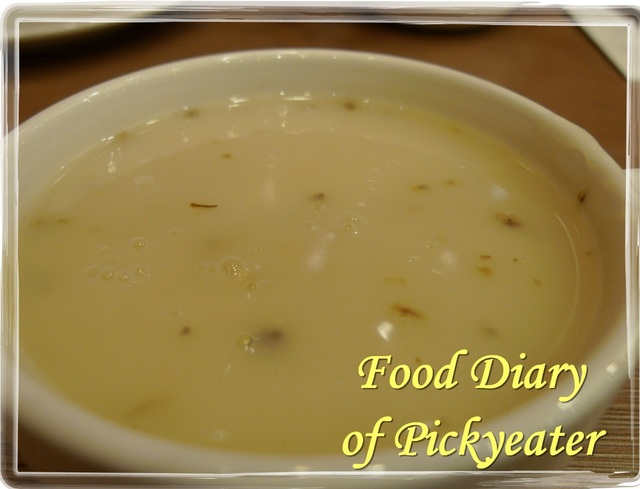 Seafood Marinara with spaghetti (RM10.90
- ordered as an add-on to our set meal. Normal ala carte price is RM11.90)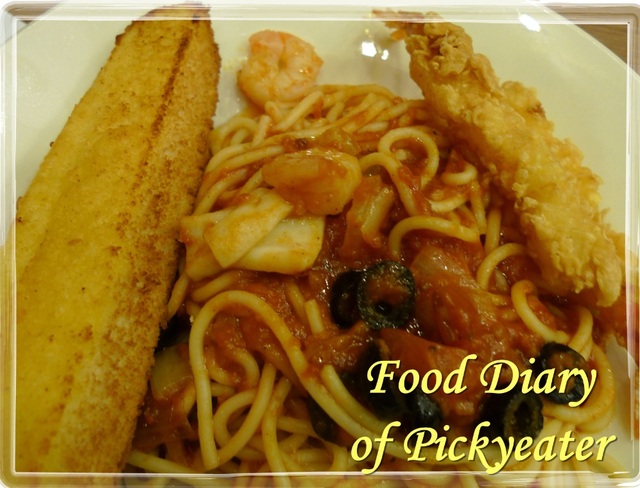 The Napolitana sauce, teamed with parsley, tomatoes, onions and olives made it great company for the spaghetti (recommended paste for this), and throw in a couple of shrimps and big juicy squid strips, and this is a winner.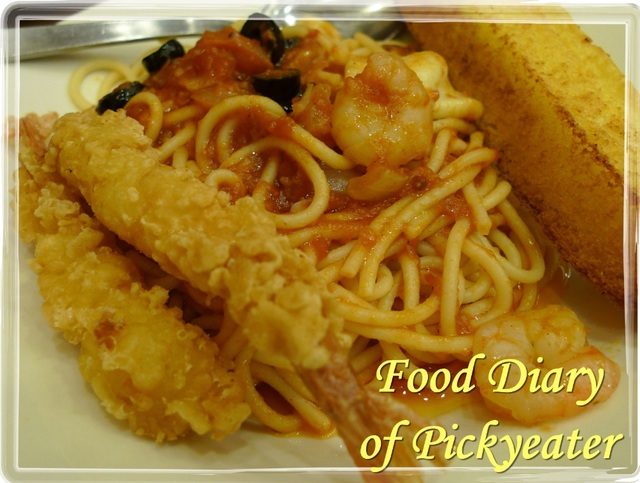 The shrimps came in the deep fried versions too, served at the side.
For some reason, the
garlic bread
which was supposed to come as the starters, came after the spaghetti was served.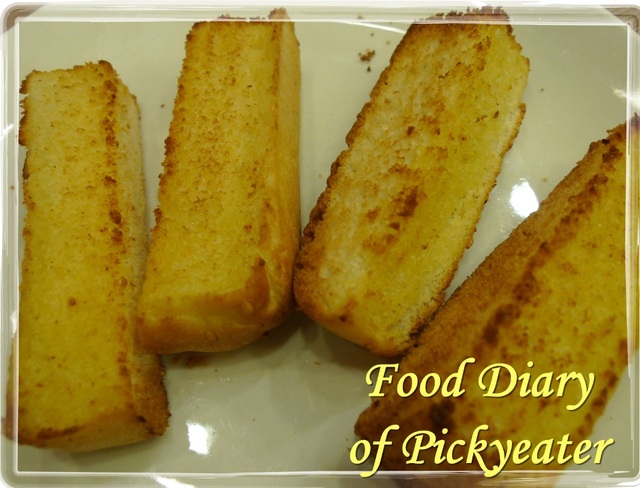 Nothing much, the garlic bread at Pizza Hut used to be one of the earlier ones and was raved about back then until they are found everywhere in the bakeries.
It had not changed much, though I remember the sizes being slightly larger than these.
Our pizzas are here; regular pan pizza.
Thai Seafood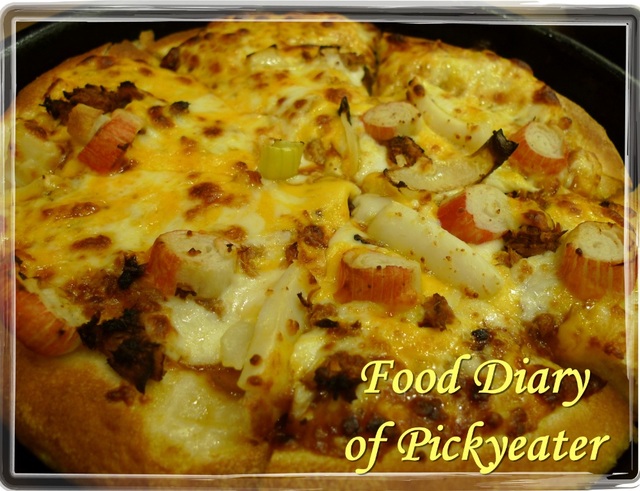 This was spicy tuna, crabsticks, squids, onions, mixed herbs, fresh coriander and spicy Thai sauce all together in one.
Sadly though, I think there was not much of spicy tuna to be found, although the squids made up for it.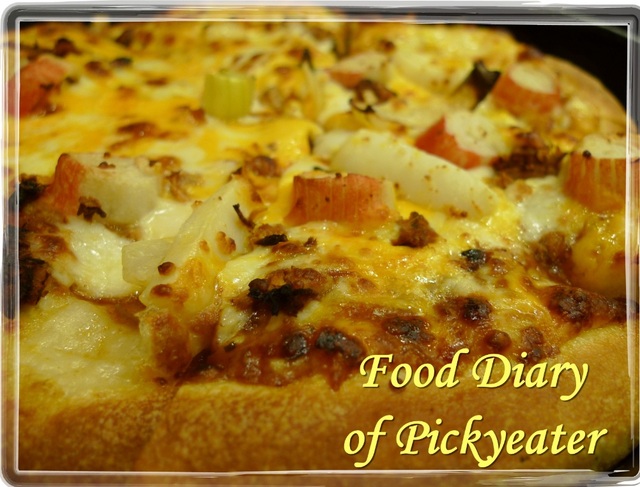 I remember that there were lot more stuffs on the pizza when we ordered the take-away. I do like the spicy and unique taste of this pizza, and it had a really fragrant aroma about it too, just more ingredients would make it better.
Chicken Supreme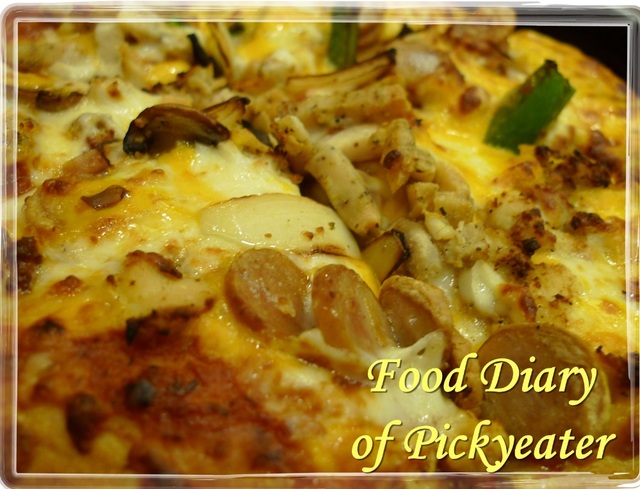 The helpful waiter recommended this for more chicken; as it came with chicken meat, chicken pastrami, chicken sausages, capsicums, onions, and button mushroom compared to the other chicken pizza.
(Maybe I ordered the wrong seafood pizza, should've asked for his opinion!:p )
Total bill was about RM60++ inclusive of service and government taxes, and no, we didn't use the vouchers as those were for KFC. (maybe a KFC dine-in, I'm not too sure)
I am not big on pizzas, but really, I think no one in my clique (same year of birth) has ever gotten away with no memories of Pizza Hut during our childhood?:)