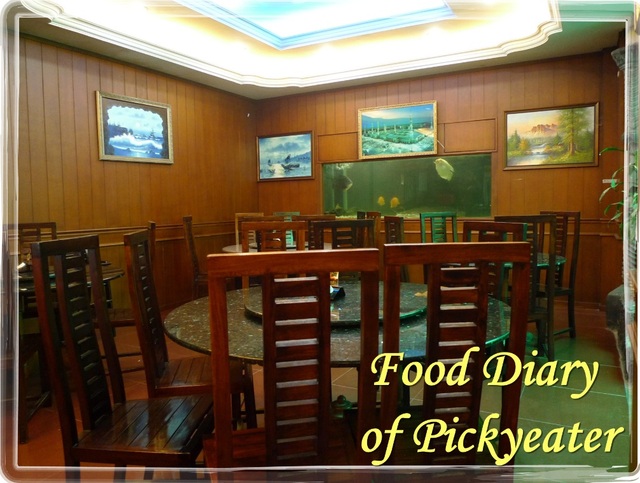 This is probably a
Malay
restaurant that needs no introduction to, especially those who work in the free trade zone area of Penang, or is a big fan of curry fish head or all of the above.
Okay, maybe that's not so true, because I found out about this place from my boss who is a frequent visitor to this place and based on the number of friends/colleagues/subordinates he had recommended to dine here, I think they should consider giving him the VIP membership.
This place is located at the Southbay; which is all towards Batu Maung, and it all started from a shabby little stall under a tree.
Today, this little stall is a decently big restaurant, with full air-conditioning, a grand piano and ready to cater for weddings!
That was exactly what I walked into when I was there for lunch last weekend; a Malay wedding to commence in an hour.
We were led into the rear section of the restaurant as shown in the above photo and it seemed that the crowd was not that buzzing on a weekend.
It has been a while since I have had Malay food, but I am a fan of Malay food and being a Malaysian blessed me with the opportunity, not to mention the variety to enjoy a myriad of cuisines from different cultures!
That's why Malaysian is constantly cited as a food paradise :)
Ayam Masak Paprik (Stir-fried chicken in Paprik Style) -RM9.00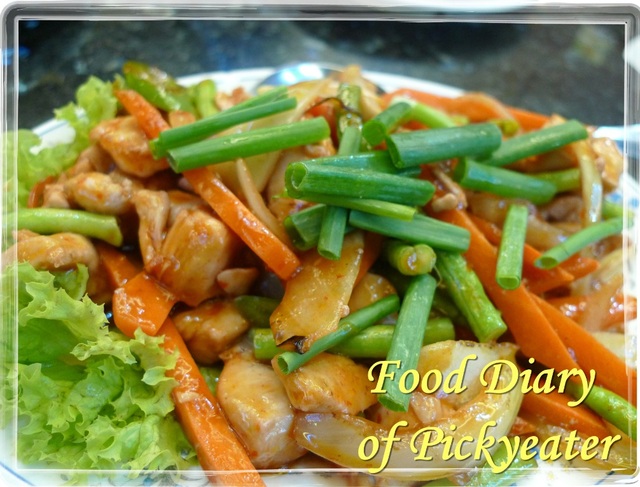 Paprik
style is a sweet, sour with a tinge of spicy taste and it is quite appetizing, really. The gravy of this is made of sauteed chili paste.
It is quite a popular style of dish with the Malay food, although the origin is Thai (word Paprik).
Sotong Asam Kunyit (Stir-fried squids with Asam Kunyit) - RM9.00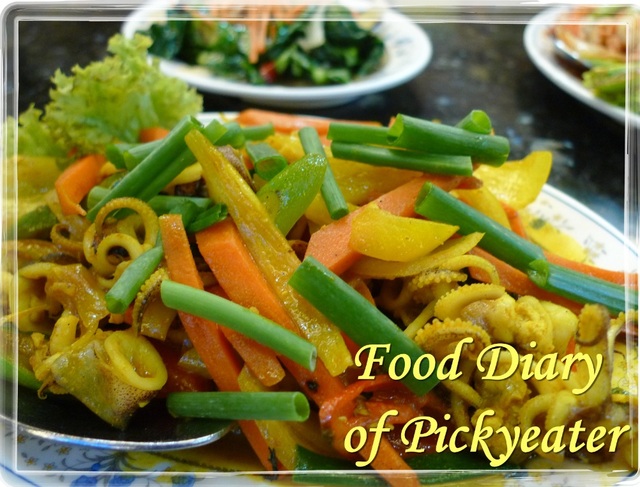 The popular squid dish was the deep fried squids, but I was more intrigued with this; the Asam Kunyit which is a slightly sour taste due to the tamarind (asam).
Tumeric (Kunyit) was used too; which lend the dish its yellow color.
It was not a bad choice, I'd say! A quite unique taste and they were generous with the squids:)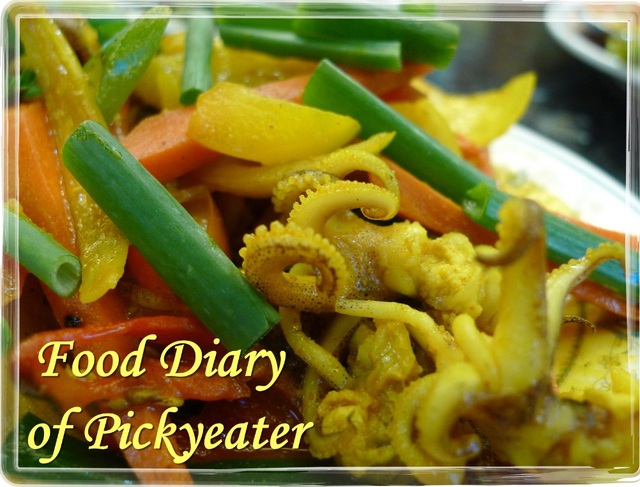 Stir-fried Kailan (Kale) with salted fish - RM8.00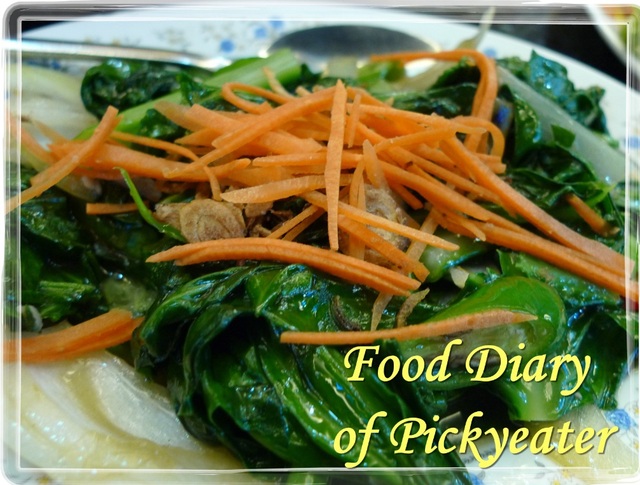 I am not a fan of salted fish, I tell you, but the Malay style of Kailan always recommend the company of salted fish. It was not too bad, which surprised myself:)
Now, on to the star of the meal, and the main purpose one comes to this place for lunch/dinner.
Kari Kepala Ikan (Fish Head Curry) -RM39.00 (3 pax)
*You may be surprised by the size of the claypot they use to serve the fish head, and probably thought you are in for a throat-cutting experience, but be assured that every order gets served that same claypot*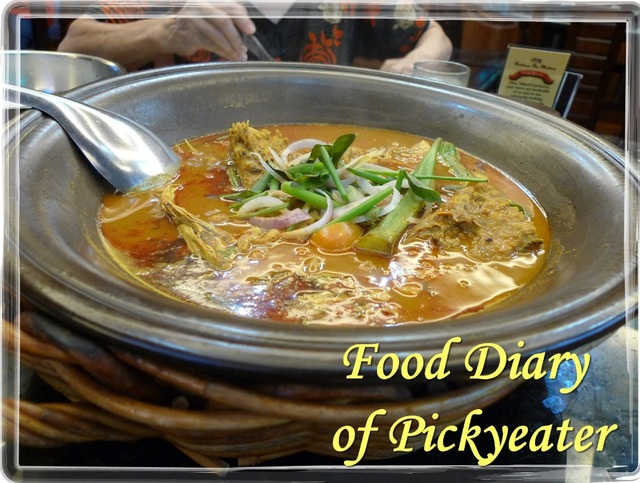 The whiff of the aromatic fish head curry, and you will forget about the size of the claypot.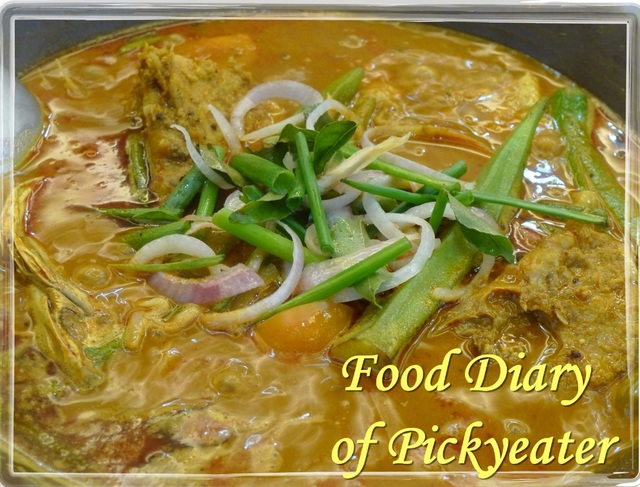 Spicy aroma, steaming hot and flavorful just makes one tempted to try the taste of the curry immediately, even if you are not a curry fan (like me:p )
The curry is dense in its taste, but I found it slightly lacking in the thickness compared to my previous times. I don't think they slacked, maybe it was due to the busy wedding preparations:) (I am sure they do well all the time :)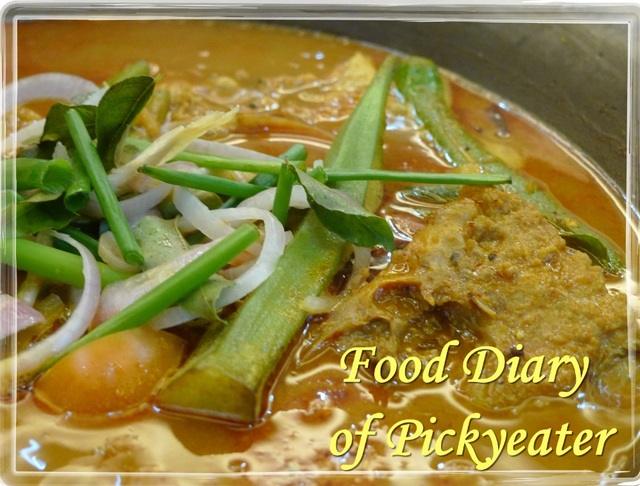 With okra, and fish, I am not complaining, besides, this is one smokin' HOT curry :)
What could be better to cool down that chili heat (not to mention spicy taste) than a good glass of
sour plum with lime juice (Limau Asam Boi)
, which, by the way, is one of their favorite drinks too:)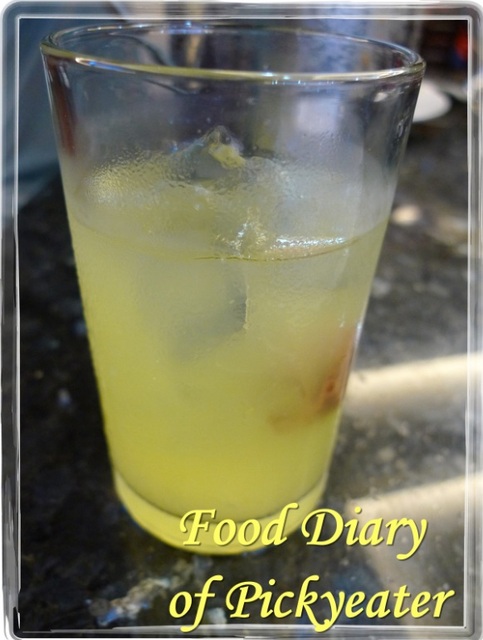 You could order by glass, or if you have more than two people, I'd say go for a jug!(RM10.00 - even if it's a little pricey)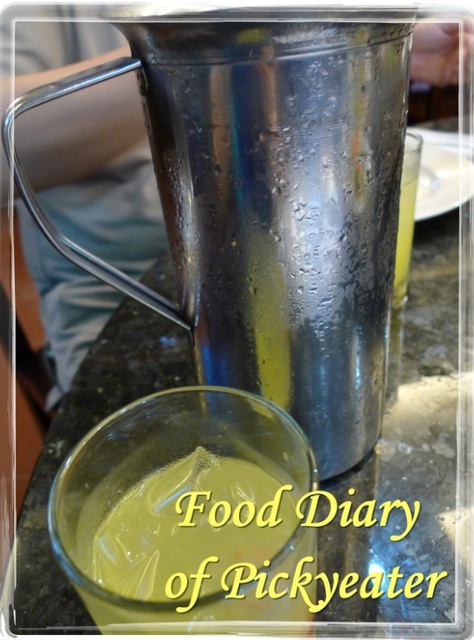 The sour plum with lime juice just have everything you need in a glass, bursting flavor, coolness and refreshing in a gulp, and with curry, you'd definitely need a glass of this!
It would cost about RM20 per pax (minimum) to dine at this place, but that is just a rough estimate as it really depends on what you order from the menu.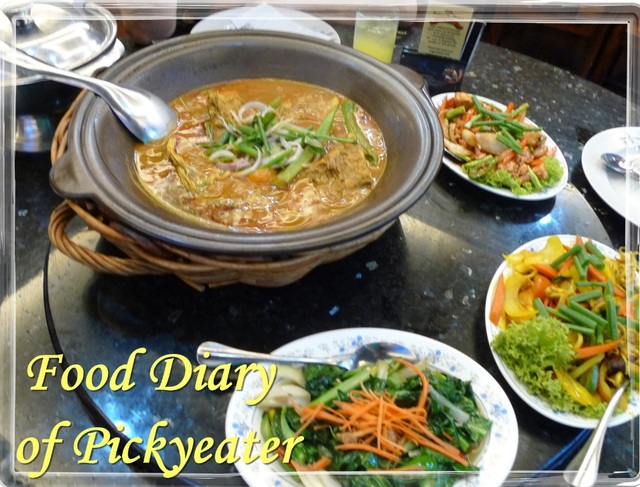 It's not THAT hard to find this place too; if you're coming from the coastal highway leading towards Southbay (Batu Maung).
Take a left when you reach the end of the highway at the traffic light intersection and you should see the place (Take left at the fork)
Oh, in case you cannot finish your dishes, you can ask for the waiter's help to pack it for you to bring it home; they will be delighted to do so for you :)