This is not my first visit to the following restaurant; which is located inside on the grounds of a Chinese temple. I have blogged about my last visit
here
.
It is fast becoming one of the family's favorite place for dinner these days, and I noticed that we will be having dinner that several times (or whenever I am home :)
From the title above, you can see that there is one specific dish which will be highlighted in this post, so be patient :)
There is always, and I really emphasize on
always
a huge crowd no matter what time I was there; even if it was a late dinner at 9pm!
Yeah, we were late this round as I was stuck in a big book fair and as usual, I never realized the time whenever I go to book fairs and as a result, almost everyone was already starving (except me) and I cut my browsing short to go for dinner.
It was already 9pm when we reached there, but again, there was still a lot of people tucking into their dinner.
What pleased me was their prompt service, as we waited less than 15 minutes for our food!
Spicy Kam Heong style squids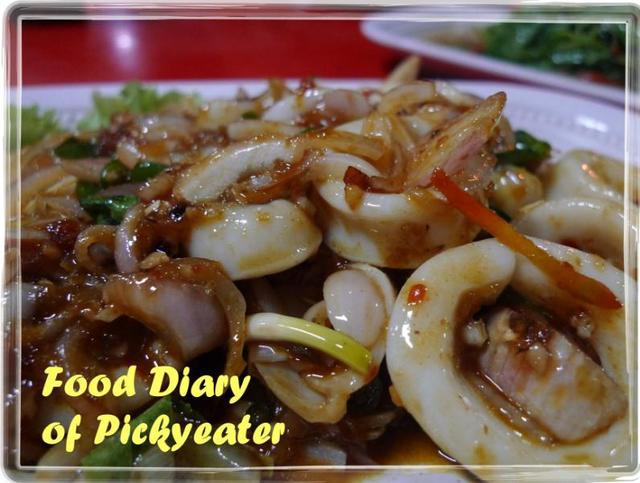 I am posting a lot of photos on this dish, as this is the family's favorite, and the amount of gravy, onions, garlics and squids are just so generous.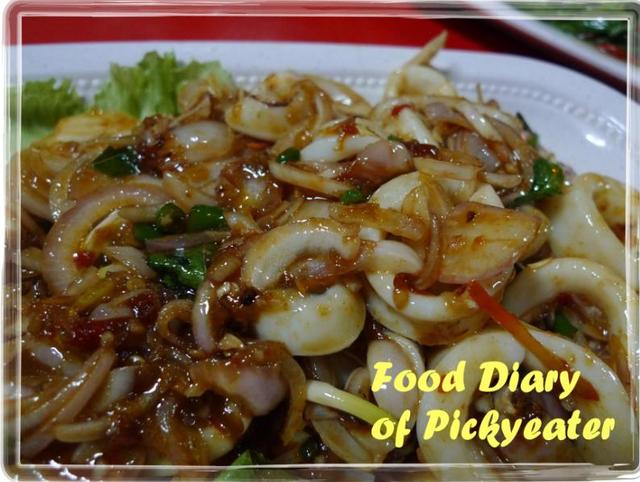 The best part are the large-sized squids which were also fresh and juicy, by the way! YUMMY :)
Look at how big the squids are?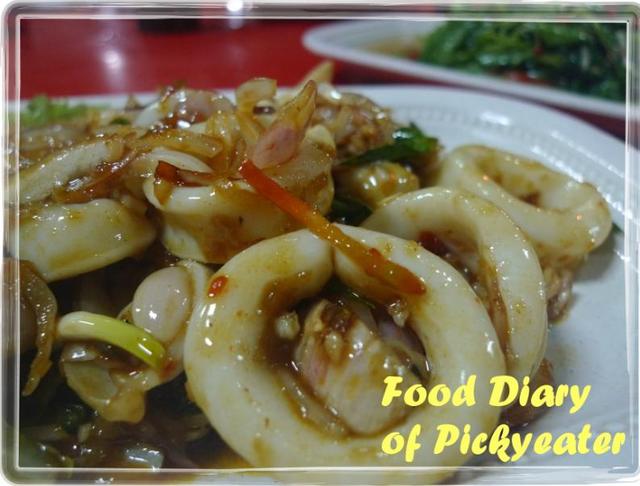 Moving on to the next dish...
Another of our favorites:
Stir-fried spinach in superior stock (with wolfberries)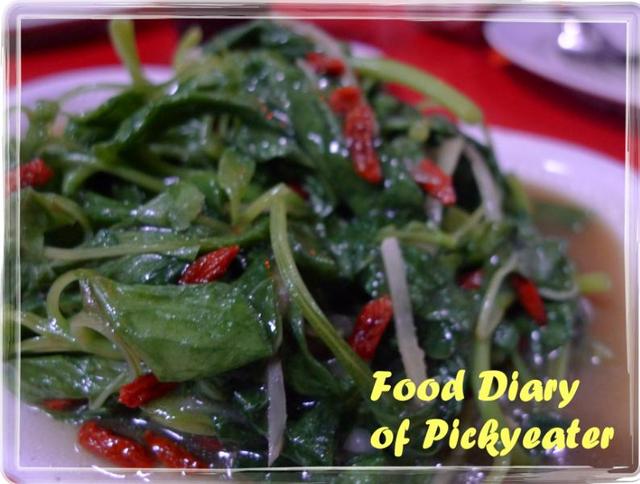 Braised pork ribs with spring onions and pepper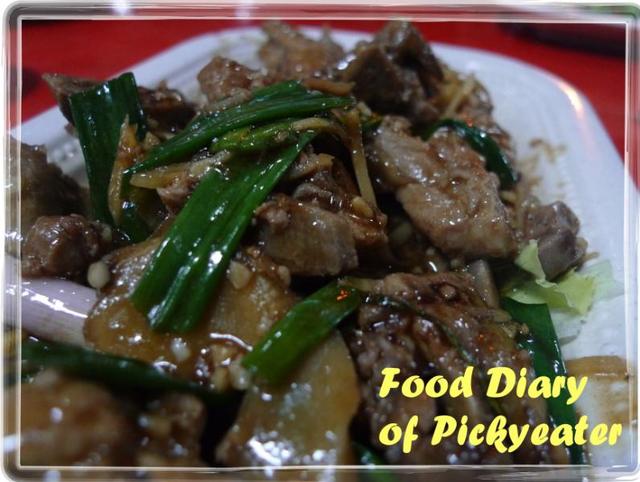 One of my favorites; and even Dad wanted this despite his sore throat (he momentarily forgot about his sore throat *laughs* )
Nyonya style steamed red tilapia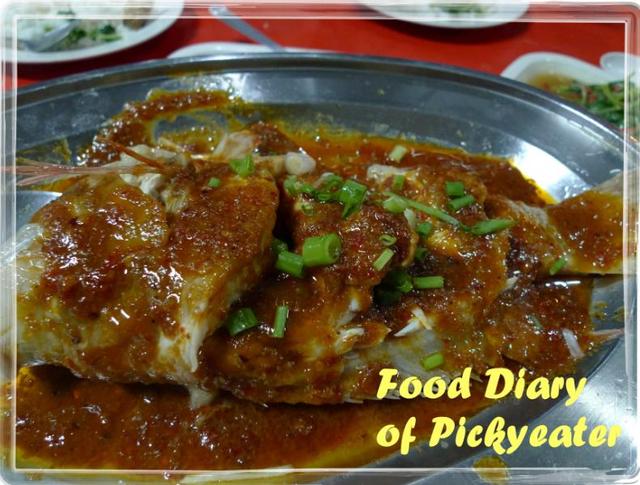 Finally,
the highlight
(yeah, I saved this for the last to keep you in suspense, LOL!)
Braised Japanese tofu served with pumpkin sauce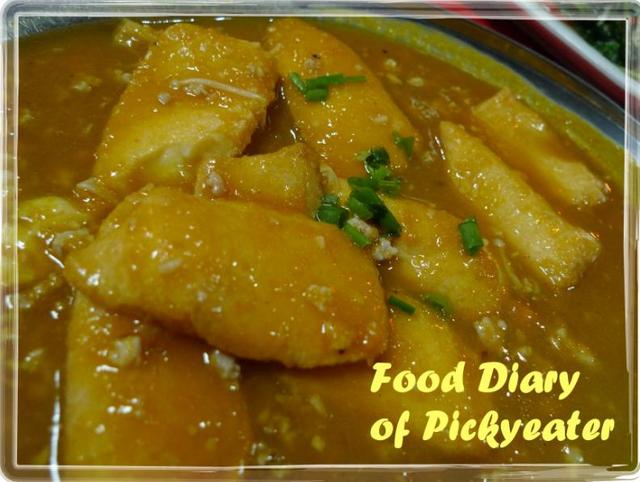 This was like a golden dish, and I loved the bright color of the dish when it arrived!
My mum recommended me this dish; and also for herself as she is a huge fan of pumpkin. I was surprised why would she recommend me as she knew I was not a fan like her.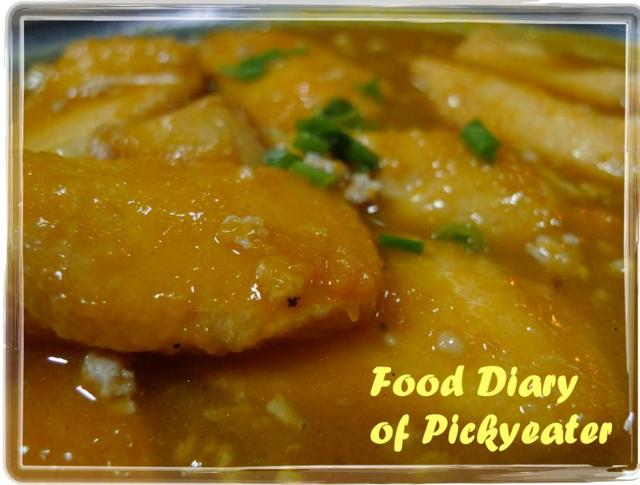 I was really skeptical about this dish, but I took a small piece and I loved the silky smooth texture of the tofu, and the sweetness of the sauce in it. The pumpkin taste was not too overwhelming nor too gooey, and it complemented the tofu just well.
This is definitely a very creative dish, in my opinion :)
(anyway, one pumpkin dish is enough, I am not ready to convert yet :p )
I foresee many more visits to this restaurant and maybe I should take more photos of the place the next time, to show you the crowd? ;)