Whenever I am home; be it for the weekend or a short few days, it is usually about catching up with the family over TV, news (yeah, we talk about what happens around us too!:), updates on our lives and just, you know, spending time with each other.
We would watch game shows, or movies shown on TV, or just chit chat about almost everything in our lives. That's how my family is like, we don't feel like there is a barrier in anything, we just talk about anything we want or like, and my parents are just cool about it.
We may appear to be low-profile or even secretive on the outside (to some), but within the family, we have no secret with each other, and I am sure most families are the same.
Of course, besides the conversations and company, there is often food involved too.
My mummy would prepare food for my hubby and me; be it dessert, soup, salads, or even a full meal (whenever she wants) and constantly tells us to eat.
Recently, she's learnt a lot of new recipes from the TV, and she's always so eager to try it on us whenever we are home.
If she's not handing us snacks, cakes, or buns, then it would be salads, or desserts or fruits, and of late, it's something she would whip up in an instant from the kitchen.
(Oh, she definitely loves QUICK recipes, and she loves a few TV programmes which taught her that:)
She can just serve us food at any time of the day; never mind if you are just back from breakfast, lunch or dinner, there is always time for an extra bite.
(Sometimes I wonder whether she thinks we are starved out there, or suffering from famine :p )
Anyway, her latest creation was this
Cabbage Rolls.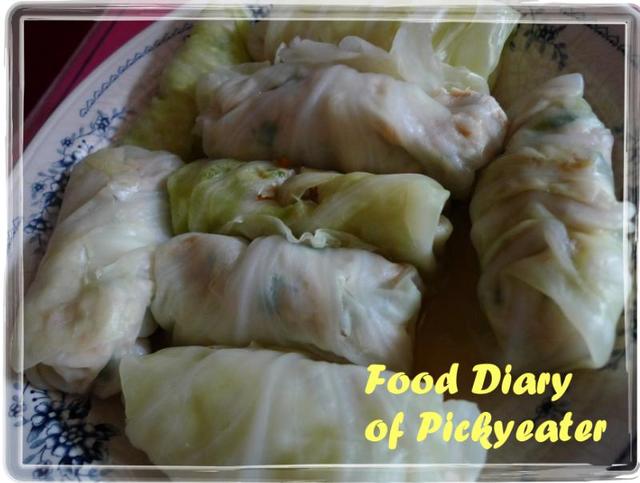 Look at how many she made! :)
This is a simple and healthy dish which is made of pretty simple ingredients too; and mummy said it'd probably take
less than 30 minutes
to prepare it (that's really quick to her!)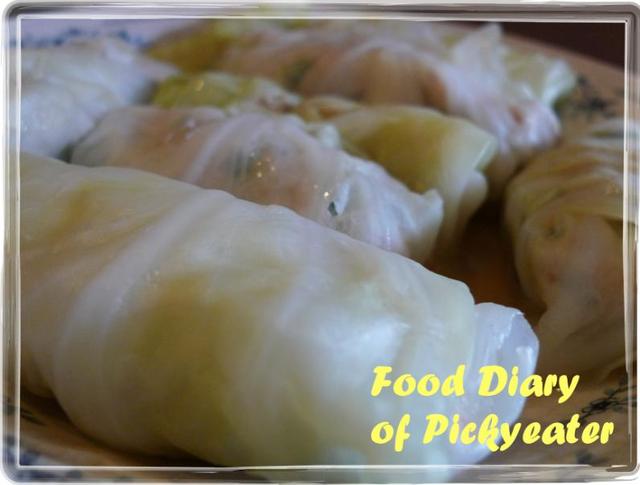 From the outside, it probably looked plain and a little dull or boring as it is steamed cabbage rolls but my mummy was excitedly telling me to take a bite, and I was glad I did.
It was filled with sweetness; not those diabetic-like sugar sweet, but natural sweetness of the ingredients.
First the crunchy layers of the cabbage which were freshly boiled, and then into the content which was
battered fish paste blended with minced carrots and spring onions.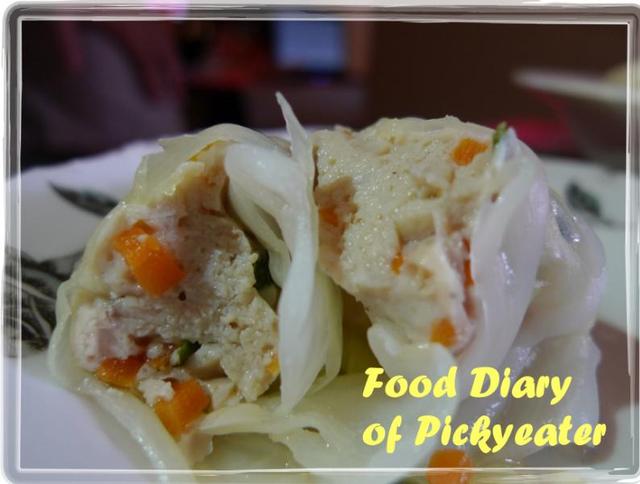 It was simply superb, and I was just so taken with this simple dish, that I took another bite, and another and everyone was full of praises for it and there was no need to ask whether everyone did go for a second :p
This simple dish didn't need much work, and though I don't really have the recipe, I am sure most of you master chefs out there would know how to make this almost in an instant, right? ;)
Suitable for a starter or even as a main course side dish, this is definitely something which can be served in any meal.
I even suggested to my mummy that this could be a dim sum dish, don't you think?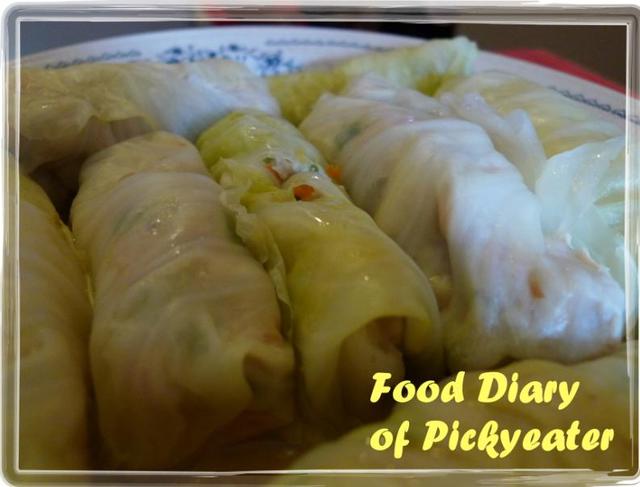 I am starting to miss this; oh, for one more bite! :)