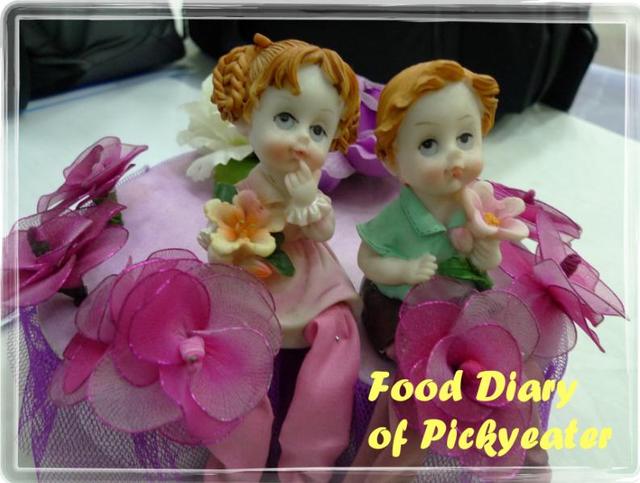 I love weddings; I really do, and I am not referring to my own wedding alone but also any wedding. Therefore, you can tell my reaction whenever I receive a wedding invitation; especially if it is from someone who is dear to me :-)
I always feel honored whenever I am invited; because it made me feel that I am remembered, but I don't think that is the way other people feel, considering my personal experience, but that will be in a separate blog post.
Last weekend, I traveled to
Taiping
; a town in the northern part of Malaysia and south of where I am currently based. It takes approximately 45 minutes to 1 hour from my state to get there; and since I traveled early in the morning, it was a pretty breezy journey all the way.
I was originally supposed to join my friends to stay the night before, but due to my flu, I chose to stay at home and not infect the rest of the bridal party :p
I was part of the bridal party, and this bunch of friends are the best of the best among all my friends as they are the types who would go anywhere for anyone's wedding; and not a single word but only words of happiness and cheer.
That's what true friends are all about, and I truly love them for that!:)
Now, after the morning ceremony at the bride and groom's place, it was time for dinner and FOOD!:)
The reception dinner was at a huge hall;
Persatuan Ong Si Thye Guan Thong Perak.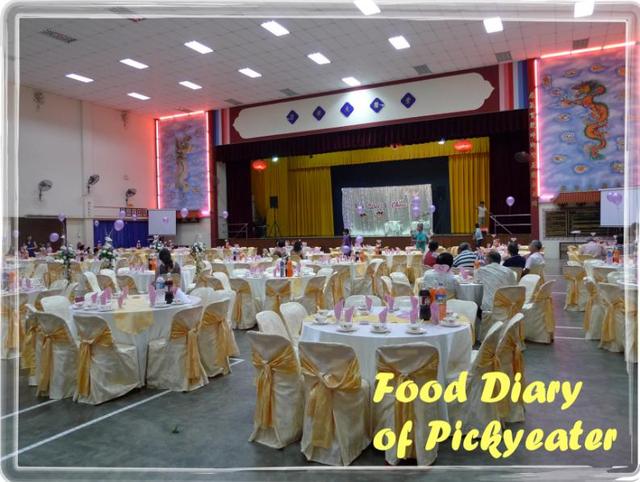 The lovely decorated hall; all ready for the guests :)
We were also part of the reception team, and these are our corsages as part of the bridal party ;)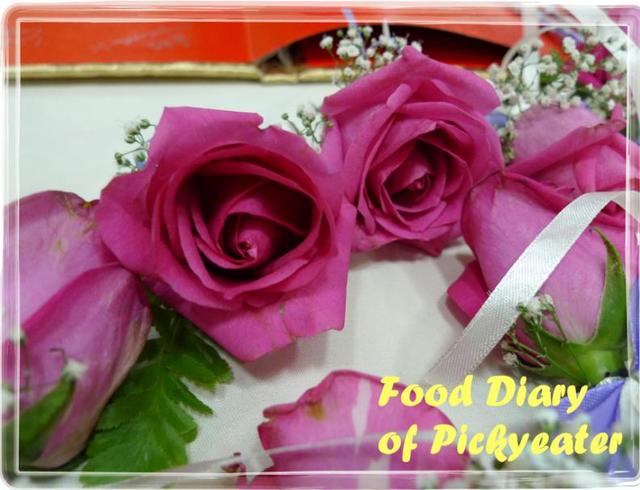 Table settings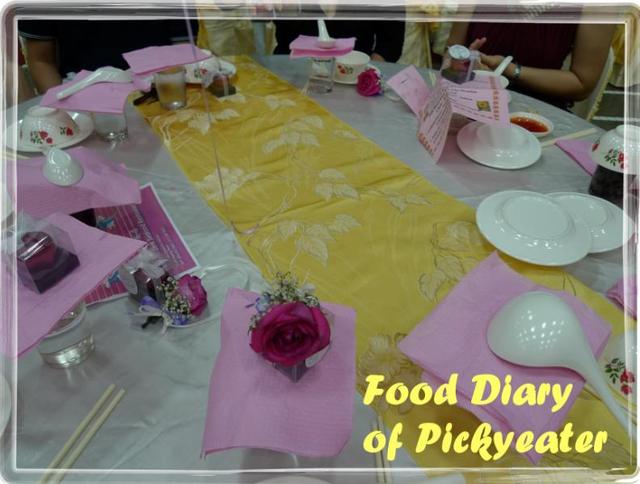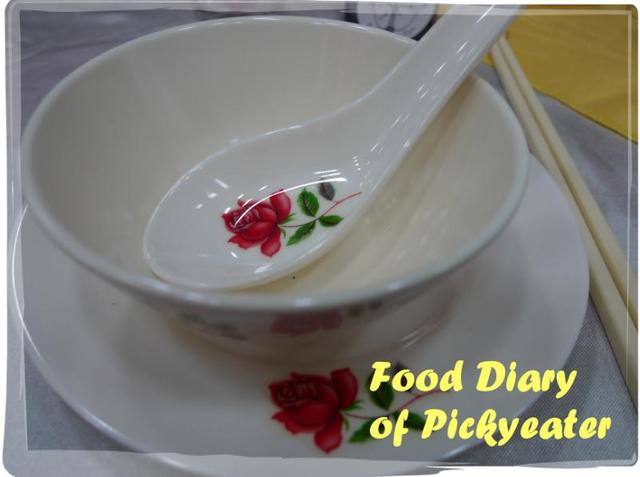 Chili sauce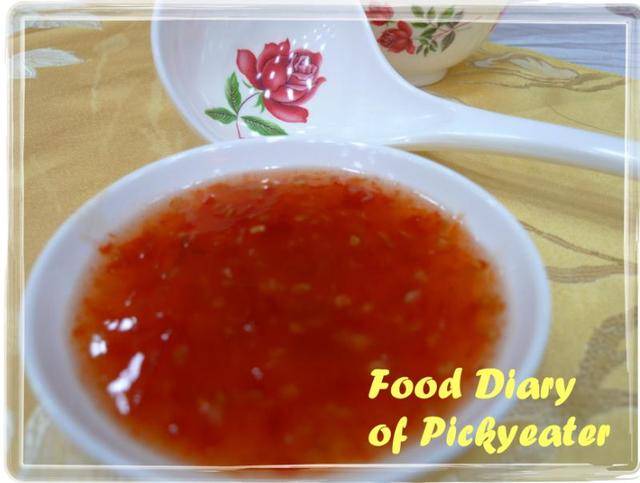 FOOD photos; like all Chinese wedding dinners, it is always a 8-course dinner.
First course: Appetizers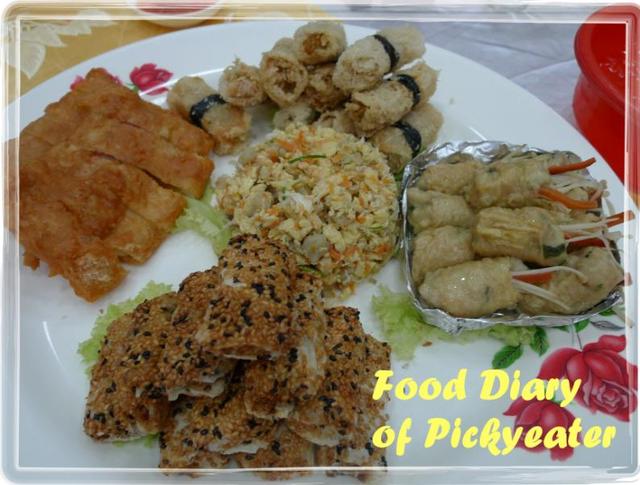 From left to right: Fried pastry with ham, meat rolls, fish rolls, seafood rolls with sesame seeds, and stir-fried eggs with vegetables. (I am just describing from my memory, as I did not read the menu :p )
This is my favorite; fish paste rolled in fried beancurd sheets with century eggs and enoki mushrooms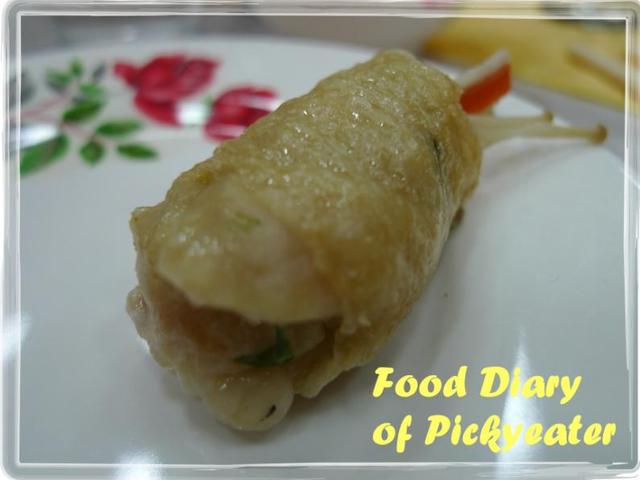 Second Course: Braised shark's fin soup with crabmeat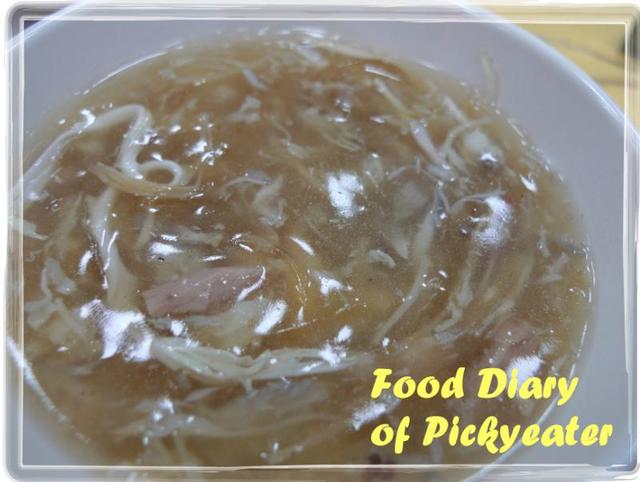 Erm, for a lot of reasons, I don't take this soup and I am only snapping the photo:P
*Pickyeater says NO to shark's fin*
Third Course: Chicken served in dual style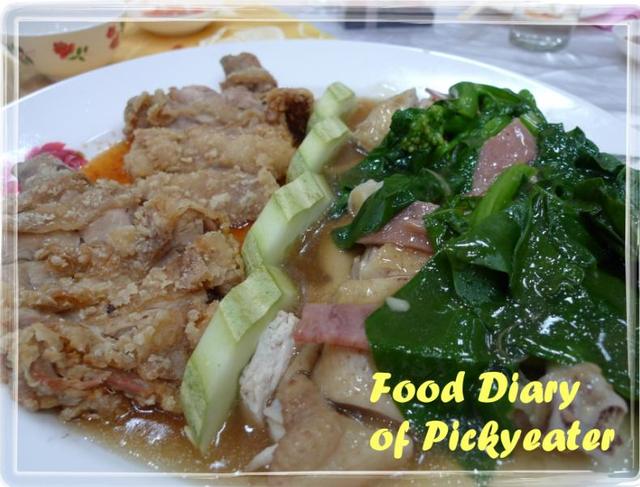 Left: Deep fried and braised on the left, with mustard leaves
Fourth Course: Braised vegetables with crabmeat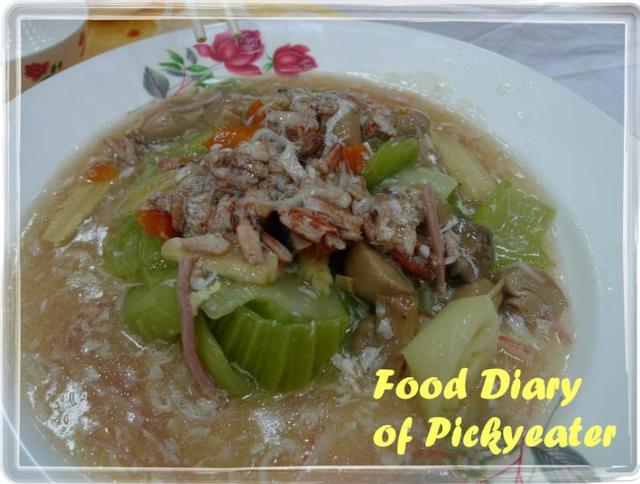 Fifth Course: Braised pork ribs in beancurd sauce wrapped in aluminium foil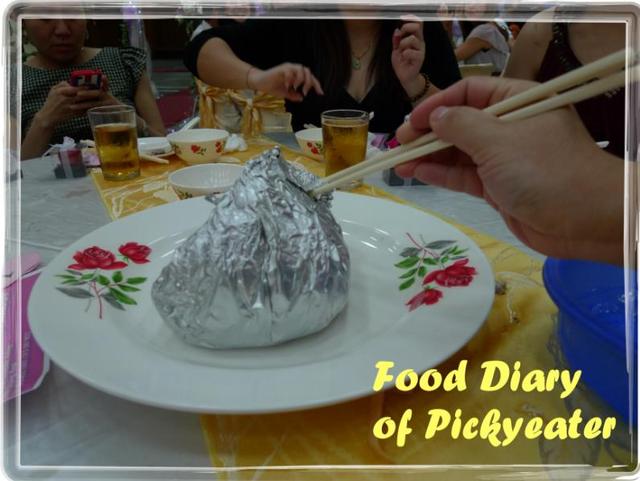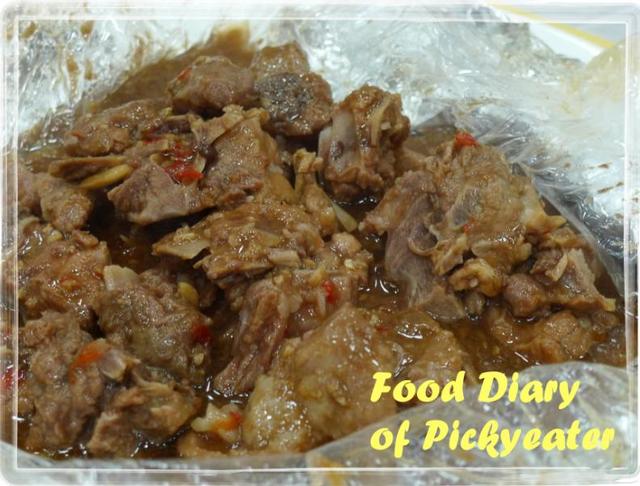 Sixth Course: Steamed White Pomfret with soy sauce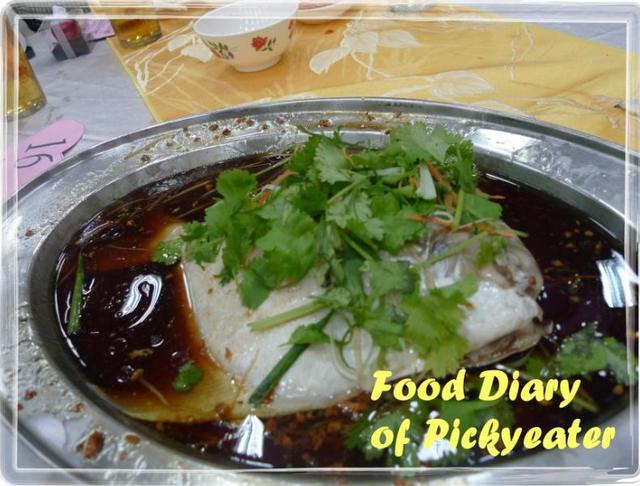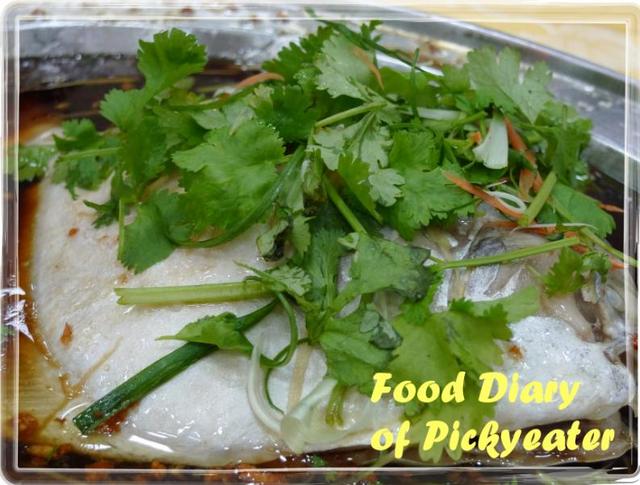 This was the most disappointing dish and to think that I anticipated the fish; it was simply bad and not fresh.
*shakes head*
Seventh Course: Curry Prawns with fried buns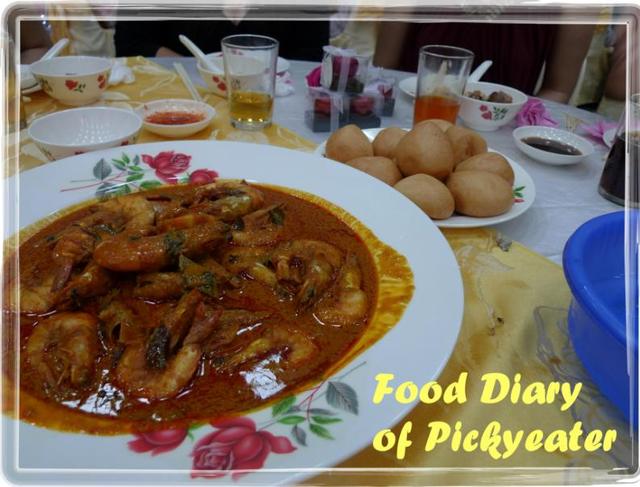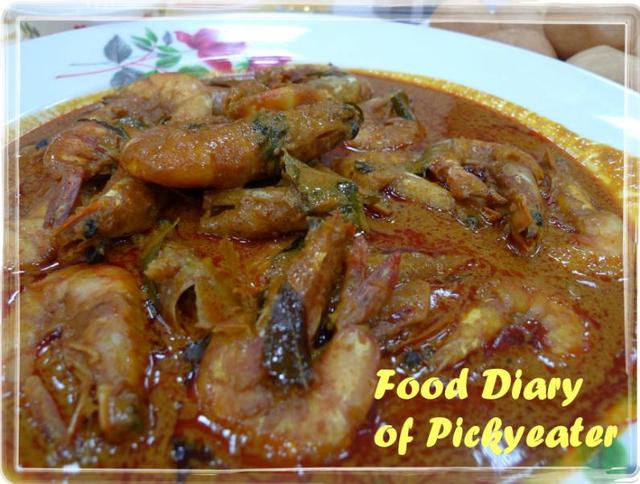 Eighth Course was the dessert: Treasures Soup with boiled gingko nuts, barley, jelly, potatoes, lotus seeds, red beans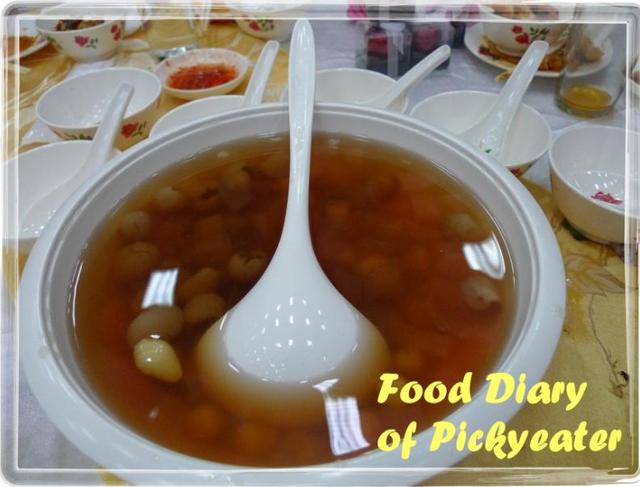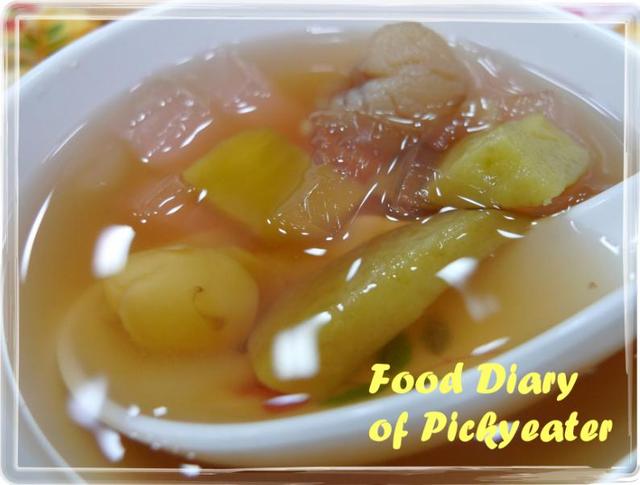 Hubby gave this bowl to me, because it had my favorite barley!;)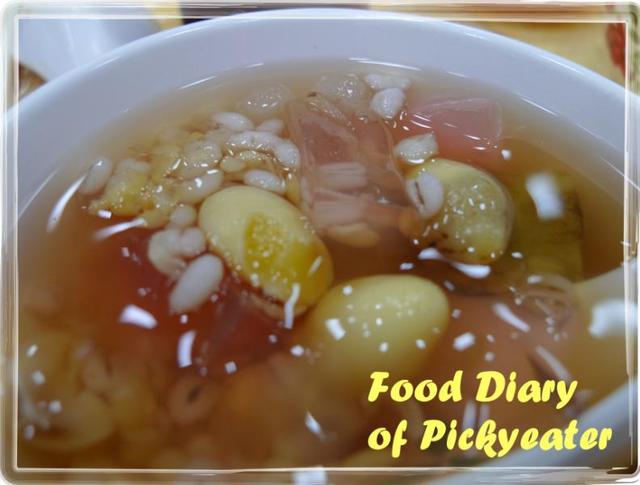 The favor for the guests; I loved it!:)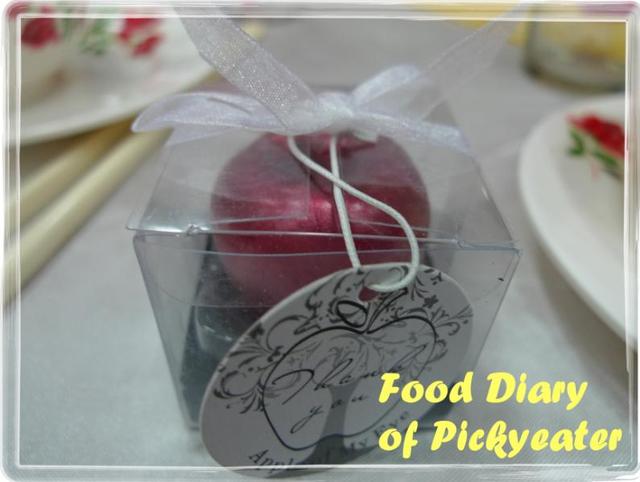 It was a wonderful dinner, and seeing a dear friend getting married is always a touching and lovely scenario, don't you think?
I wish the newly weds every happiness in the world :)
Did I mention again, I really love weddings? ;)