It is always hard to find a good "Chu Char" restaurant which fulfills our own personal criteria/requirements.
It must be good, and prices must be reasonable.
There should also be ample parking spaces and location, does not really matter.
Oh, recently, healthy food is also added to the list; preservative-free, organic, MSG-free, whatever, anything that sounds free sounds good.
One of my favorite haunts when I crave for homemade dishes that is close to Mum's at home would be this particular Chinese shop in Tanjung Bungah; along the shops near the Tg Bungah market, or more precisely, the bus station.
Siang Pin restaurant is run by a family, and they offer a wide range of dishes for you to choose from.
They are open for breakfast; offering good ol' toasts with kaya, butter and coffee and they also have set lunches.
I am always there for dinner; and the following are the few dishes we enjoy, with my family and relatives sometimes =)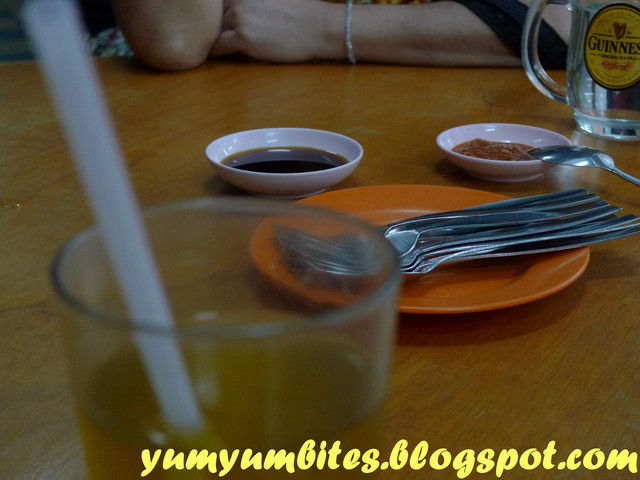 Recommended dishes include:
Signature famous Fish Head curry (ranging between RM22-RM35) with a choice of pomfret, garoupa/grouper, and snapper fish in it.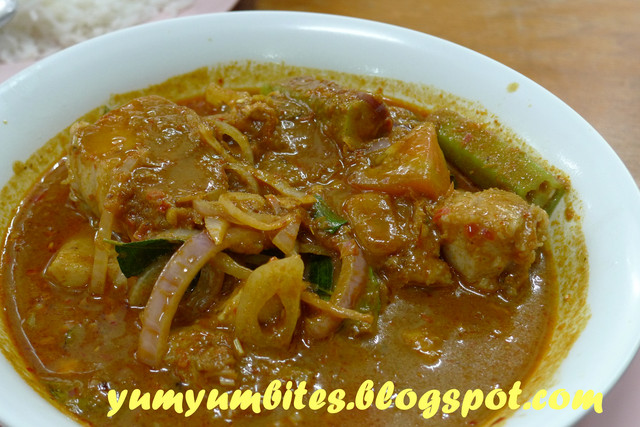 It had a heavy scent and delightful amount of curry mixture which was just aromatic and appetizing when it goes with the white rice.
You can't seem to get enough of it, and even if you are someone like me, who can't really take spicy food or is intolerant of coconut milk in curries, you are bound to love it (they don't have coconut milk in it anyway)
It is one of the favorites here and you can see them on practically every table especially on weekends.
Kung Pow mantis prawns (RM8)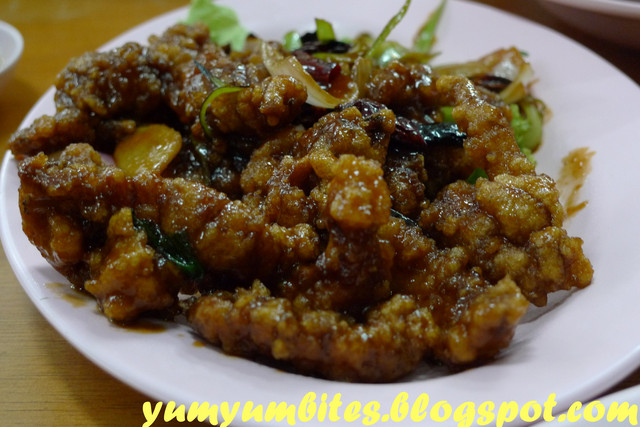 If you had followed my blog closely enough, you would have realized that I am a big fan of this dish as I seem to be ordering it everywhere I go; be it North, south, east, west!
Here, their version was good, with juicy and generous sizes of mantis prawns cooked with such delicacy that it was just almost finger-licking good!
(That much of publicity should earn me the privilege card of patronage here, don't you think?)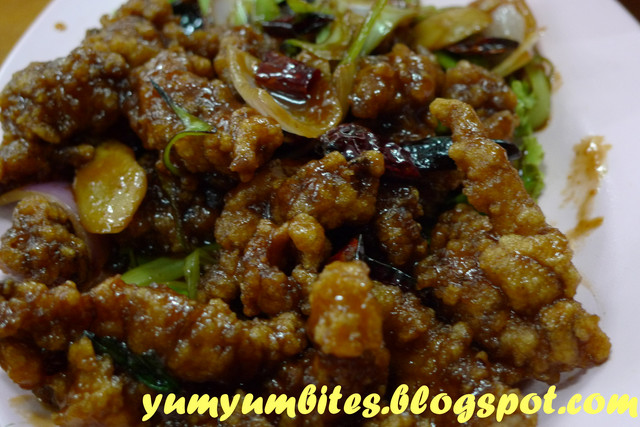 Recommended by the boss who took our orders all the time, this was their tiger prawns served with their specialty Patong sauce (RM20)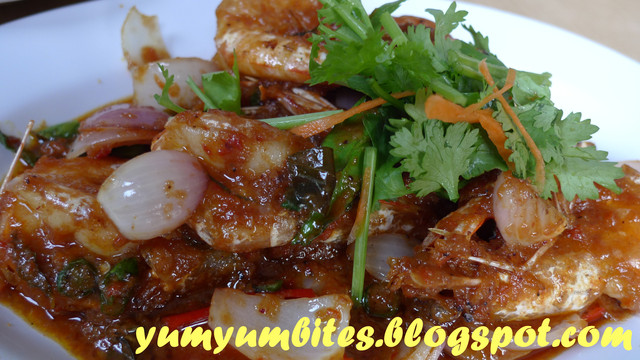 The prawns were huge; not to mention that they were fresh, succulent and juicy.
The abovementioned Patong sauce was a rather unique mix of sweet, sour and spicy and was appetizing. There were curry leaves thrown in the gravy to give it that aromatic and fragrant spicy scent which draws you to put them in your mouth.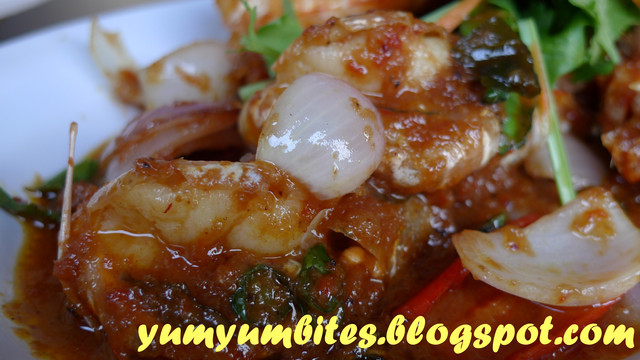 For fish, you can also try their Sweet and sour fish fillet (RM10)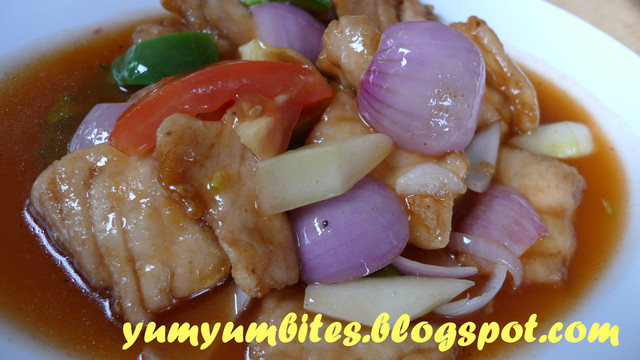 I can't tell you how great it tastes; as I have always been a big fan of fish fillets or fish in general, so it may be biased, but that per se, I have no complaints about this =)
Or for a more value worth option, you can also try their braised fish fillets which comes with an abundance and mix of vegetables and also beancurd in a good ol' piping hot claypot at only RM12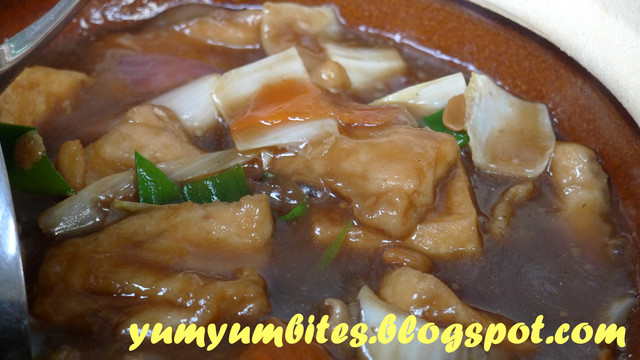 This was one of my favorite dish of all times!
For beancurd dishes, if you are big fan of soy protein, there are also lots of varieties available.
For instance, you can go for the conventional Claypot Tofu with everything in it (RM5-8)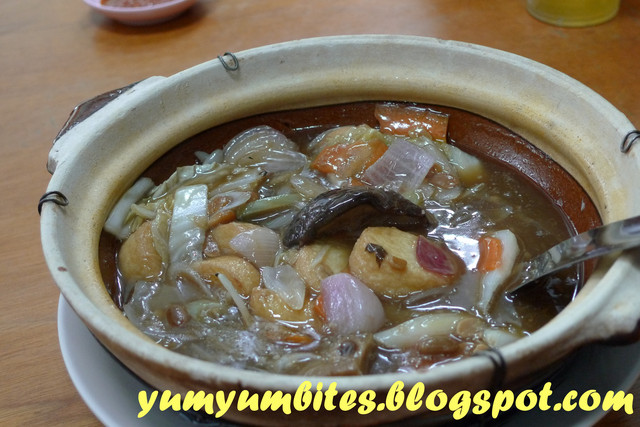 Or you can try this simple and plain but healthy recommendation; steamed smooth beancurd with eggs (RM12)
It came with an abundance of freshwater prawns and also some crab meat floss along with snowpeas and mixed vegetables.
A good choice when you have kids who just want gravy and healthy food to go with their rice (healthy does not means you have to compromise the taste here;)
Finally, when it comes to greens, you can opt for this healthy option of Stir-fried spinach the good old style; with garlic (RM8)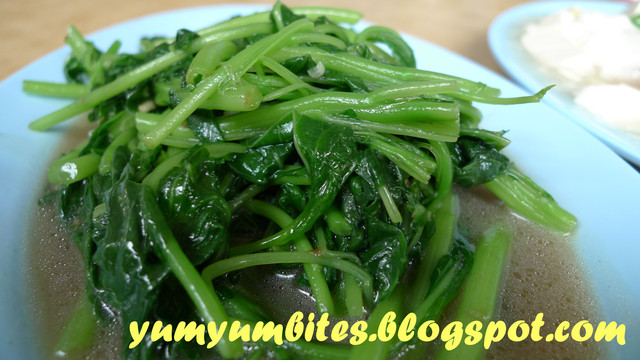 Or when all runs out, there is also the Mixed vegetables dish where you just throw everything in and you get all that everyone wanted (RM8)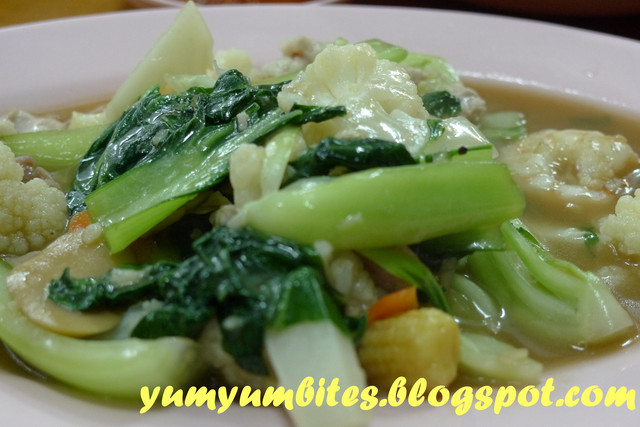 Looking at all the pics and the food just makes me crave for home-cooked dishes more, furthermore after suffering from food poisoning and gastritis for a whole of last week and was told by my doctor to take home-cooked food.
*Whines* I want Mummy's homemade dishes*
Theirs is the closest to home-cooked food and minimal in MSG, or so I feel after my few rounds here, and judging from the customer base every weekend, I dare say the responses speak for themselves.
To avoid disappointment, do be there early! =)