CRC is known to me as one of the most exclusive Chinese restaurants in Penang, or so I thought and a recent dinner invitation to a birthday changed my perception of the place.
It is just the same as any other Chinese restaurants I have seen anyway, and exclusive? No. High-class? Not really, but it's just decent.
Since I've just mentioned that there is nothing different from any other Chinese restaurants, I won't be sharing any photos on the interior and will go straight to the food served during the 8 course set dinner for an elderly aunt's birthday.
We started off with the birthday buns; which is significant for most birthdays meant for the elderly folks in the Chinese society.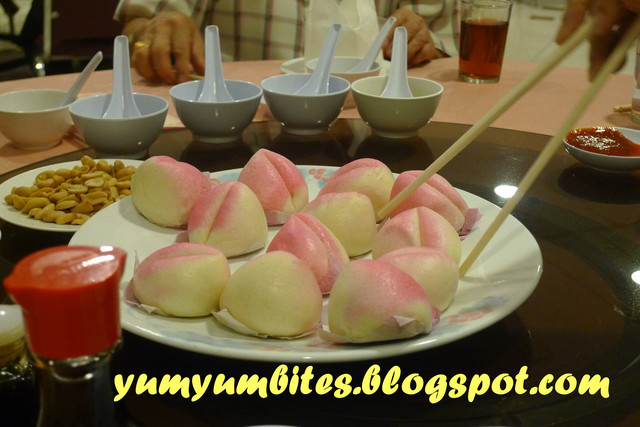 (The buns are shaped in the peach, and is associated to the Heavenly Mother; Jade Emperor's mother in Heaven's magical longevity buns. The name of these buns in Chinese is "Sau Pau" which means longevity buns)
You can get these buns at most stalls selling kueh and steamed buns like these, and you can find them in paste fillings of either peanuts or sweet lotus paste.
It's been a while since I've tried the sweet lotus paste, which is actually my preference and I was delighted to find that this version was exactly that.
My only complaint was that it was not steaming hot as it should be, and I guess it was just microwaved and due to a wedding happening at the same time outside (we're in a private section), ours was left to serve when it was cold.
Four Seasons Combination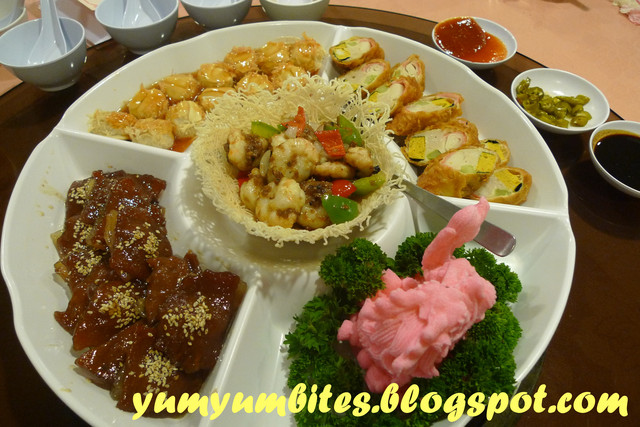 From left: Marinated roasted minced meat slice atop pork fats, seafood balls in sweet and sour sauce, fried fish cakes, and kung pow shrimps with chicken.
Notice that little pink dragon on the right side of the dish?
It was actually made of sugar and I liked how it was intricately carved.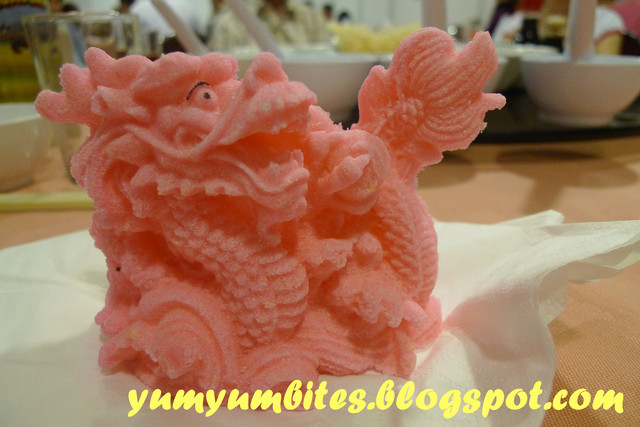 Even the children were fascinated by it and it was hard preserving the original stature of the dragon with the kids constantly touching it, LOL!
Back to the food, the next dish was the roasted suckling pig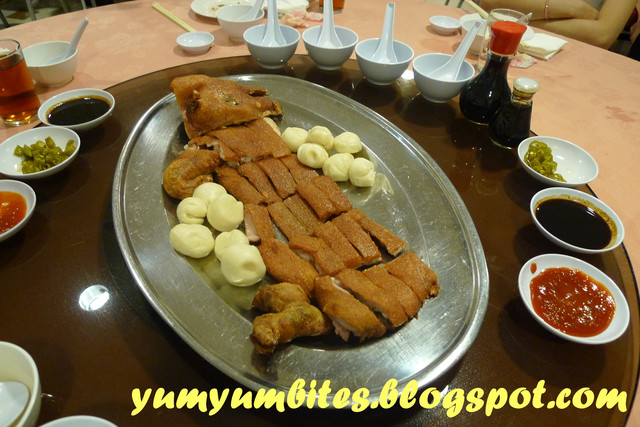 I found it funny that this was served during a birthday dinner as I remembered my grandma telling me that Hokkien folks are not particularly fond of this in happy events as they usually serve this in mourning events.
Anyway, I guess one tradition for one clan may not serve for the other, right?
Furthermore, I do remember the Cantonese use this in weddings for their daughters =)
Braised broccoli with mushroom and beancurd sheets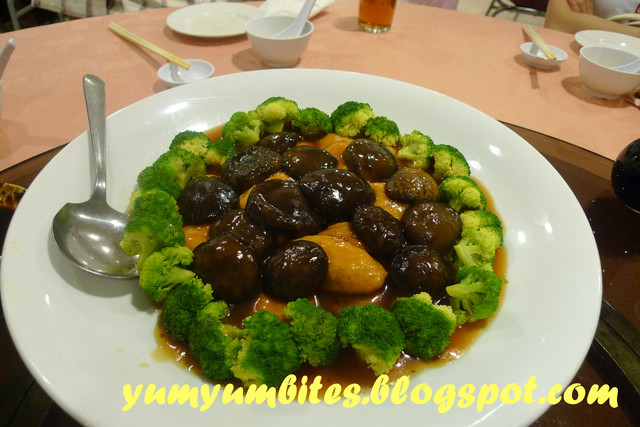 Butter tiger prawns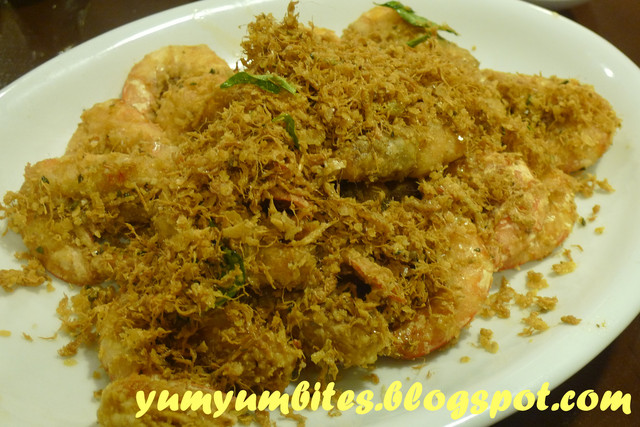 Steamed red snapper fish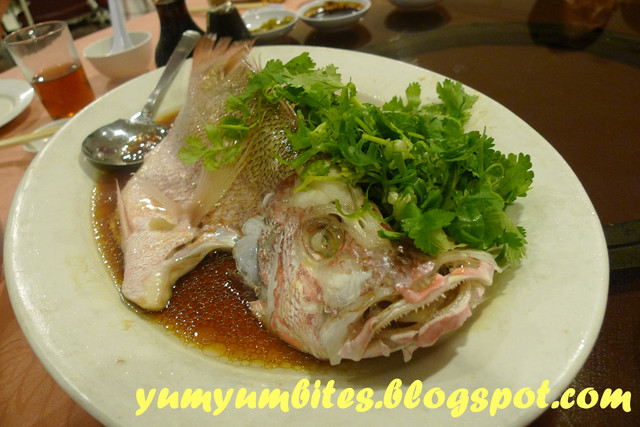 I was really disappointed that even the fish was served cold, ughs!
Birthday noodles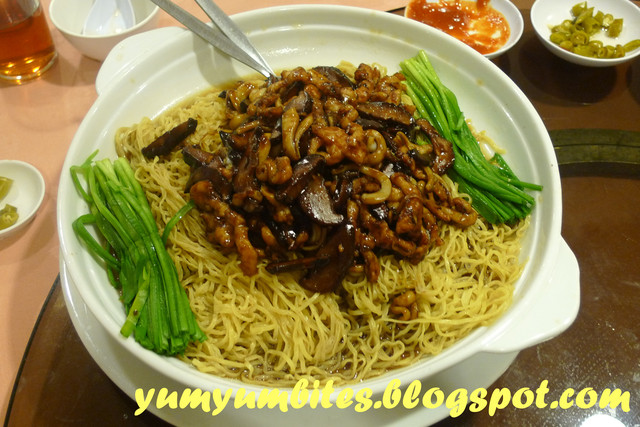 It was really funny how everyone called it Birthday wanton noodles.
Everyone was bewildered how the noodles were served so long and almost wanted the waiter to cut it off.
I had to stop them and explain that these noodles were meant to be served long.
I remember my grandmother and mum used to tell me that this is supposed to be the Birthday and Longevity noodles (in Chinese, you call it the Sau Min - Longevity noodles).
When this is associated to longevity and age, it is inevitable that the Chinese wish for length; the longer the better.
Therefore, to preserve the auspicious significance, it is best to ensure that this should be kept long and not to be cut before serving!
This will ensure that the birthday celebrant has long life and happiness =)
Before dessert was served, the hosts decided to have the birthday cake session and this was nice cake with longevity illustrations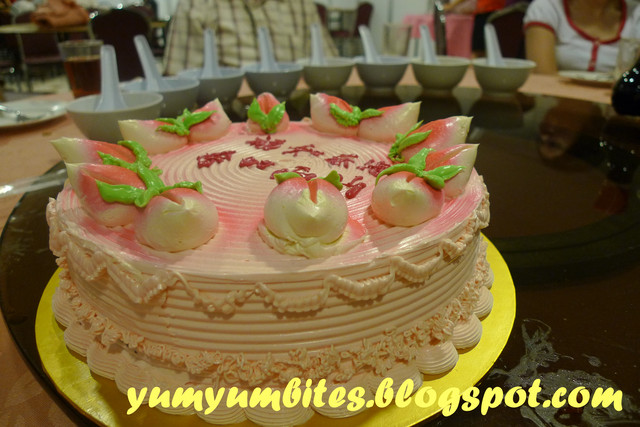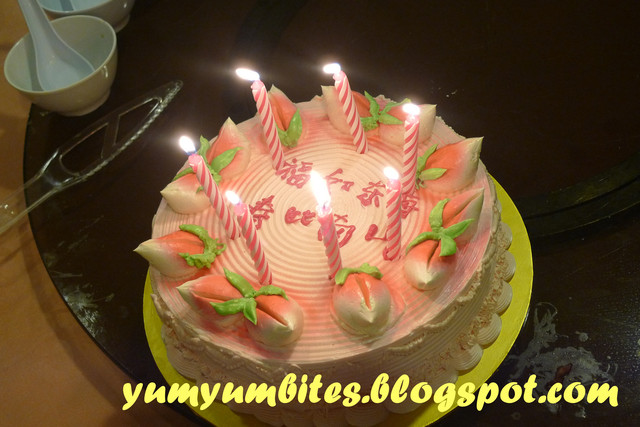 Finally, the last in the course set; the dessert.
Honeydew sago
This was the right one to be served cold; and it was cold and refreshing.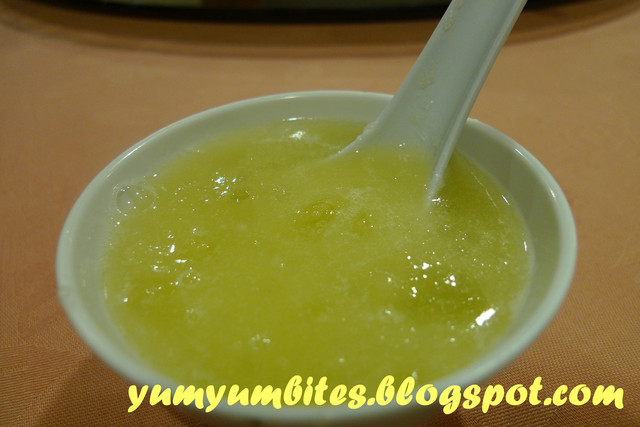 The best part?
There was no coconut milk and I enjoyed the thick sago with the fragrant scent of freshly cut honeydew (although I could barely bite on any honeydew)
Overall the food was quite good but I was disappointed that they were all served rather cold.
I guess I can't complain much since they have another wedding dinner out there and they are short of serving staff.
In fact, the price for the course dinner was only about RM350 per table of 10 pax and I think we were given discount.
Oh, I heard that they even provide 10% discount for walk-in customers, I am not sure how true that is?