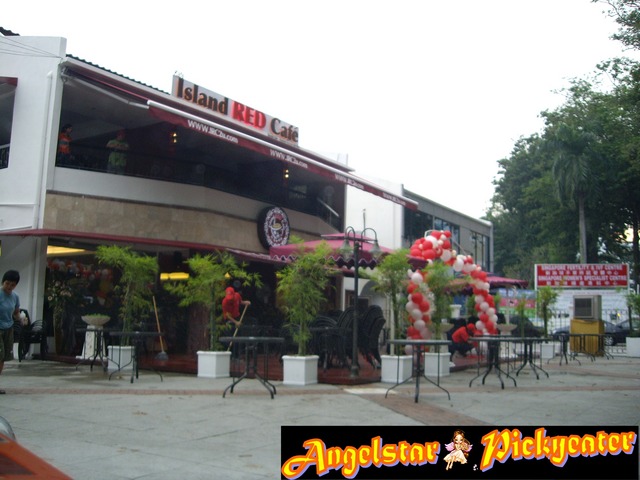 Pulau Tikus became the new second home to the Island Red Cafe; which recently opened its doors to the residents here.
Proudly displaying the flowers and the red and white balloons (the color for this cafe), the cafe has definitely caught the attention of many when they chose the strategic location across Midlands One Stop Shopping Centre.
When I walked into the cafe after making my way through those balloons and flowers, I found myself in a familiar environment which strangely reminds me of Old Town Kopitiam!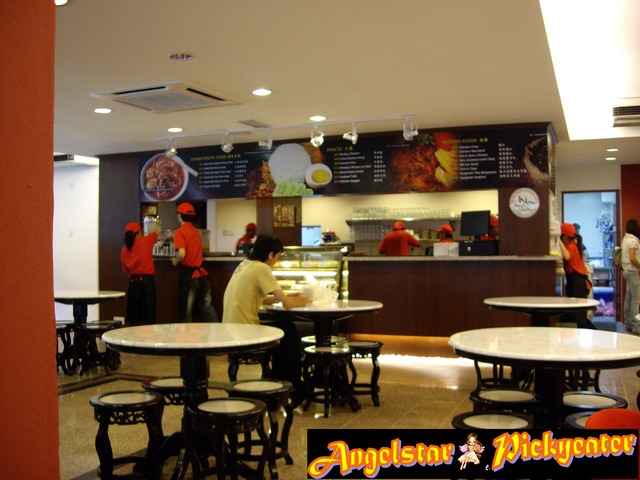 Frankly, based on the interior of the place, I felt that there was no sense of identity of this cafe by itself.
For one, there were marble kopitiam tables in the middle, then on your left, you will see those high benches like those in bistros, and to your right, there are cosy chairs just like that of Starbucks and Coffee Bean.
I felt confused just looking at the interior; and moreover, I was informed that their feng shui consultant doesn't seem to tell them that it is not right to put tables right in the middle section of the cafe facing the entrance.
Anyway, after that deja vu feeling of walking into Old Town Kopitiam, I was seated at the red chairs on the right side of the cafe.
Orange Carrot Juice(RM3.60) and Island Milk Tea (RM2.30)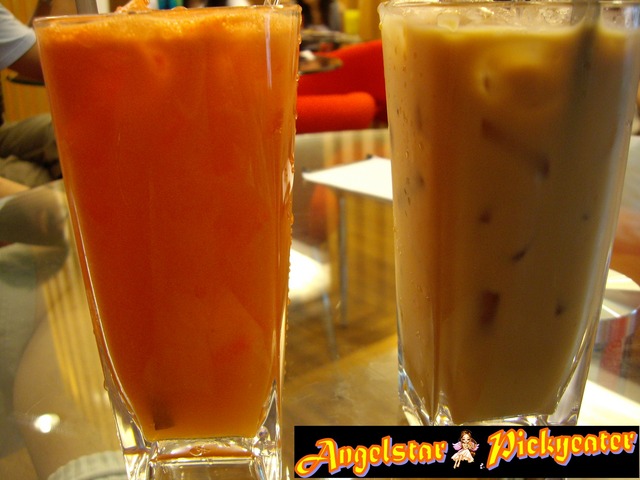 Both are equally as much light as the other is.
The 100% freshly squeezed juice must have been mixed with 1/2 glass of water/ice cubes, with probably a light hint of carrot and the strong taste of the small sour orange on top of the glass.
The Island Milk Tea did not fare any better; as it was more watery than milky.
Tomyam Seafood with Rice Vermicelli (RM7.90)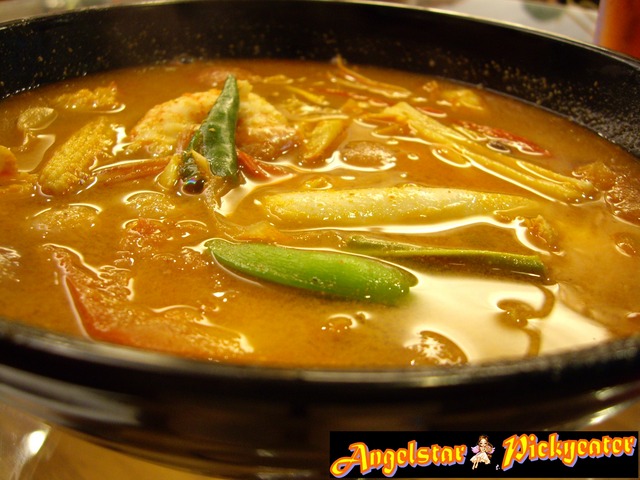 When I ordered this, I specifically told the waiter that my choice is of rice vermicelli, and after that he came running back to my table after 5 minutes, asking me, "You want Rice Vermicelli, right?"
Okay, that's good that they are making sure they got the right order, but didn't they just wrote it down?
Secondly, I waited for more than 20 minutes for this bowl of Tomyam Meehoon soup; which practically had only 3 slices of squid, 2 fresh prawns and a piece of chicken meat, with 1 snow pea, 2 florets of cauliflower and 2 tomatoes in it.
To make matters worse, I was even served later than the table next to me who only came after I have made my order.
They sat down 5 minutes after my waiter walked away, and they got their food 10 minutes ahead of me!!
Now, that's not something tolerable, isn't there a sequential ordering system in place?
Back to the tomyam seafood, the soup was not too bad at the first few sips, and it got quite weird after that.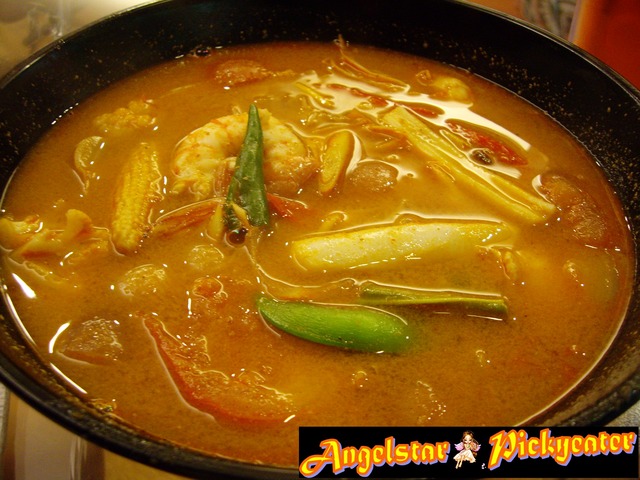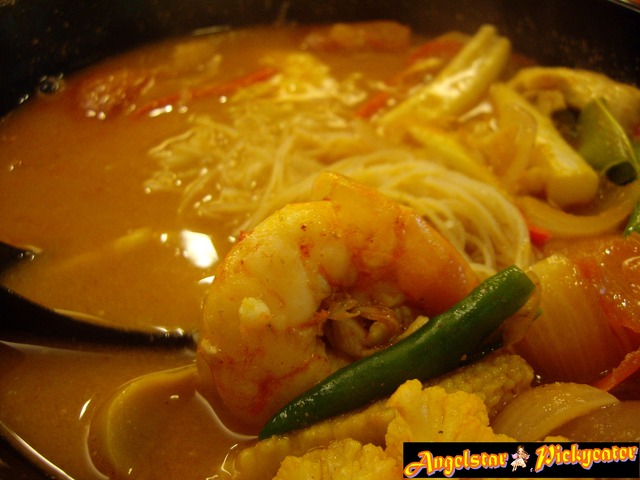 At least, the prawns were half-peeled for my convenience.
Seafood Spaghetti (RM10.80)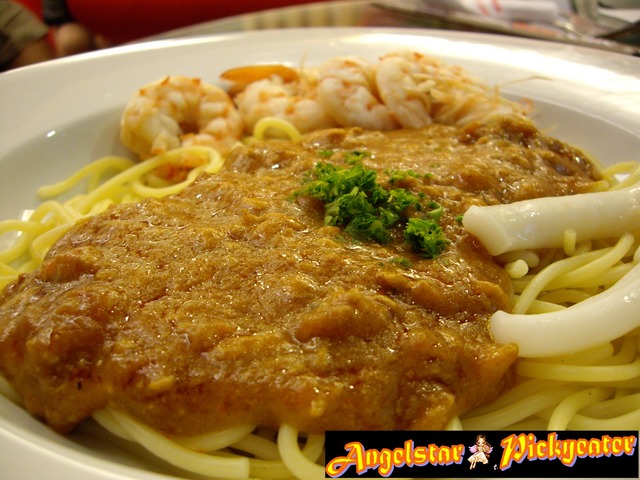 I couldn't believe my eyes when I saw this plate of "Seafood" spaghetti which was served with chicken patti sauce!
The 'Seafood'?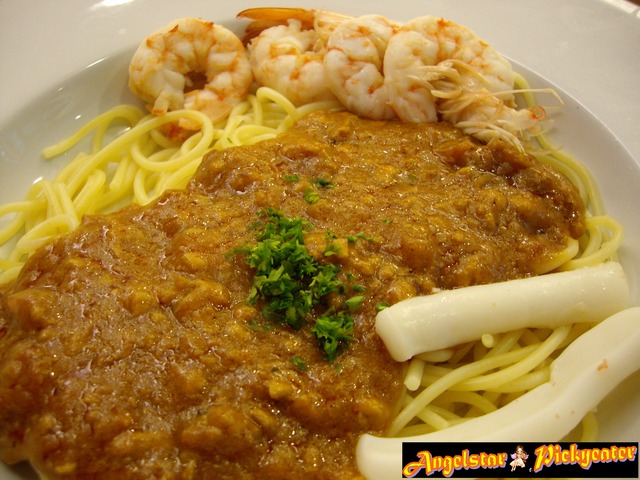 Oh, the 5 half-peeled prawns and 2 slices of squid were it!
For RM10.80, it was totally not worth it and the taste, is definitely not even up to it.
To wrap it all up, the total bill was RM27.05, with the service and tax charges included.
Erm...what kind of service, I even had to open and close the door myself when I left the cafe!
I don't think I was the only one who complained about the service, as there was another table next to mine who beckoned to the waiter/waitresses so many times due to the dissatisfaction with the food served.

Maybe they're new, and most of the things are still not in place?
But for me, I don't think it is my cup of tea...or milk tea