(
continued from previous post
)
For light tastes in the afternoon or for tea, there are other ala carte choices besides the combo set meals in the previous post
Koay Kow Fish Porridge (Koay Kow is garoupa fish in Hokkien) - RM6.00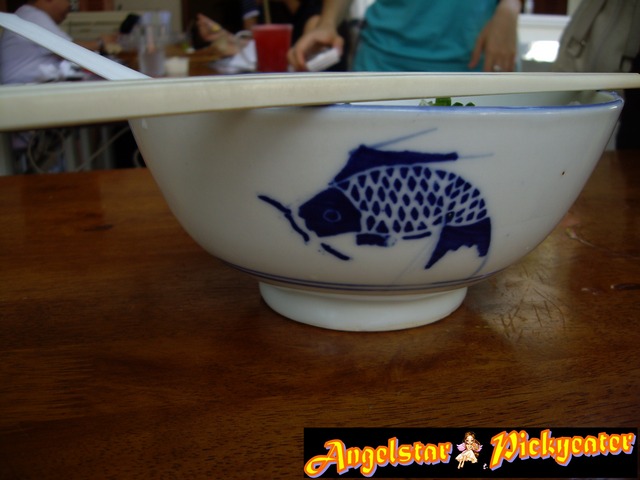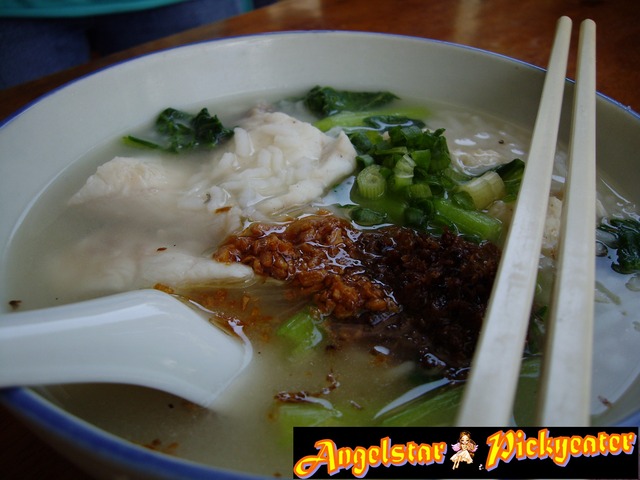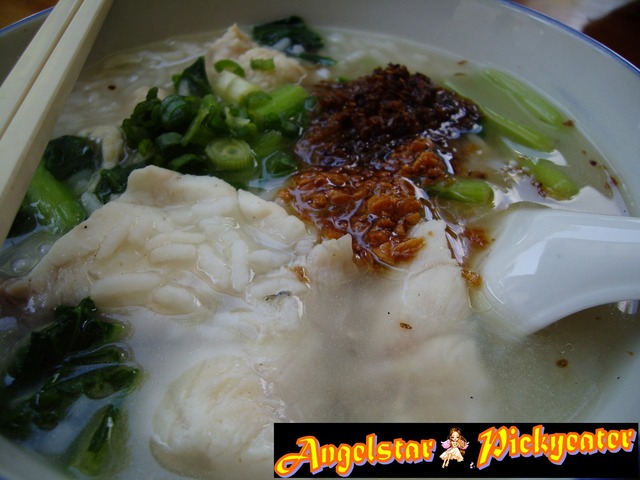 To be fair, I personally dislike porridge/congee or anything of that sort.
Even if it is served with fish or if I am very sick, I would still never want to eat porridge.
That's why I believe I should refrein from commenting on this bowl of porridge.
The fish served was a little overcooked; it was tad a bit too harsh on the taste already and was rather distasteful. I'd recommend that the fish be cooked lightly and that fresh fish is a must to blend in well with the watery texture of the porridge.
At the same time, the rice should be cooked to the watery and 'melted' texture to provide a really soft taste.
Since I am no cook, I may be wrong, what do you guys think?
I also find the price a little too much for a bowl of porridge.
Another local Penang or rather, Nyonya specialty is the Loh Bak (RM6.00)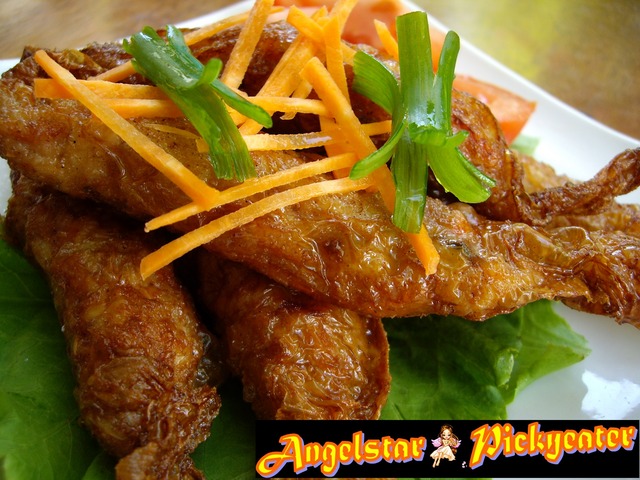 The loh bak is also known as Ngoh Hiang in Hokkien; and is usually a delicacy made of minced pork wrapped with fried bean curd sheet skin.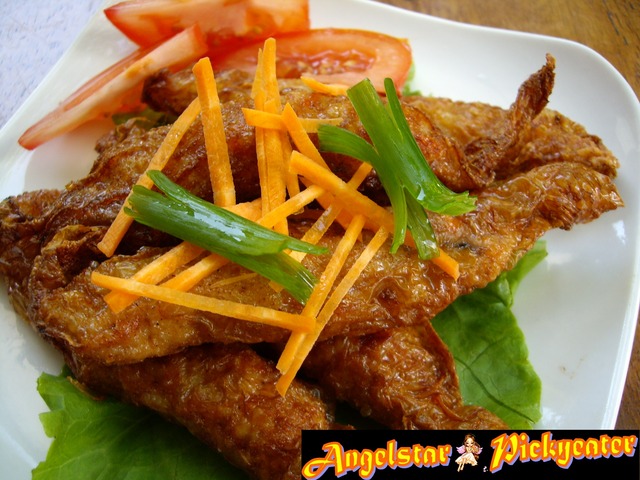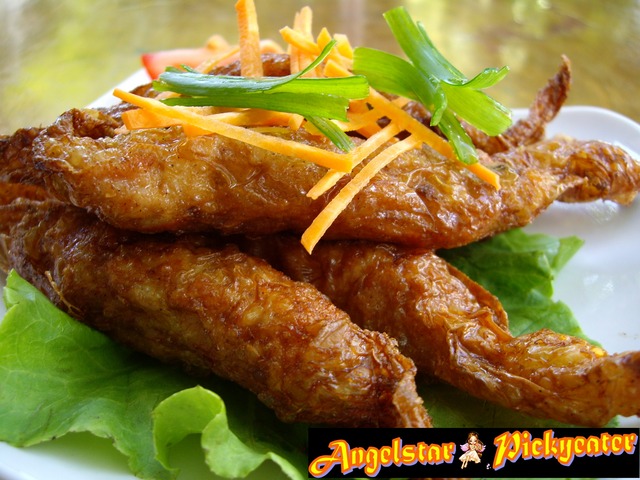 The version served here is the chicken loh bak, since they do not serve pork here.
I don't take either; so I can't say for myself how good this is =P
Usually the loh bak is cut up into portions small enough to be put into the mouth and dipped into the special 'loh' sauce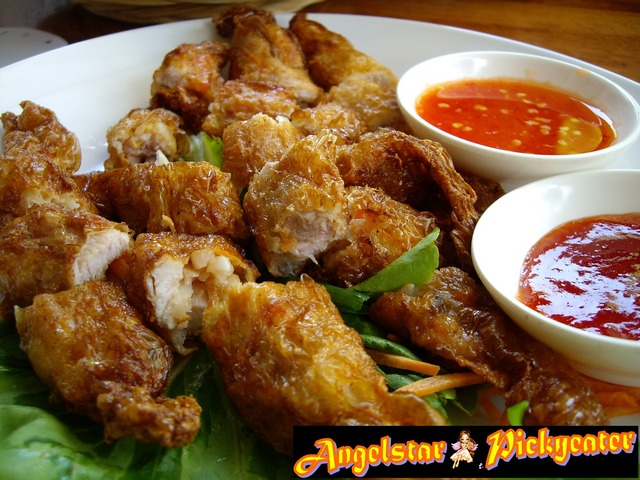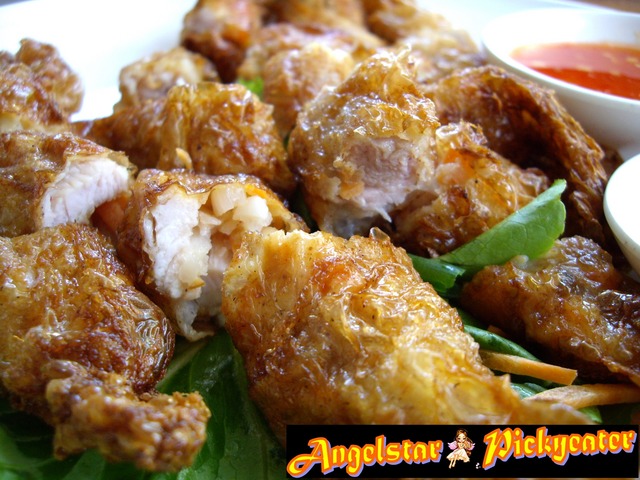 However, they serve it with chili sauce here instead of the usual 'loh' sauce.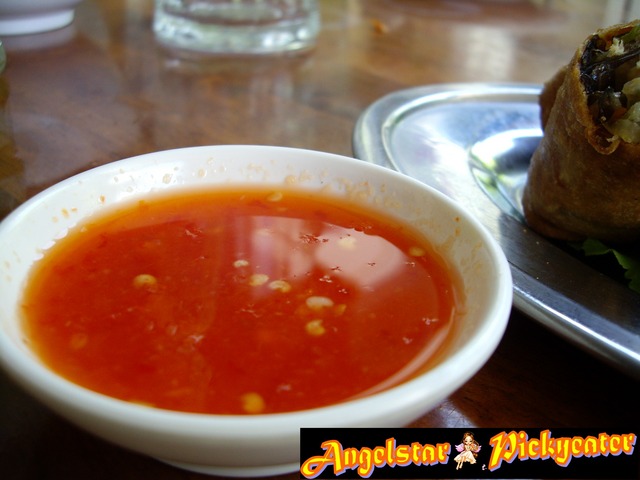 Personally, I think some traditions should be preserved; although it's good to be innovative once in a while. Perhaps they can offer both choices of sauces for the customers to take their pick.
Fried Chicken (RM3.00)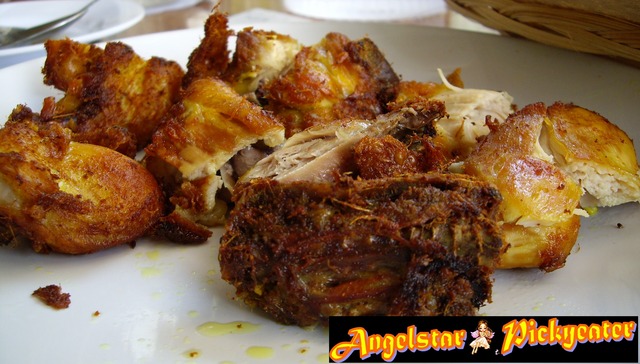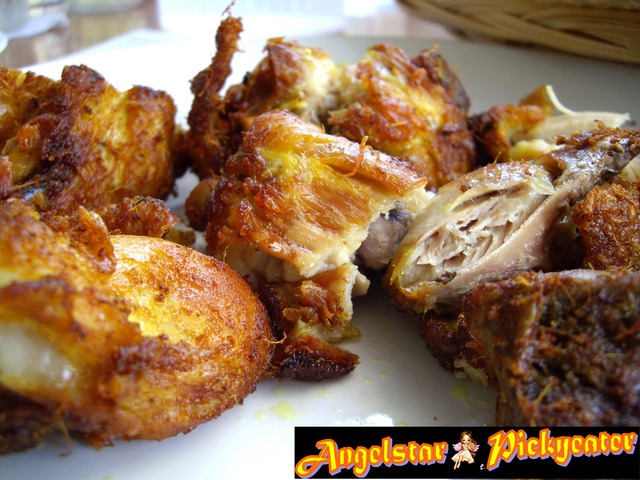 Freshly fried, the aroma from this chicken which was marinated prior to frying was an additional side to whet your appetite during your afternoon tea.
Another nyonya delight is the Jiu Hu Char (RM8.00)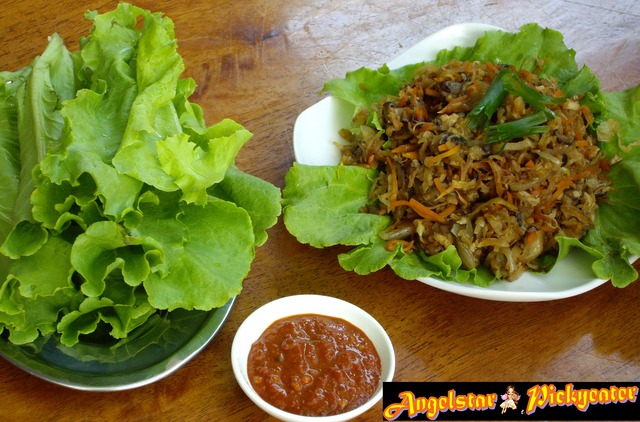 Jiu Hu Char literally means stir-fried cuttlefish. This dish comes fried only with cuttlefish alone but also with shreds of mengkuang and carrots, and mushrooms.
It is always appetizing when you get the whiff of this fragrant dish, especially when it's just newly served from the wok.
There's two ways of enjoying this dish; you can have it on its own which tastes equally as good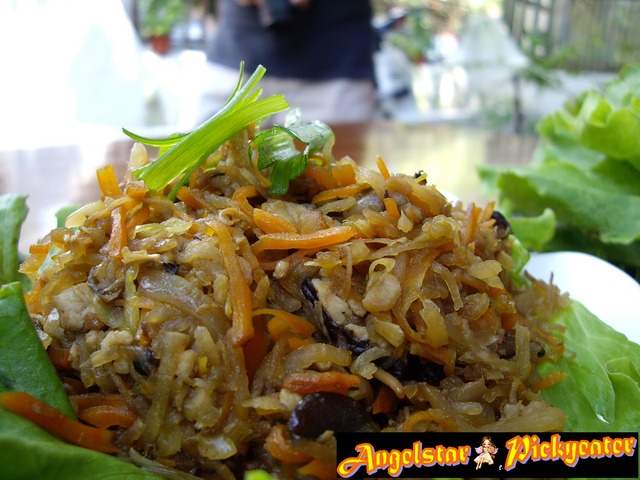 Or wrap it with the lettuce leaves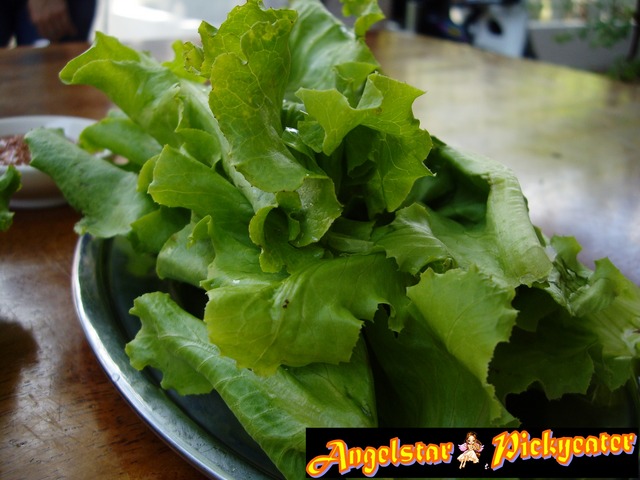 So, to wrap your jiu hu char, these are the steps:
1. Take a piece of lettuce leaf in your palm
2. Put some jiu hu char (a spoonful - table or teaspoon is up to you; as long as your leaf can hold it) on top of the leaf
Criz
shows us how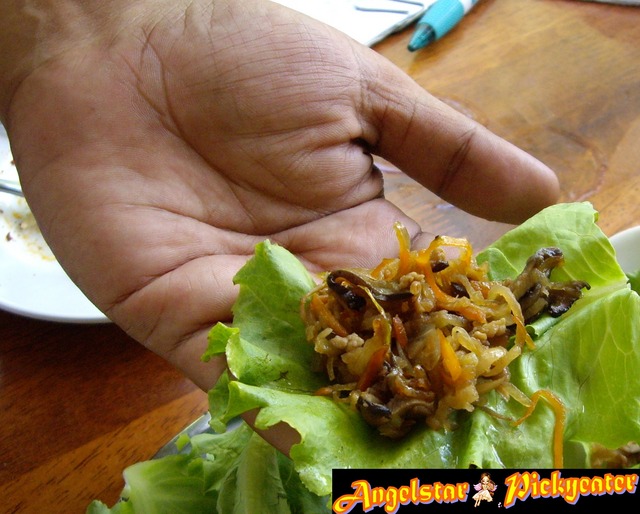 Ken of FoodPOI
shows us his personal recipe of adding a piece of loh bak to the wrapping to make it more tasty!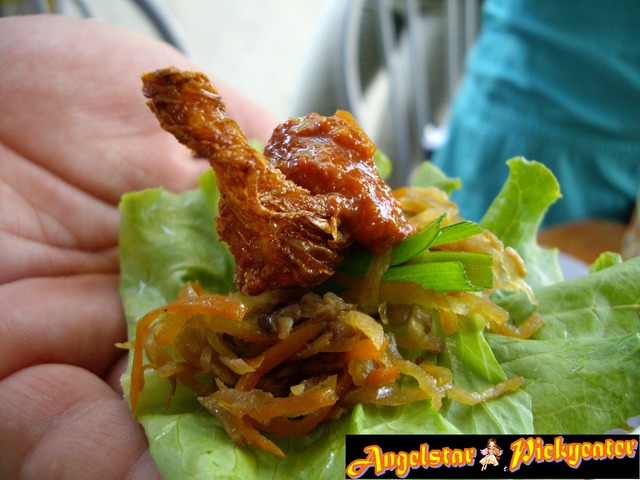 3. Top it with some sambal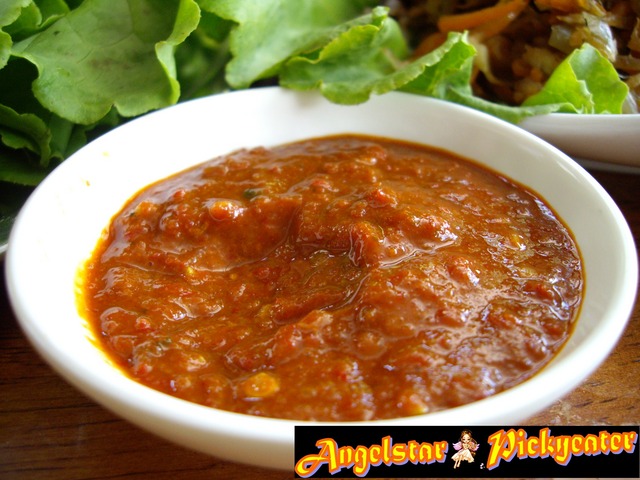 (This version from Ivy's is extremely spicy, for me!)
4. Close up the lettuce leaf just now and pop the whole package into your mouth.
Munch away!
This jiu hu char was slightly salty, but top it with the sambal, it was good! The sambal was spicy, yes, but was definitely HOT enough to send sparks off :)
Poh Pia Chee (or Fried Spring Rolls aka Choon Pneah) -RM2 per pc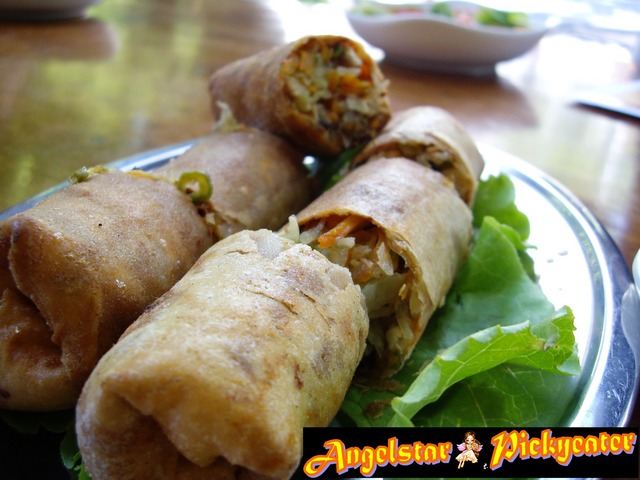 The poh pia chee double will cost RM3.80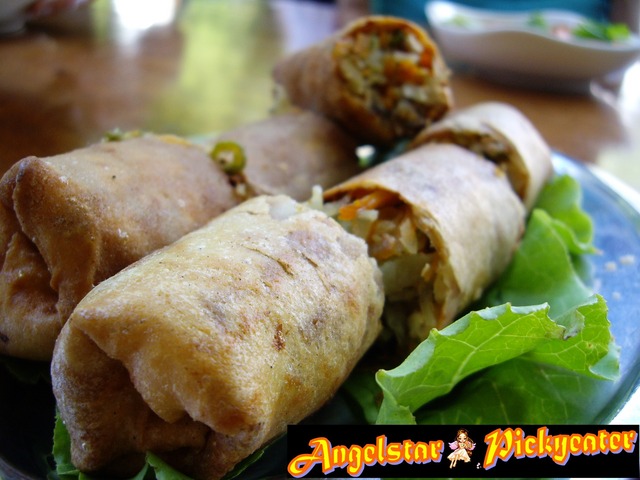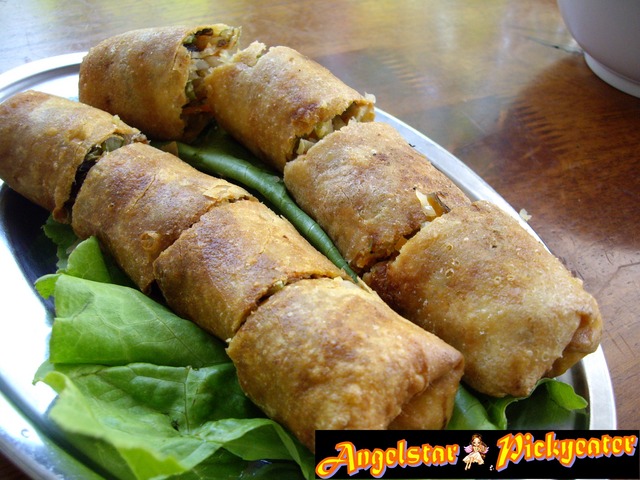 Top view of poh pia chee set (with chili sauce)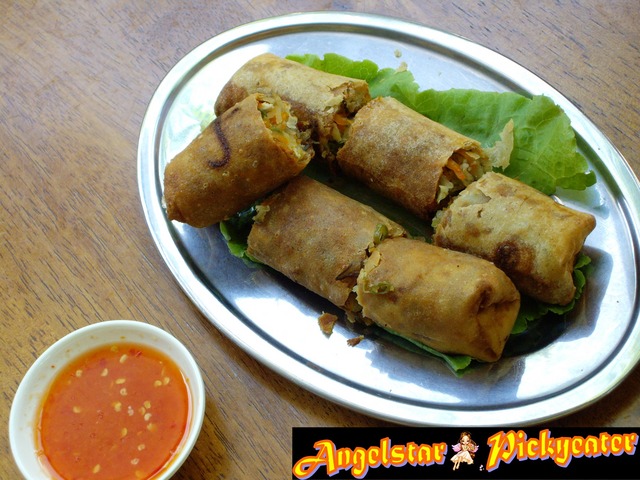 This is similar to the usual popiah except it is fried.
Ivy has stuffed this with cubed french beans, mengkuang, carrot slices, mushrooms and chicken.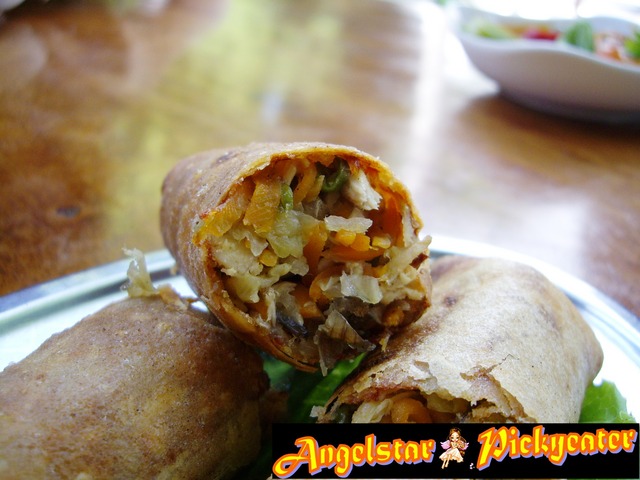 I didn't like the idea of the chicken in it; and I felt that poh pia should be left with vegetables alone.
It will kill my appetite for poh pia if there's traces of meat found in there; which is why I don't really like the Ipoh popiah version.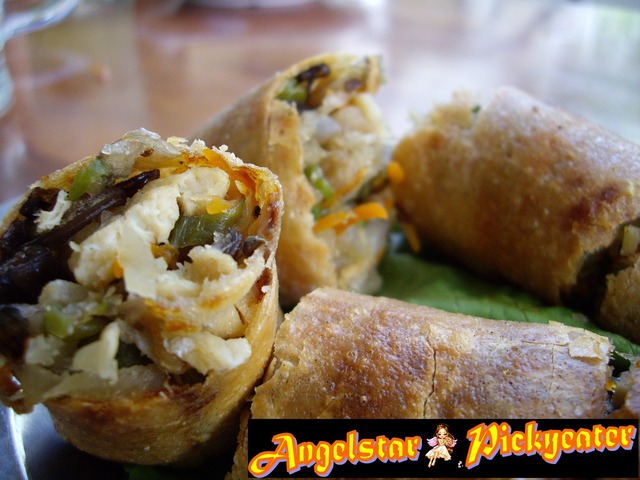 The chili sauce is just the same as the one used for the loh bak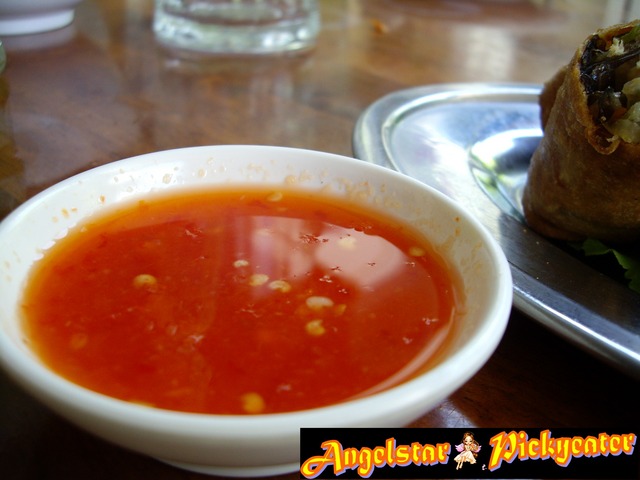 The next dish is something I've not had for a very very long time!
Cincaru Ikan Sambal (RM3.80 )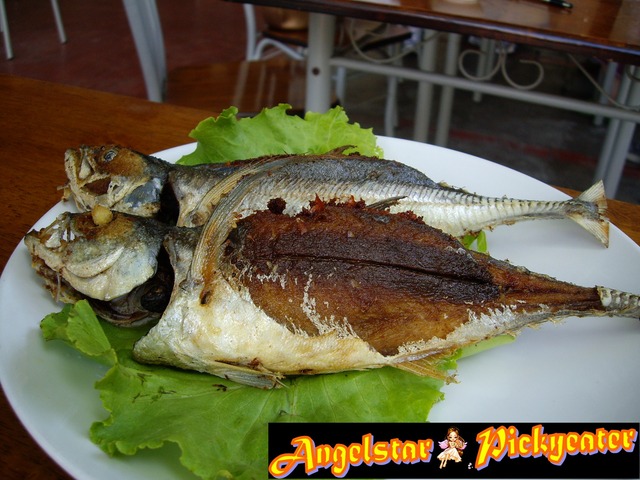 This is an old favorite nyonya dish as well; which basically use ikan cencaru (hence the name, and also known as leather jack fish). In Hokkien, the fish is known as Ngo Wa.
It is a dish which is familar to most households, but it requires long hours of preparation and an equally large amount of items to work on before cooking.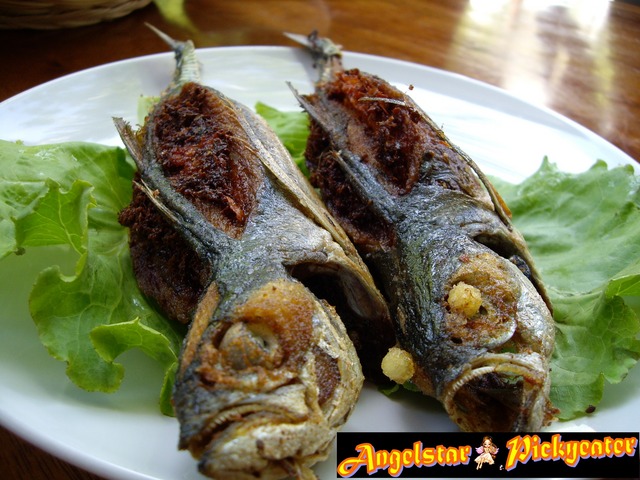 The reason this dish is so popular is due to the sambal stuffing in the fish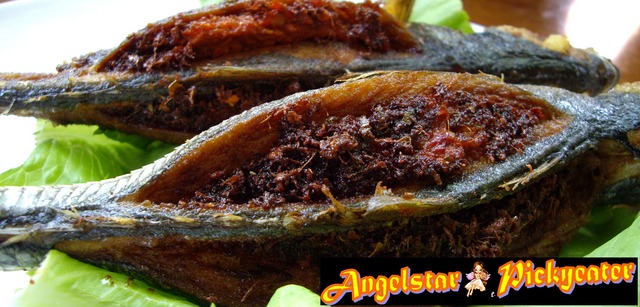 Therefore, it is really vital that the sambal used for the stuffing must be really good and I am glad to say that Ivy certainly did not disappoint me
The fish was fried crispy and the sambal just completes the crunchiness to perfection.
Of course, comparing to home-cook's version (my late grandma's), it is not fair! :-P
Ivy served us one last delight of the Penang Assam Laksa (RM5.00)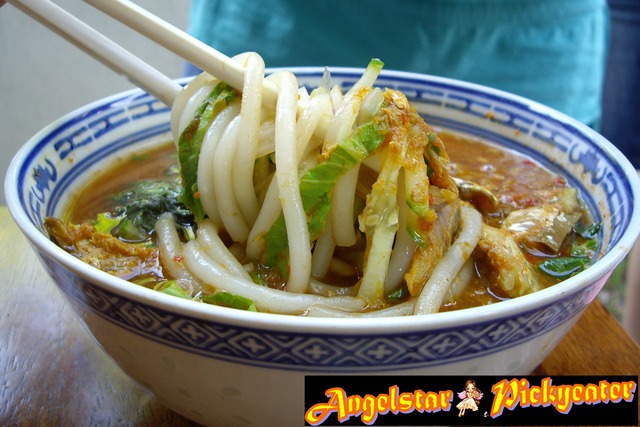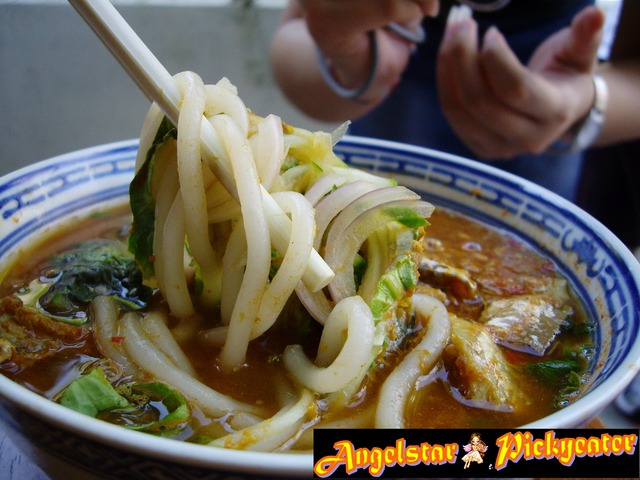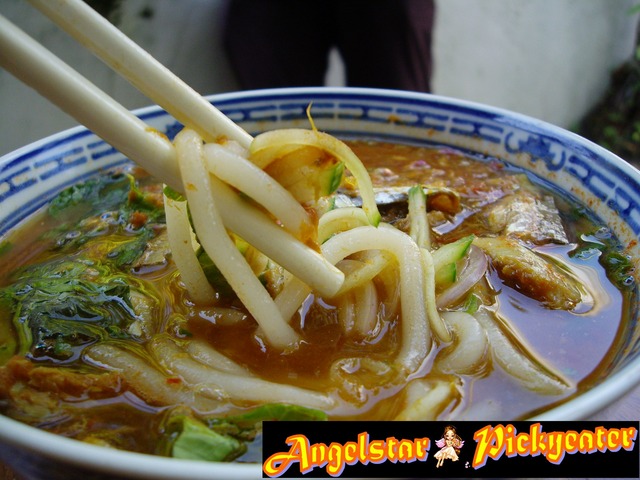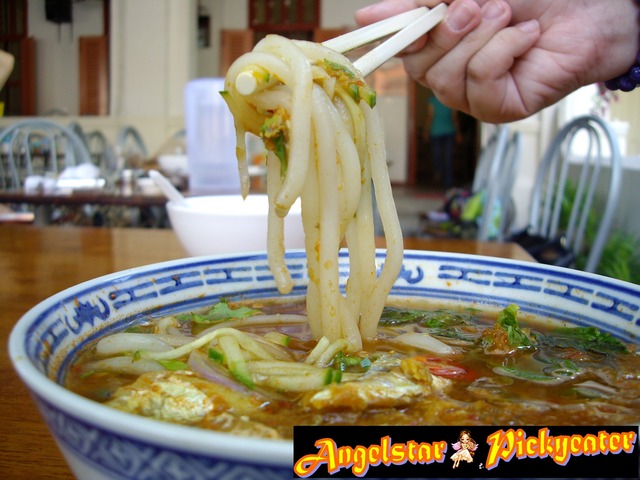 It was slightly salty; instead of the sour gravy of Laksa.
Anyway, I don't favor laksa much due to its fermented scent of the shrimp paste.
To brush off our palates after all the spicy tastes, we were served the red bean soup as dessert (RM1.60)
Ivy was kind enough to bring us three choices with the red bean soup
Lily Bulbs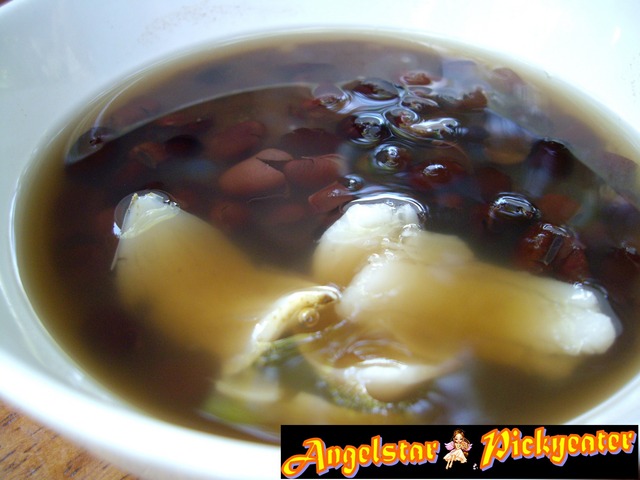 Snow Fungus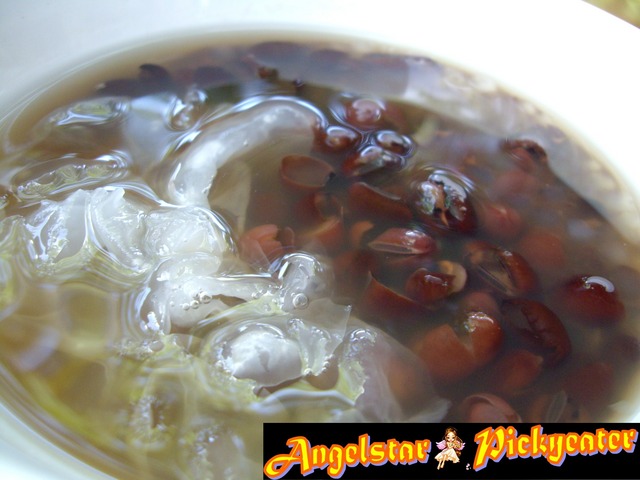 Longan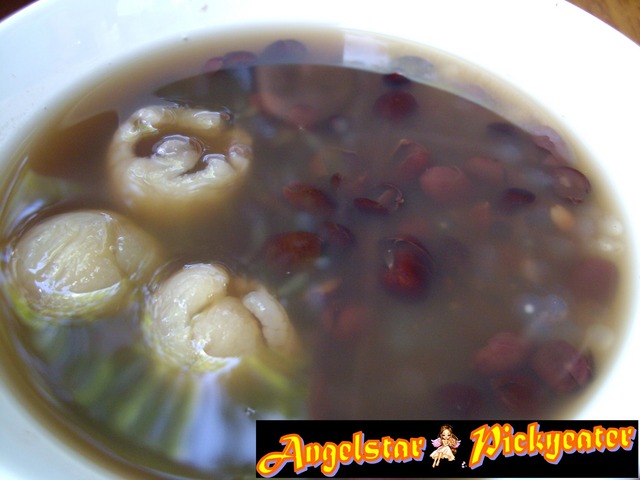 This is my favorite; and I recommend this to anyone who visits Ivy's Kitchen
It is not too sweet; and not too thick in its texture.
Served with the slightly larger sago, this soup goes well with all the three combinations and we just couldn't get enough of it!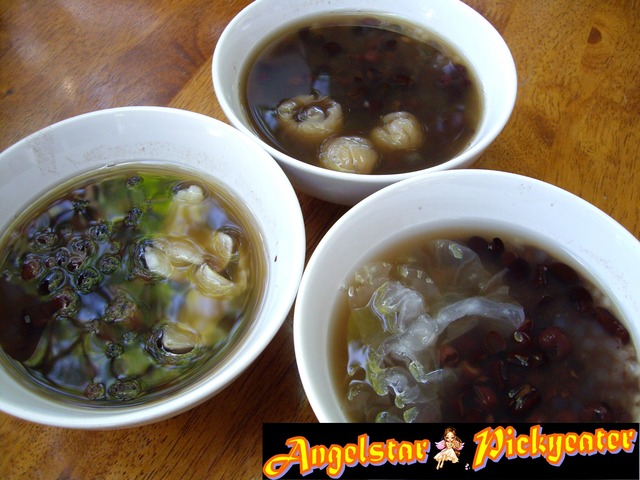 Definitely the highlight of the day, and my personal favorite here.
Personal thanks to Mr Tan, the owner and the person who invited us with his lovely wife, Ivy whose name the restaurant took after since she gave birth to all the dishes on the menu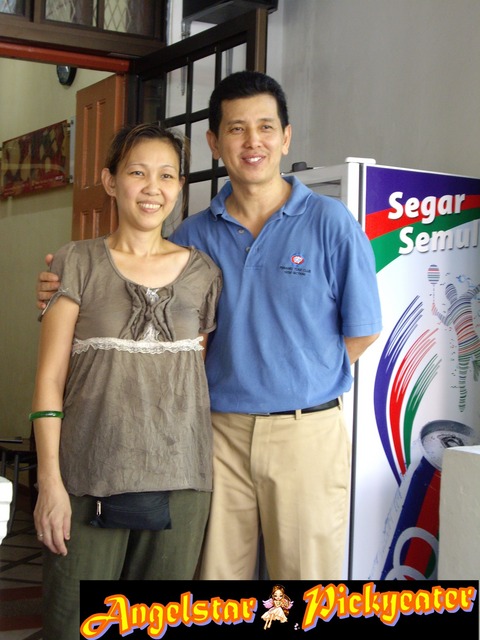 I may come back, for the red bean soup and perhaps to sample others =)