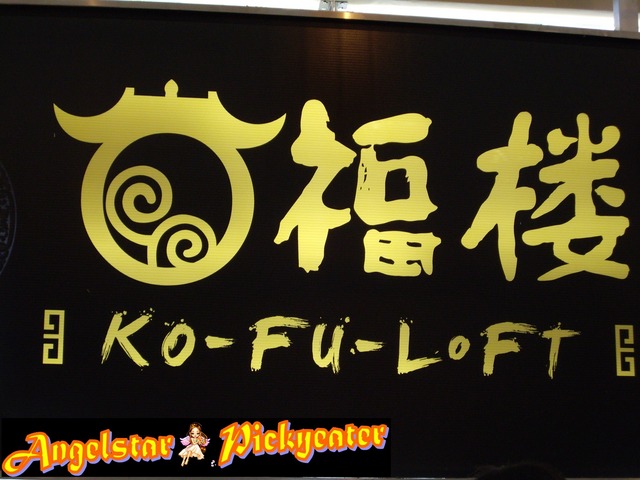 Continued from the previous post...
The food were laid on the separate tables for our photography and viewing pleasure prior to tasting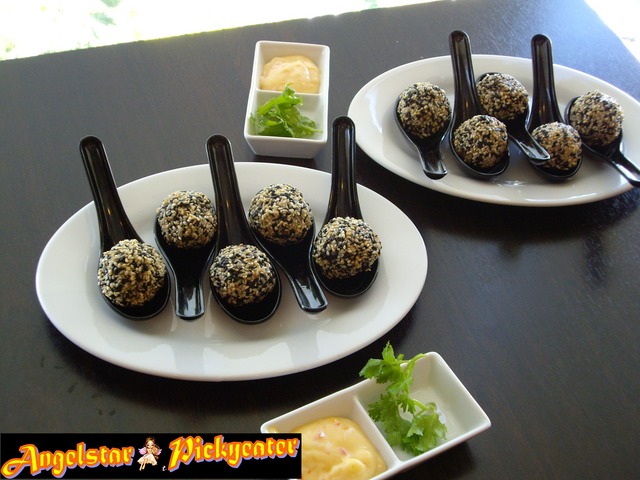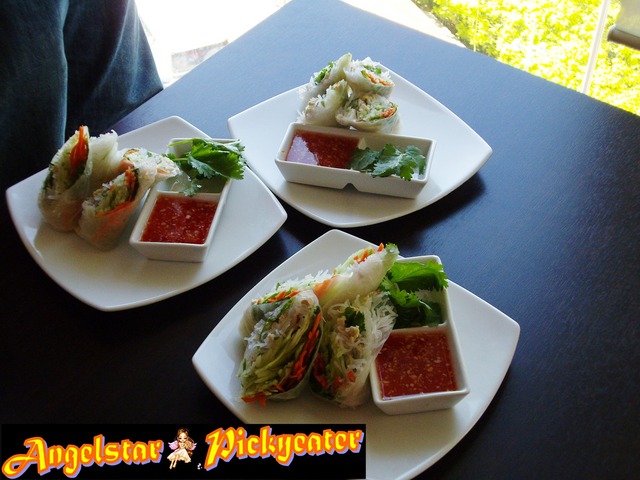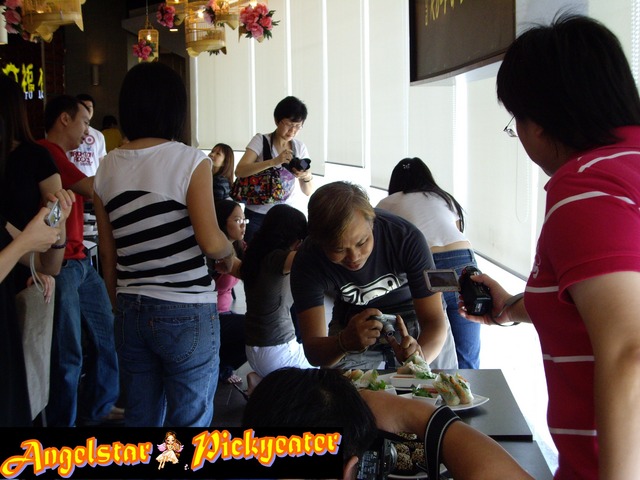 Appetizer No.1:
Ko-Fu Sesame Seed Ball (RM10.90)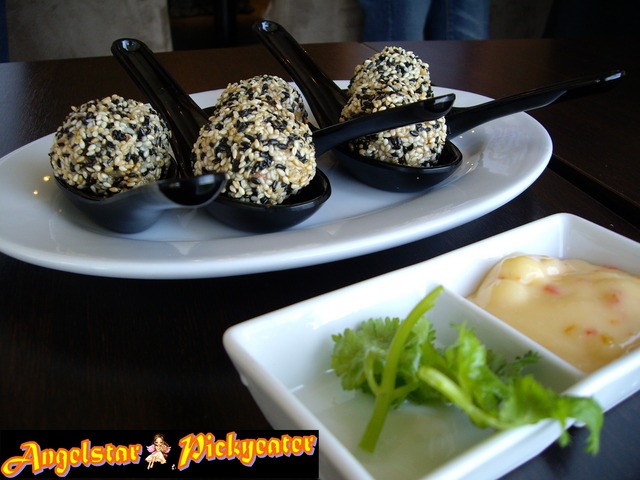 The sesame covered balls are each placed a spoon; and placed facing the opposite direction alternately to suit the position of the person seated at the table.
It is a really thoughtful arrangement on the presentation part.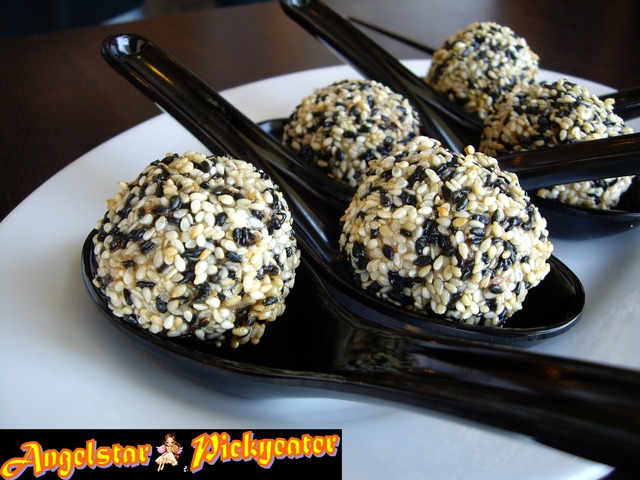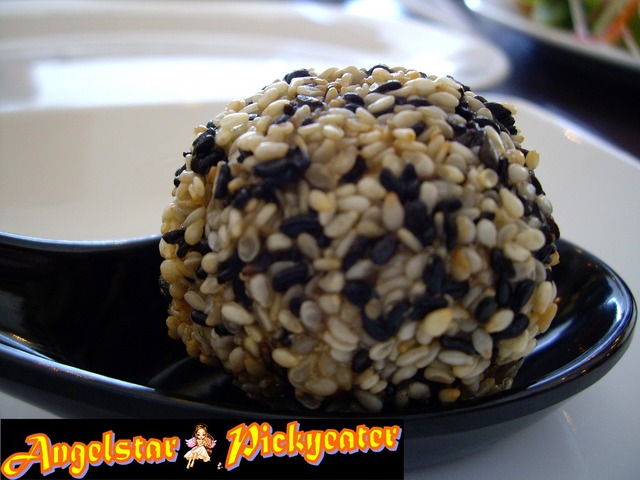 A Close-up shot of this sesame seed crusted appetizer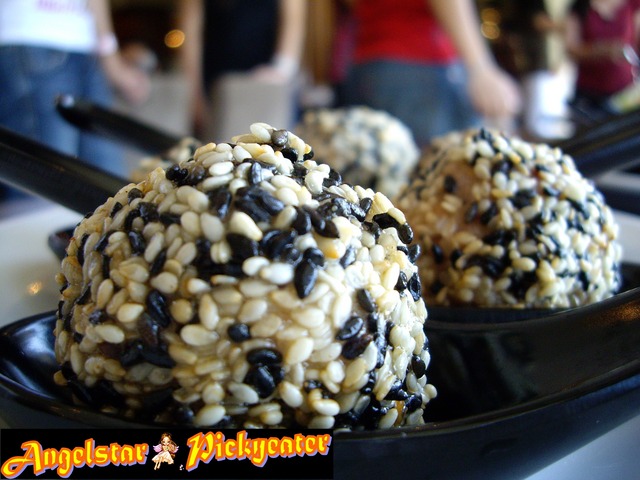 I am no meat-eater; and therefore I can only comment on the crust itself, which I took a small bite.
It had a very strong paste of sesame seeds and I must say they did a good job to keep the seeds adhesively stuck to the thin layer of flour separating the skin from the filling. Think small seed particles flying all over the places (and your face!) when you bite into those sesame seed balls.
The filling was generous; and you can see healthy pink minced meat which seemed to be rather smooth in the inside.
The solid crust exterior held the filling firm to its place as you gently slice it to reveal the interior.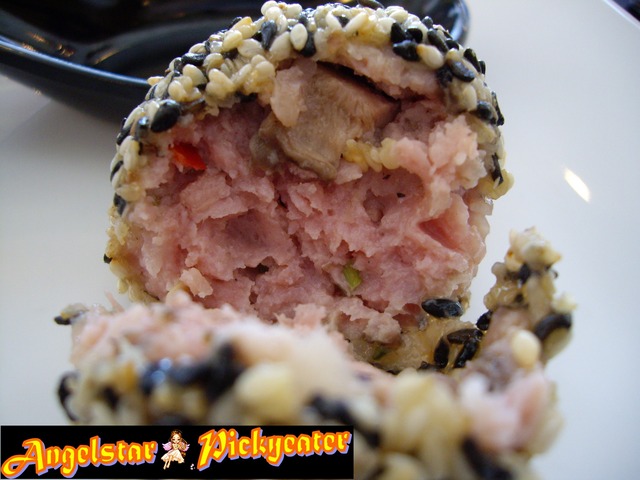 I am no fan of sesame seed either, but to me this looks good from the exterior but taste wise, I can't judge for my own but I must say that the scent of the meat was not too empowering in this light appetizer.
To be fair, I shall pass the ball to the other bloggers for their comments and review :-)
Appetizer No.2: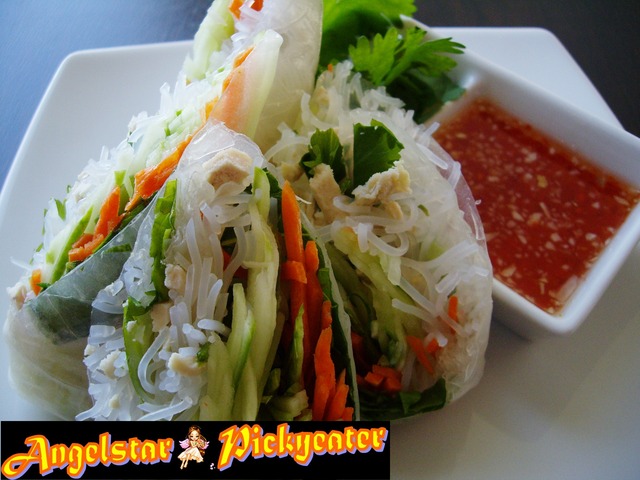 Crystal Spring Roll Skin Stuffed with Vegetables and Chicken Meat (Rm6.90)

A very healthy appetizer to begin with, though some may not be enticed to try by the bland and plain appearance.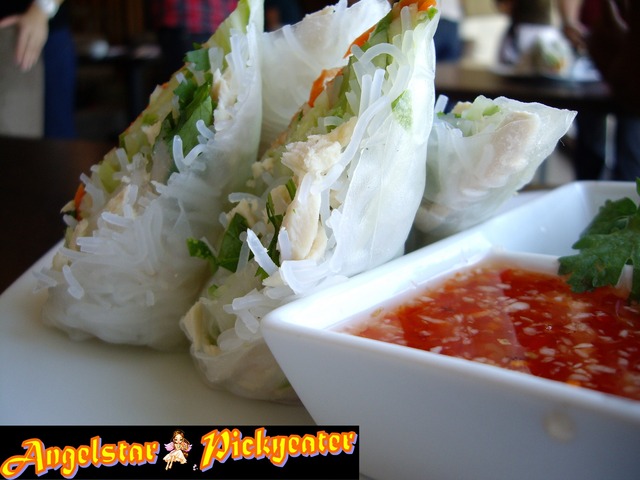 From the exterior, it looks plain with the crystal clear wrapper and filled with carrot and cucumber slices, lettuce, glass vermicelli and shreds of chicken meat.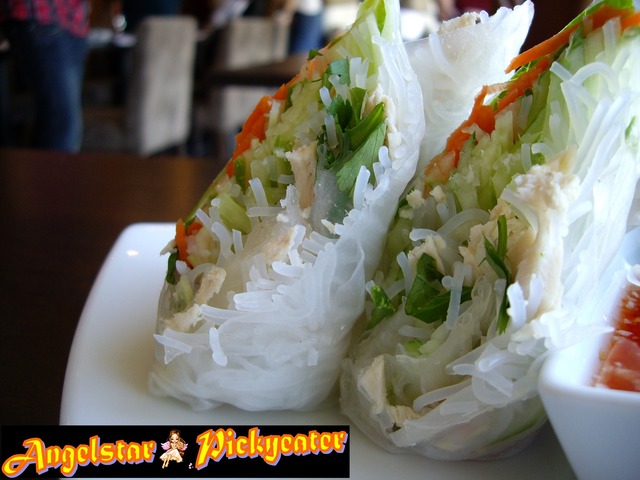 Disregarding the chicken shreds which I noticed were healthy slices (non-fat portions of chicken meat), the overall combination was rather light for your taste buds.
It comes with chili sauce; which lends the sourish taste to your taste buds when you bite into the spring roll with the sauce.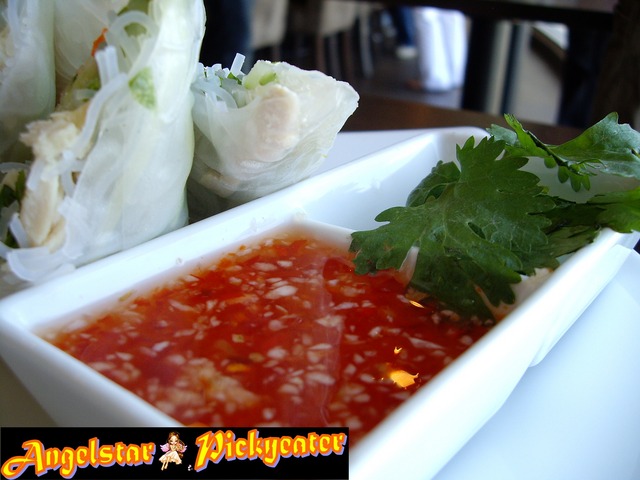 For me, I still think it tastes slightly bland but I do like it as a concept of a light appetizer prior to the main course.
I would suggest some purple cabbage shreds served with two cherry tomatoes on the side; and the sauce should have a little fruity taste with sweet and sour and that should be a great tasting and healthy combination! (just my thought, since I do like healthy food :)
Main Course No.3:
Deep Fried Home made Bean Curd (RM12.90)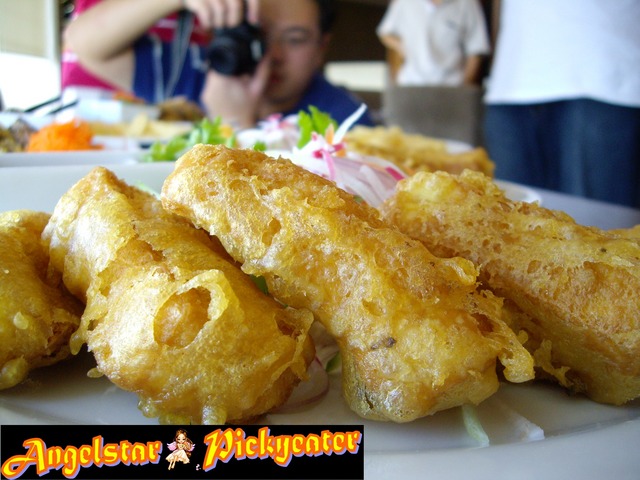 From the exterior, it looks similar to the other homemade/specialty bean curd served by other restaurants, although it looks less oily compared to the others.
It was served with a garnishing of mixed shredded vegetables on the side; a delightful combination of cabbage, cucumber and onion slices.
They are not merely garnishings, as they serve a greater purpose.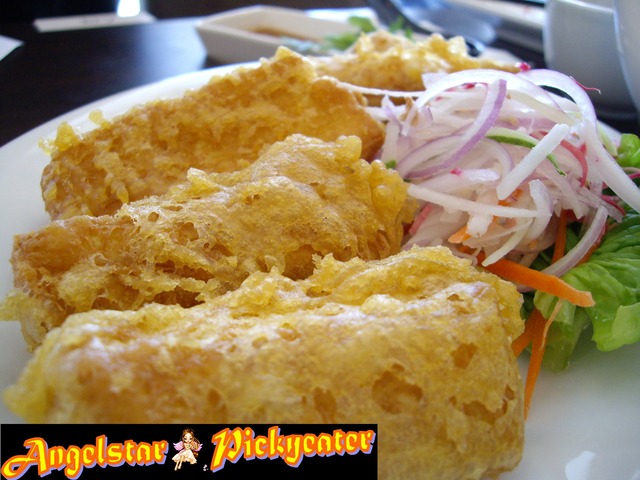 If you were to take a bite into the bean curd on its own, you will find that it's plain and bland in taste.
However, if you were to include the side vegetables and deep it into this sauce which was served with it, the taste will be enhanced as you can experience an exotic and yet lightly satisfying taste to the plain bean curd.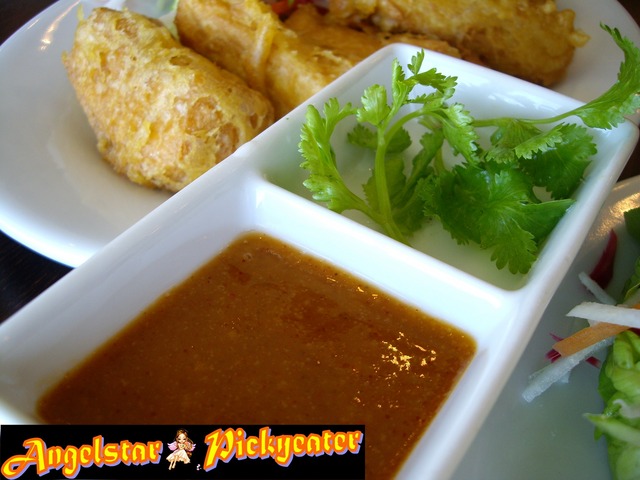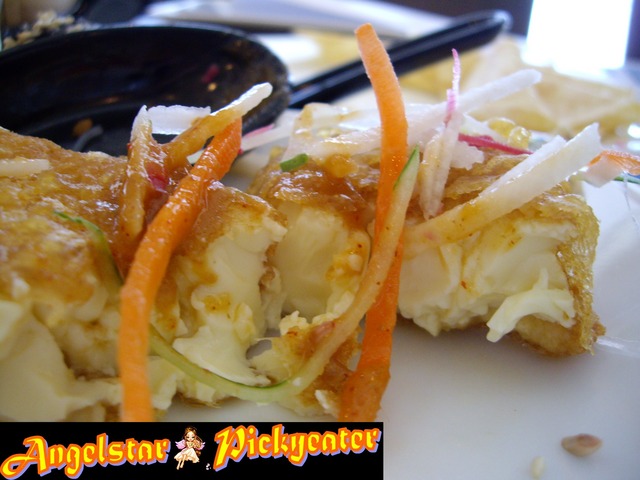 The sauce may need to be spiced up in its flavor, as though it lends the taste to the bean curd, the sauce does not seem to do the trick for long.
At the same time, the bean curd should also has its own original flavor that can cater to those who likes the original taste of the food without dipping into the sauce.
Main Course No.4:
Fried Seafood Emperor Noodle (RM12.90)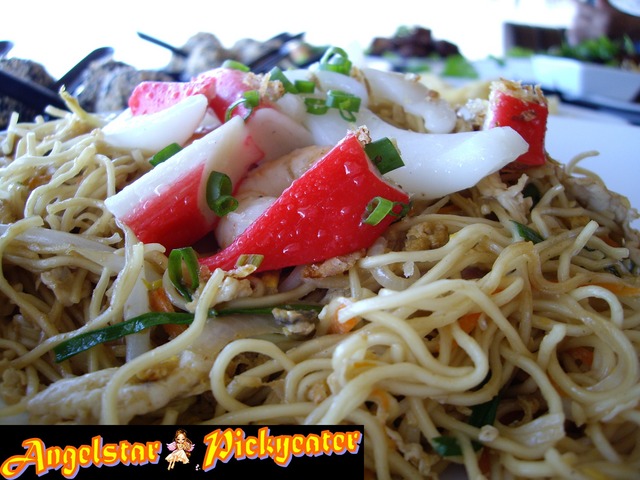 Topped with juicy squids and mock crabsticks, the noodles do look rather plain on the exterior.
In fact, I barely even detect the scent of the noodles when it arrived.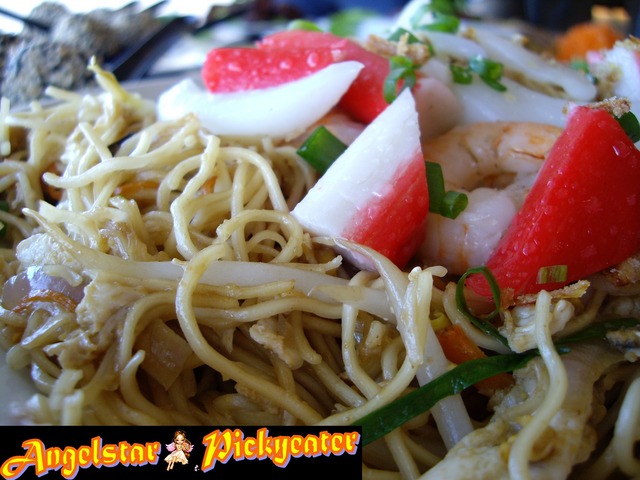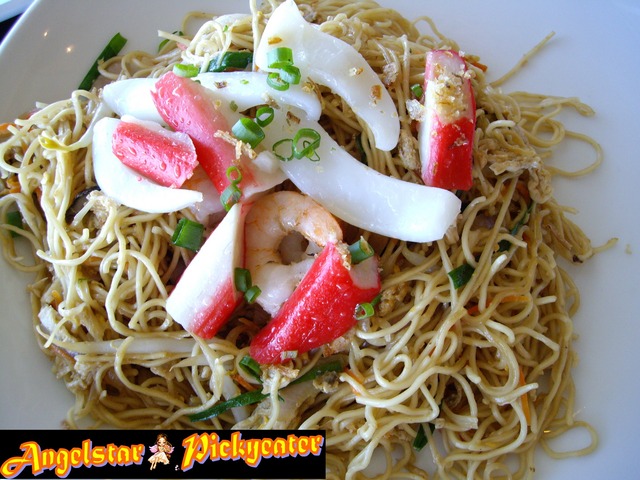 Taste wise, I find it too plain; in fact, even a little bland.
The noodles were also not fried to perfection or as the others say, "Not enough Wok heat!" and I find the overall combination rather disappointing.
Furthermore, I couldn't find any other trace of seafood besides those that were on top of the noodles.
Personally, the name itself probably already raised most of the customers' expectations as it consists of two strong words: Emperor and Seafood and generally, what else can we expect except for superior taste/quality and a few pieces of prawns, squids and perhaps small scallops?
Perhaps this dish needs to be relooked into; to enhance the amount of seafood and to add a little more flavor (not MSG) to the noodles to present a convincing dish to customers (particularly seafood fans like me who looked forward to the company of some; if not a lot, of seafood with the noodles when I had this in mind)
Main Course No.5:
All-in-1 Roasted Meat with Vegetables (RM19.90)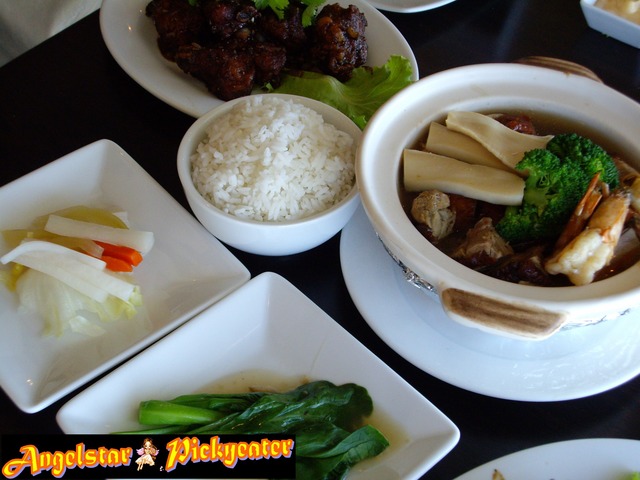 Served in a set of four; a claypot of all-in-1 (roasted pork, prawns, broccoli, napa cabbage, and duck), with two side dishes of light vegetables and a bowl of white rice
The side dishes were a choice of light radish and leafy kale; in small amount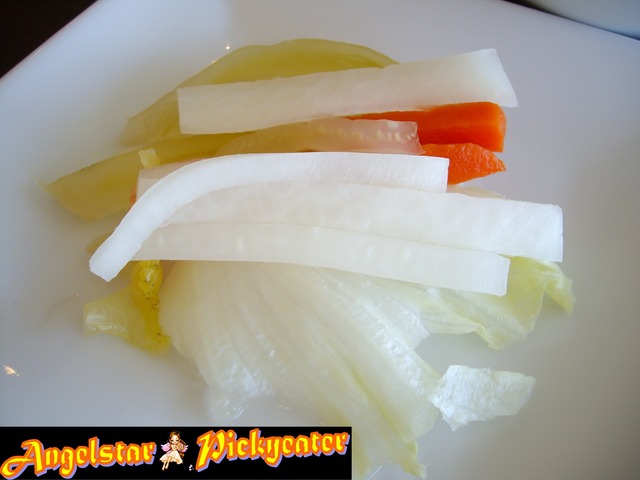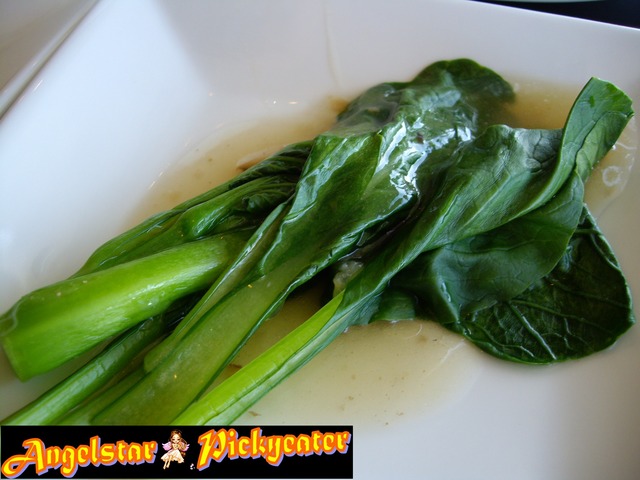 The pot of goodies is also known as Pun Choi; which is a concept of serving a combination of meat, seafood and vegetables in soup or gravy.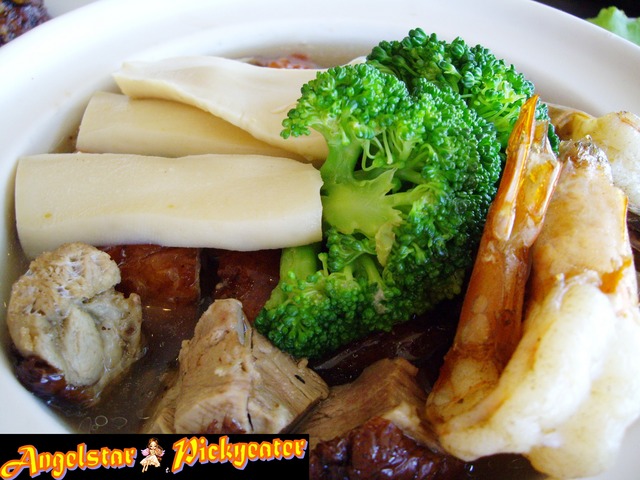 The ingredients are responsible in enhancing the taste of the soup; as they each contribute their strong/light taste to create a flavorful scent.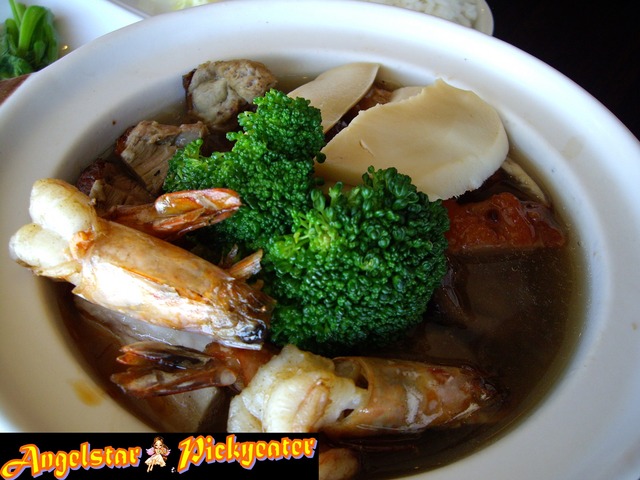 We were served three to four of these; and most of the bloggers (Cariso, Steven, Criz, Chef Khoon) managed to taste the difference in the soup.
The soup seem to vary across the few pots served; with some having a light and sweet savoury taste of the cabbage, and some with an empowering scent and taste of meat in the soup, and some, sweet-sourish from the oyster sauce which were sprinkled in the soup.
A rather inconsistent spread of taste; and truly attributes to its name as the pot of treasures/goodies.
It is like a box of chocolates; you will never what you get each time you order.
It may be a good or a bad thing; as the differing tastes may not be so agreeable to some of the customer's palates and it is recommended to continuously stir (if it comes from the same pot) or to consistently measure the amount of ingredients included in the pot (taking into consideration the vegetables soaking from the water, or the order in which the ingredients are placed to lend the most flavor to the soup).
The factors can determine and mould a standard and consistent identity of this dish.
Main Course No.6:
Deep Fried 5 Spices Calamari (RM13.90)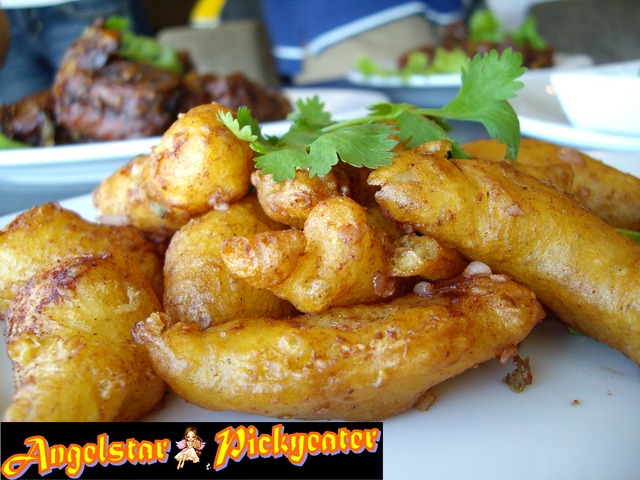 It looks a little shiny on the exterior, indicating that it may be a little more oily than the rest.
However, it's understandable since it's deep fried.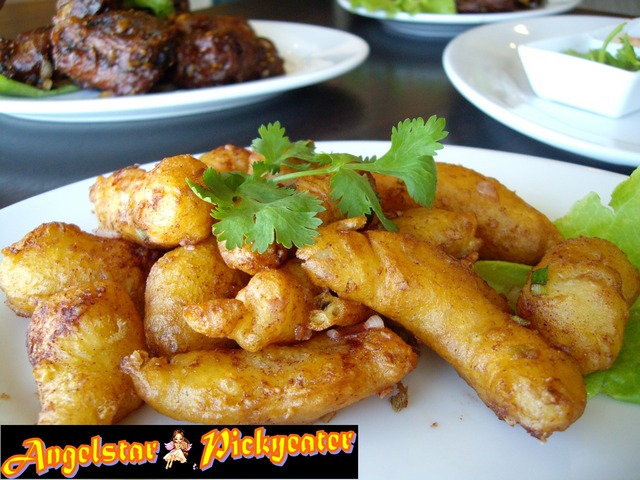 There was a light and enticing aroma which came from this dish (but only a very light whiff)
When I bit into it, I remembered the bite into a fresh, crunchy and succulent piece of squid beneath the light flour exterior and a very light but pleasant exotic taste (which probably came from the 5 spices)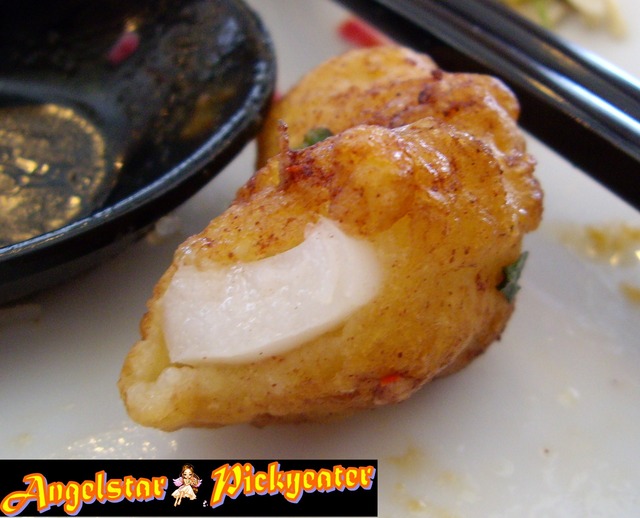 I am no cook, and may not be able to tell you the type of spices used but I can say that they are light in amount and just enough to give the flavor to the fresh squids.
This is a recommended dish :)
Dim Sum No.7:
Steamed Fresh Prawn Dumpling/ Har Kao (RM5.50)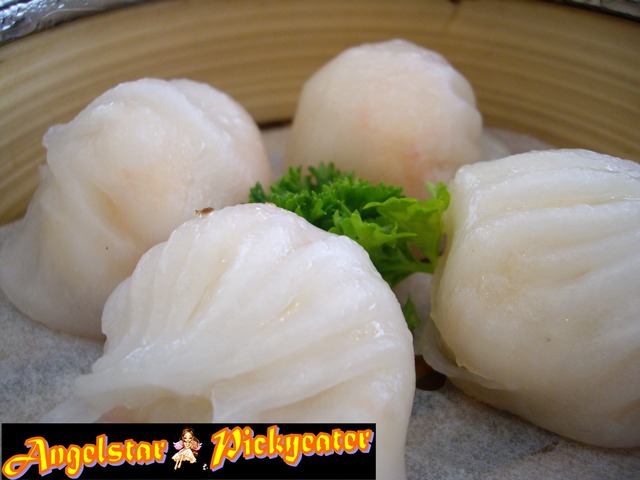 I am particularly hard to please when it comes to this little favorite dim sum of mine; as I have so far, not found one restaurant which can make me say "It's the best!".
I've found one restaurant so far which I was more satisfied compared to the others.
We were served only a limited amount of baskets of these Har Kao, but I was pleased with the quality of the prawns used.
When I bit into the prawns; it was bursting with natural sweetness and freshness. It was one of the criteria for a good Har Kao (for any dim sum restaurant).
The dumpling skin however, was a little too thick for me, and I recommend that they should use a rather thin (almost translucent) skin for har kao; that would elevate their Har Kao to superb if they can (and of course, do maintain the fresh and carefully selected prawns used in this exquisite dim sum dish!
A simple dim sum; but with complicated requirements (for me) to make it SIMPLY the best.
However, though I found it good, some said the prawns were not too fresh and I am wondering at again, the consistency of the prawns quality?
I still recommend the Har Kao here; as it was better than most of the ones I have tried :)
Dim Sum No.8:
Signature Steamed Custard Creamy Bun (RM5.50 for 3 pcs)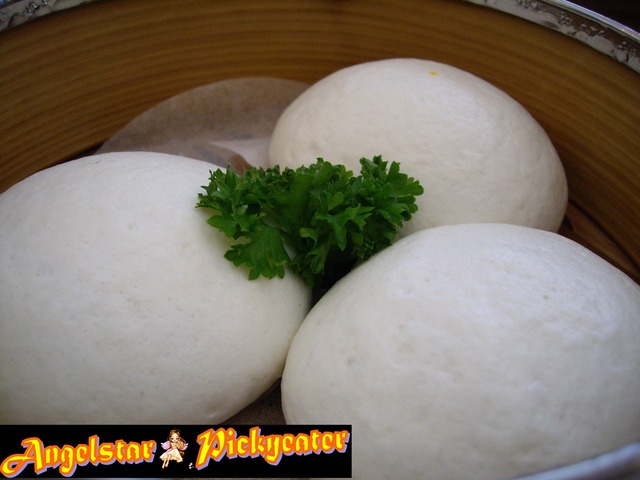 Plain white buns from the exterior; which reminds me of mantao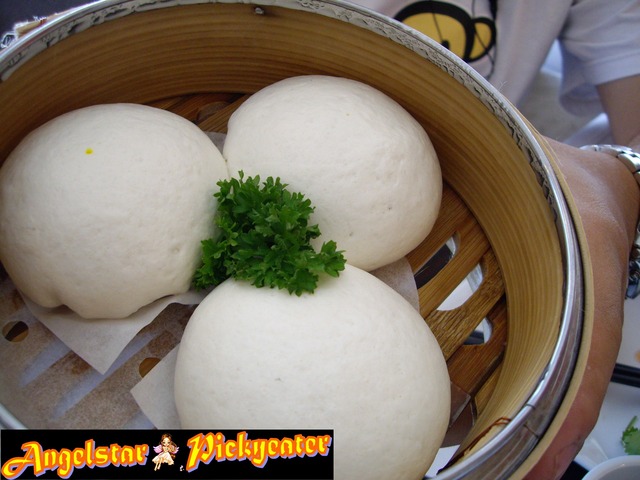 Some were oozing from the yellow creamy custard overflowing from the interior of the bun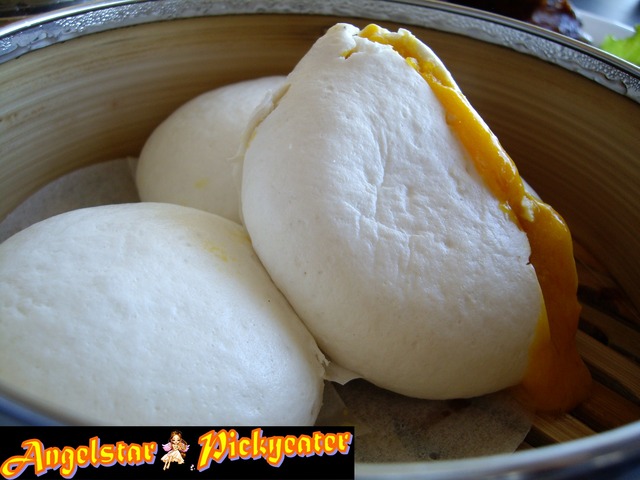 I found the custard cream a little inconsistent; as the texture was not fully 'smooth' when I tasted it.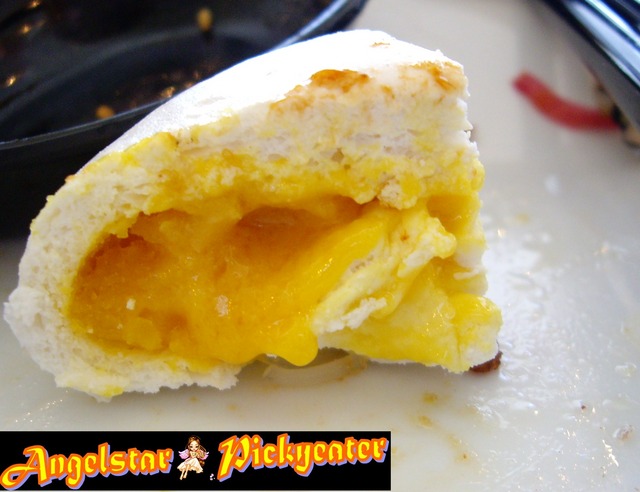 The part towards the middle of the pao (the front view here in the photo) was a creamy flow but towards the outer perimeter of the bun (towards the back), some of the custard has dried and seems to provide a rather 'rough' texture when you bite into it.
The heat was properly not evenly dissipated when steaming the buns; and this could be improved as overall, the custard was not too bad.
It was prepared with a healthy notion in mind; as it was not too sweet or too rich (which can be revolting with subsequent bites) but it was just nice, and light to the taste buds.
Dim Sum No.9:
Minced squid with Crab Claw Meat (RM6.90)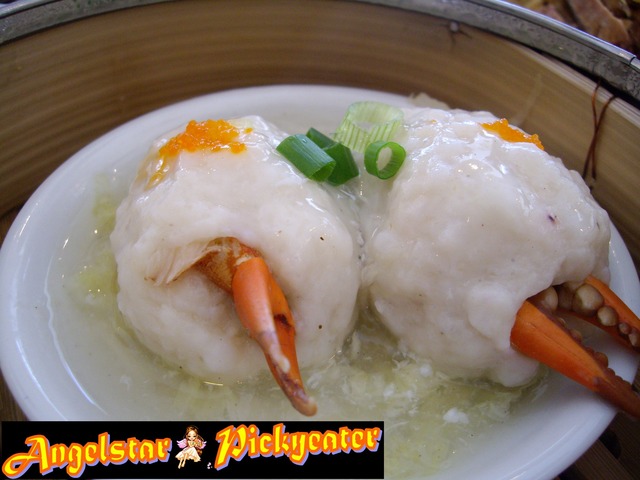 Nothing special about this dish; it didn't taste particularly like squid balls to me as I felt there was a blend of flour/paste when they mould this squid ball.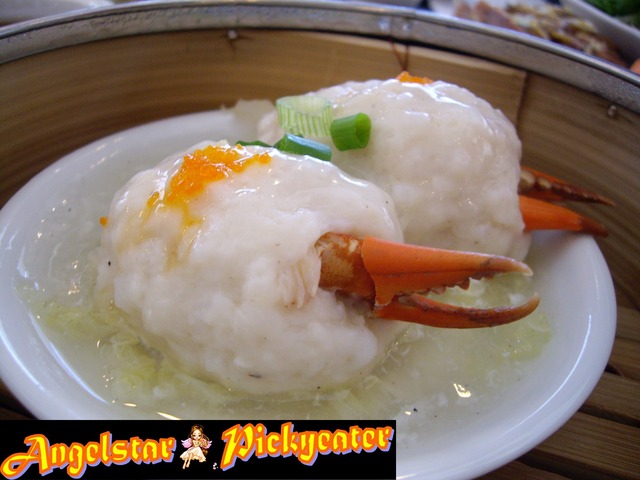 The light starch accompanying it could be slightly thicker (but not too thick!) and I like the idea of the inclusion of napa cabbages to blend the natural sweet taste to the squid ball.
Dim Sum No.10:
Deep Fried Pandan Lotus Paste Dumpling (RM4.50)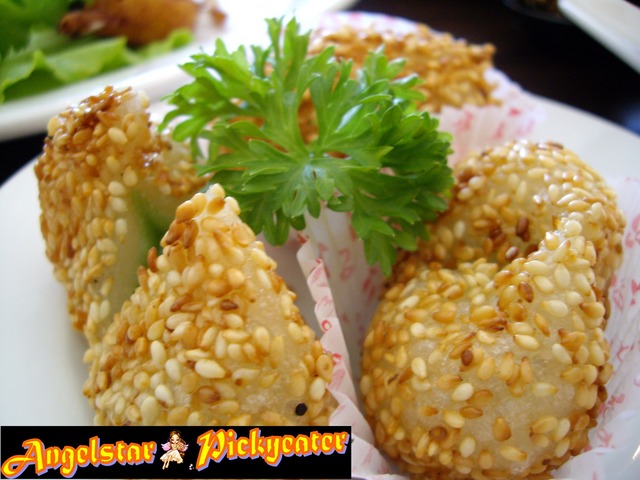 Similar to "Jin Dui"; this is also made of light glutinous rice blend and covered with sesame street.
The filling; which was a combination of Pandan and Lotus paste was suitably nice for the dumpling's taste in general.
Plus point is, it was not too sweet!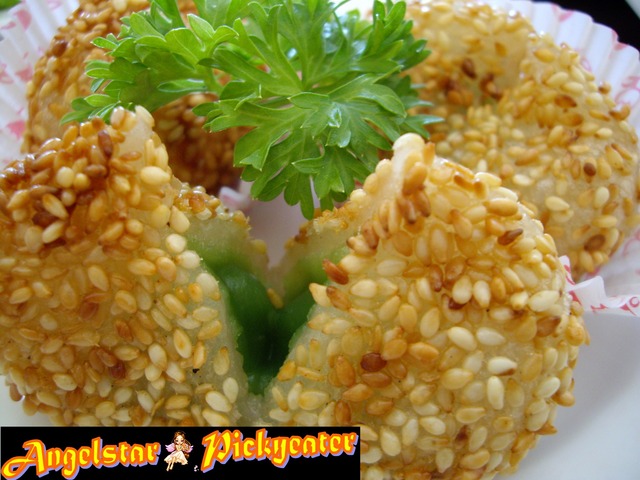 I would recommend this; it was simply pleasant to the taste buds.
The others which I didn't get to try; and shall review based on the presentation quality
Szechuan Aromatic Duck (RM18.90)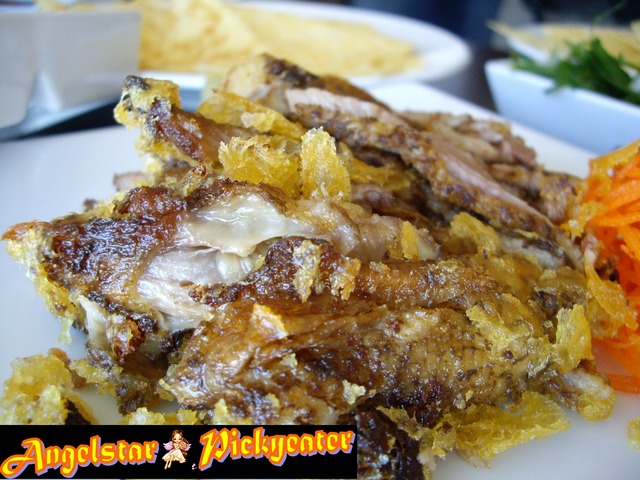 A meal in a Chinese restaurant is never complete without a plate of flavorful and sinfully tempting meat; that is, if you are a meat lover (which most Chinese are)
The scent of the duck meat was overpowering even when you step into the restaurant.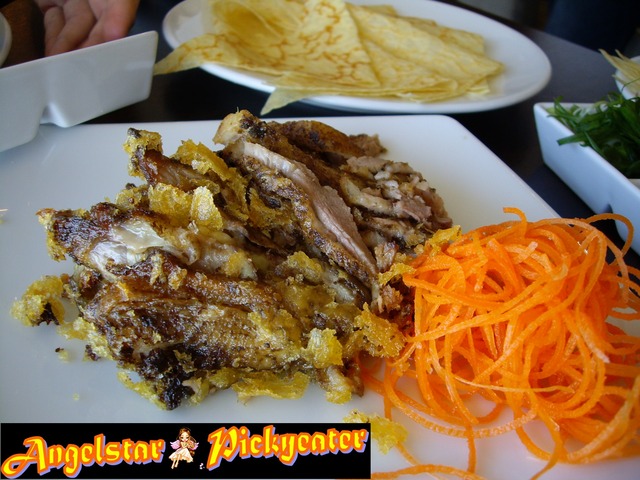 The crepes are served along with this meat dish; and the sauce was to be poured onto the crepes that you make yourself after filling it with the duck slices which were already carefully sliced by the chefs for easier handling.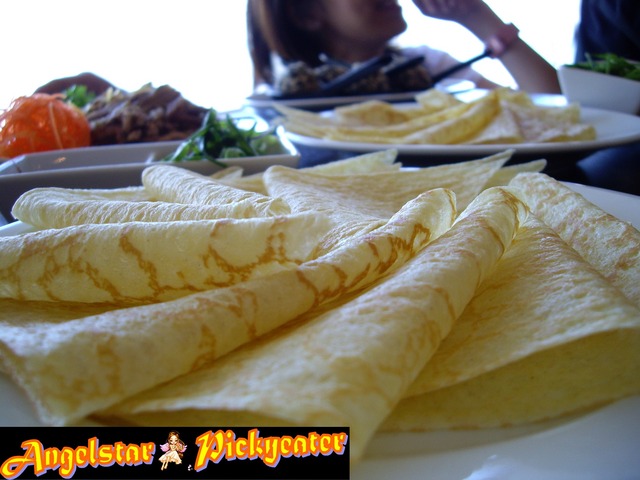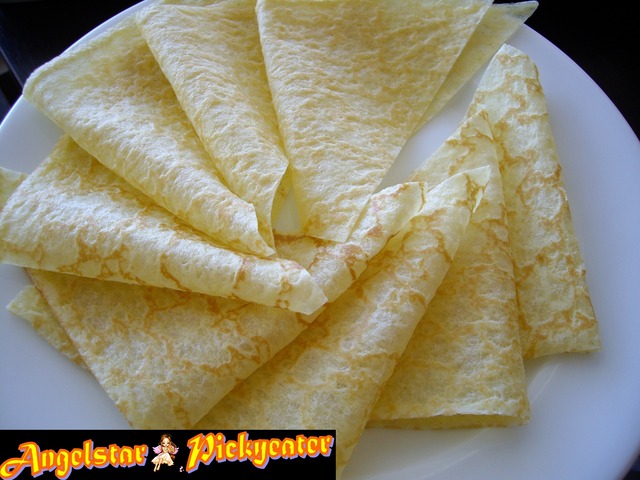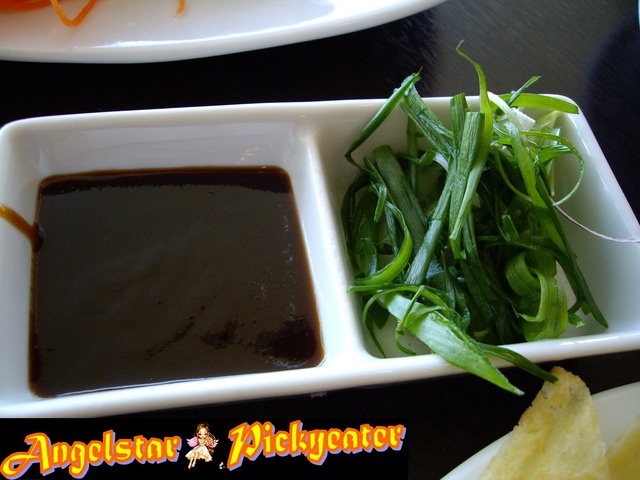 No comment on this, since I didn't taste it.
Deep Fried yam Paste with Minced Pork (RM4.50)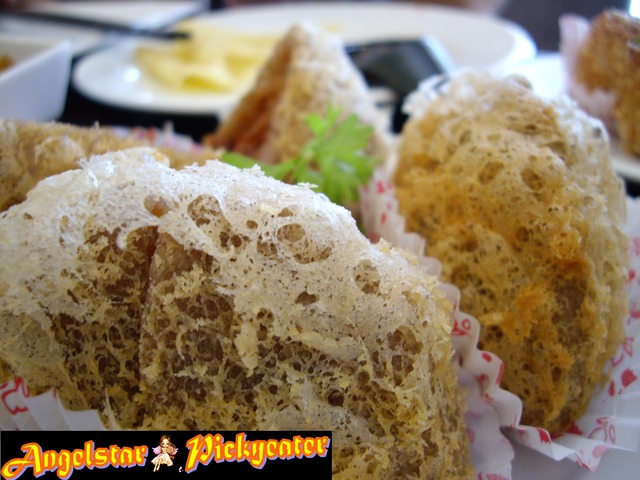 It didn't look half as oily as what I see in most restaurants when my friends order this.
Personally, I do not like yam, so I will always pass on this (LOL!)
Jingdo Pork Ribs (RM14.90)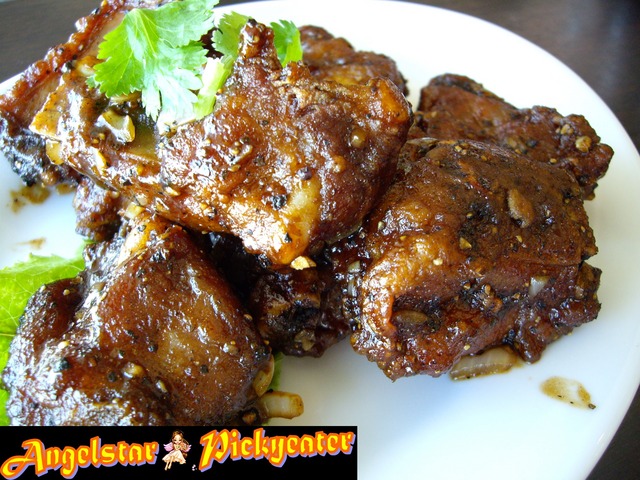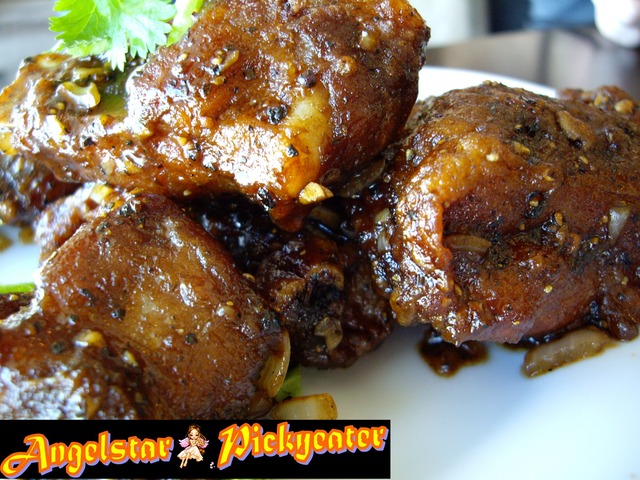 Presentation wise, I think it is quite alluring to meat lovers (or pork ribs lovers), and from the nods and little smiles on the other bloggers' faces, I am guessing this is okay? :)
Pork Dumpling with Fish Roes (RM5.50)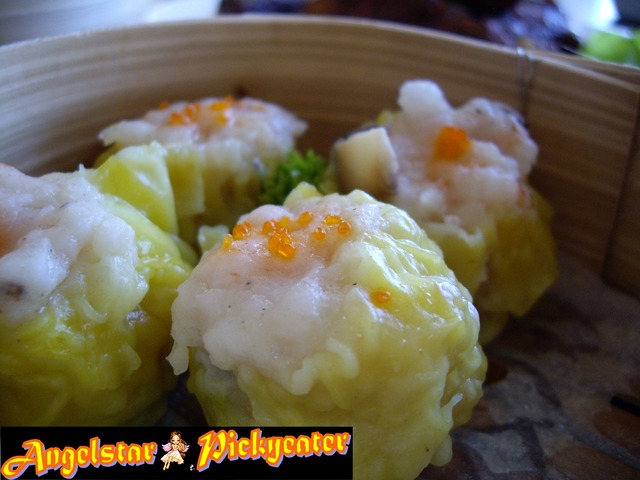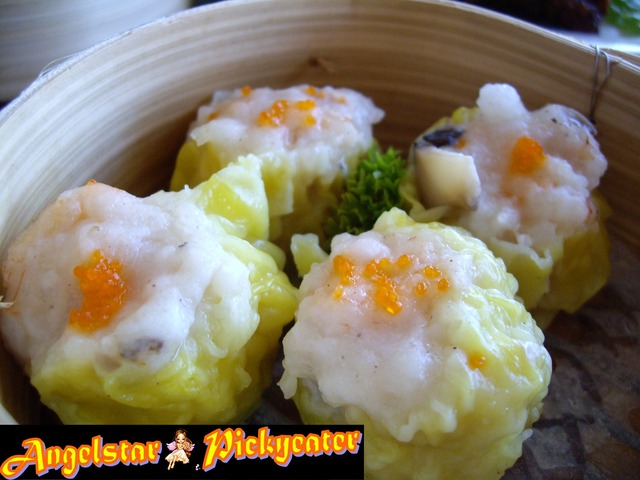 This gathered a few words of praise from a few bloggers; and Chef Khoon actually provided a little more insight by explaining that they didn't use the usual/conventional mined meat paste but instead a different type of meat.
This creates a distinction from the local Siew Mai with the Hongkie version of Siew Mai, in which the latter seems to be preferred over the former.
After tasting all the 14 dishes served, there was a long pause as we await in anxious anticipation for the dessert of the day (desserts always sound promising!)
Some were guessing it's Ice Kacang and was disappointed to be pointed out that the form mentioned it as a hot serving.
Our guesses end when we finally caught glimpse of the white bowls which finally ended up in front of each of us after the photo-taking session.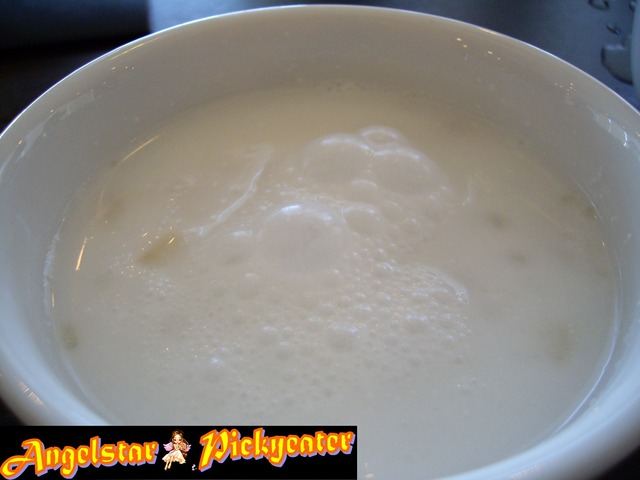 Not exactly what I would have pictured for my last dish to polish up my review.
Dessert of the Day:
Water Chestnut with sago in coconut milk (RM3.50)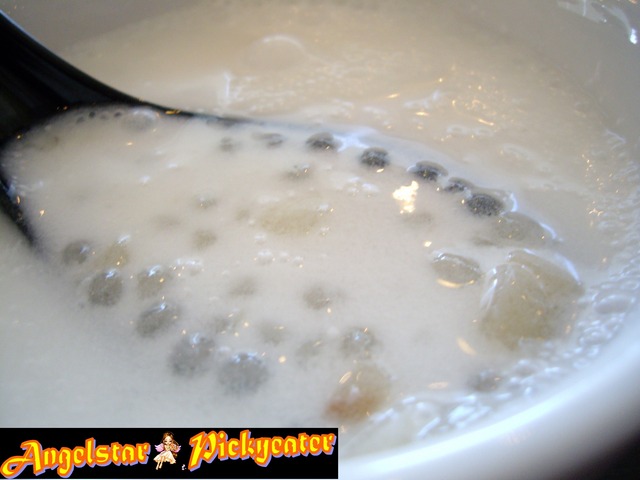 Now, personally, I don't much favor coconut milk (I can't take it), but I don't think this sight is that much of an appeal to other dessert lovers (who love coconut milk) either, right?
It has such a thick froth on top of the white powdery soup which was just unappetizing to me.
I gulped and slowly stirred the contents; to mix them properly and to create a more even texture (instead of the powdery floats and the thick froth) to make it more acceptable.
There were glimpses of translucent sago and unrecognizable small pieces of grayish matter in the soup.
I took a whiff and a small spoonful, and I didn't quite like the taste (much to my expectation after judging the appearance in the bowl).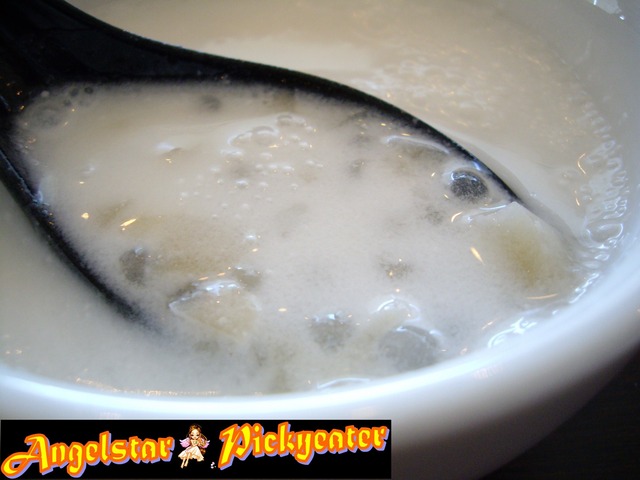 The coconut milk was not even; and one of the failing factor in the dessert.
Then the water chestnut was too minute in size to even provide any taste; initially I even thought it was pieces of yam and whether this was a failed attempt at Bubur Cha Cha.
I think this dessert should be reconsidered; as there were too many things which just didn't seem right in the combination and the taste when they come together in a bowl.
Something which I would not order, if I were there for my personal visit.
In summary, Ko-Fu Loft has taken a different direction from Food Loft and they are now a restaurant serving Chinese delights and authentic cuisine.
Following the review, I may come back because I personally favor their dim sum above the other items in their menu and I think they did pretty well in the dim sum area which is a good point.
Furthermore, their concept of healthy eating (with their less sugar and salt) in their dishes and also offering vegetables with most of their main course, is a good start.
They are still new; but I am sure we will see many more good things to come from this restaurant.
They have an extensive menu; offering from light appetizers to the range which can be found in most Chinese restaurants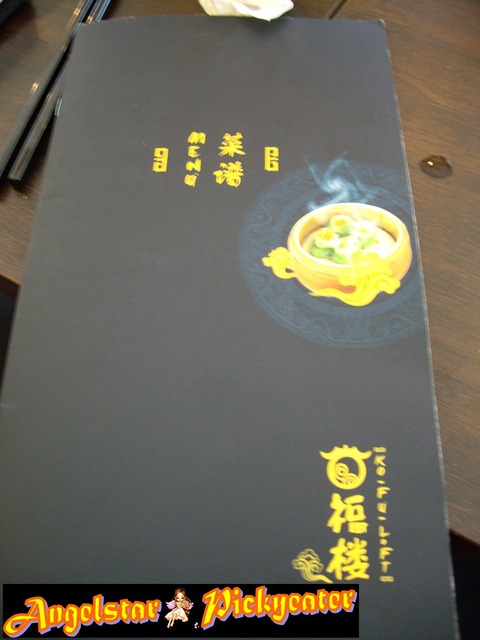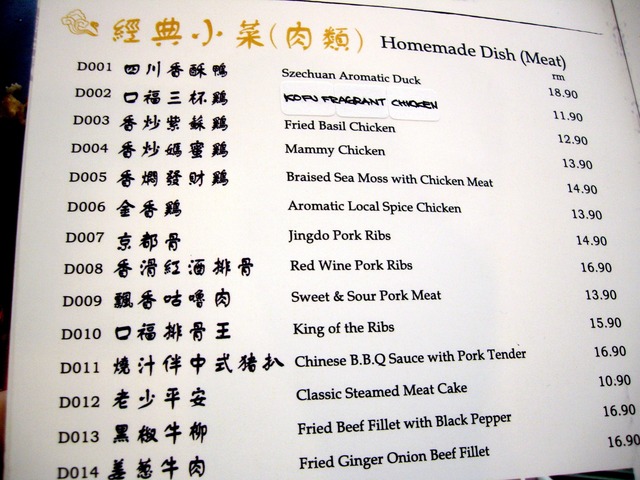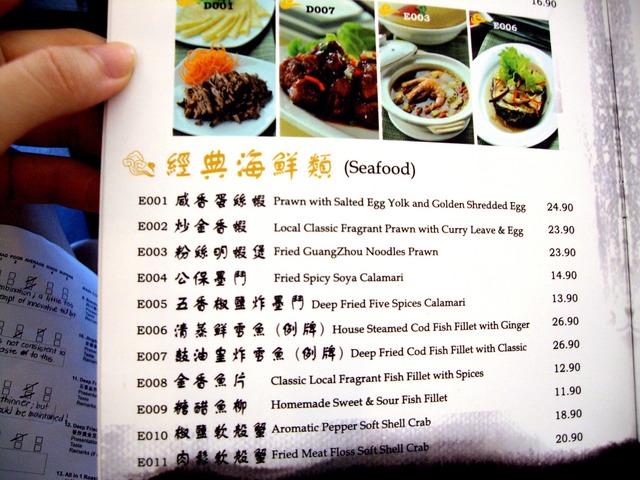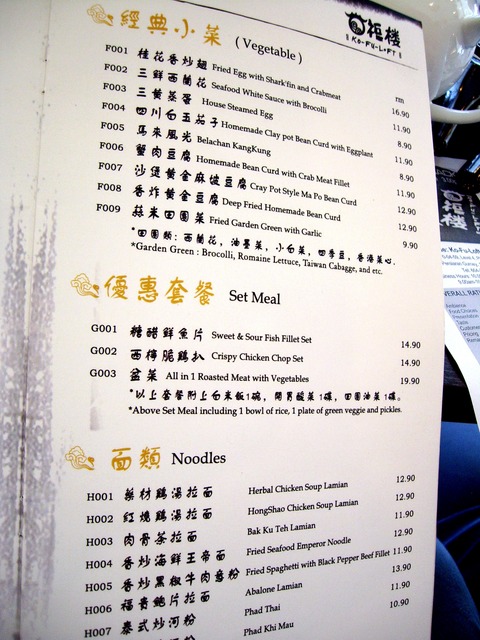 I applaud their direction towards the health-conscious part; which may in turn, trade the strong taste favored by most Penangites.
However, it is a good move towards promoting healthy living without giving up your luxurious meat and seafood meals.
Once again, thanks to
Ko-Fu Loft
for the invitation!
Also I must thank all the bloggers who have been so friendly and hospitable to me (a first-timer) and I am glad to have made such great friends (no longer just virtual friends..LOL!)
You can read more of the reviews by the following bloggers:
Criz Lai
Jian
Gourmet Garden
Food Paradise
thenomadgourmand
Steven Goh
BuzzingBee
Cariso Delicacies Corner
Now Eating
Food Promotions
Allie Food Talk
Yummy Station
Food-4Tots
Penang Tuapui
Best of Penang Food!
Nutty Eve #9
Also, not forgetting the knowledgeable Chef Khoon, it was educational listening to your cooking and gourmet experience, I have definitely learnt a lot :-)
I am waiting anxiously for your site soon!
~Cheers to the bloggers and to the new Ko-Fu Loft, for all the wonderful things to come!~
---PickyEater---