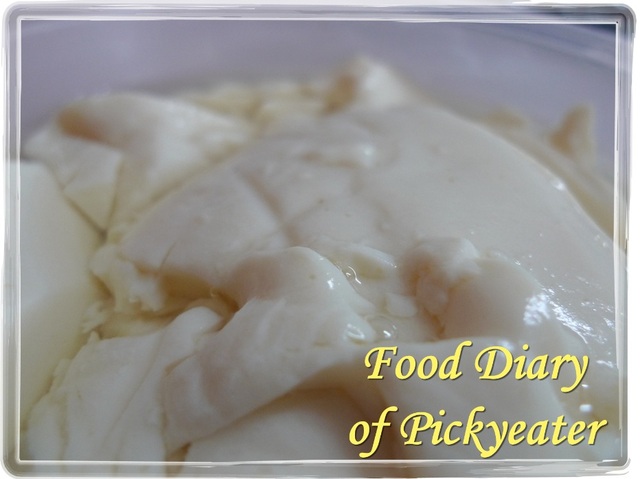 Tau Foo Fah is the name in Cantonese for this favorite dessert of mine.
It is directly translated to Beancurd Custard/Pudding.
There are various names for this dessert as well; Soy Bean Custard, Soy Bean Curd, Sweet Soy Pudding, Soy Custard, Bean Curd Jelly with sugar/syrup.
Other variations of the names in Chinese include: tau Hwa, Tow Hway in Hokkien and Teochew respectively.
I love the silky smooth texture of the beancurd with every scoop.
However, like all things delicious or nutritious, tau foo fah needs to be consumed in moderation, according to the elders.
The dessert may be delicious and a high source of protein, but the recipe to make this dessert includes GDL; Gluco Delta Lactone (a type of hardening agent); to create a semi-soft/hard surface for the naturally soft textured beancurd.
GDL is not particularly good for health if consumed often; and some of the elderly folks even termed it as "cement"; as it could harden substances.
The dessert also has cooling properties; and could be consumed either hot or cold.
I would recommend both; if you have just bought it from a steaming hot pot, enjoy the simmering silky taste of the beancurd and then, you can refrigerate it for dessert after dinner.
The dessert is not consumed on its own; unless you are not a fan of sugar or sweet stuffs.
Sugar syrup usually comes along when you buy the dessert and can be included or to be added on your own to your liking.
There are two types of syrup; either the plain sugar syrup or the brown sugar syrup (also known as the Gula Melaka concoction).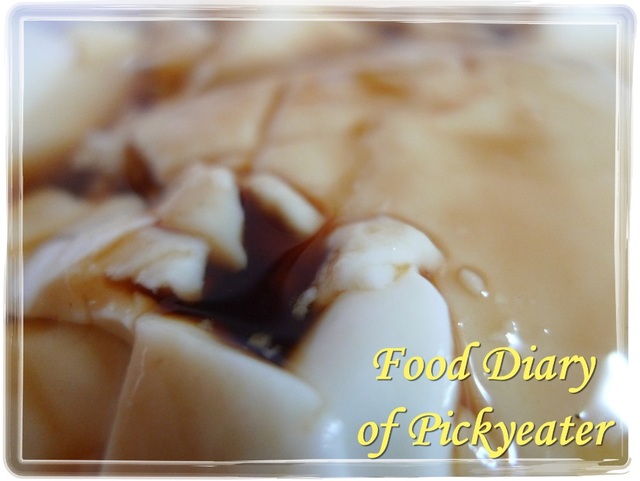 I love both of them; as both have their own unique tastes.
The brown sugar syrup would have a more fragrant aroma due to the sugar itself, while the plain sugar would be something like a clear honey.
I love this dessert; and the best part about it is that it is easily found everywhere; in markets, road stalls, restaurants, shops and even food courts/malls!
However, the picky part about me lies in the silkiness/smoothness of the beancurd texture which is hard to come by.
So far, I have only found two tau foo fah which fulfills my requirements; and oooohh, they are just sooo smooth and perfect :)
Do you love Tau Foo Fah?