Hail the Land of Kimchi which has long ago docked by our coast and built homes and restaurants here in our very own paradise land.
We have seen no end of Korean restaurants promoting Korean BBQ sets and their authentic Korean food; and we even have Korean villages in Ampang.
Apart from that, I am definitely confident to say that Malaysians are no strangers to the Korean culture after all those hours of soaking in the language and love hugs in front of their TV following the korean drama craze after the soaring popularity of Winter Sonata.
So, what is another new restaurant going to do to the already Korean-obsessed/worshipping community here?
DaoRae is the latest addition to the line of Korean BBQ restaurants in Penang, and they are located in Bayan Point; next to a bank and facing the high flyover to Sg Dua/Sg Ara and facing Krystal Point.
The warmth of the friendly greeting was immediately felt when I walked into the restaurant where all the staff (including the BIG Boss, who is a Korean himself) stood at the door, greeting us.
(Ah, the special attention you get when you're there early)
The interior, was designed to cater for BBQ environment and since it was new, there is this whiff of fresh paint in the air.
Overall, it was really neat and the dining area is really comfortable; and each customer is ensured their own privacy at their table.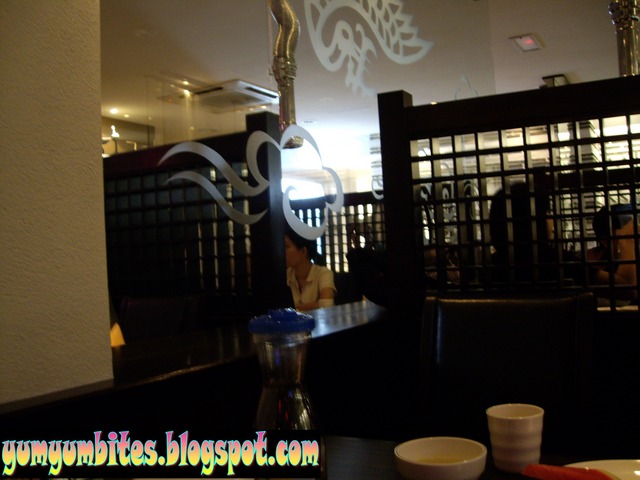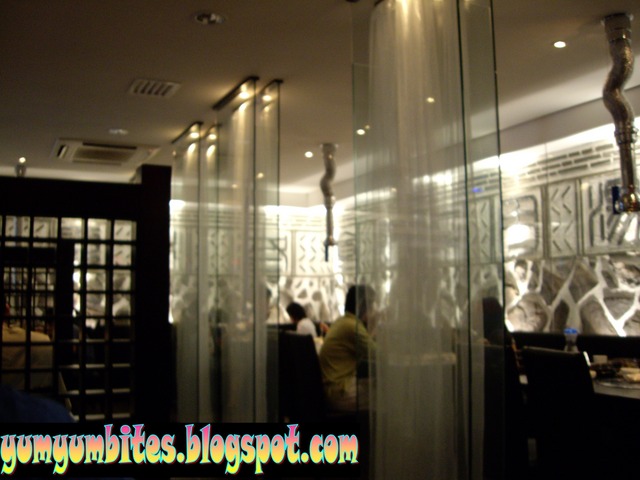 Long story short, main point is the food.
One point is, I am sure everyone knows, Korean food are not exactly cheap and this is even more so since they offer exquisite fine and authentic Korean cuisine (even the Chef is flown in from Korea!)
Their name has been established in Malaysia sometime ago, following the success of their outlets in USJ Taipan.
Minimum spending here is from RM17 onwards for a bowl of noodles/rice and for the BBQ set, be prepared to spend RM70 and above.
For starters, do not be suprised by the 'more-than-10' appetizers they serve immediately after the waiter has taken your order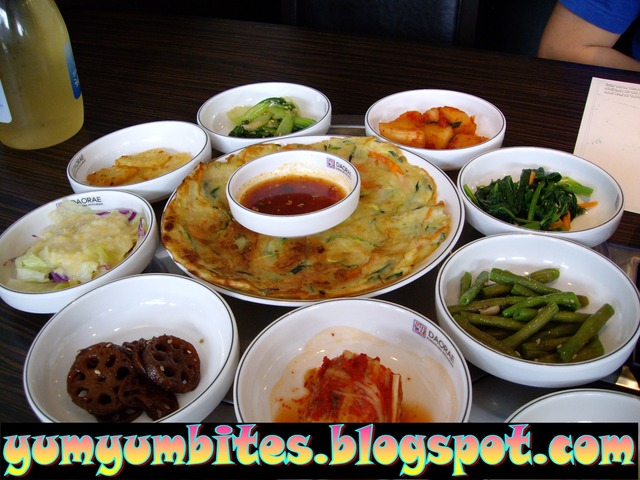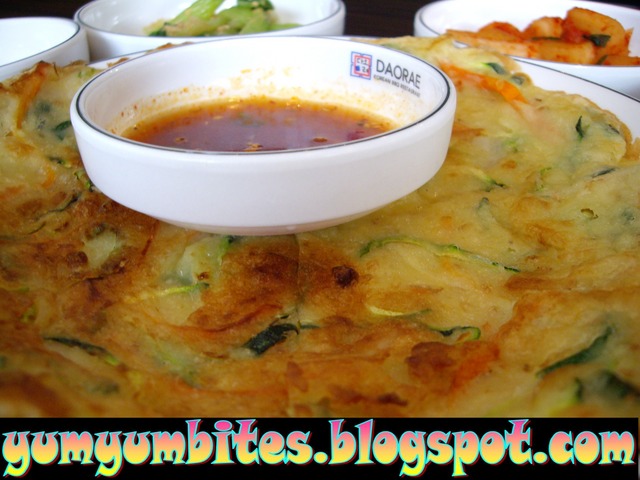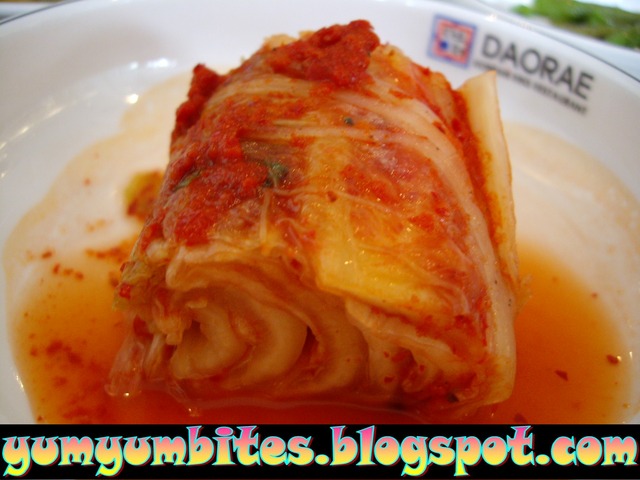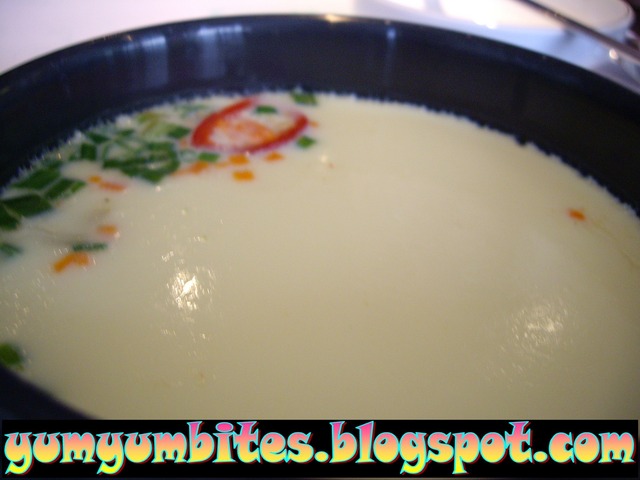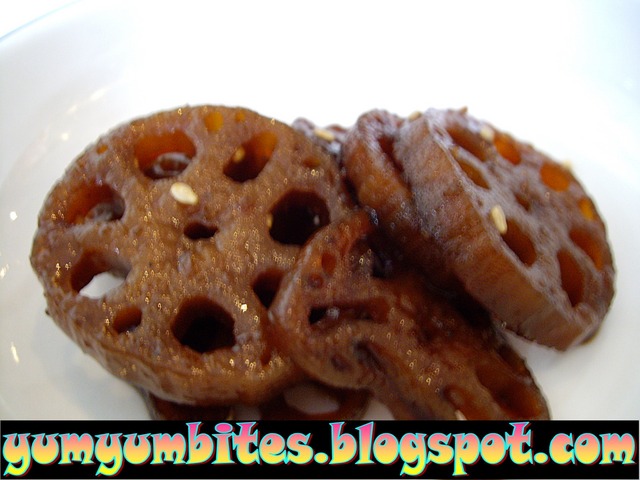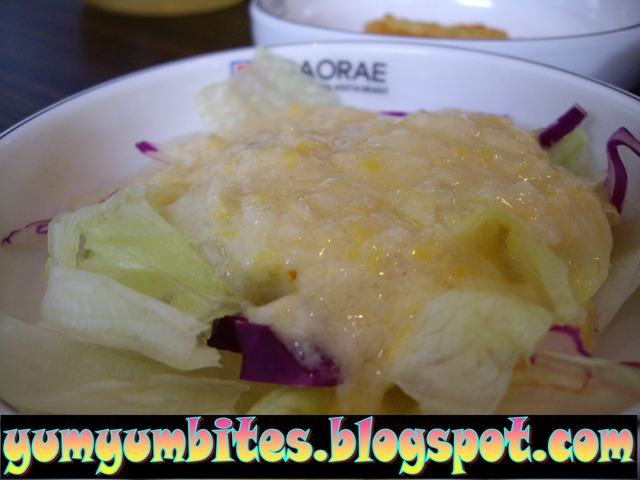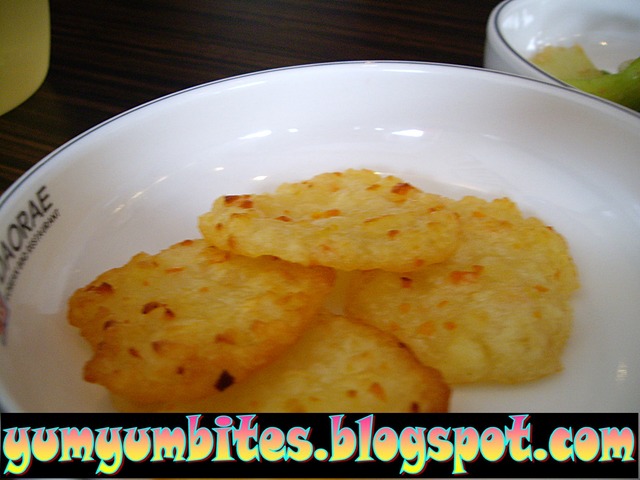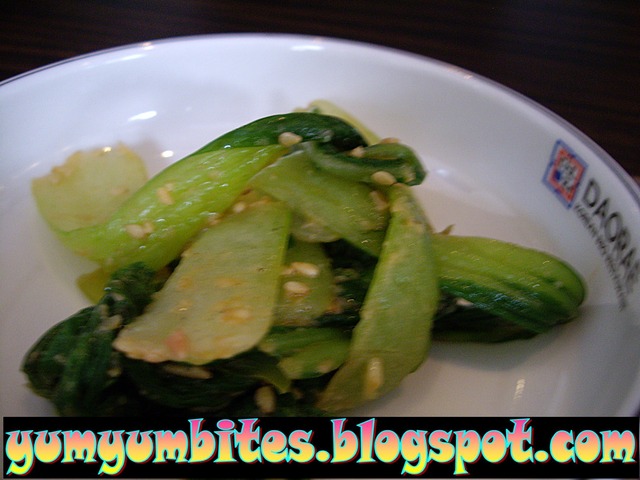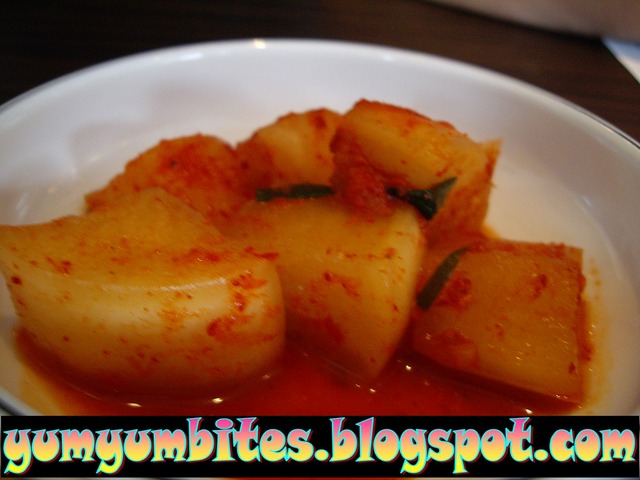 I almost felt stuffed after I've sampled the appetizers and regretted that I've ordered a main.
Anyway, we didn't go for the BBQ because I am not really much for meat and the scent of burnt pork/beef in my hair and clothes.
Don't be disappointed just yet; for I had the chance to introduce other side dishes which you can try when you are out of the mood for BBQ and just want a bite of Korean.
Bi Bim Bap (RM19)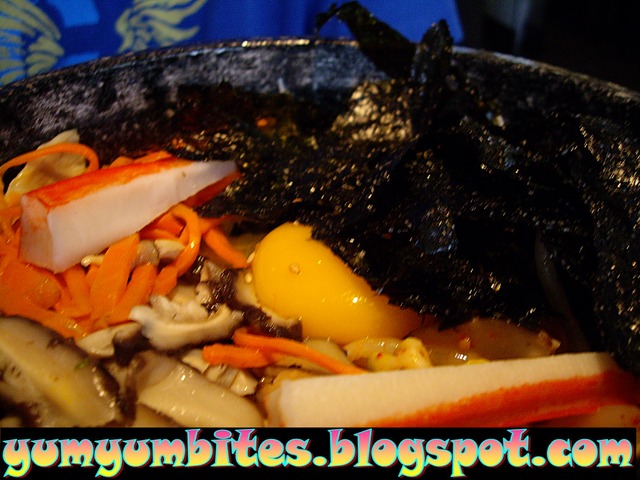 Basically this is literally translated as Stone Bowl Rice.
The bowl reminds me of mortar; which we used to grind our chili to make paste/sambal.
This is one of the homey meal Koreans take pride in; where they serve rice topped with a few types of vegetables; which usually included sliced carrots, mushrooms, bean sprouts,crab sticks, seaweed and minced meat and a touch of a sunny side up right smack in the middle of the bowl.
The bowl keeps the rice at the bottom warm.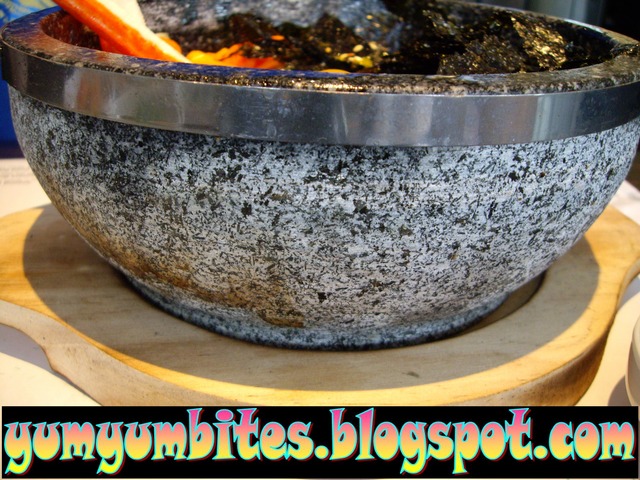 You need to stir everything up and mix them with the rice to get that Bibimbap taste!
The waiter was kind to explain the process when he served us this; not in Korean, but in his own native language. Anyhow, he was really courteous and attentive to our needs during our entire dining experience there.
We were also served soups when our mains were served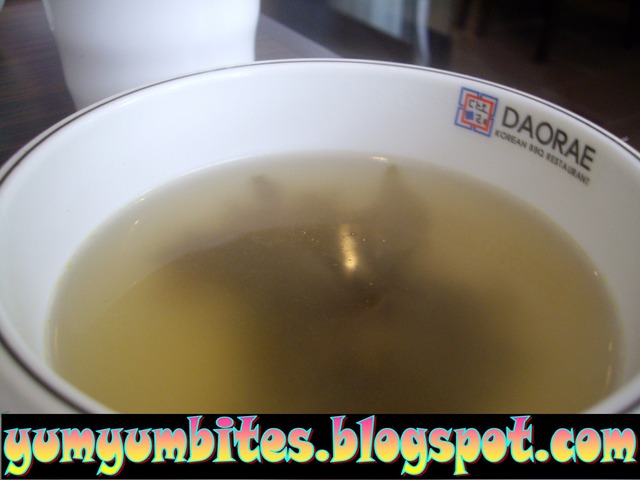 A hot bowl of noodles with seafood in soup (RM17)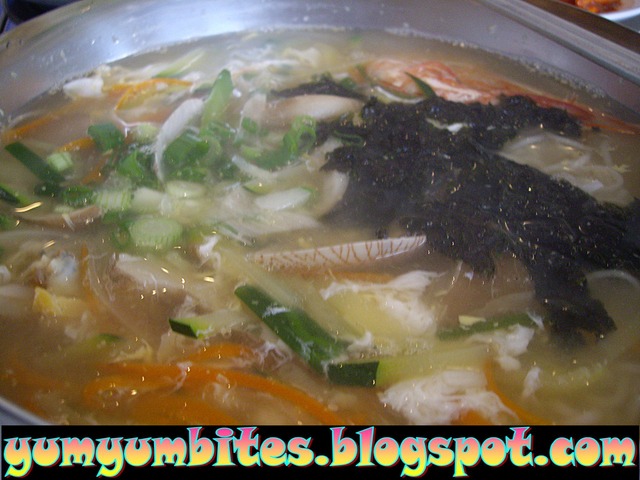 The bowls used to serve are huge; I gulped when I saw the bowl placed in front of me.
I am sure some must be wondering, how good can a bowl of noodles in soup which is basically sick food taste?
Actually, they used a superior stock and the soup had a rather tasty (though tad bit salty) flavor with the clams and prawns used in the soup.
To be frank, the clams exuded such an overwhelming 'fishy-seafood' smell to the soup that it definitely attested to this being seafood-based.
The noodles used were mee-suah-like and were however, tad more soaked which ended up soggy. Not that it's bad, it depends on your preference.
I silently curse my friend who ordered an extra side dish to stuff ourselves silly but praised him after taking a bite of this; as he had been kind enough to recommend a good dish.
Korean Rice Cakes (RM30)
Although we were joking about how much we are paying for basic chee-cheong-fun dish, it was nevertheless flavorful with the spicy-sweet and sourish texture lent by the kimchi in the cooking process
Look at all the food on our table!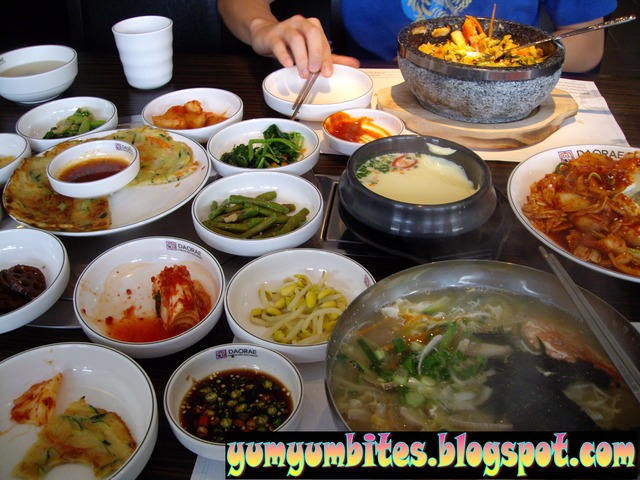 We tried, we did, and we couldn't finish ALL of it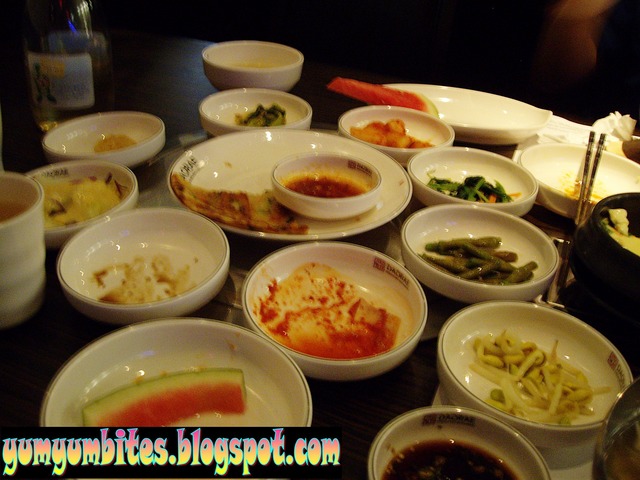 The total price was RM78++ but the dining experience and the food was of authentic Korean style and taste that I must say it's worth your time/money spent.