If you feel like having decent western food and yet not paying a bomb for all the frills, there is always the option of dining at food court or hawker stalls.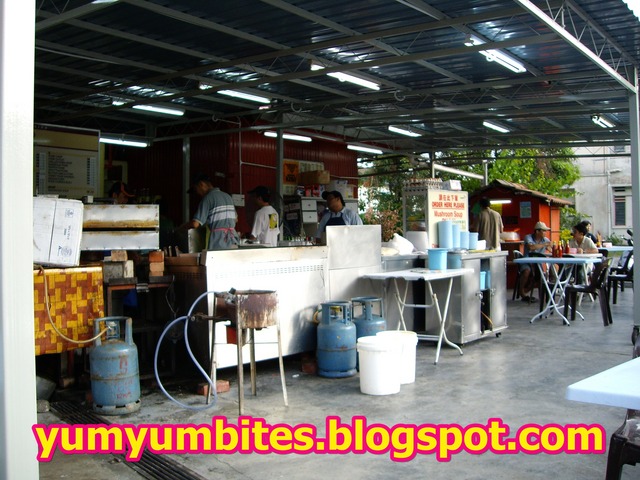 Along the road from Mount Erskine, there is this particular western food stall located by the roadside.
You should be able to see it on your right after a temple on your left and this stall is right in front of a residential flat.
This is one of the popular budget western food which serves pretty decent food and it has definitely been blogged about several times by most of the Penang floggers.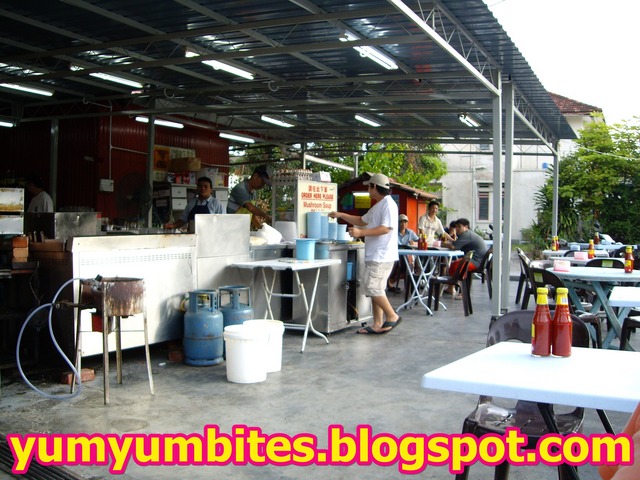 I have heard about the crowds at night and therefore, I decided to be there early.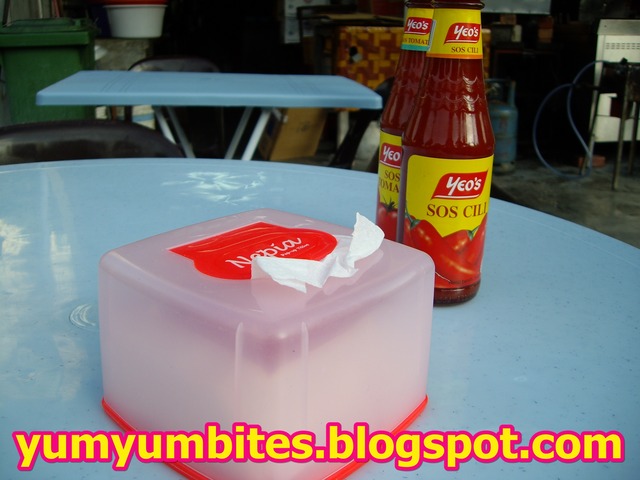 They have drinks just like the ones you can find in any normal coffee shop.
They also sell jelly in cups which you can buy for RM1.30 per cup for your dessert.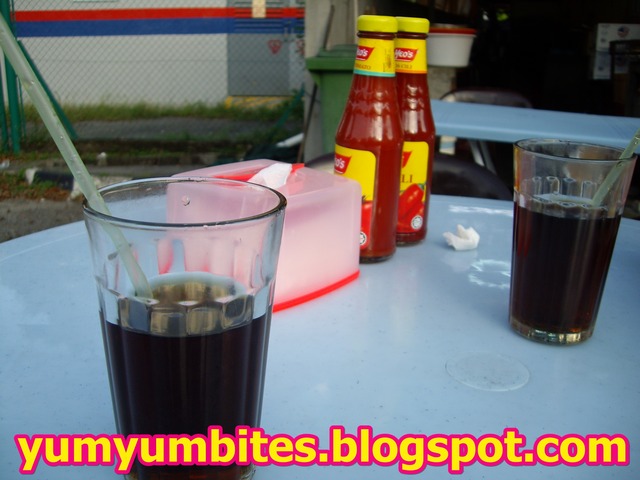 You can also order a bowl of mushroom soup for RM2.50 right in front of the stall.
They will serve it to you in a bowl size of a curry mee.
Orders must be made at the front stall as they will not come over to where you are sitting to take your order.
The menu is right in front and located above the cooking area; so it's kinda impossible to miss it.
BBQ Fish (RM7.50) was served in a rather sizable amount for a person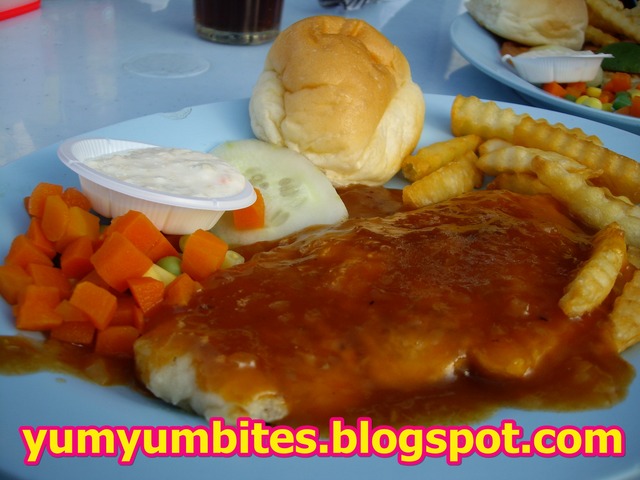 In fact, the sauce was quite unique and appetizing with a tinge of pepper and spices.
Not too spicy and not too plain.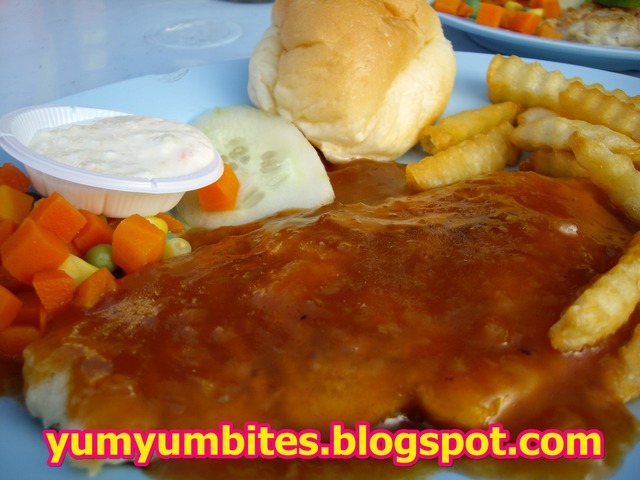 Grilled Fish (RM6.50) appeared to look rather bland and unappetizing but the fish was fresh and succulent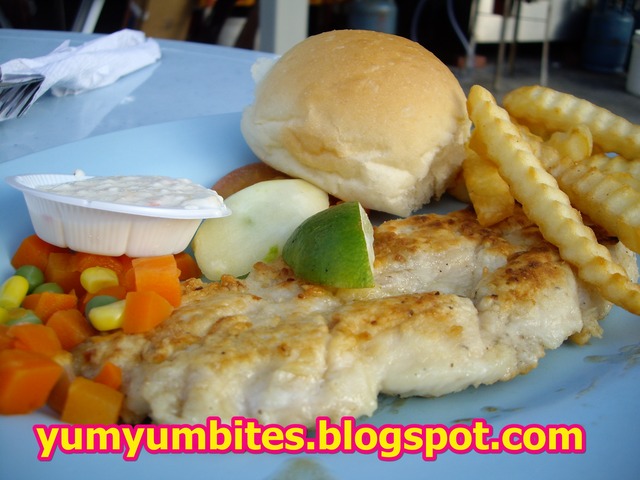 You can spread out the tartar sauce to add the taste to the fish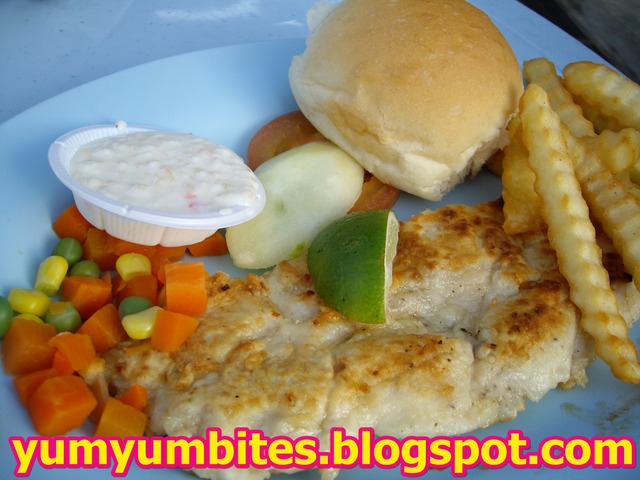 That was an overall first impression when I first went there.
However, I must say that the quality was not so consistent and the same dish was so different in taste!
Grilled fish on our second visit was rather dry, small in portion and really oily!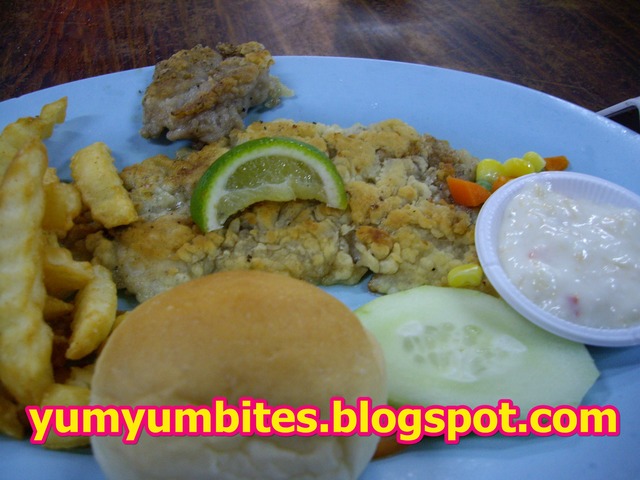 Kinda disappointing, but I guess it's due to the huge crowd.
The oil made our throats rather uncomfortable.
For a bit of poultry, there are also a list of options:
Hawaiian Honey Chicken (RM7.50)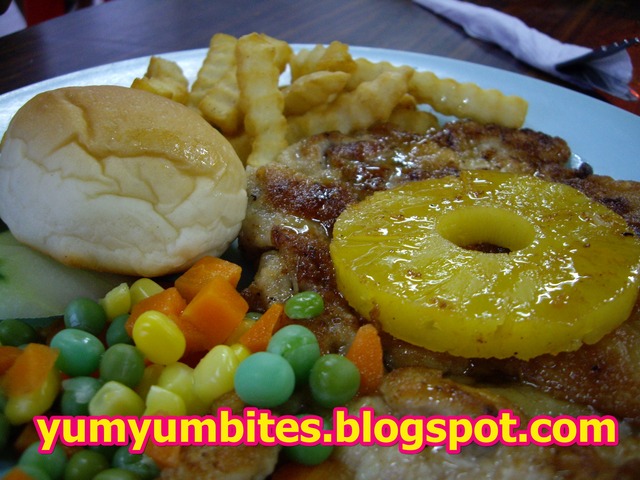 The chicken breast portion was used and it was grilled and marinated before serving it with honey.
Taste wise, it was on the average; nothing to shout about (as commented by the person who ordered this)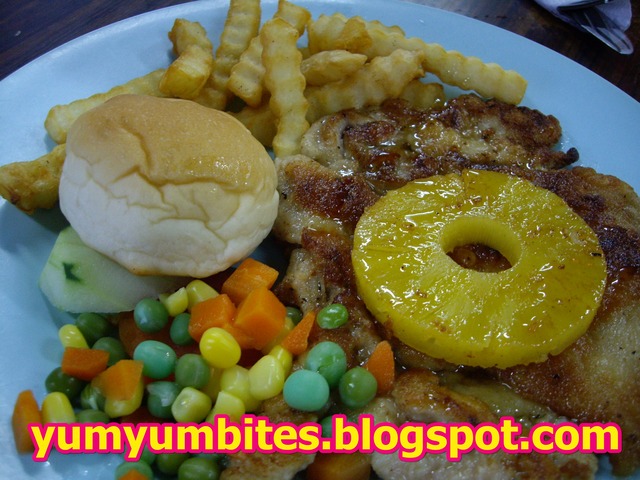 Chicken Maryland (RM8) was rather astonishing in its presentation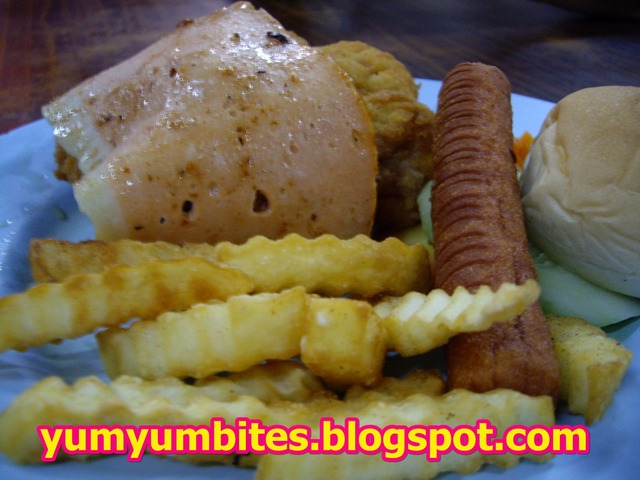 Maryland is usually served in a deep fried with golden brown crusted bits but this looks like a normal breakfast set you get at coffee shops.
Nevertheless, it was something different although the taste was rather dry and bland.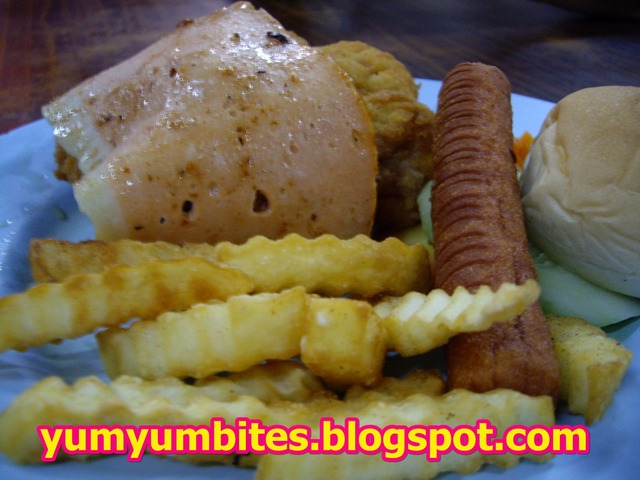 For some kickin' and different tastes which you might wanna try,
I find the Indiana Fish (RM6.50) rather unique and in fact, it is one of the most interesting style I've tried:)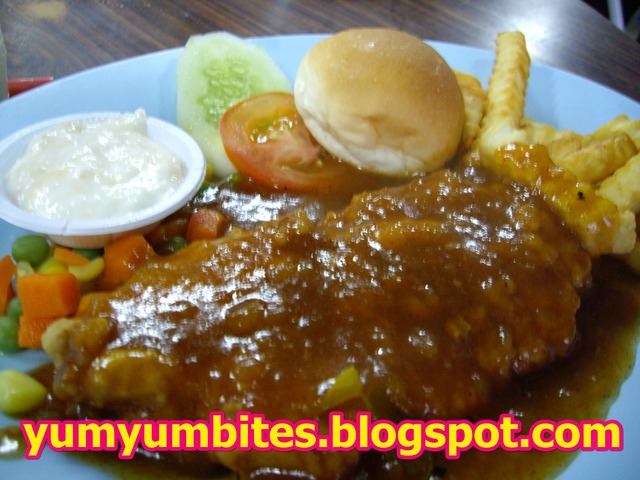 The sauce looked a little like the one served with the BBQ Fish but this was slightly sweet, sourish and a tinge of spiciness in it.
A really interesting and appetizing concoction:)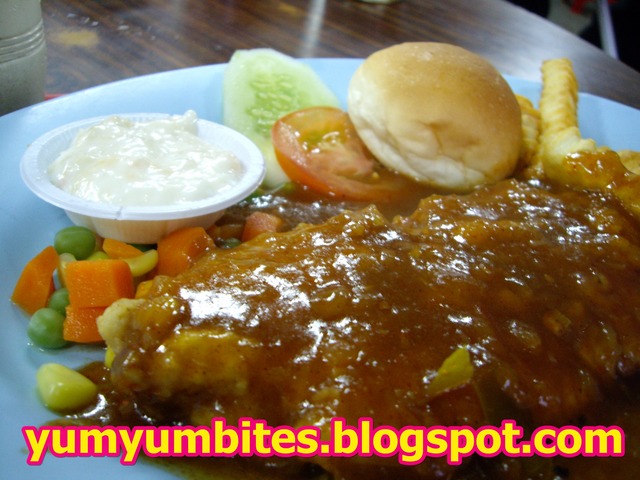 Thai Spicy Fish at RM7 was also pretty enticing when it arrived as it was served with lots of sliced onions on top of it (beware, for those who are not fond of onions).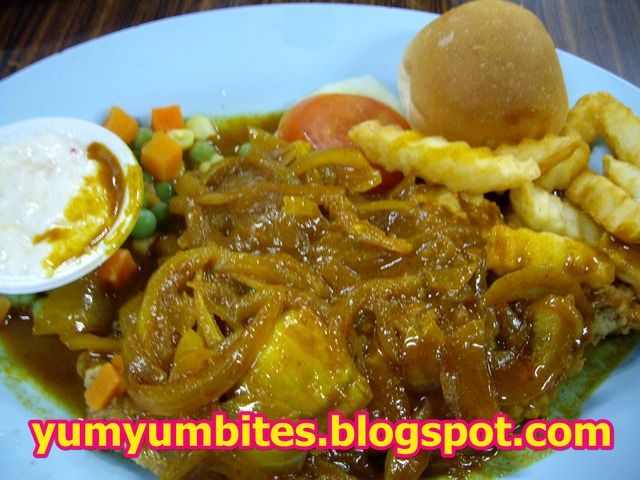 It looked rather fiery spicy and if you are expecting Thai-tomyam-spicy like, it's not so much the case.
It's not that spicy although it was rather exciting to the taste buds as well; I'm not sure how do I put it; but it's worth a try if you want to know what I mean:)
If you arrive at the peak dinner hours, take note that you'll definitely have to wait and you will be given this little small plate on your table indicating your turn.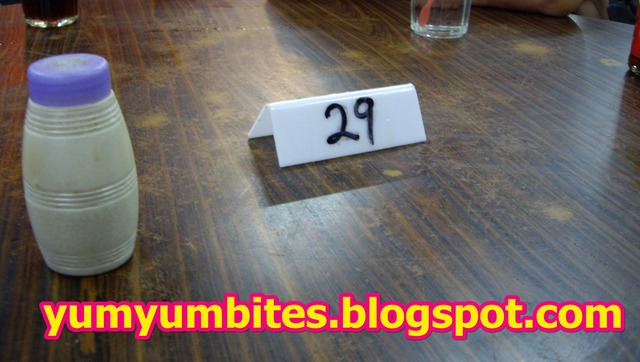 However, do also take note that the numbers do not go in chronological order; I am amazed how do they keep track of the orders!
Well, as long as it works for them, we shouldn't bother anyway:p
In my humble opinion, the prices here are pretty reasonable and affordable for western food and the serving was rather proportional to the price we're paying.
Yeah, quality may be a little inconsistent; but what can you say for the price you're paying:)
No frills are expected; as the tables are just plain plastic tables by road stalls - so you can't expect any candle lights and checkered table cloths or waiters in suits attending to you *winks*