This is a very short post on this restaurant; I have once again lost touch with my blogs...due to several reasons and I truly apologize for the lack of updates.
Anyway, the reason why this is a short post is because my girl friend and me did not have much of an appetite when we were here the first time and also, there is not much to tell about this restaurant.
(Also, the pics did not turn out very good, so please bear with me)
Read on and you will know why...
I am probably one of the last of all the Penang food bloggers to have visited this latest Japanese restaurant in Queensbay Mall; located above Borders.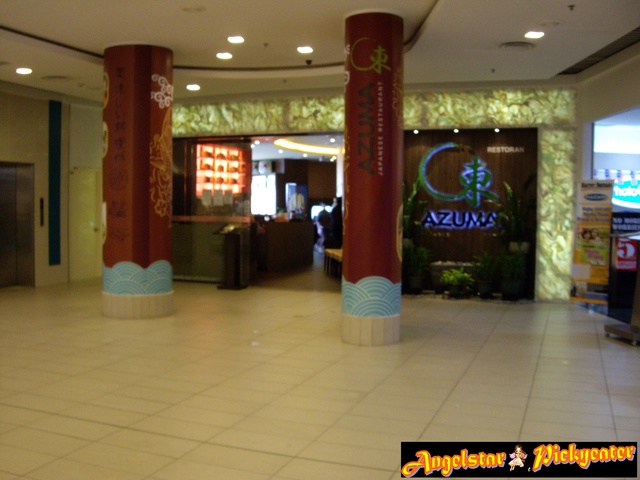 The ambience here was really good, and it feels really comfortable here. They even have function rooms for you should you need more privacy or are arriving in large groups.
If you are lucky enough (well, you need to make early reservations), you may even get a place by the glass windows and have a view of the sea or the Pulau Jerejak on the opposite side of the island.
(well, I think I've gotten enough of the view everyday =P )
You can opt to sit by the sushi or cooking area and enjoy taking sushis off the belt like you do in outlets like Sushi King and Sakae, if you don't mind your hair smelling like it was on a stove or something, that is.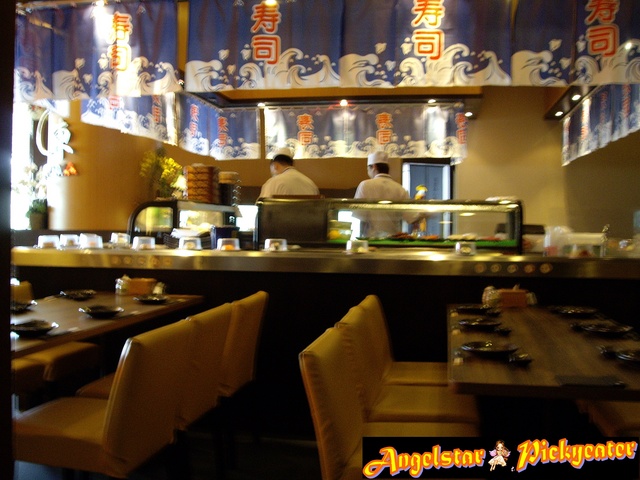 I did not have much expectation when I stepped into this place and boy, I was surprised by a lot of things here.
Well, let's start with the place where we were seated.
It was supposed to be this couple seat area (sorry, I do not have the pics)
It was quite uncomfortable there as the seats were like hard, and it was erected to make you sit up straight at a posture of 90 degrees.
It made me feel like I was stuffed into a box!
Secondly, the waitress who served us, seems to be in a hurry to retrieve the menus from our hands and she did not even provide us with the sushi menu.
When my girl friend asked her for it, she gave it to us and in a short while, she took it back in a haste.
Mind you, we were the earlier ones who arrived and there were not many customers around, so, what's the hurry?
Food wise, we didn't order much, as I've said, we did not have much appetite and our focus was more on chatting...LOL...well, what can I say, we are girls.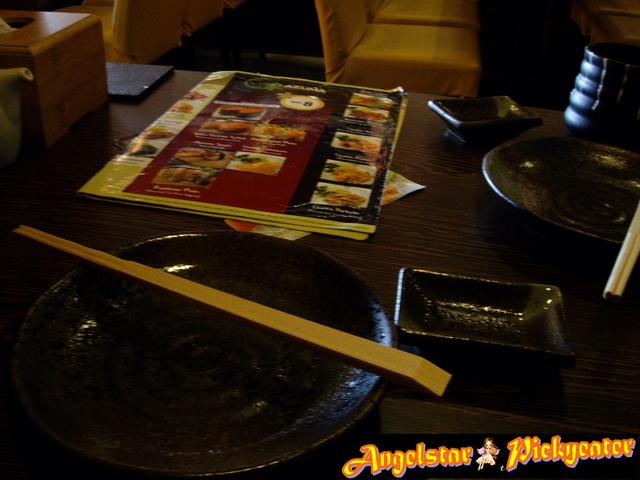 We were so busy catching up with each other that I almost forgot to take pics for my blog...yeahhhh, that's how excited we were to launch into the girls' talk =P
Soba noodles (RM17 I think)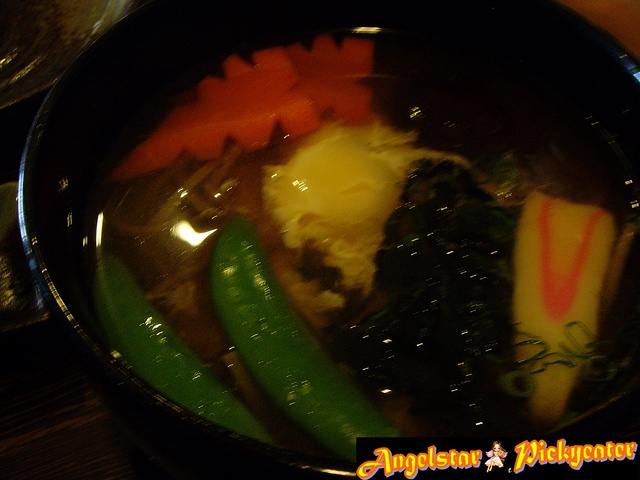 It looks rather plain and distasteful to me; and somehow my friend just mentioned that it was good for her tastes since she had lost her appetite for a few days and this plain soup without much taste is good for her, as it was also hot.
So, was that a good or a bad thing? I don't know, I leave it to you to judge.
I made a mistake by ordering this, the Salmon Fish Head in a claypot (RM25).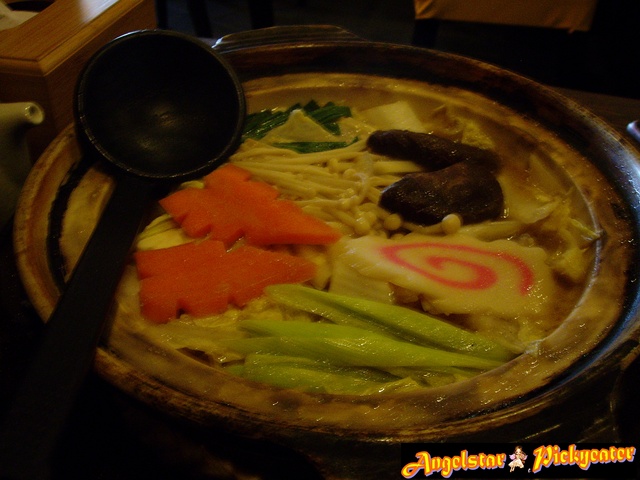 It was one of their recommended items, and seriously, I just wanted to try and I thought it came with the noodles or something.
Imagine my shock when I saw the size of the pot and the amount of fish they had in it.
Don't tell me that the price indicates all; as most of the items were priced around that range.
Yeah, the prices here are a little bit steep compared to other Japanese restaurants.
Anyway, the fish head was not too good either and I felt that the salmon fish was too mushy for me; I was a little grossed out after a while.
There were also a range of accompanying stuffs like the Inoki mushrooms, Napa cabbage, carrots, mushrooms and fishballs I think.
However, I seriously don't think it was that good though...
I would not think of going back but I did,for the second time to attend a gathering for my friend's birthday.
FYI, there's actually further discount for Intel employees...am not sure if other companies do have this privilege too?