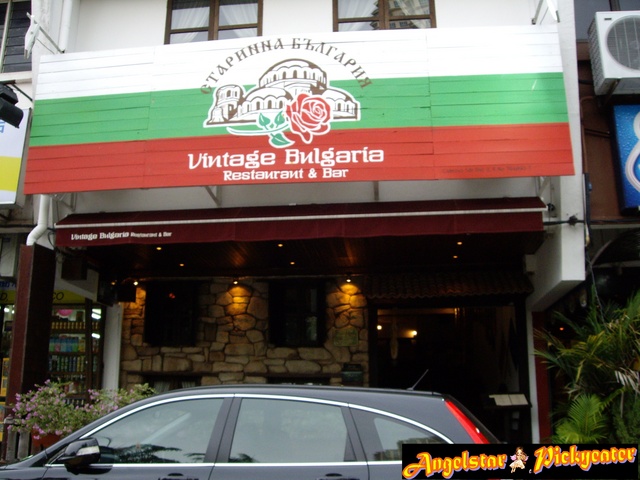 This is a place which has been widely publicized by the Penang bloggers and around the blogosphere. In fact, it was so popular that it was selected as the venue for the Penang's 4th Bloggers' Gathering a few months ago.
Unfortunately, I missed it again as I had a family function to attend back at home. *Sad* Why do I always miss the bloggers' gathering?
Well, life goes on and it has been a while since I've been wanting to try this place since the first post by CK Lam and I never got around to it.
In fact, I made my first visit several weeks after the bloggers' gathering...I wonder what's that term you use in blogosphere...blog-crastinating? (blog+procrastination =P)
I have read so many reviews from all the different blogs which I drop by each day and have seen amazing photos from the professionals out there that I don't think I need to anticipate anything outstanding or be surprised by the exterior and the interior.
From the front of the restaurant, you can already feel like you're transported back to those vintage pubs or bars like those that you see in Harry Potter's movie or any movie which feature those village bars.
They have definitely spent a fortune and tremendous efforts in furnishing this place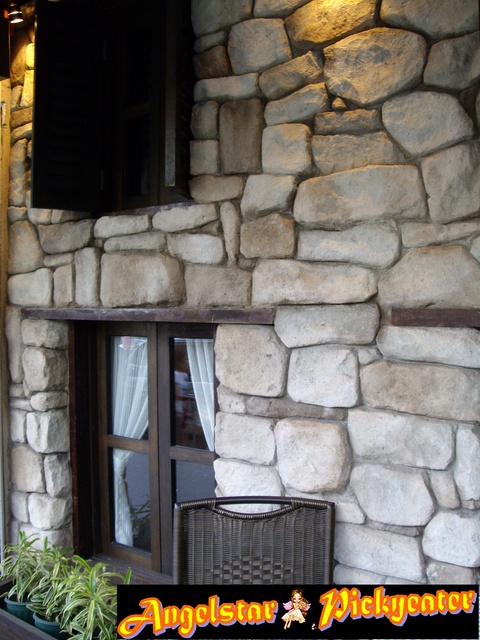 Rock-studded walls from the exterior of the shop
The restaurant itself was split into 3 different platforms; from the first photo posted which leads to the upstairs and the entrance/reception area being at the shop level and the dining area at the lower ground/basement platform area.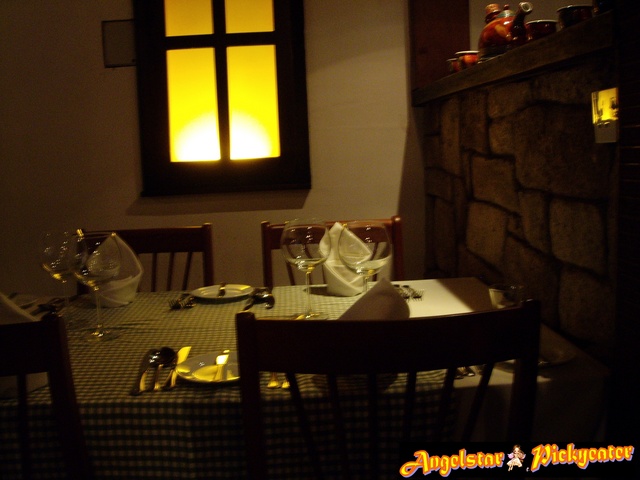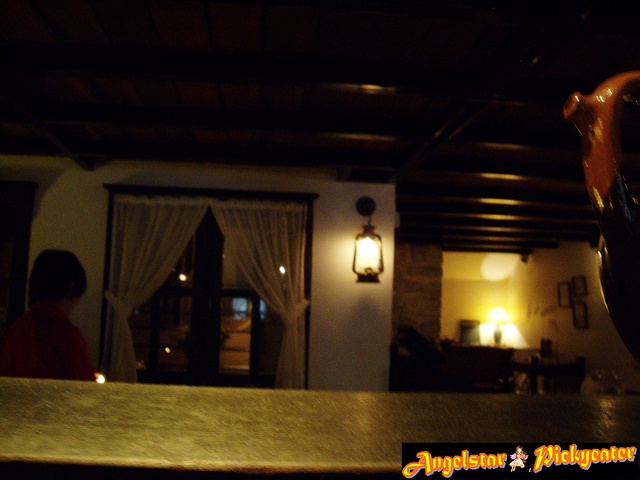 The ambience exuded such a lovely, warm and definitely romantic atmosphere.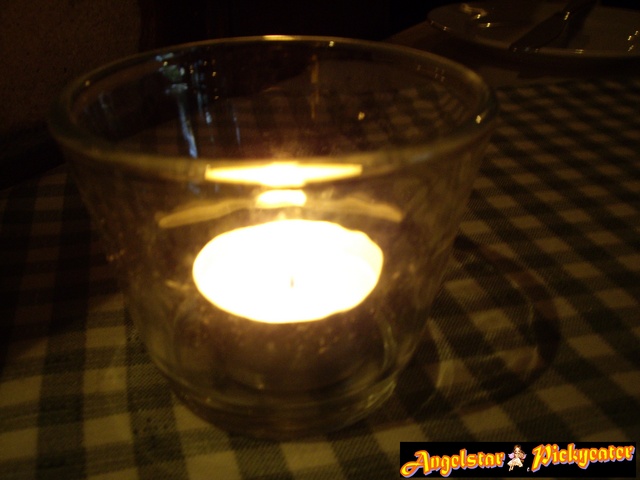 It is suitable for couples in love or even family/company functions and gatherings.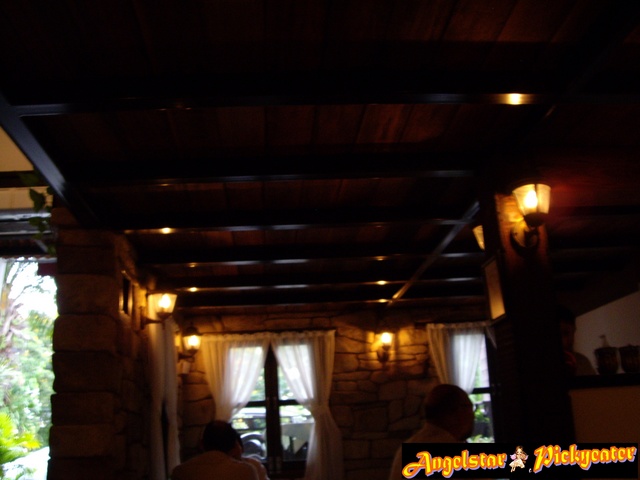 I think I fell in love with the place when I stepped in =)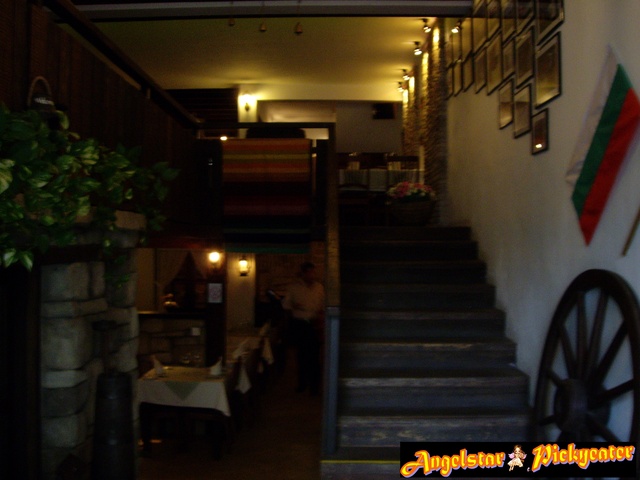 It took us quite a while to get the waiter/waitress's attention; which was a bit of a bummer for me after such nice expectations.
Well, our orders were finally taken and we were served these dinner rolls in a basket.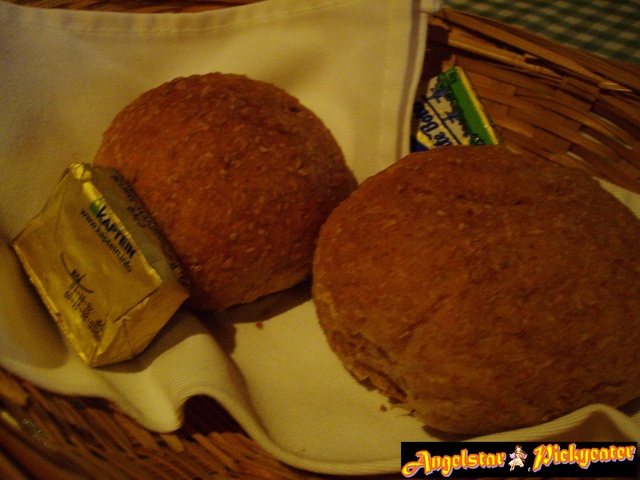 It was not the usual soft and white dinner rolls usually served in most Western restaurants; but rather a type of European-wholemeal bun - something which are common in Europe and I have sampled when I was there on a trip.
Even their butter chunk was imported from their country - interesting!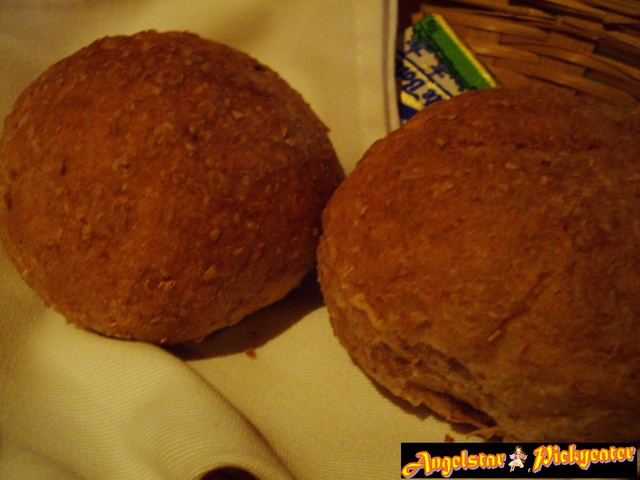 I ordered a Red Snapper sauteed with the sweet and sour sauce (I think it was priced around RM35-39.90)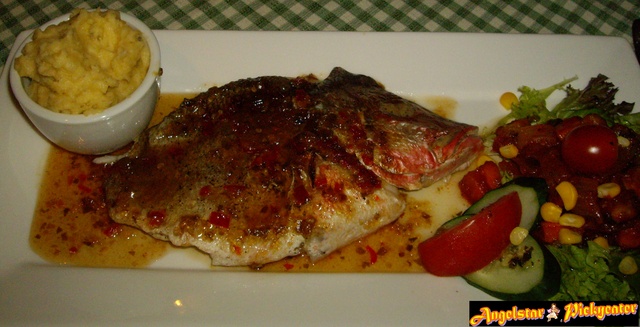 I had a shock when this arrived; seriously, I was so not expecting the whole of a fish to be served on a plate and presented to a customer.
That is so not normal; unless you order the whole steamed fish in a Chinese restaurant or something, right?
I could not believe it when I saw the red snapper fish o_O
Perhaps it was Bulgarian-style to do so?
Anyway, Bulgarian or not..it was goooooooooooooooodddddd!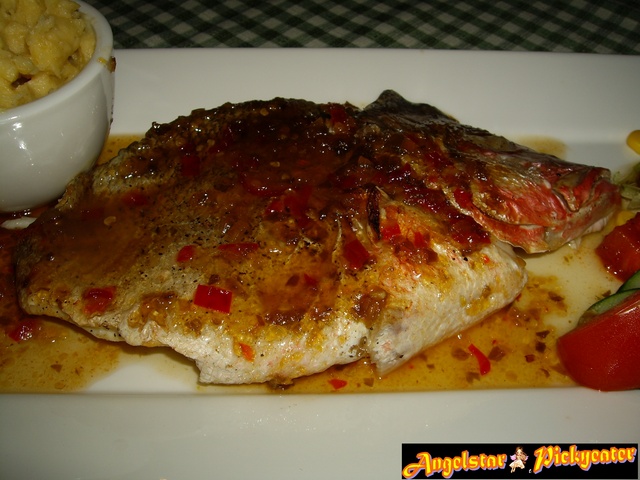 The fish was quite fresh and the sauce just complemented it well!
I don't know whether it is the fish or the sauce or perhaps that whole Bulgarian notion thingy or the atmosphere (dim lighting and soft music), but oh, I really enjoyed the snapperrrr =)
I even liked their unique selection and style in the accompanying salad.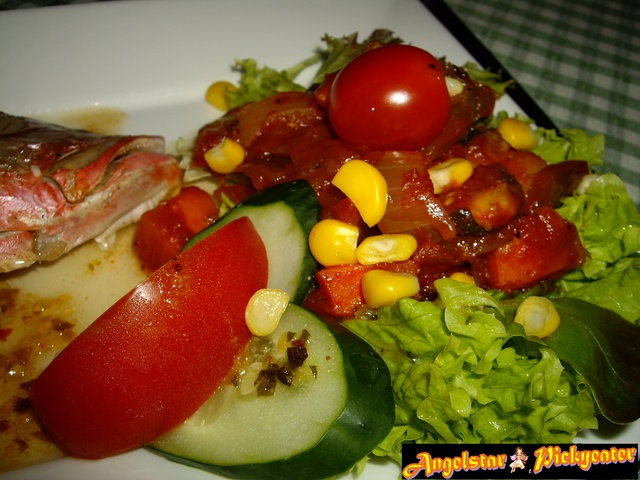 It was again, out of the norm of the usual dressing with the same lettuce, cabbage and carrots and tomatoes.
Instead of the mayonnaise dressing, the vegetables were already cooked with tomato sauce with a tinge of spice in it and I loved it! YUMZ!
If you are not the fish person; well actually you came to the right place since Bulgarians are famous for their meat and poultry as well.
However, there was a disappointment over the Bulgarian Platter (RM30-39) which was a combo of the roast lamb, chicken and pork sausage.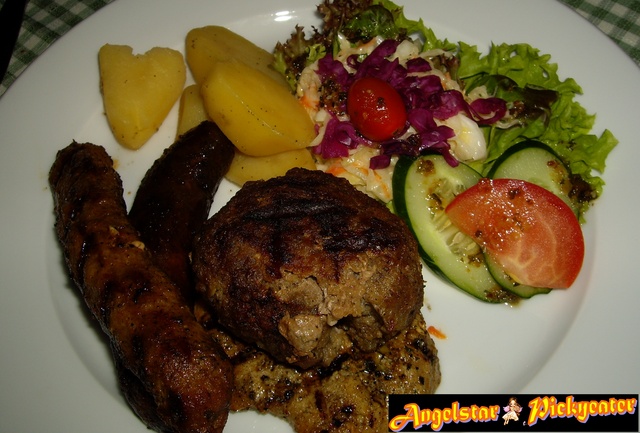 I think the complaint was about the uneven taste in the lamb; whereby some parts were rather hard and some seems to be a bit raw.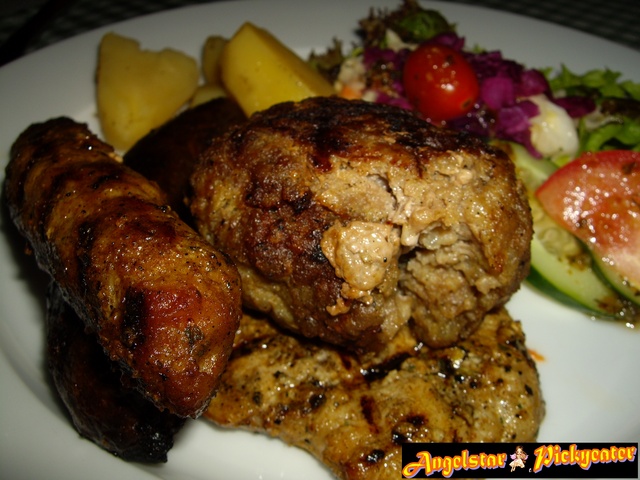 At the same time, the chicken was too hard as well, and the sausages had traces of burnt/overcooked on it.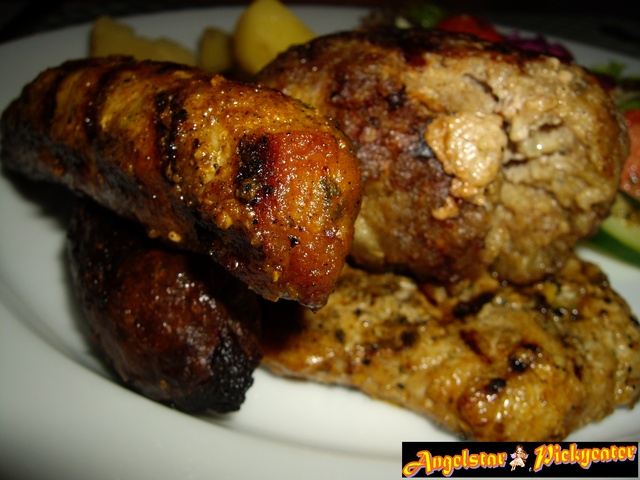 The final part of the evening was saved by the dessert.
I don't usually order desserts as for one I do not like sweet stuffs and usually I am full by the time I am done with the food.
However, this round we ordered along with the food and it was one of the item which caught my eye when I flipped through the menu.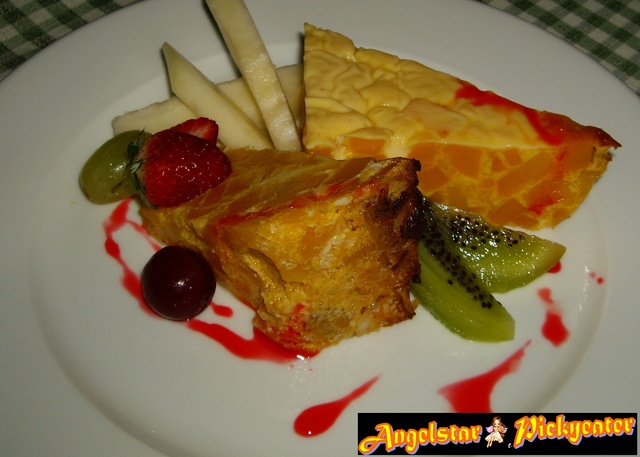 Surprisingly, for a person who does not like pumpkins (it's one of the food I dislike), but since we are sampling Bulgarian food and I have someone to finish it, anyway.
This pumpkin cake has the pumpkin chunks in it; and mind you, the whole cake was so pumpkin-ky! (a word created by myself to describe how much pumpkin taste it had)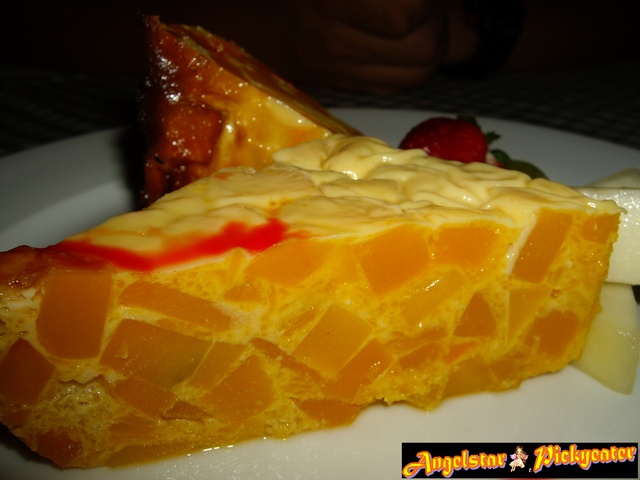 It was naturally sweet and I love the fruit bits which came with it because there's my favorite strawberry and kiwi! =)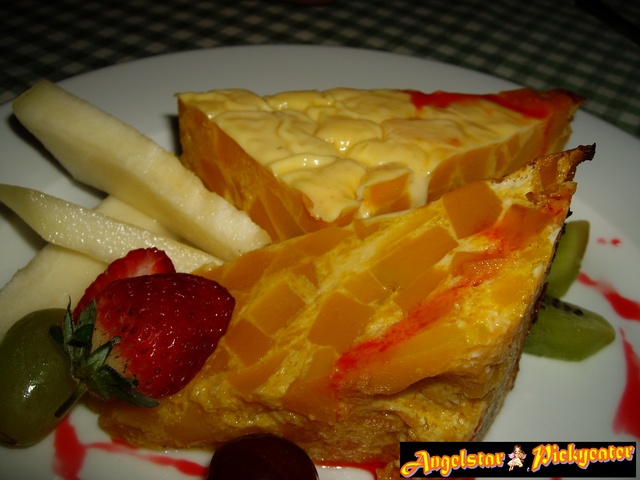 Although it was quite pricey at RM9.90 or RM12+ I think, but it's definitely recommended for all pumpkin lovers or those with a sweet tooth and game to try something unique.
It is definitely something that is not easily found here; even if you have tried pumpkin cake or pie, it's not as rich with the pumpkin taste. Furthermore, these are actual pumpkin bits mind you ;)
Overall, I enjoyed the food and the ambience although prices were a little bit steep.
The service from the waiters were quite intermittent and sometimes we couldn't get their attention but there is one thing that I must put my thumbs up; which is the owner of the restaurant who is a Bulgarian himself.
Excellent service and PR skills as he personally served us checked with each customer about the food and services and how he could help.
Well, it's definitely good to make anyone feel appreciated and honored as a guest/customer in the restaurant, right?
In case you want to check this place out, it's located in Tanjung Bungah and next to the famous German Restaurant; Ingolf Kniepe.
Just turn right at the traffic light approaching the Paradise and Copthorne hotel.Otherwise, just type in Vintage Bulgaria in Google/Yahoo and I am sure you will find it as it's the only one in Penang =)
So, Bulgarian anyone?