There seems to be an endless list of hawker foodcourts in Penang, as I have observed. After all, what can you expect from a place which has gained its international fame as a food paradise, right?
Tourists are all too familiar with the roads which promise vast varieties of food; Macalister Road, New Lane, Penang Road, Pulau Tikus, Burma Road...and almost everywhere else in Penang, there's food to be found.
Along Burma Road, if you go along the whole way (Burma Road is very long if you come from Komtar area) heading to Gurney, you will see a foodcourt on your right before you come to the fork leading to Gurney on your right.
It is right opposite Kocha Taiwanese restaurant and next to Jemputree:)
There is a big banner displayed which you can spot from the road, reading the famous Anson Road Chu Char or something like that.
That is the first stall which started its operations here.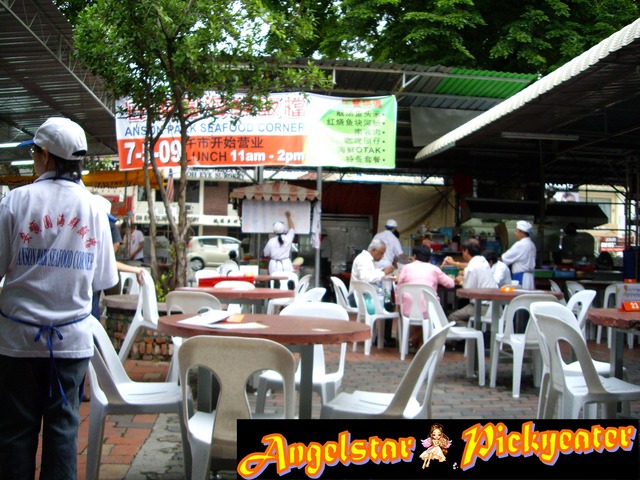 I was not there to try the chu char (maybe next time); but instead, I just wanted to see what are the other 'Dai pai thong' food they have here.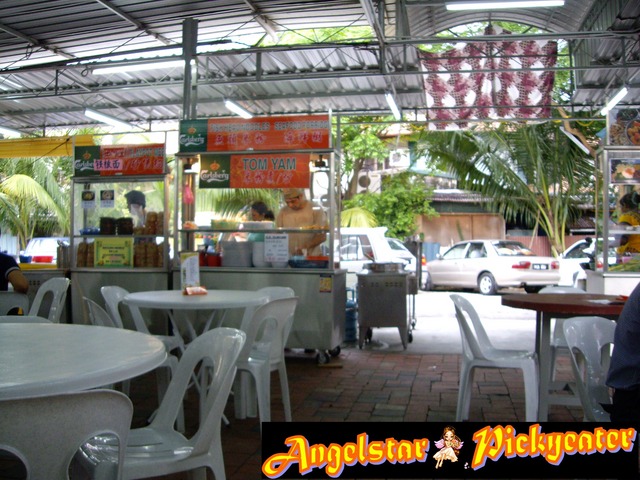 I don't know why, but I thought it looked pretty miserable with the number of stalls available and also, judging from the crowd.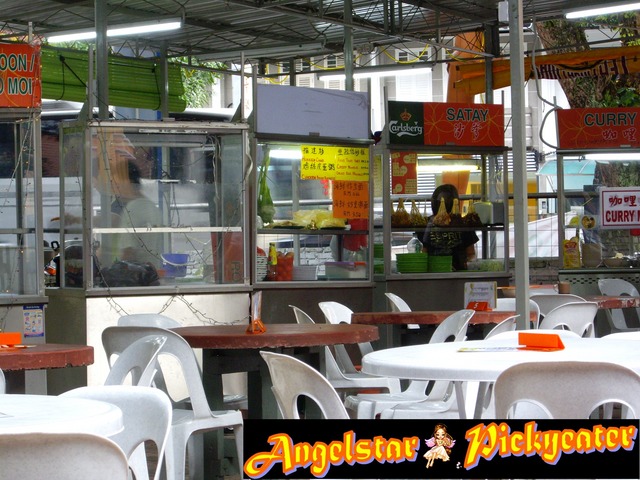 We didn't order much; how could we, after sensing the forlorn and quiet atmosphere.
My mind had already wandered to the conclusion that the food is probably not so good here (as often tipped by most Penangites, including my mum who used to say, "If you don't see a lot of people at a place, it's either the food's not good or they are overpriced")
Such wise words, they were proven most of the time I was here:p
Fish Head noodles (RM5)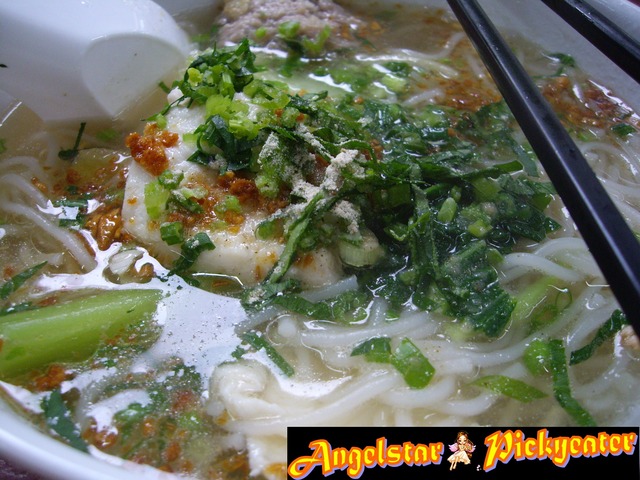 If I mentioned I did not have much of an appetite, well, this plain-looking bowl of food with a slightly unworthy price tag did not do much to boost or whet my appetite.
I was also shocked at the oily texture of the soup.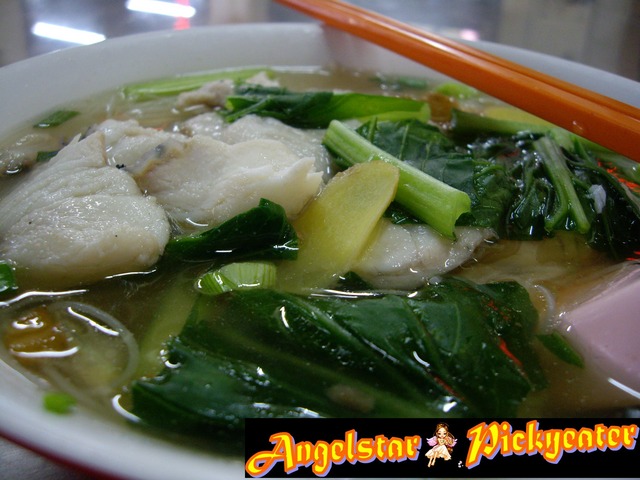 It was not that bad; plain-tasting and pretty good for anyone who is really down with the flu or fever and have no appetite at all.
Price at RM5 seems like the standard tag for most of the hawker food these days; especially when fish or seafood is involved.
From another stall, there is this Sizzling hot noodles with seafood (RM4.50)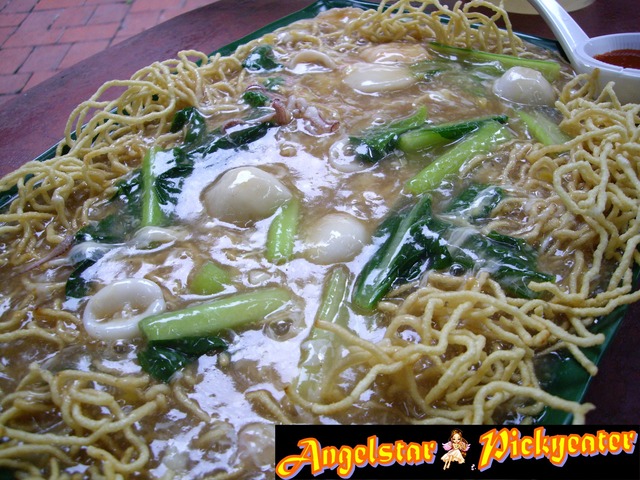 It was a bit bland and diluted for a version served in the sizzling pan. There's not much seafood to look forward to as well; unless you fancy fishballs and cuttlefish:)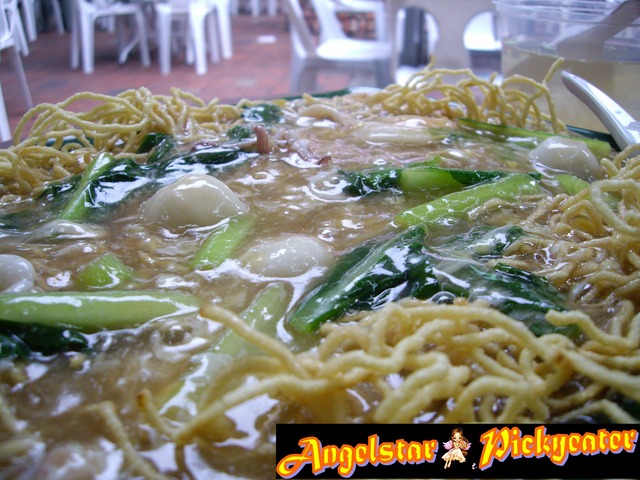 I tried one of their home-made dessert soup; Snow Fungus with red dates and pears (RM2.50)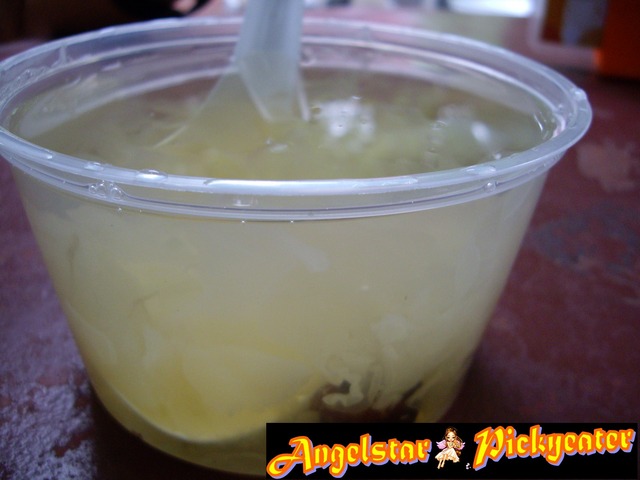 It was soothing and cool to the throat; as it was kept in the fridge.
I find the pears too sweet though; perhaps they were already sweetened beforehand?
The next time, I want to try the much-publicized chu char stall from Anson Road because I noticed a few customers ordering from them ;)