Recently I was on the hunt for Taiwanese food, or more specifically this particular restaurant which I have tried in Queensbay Mall Penang and I tried to find them in KL; which I believed ought to have more outlets compared to this northern island.

I thought I saw that it was supposed to have an outlet in The Gardens, but well, guess I was wrong, because I just could not find it and it was a little frustrating especially during the peak lunch hours and I just popped into this one;

Foong Lye Fusion

,

which was also another Taiwanese eatery chain as well.

Now, I have heard of this restaurant for a long time now; from most of the prominent KL bloggers whom I follow and I just never did seem to get the chance to visit the place (I am way behind all the bloggers, to be frank :P ), so I guess it was pure coincidence (or an opportunity perhaps?) that I finally stepped into this restaurant after so long.

Located on the

3rd Floor in The Gardens

, this restaurant was packed and I even had to wait in queue; since I was there during the peak hours. So, yes, for the first time, I had to sit in line to wait for my turn.

They gave us a number and also a menu and a piece of paper for us to write down our orders while waiting for our turns; which was quite an efficient move, in my opinion.

I was surprised when they even served us mini cups of plum juice while waiting! Good service, and very thoughtful of them :-)

(Sorry, I forgot the pics of the juice and even of the restaurant, as I was just so focused on waiting and figuring out whether the restaurant I was looking for exist in that mall!)

We were finally ushered to our table after about, say, half an hour of waiting? I guess that would be considered a very positive case already since we were in a group of six?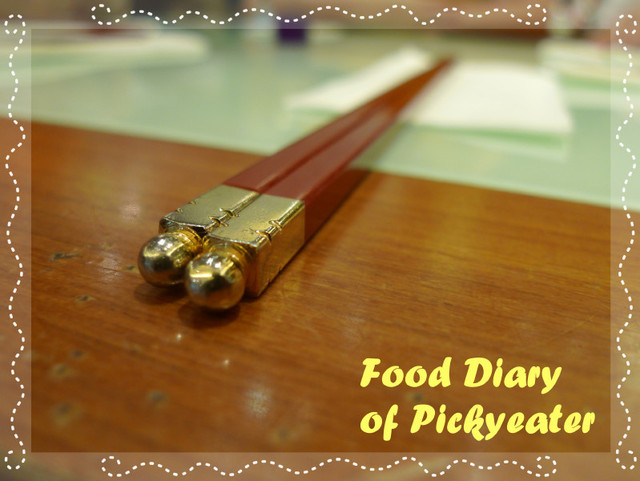 Iced Lemon Tea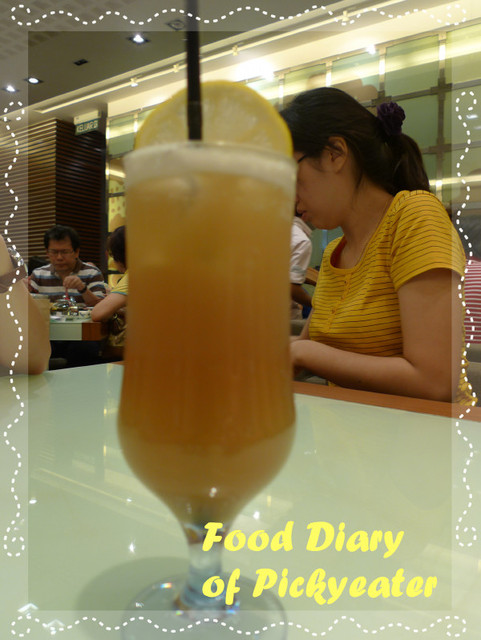 Choices are rather limited as compared to other Taiwanese restaurants that I have been to, but they are still quite alright. Most of their food are meat-related anyway, and definitely non-halal!
Although we have pre-ordered while waiting outside the restaurant, we still had to wait for quite some time before our food arrives.
We ordered this for starters, and because my mum is definitely a big fan of it!
Sweet Potato Balls (MYR5.30)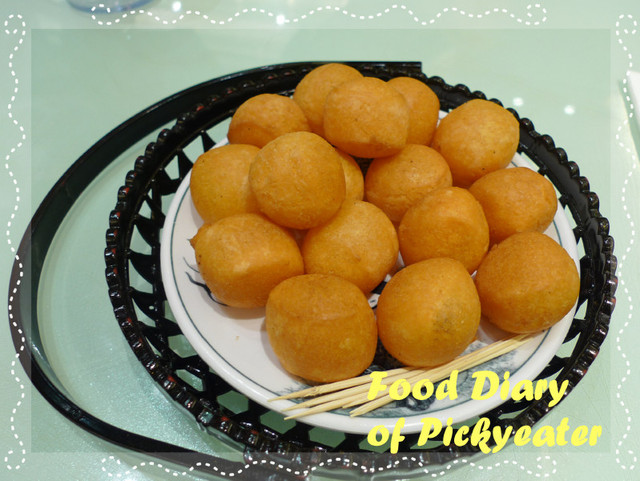 Served in a dainty little basket-like tray, their presentation certainly was quite up to the standard as well.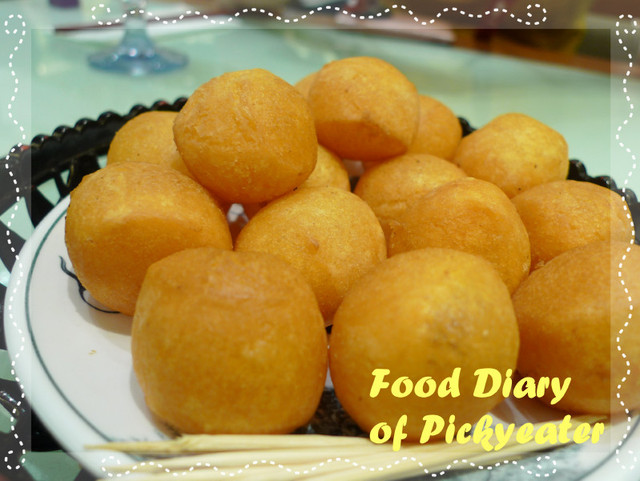 The golden potato balls are beautifully fried and tempts even the most uninterested.
Oh ya, there are little toothpicks provided to poke the potato balls with.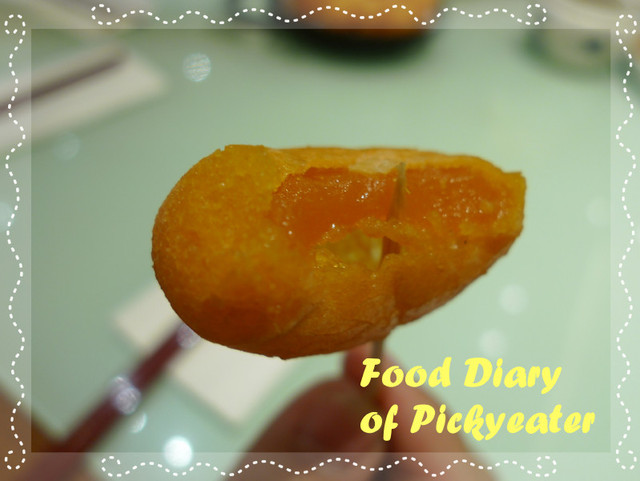 Sweet sticky potato paste inside the potato balls.
For the main courses, there are set meals or ala carte orders to choose from the menu.
The set meals range from MYR13.80-MYR28++; which can be quite pricey as well.
Spare Ribs with minced pork rice set (MYR19.80)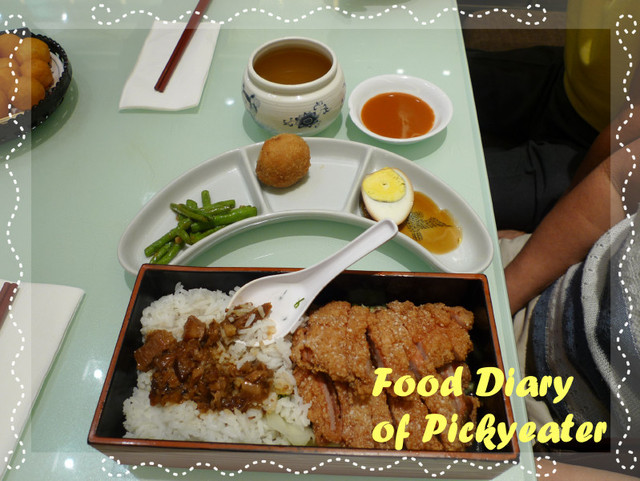 I must say that their food presentation is quite impressive, with their bento box for the main course and then a crescent-shaped plate for the sides.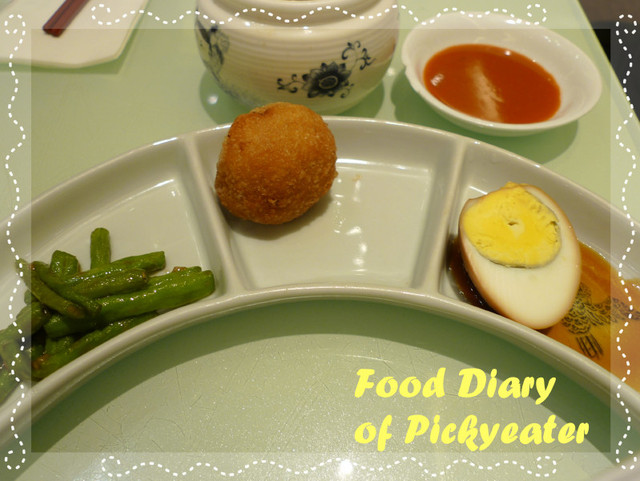 The sides: Stir-fried long beans, deep fried meat ball and hard boiled egg with soy sauce.
The contents of the meat ball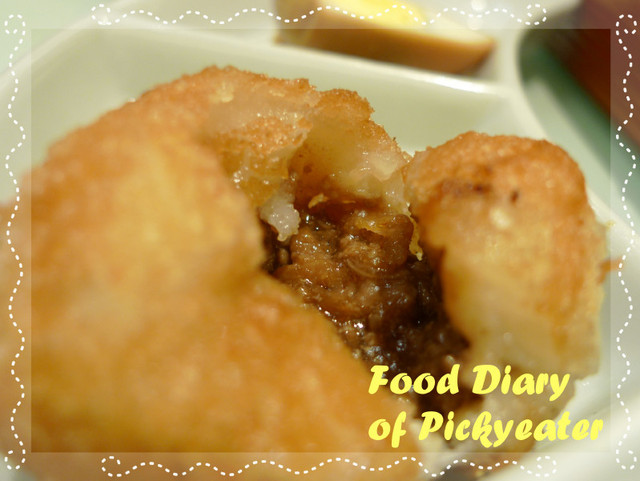 The main course; minced pork rice and the spare ribs on the right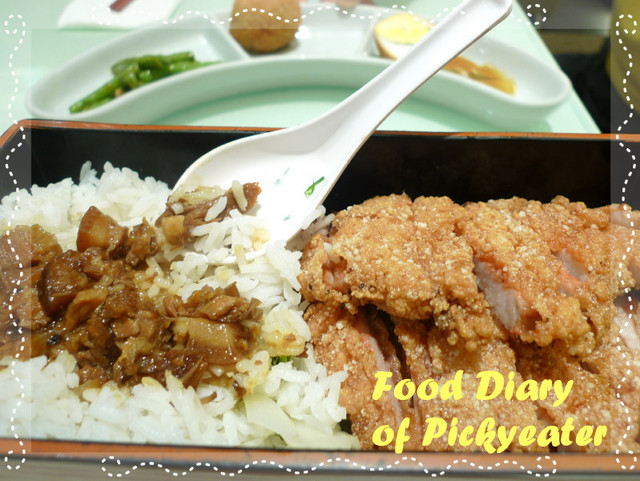 The spare ribs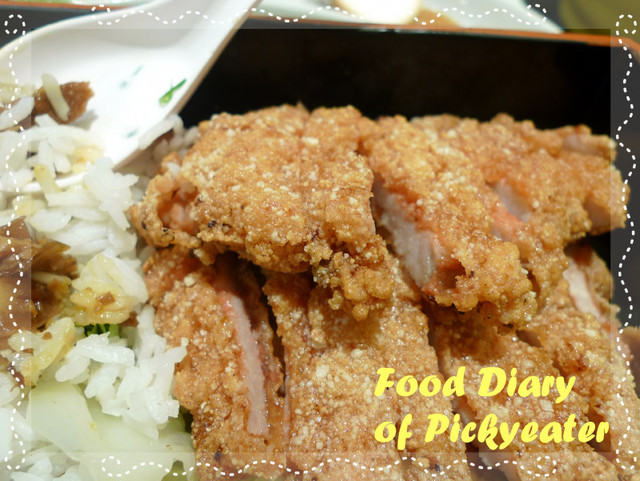 The minced pork rice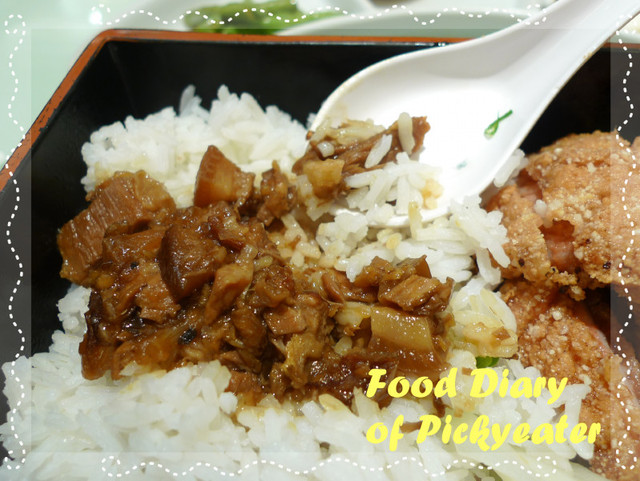 Taiwan Sausage with glutinous rice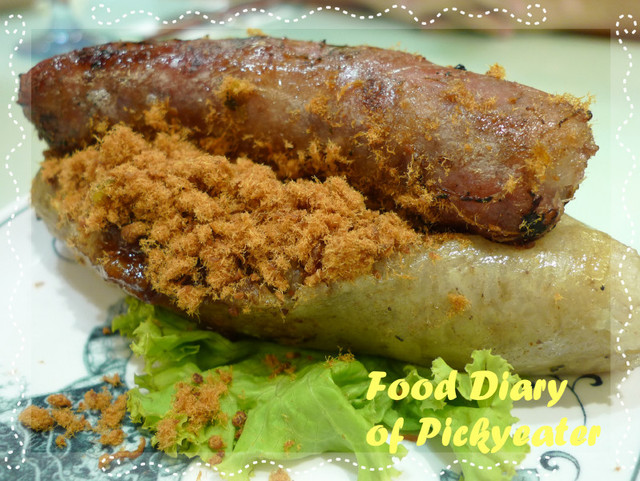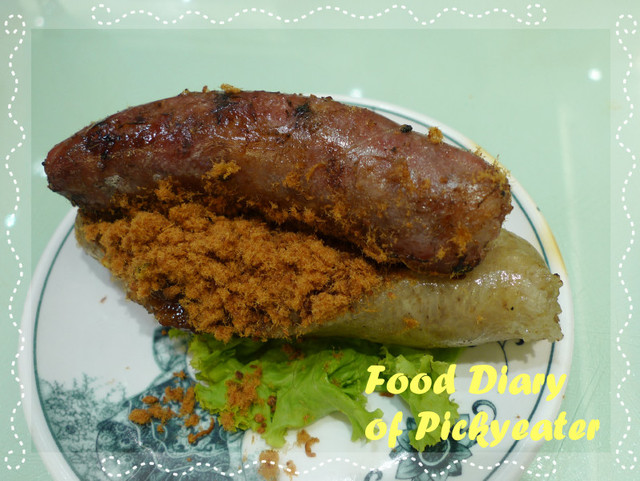 Taiwan Burger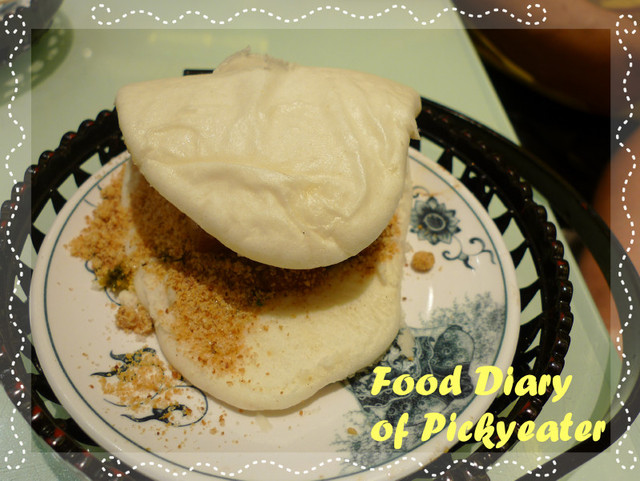 This is quite unique; whereby a flat piece of steamed bread which tastes like mantou folds over finely grounded nuts with sugar (something like Muar Chee?) and pork.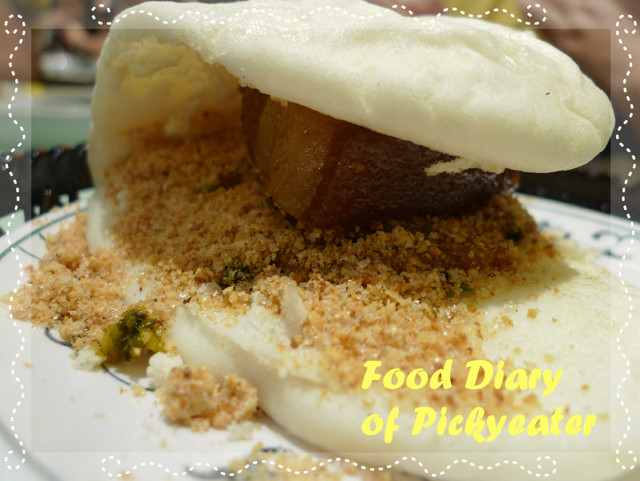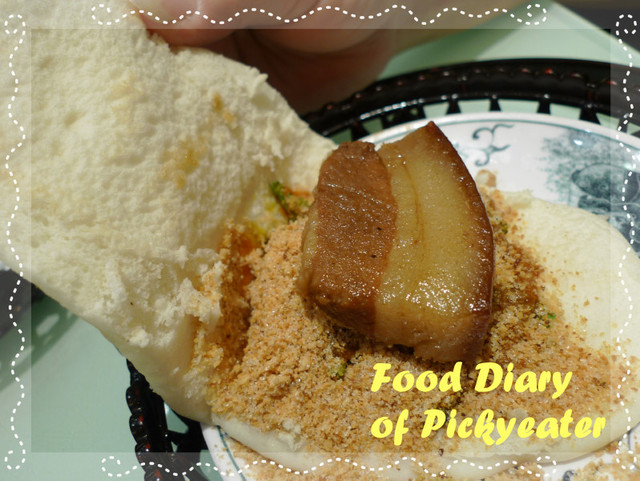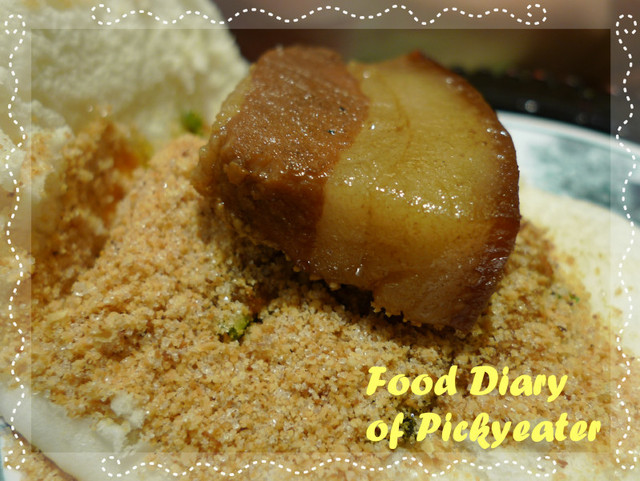 There is also a set which comes with the Taiwan Burger; whereby there is an additional bowl of Treasure Soup.
Taiwan Burger Set with soup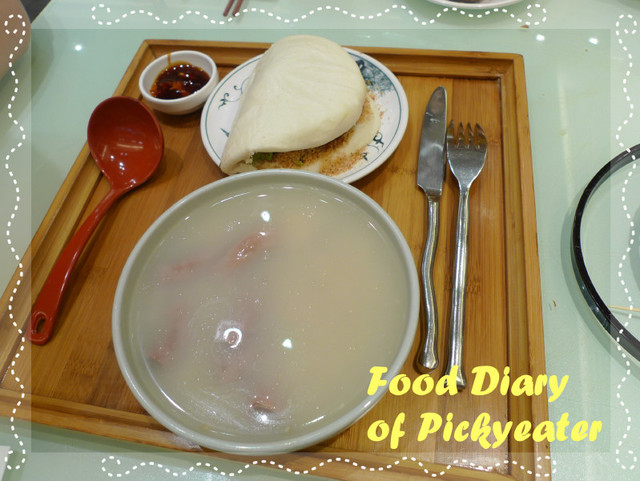 The soup is meant for the adventurous as it contains pig's intestines along with barley, lotus seeds and a variety of other herbs.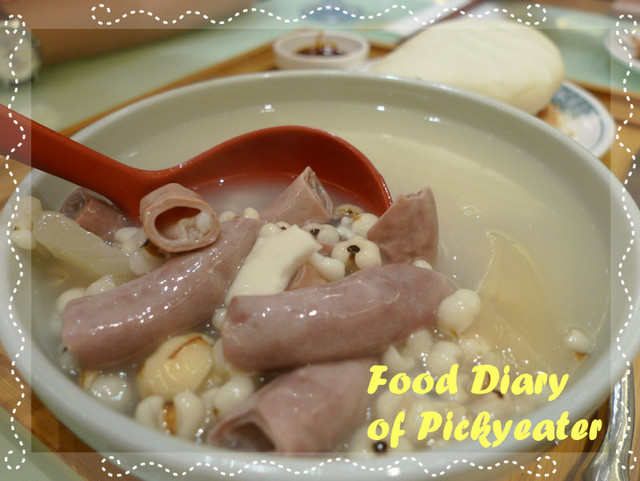 The burger with the set came with additional vegetables with the pork inside it.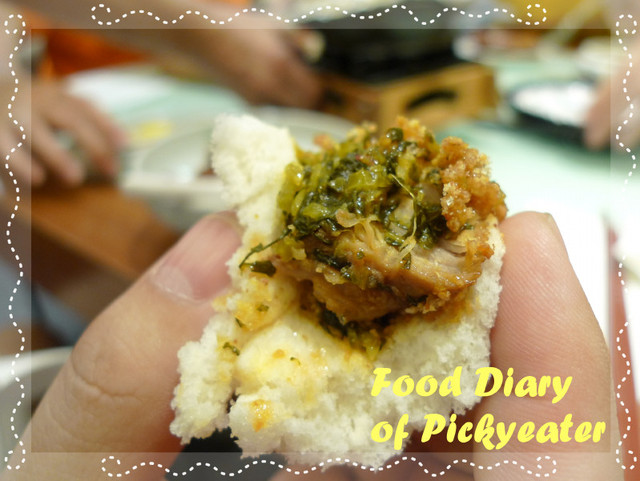 Last but not least, the
Steamed Fish with Pineapple rice set (MYR19.80)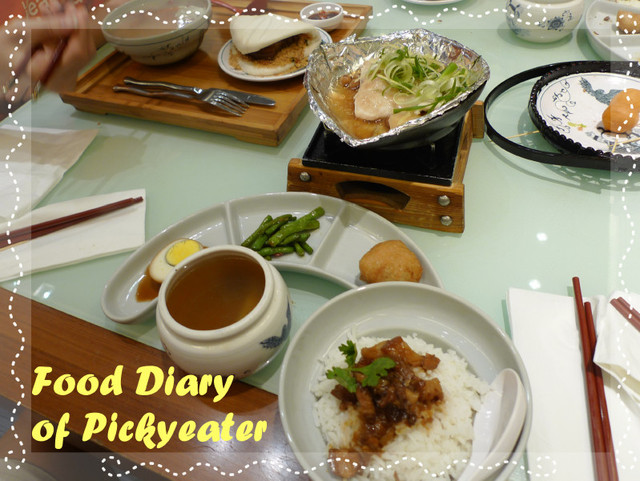 This was quite unique; but I found the pineapples a little too salty as it was overwhelmed with the soy sauce serving in the steamed fish.
The fish was also a little overcooked; in my opinion, as I am really picky on the taste of my steamed fish since I am a fan.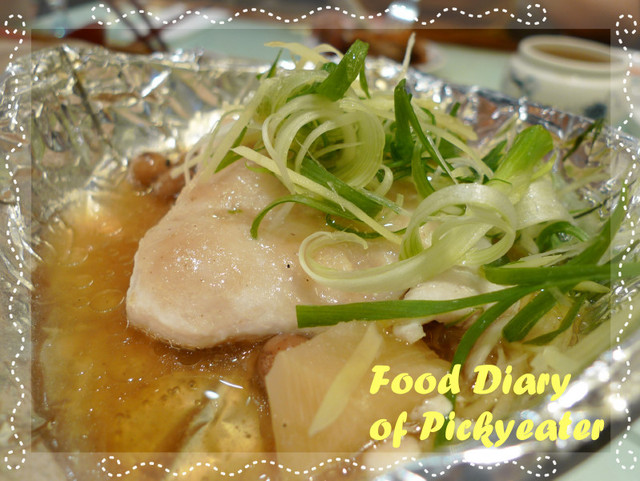 The set also came with a minced pork rice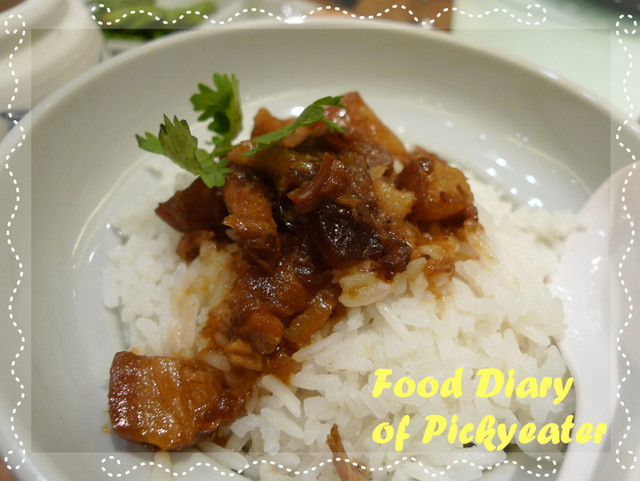 Overall, the food and the ambiance were quite alright, and I believed it would be better if you were to come during non-peak hours. Prices can be quite steep too, in my opinion but the food portion and presentation did make up for it, if not all.
Only drawback is that they only accept cash terms and no credit cards, so do make sure you bring enough cash when dining here especially when you come in large groups.