Soba Yoshi Hanayoshi in Krystal Point is one of my favorite Japanese haunt in Penang due to the great and delicious tasting Japanese fare spread here, besides the fact that the restaurant is really near to my office.
I have often heard of the expensive prices here, and the perception or label associated with Japanese food/restaurants definitely confirmed the fact that people often mentally prepare for exorbitant prices or a huge hole in the pocket when they plan for a Japanese meal.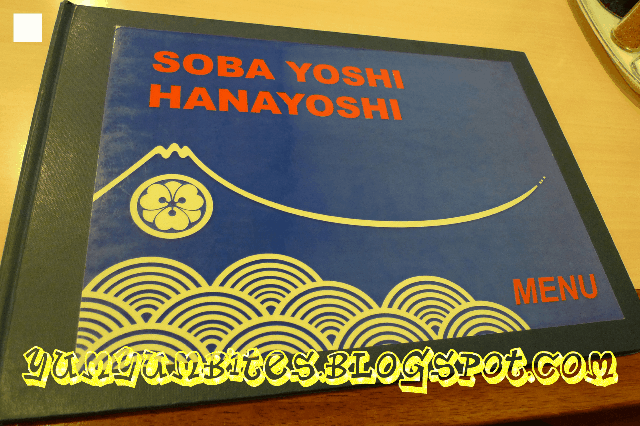 Soba Yoshi had the reputation of serving one of the best Japanese food on the island, or so they say, and the first time I came here, I have to admit, I was a little blown away by the prices and the interior of the restaurant which spelt expensive.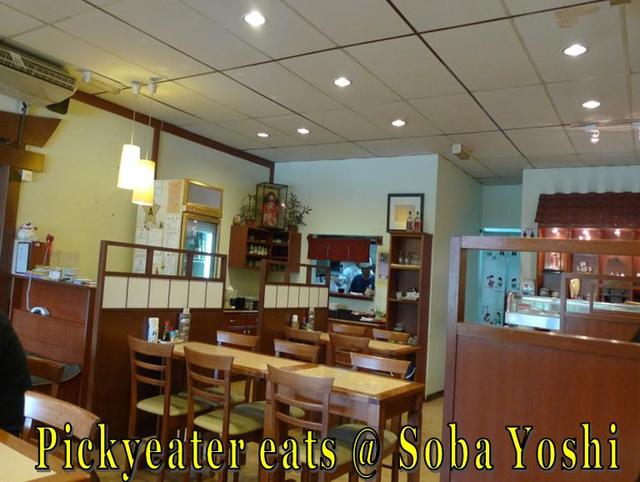 However, I was even more impressed with the food and their choices that I was telling me that after that lunch with my colleagues and business associates, that would definitely not be my last visit.
I came back twice with my colleagues from other states, and this time, I finally came on personal purpose.
I was spoilt for choices when I flipped through the menu as they had a wide range from appetizers to soba to bento, sushi, sashimi, menrui, and even beverages.
Appetizer of the day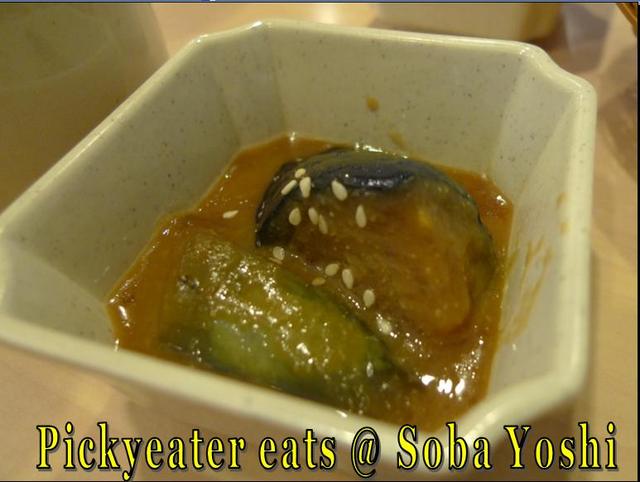 Sorry, I really do not like this mashed up combo of brinjals but the gravy was not too bad, to be fair.
Buta Karubi (pork spare rib) - RM16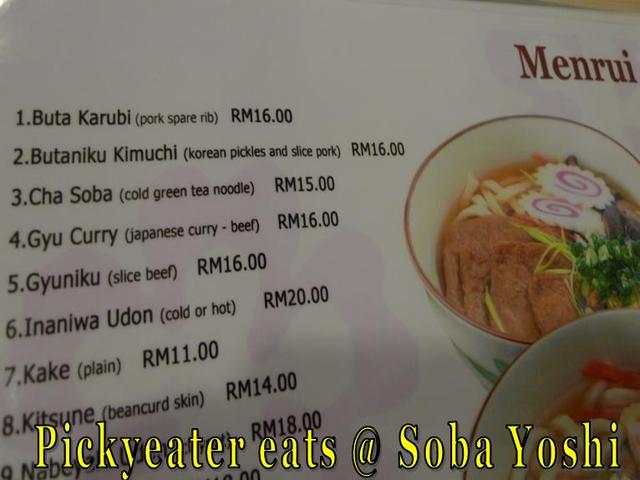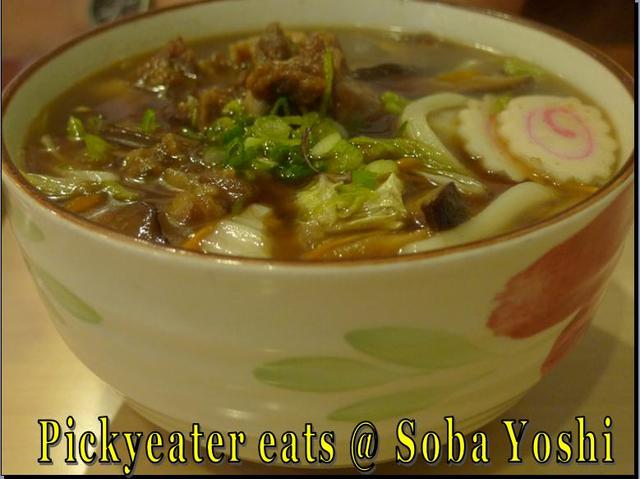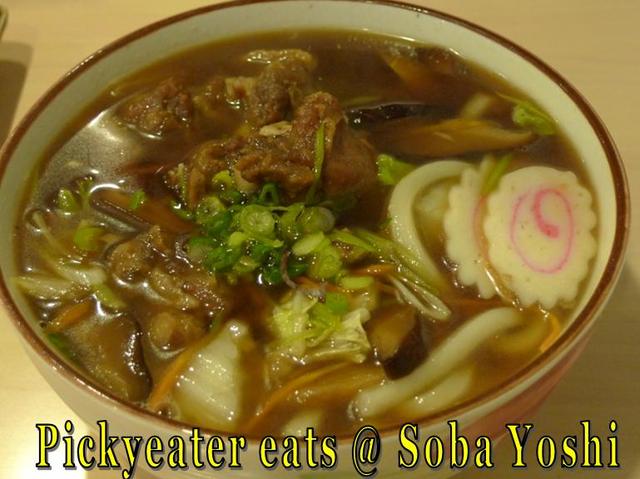 There was quite a generous portion of the spare ribs, but they were not as tender as expected.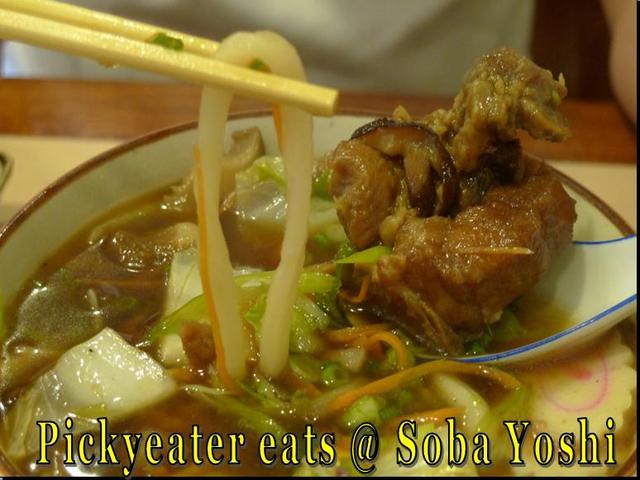 The noodles were quite good though.
Shake Teriyaki set (RM18)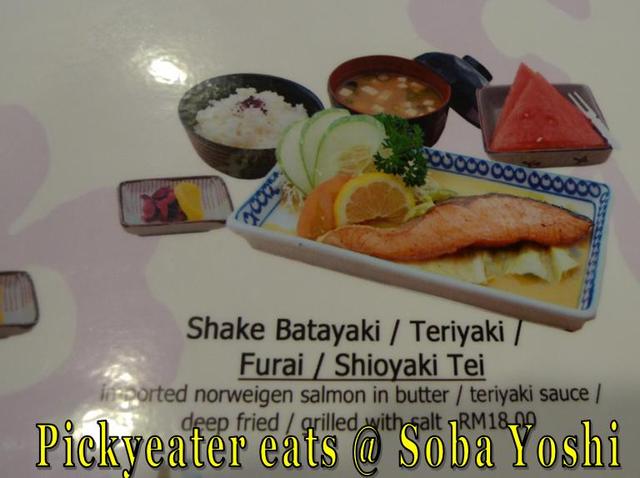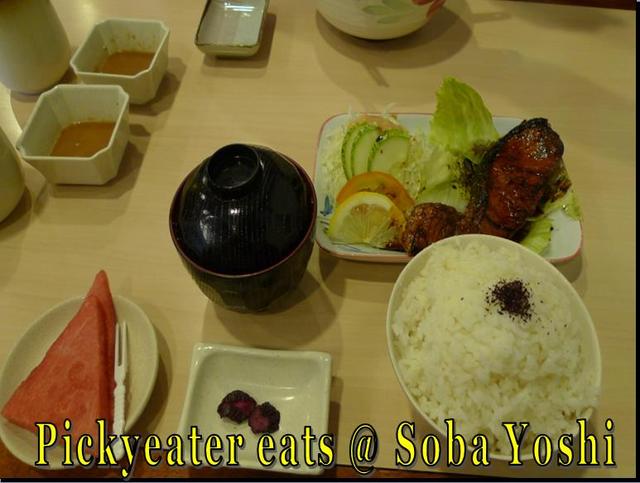 It comes with the usual rice, cut fruit, miso soup and Norwegian flown salmon.
Only complaint, this version of shake teriyaki was more oily than most that I have tried elsewhere.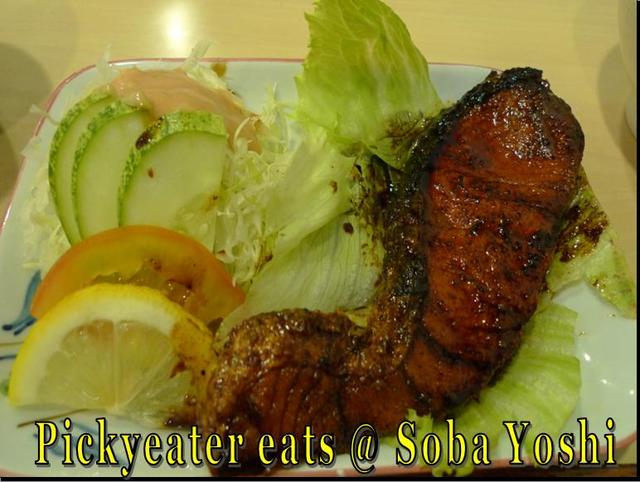 There were other stuffs from the Menrui and Sashimi which I have tried but that will be another different post =)
This is not a bad place to try if you are a Japanese food lover, and you will only need to come mentally prepared for:
1. Waiting - during lunch hours, you can expect to wait more than 30 minutes for your food to arrive or to get the attention of the waiting staff (shows that they are really in demand!)
2. Splurge on the delicious choices which you can't seem to get enough of
This is definitely a place for PickyEater (just created badges to remind myself of places which I have things to try and food that I like =)