Coming from a multi-racial country, we have been exposed to the myriad cultures and traditions stemming from the different races and religions. These cultures at the same time have also brought us their uniqueness displayed through their colorful costumes, beliefs, folklores and of course, tempting our palates with the distinguished styles of food as well.
Being Malaysians, we are no stranger to new and interesting food, in fact, more than anything, we are game to try almost anything that is new (unless it was some Fear-factor wannabes)
Perhaps it was due to this reason that we have opened our doors to different international cuisines which have set their foot (or outlet) in our homeland; Japanese, Korean, Italian, American, English, German, French, just to name a few of the prominent ones.
Of course, that does not exclude our fellow Asian neighbors; such as Thai, Indian, Chinese, Indonesian, Cambodian, etc.
Balinese food originates from Indonesia, and is one of the unique and most intriguing style of cuisine. Say Balinese, and I am immediately brought to think of the term exotic!
I have been reading so much about Balinese food in KL; and yet to try it, and so, when my colleague and boss suggested this place for dinner when I was in KL, I jumped (literally!) immediately at the idea =)
The restaurant which was introduced to me then was this, The Waterlily located at the Tropicana City.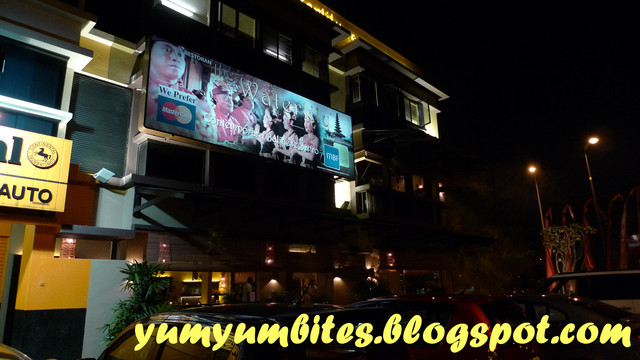 It looked simple and was rather plain from the exterior, but once you step into the restaurant, it was like being transported to the land of Bali as it was filled with the unique and distinguished crafts and furnishings so familiar and popularized by most of our TV programmes and furniture concept stores.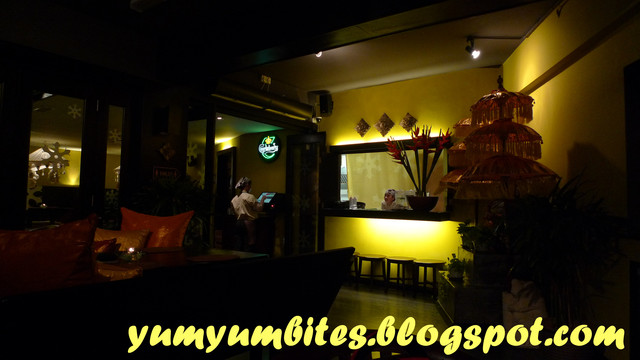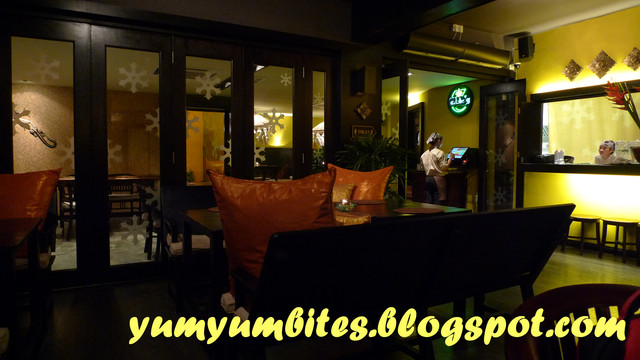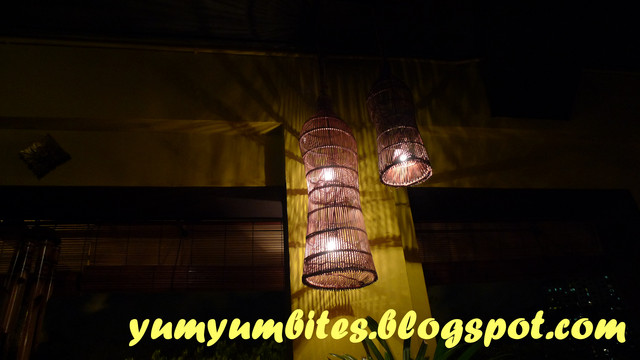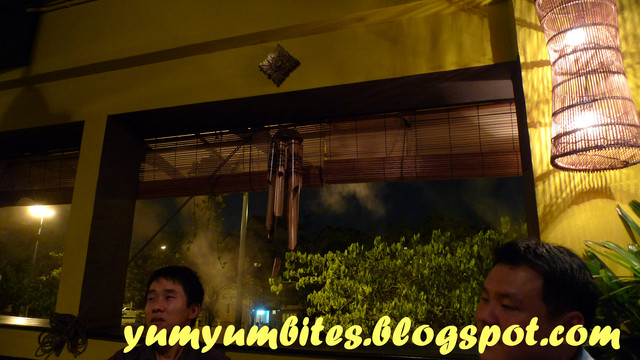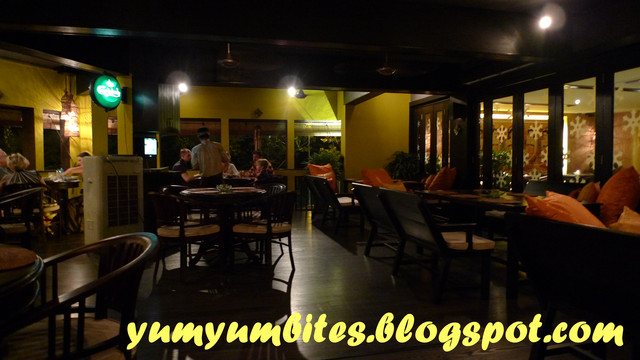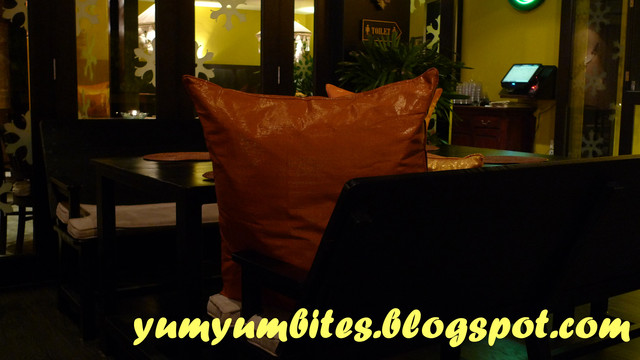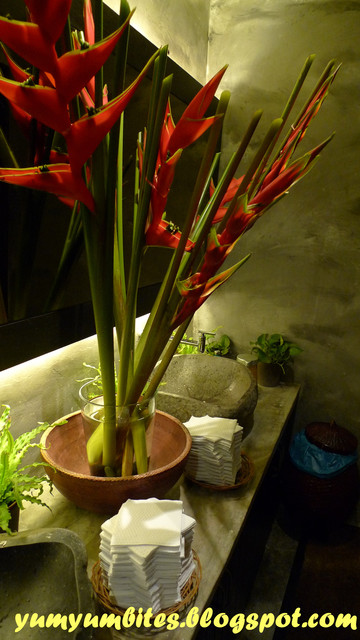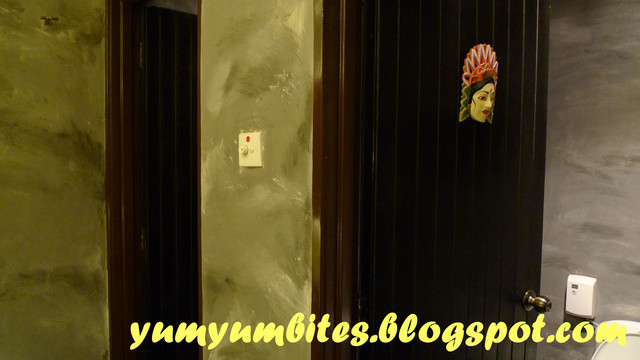 The dim lighting and the soothing music in the background, not to mention their comfortable setting of the tables and chairs, really set you to a relaxing mood immediately after a hard day's work.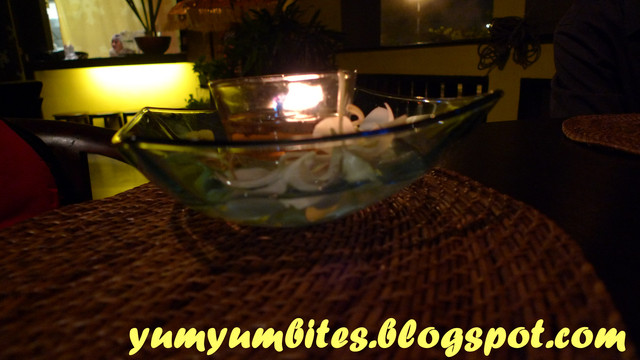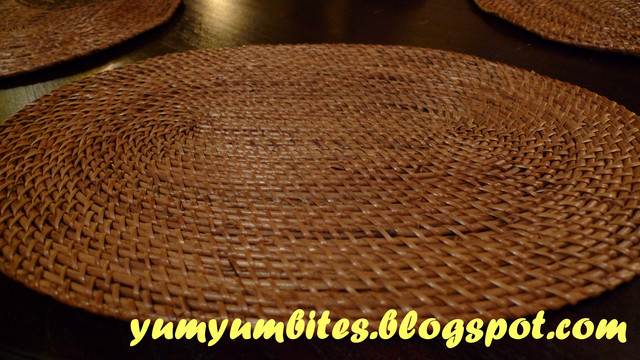 They offered a rather wide selection of dishes on their menu; and even include Western food!
I was warned that most of the in-house Balinese set dishes were rather huge for my consumption power, so I should consider probably the Western or even some light starters kind of meal to share around.
After a long and stressful day at the office, we were glad to revive our senses with their recommended Barli Limau (barley drink with lime).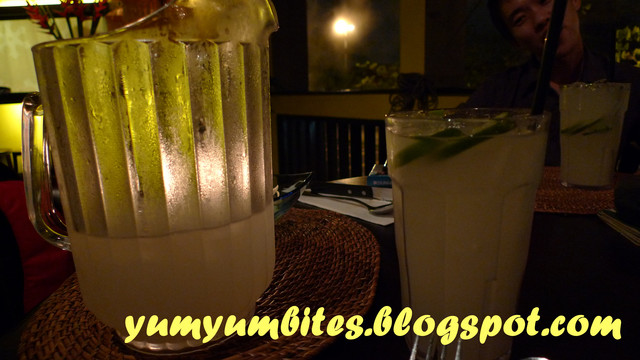 Priced at RM16 per jug, it was definitely a refreshing drink and awakened our senses almost with immediate effect.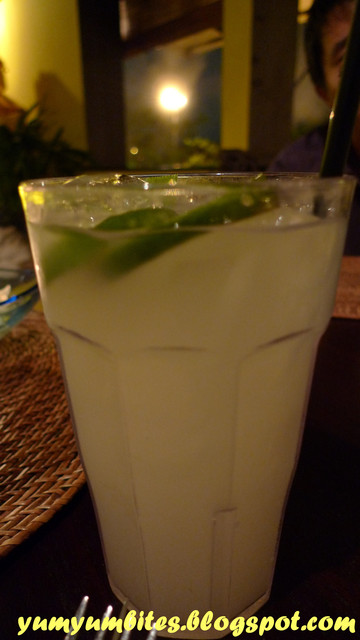 (If you were to order them separately, it costs RM8 for a glass like this)
Balinese Seafood with Rice set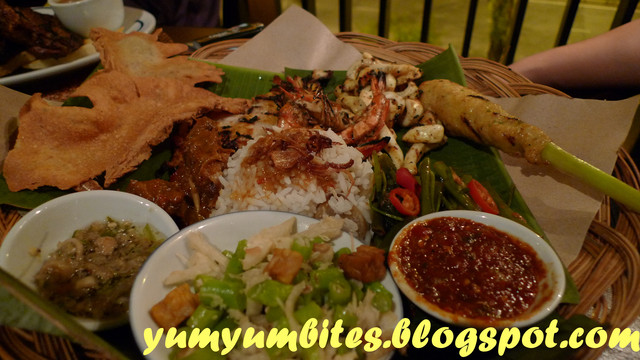 Huge portion with rice, starter, appetizer and main all in one. It was pretty good, I guess as my boss just finished it in a jiff!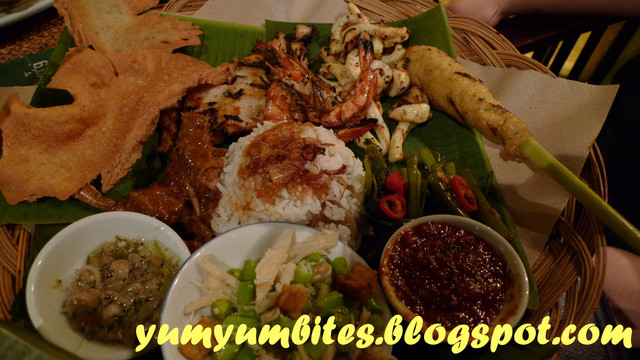 My Seafood platter (RM32)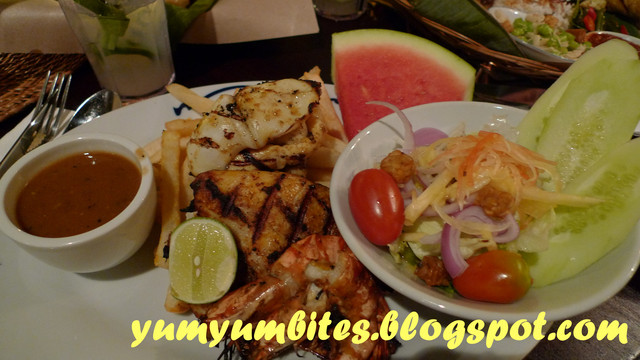 The serving portion shocked me as well; as I thought ordering Western may be a wiser choice, and I was just so wrong as it was just as big (if not bigger) than the Balinese sets as well!
Do you feel there is a difference anyway, in the size?
Size aside, I have no other complaints about this as it was definitely different from the other seafood platters I have tried in other western restaurants.
There were huge prawns, cuttlefish, thick and tasty fish fillets, and loads of French fries.
At a glance, there does not seem to be much of a difference compared to usual seafood platters but when you take a bite into the seafood, it was specially marinated with a delicious and exotic taste of spices to exude that sweetness of the seafood itself.
It was really appetizing; and I loved how fresh the seafood were as well =)
The salad on the side also deserves a mention as they used a unique concoction of a sourish and spicy sauce and it went really well with the vegetables!
One of the best salad dressing I've ever had!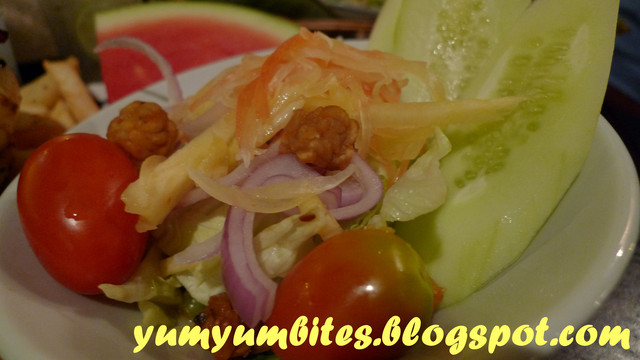 Alas, the same cannot be said for this Lamb Chop which was ordered by my poor colleague!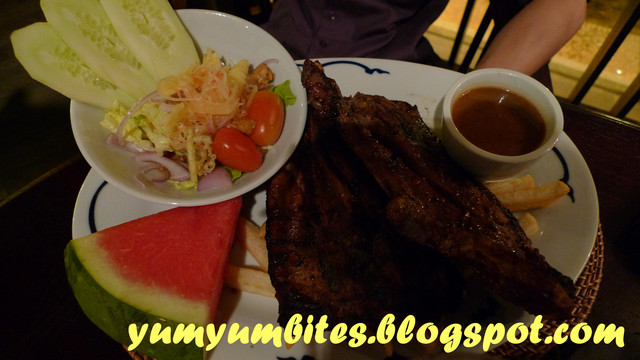 The lamb was so hard that he was contemplating to request to change to a butcher knife to cut into it.
He claimed that he was exhausted of his energy as he kept trying to drive the knife to tear the meat apart and yet, it remains unmoved.
Poor him, it was definitely one of the worst lamb chops he had ever tasted.
Side order; The Waterlily Satay (RM18)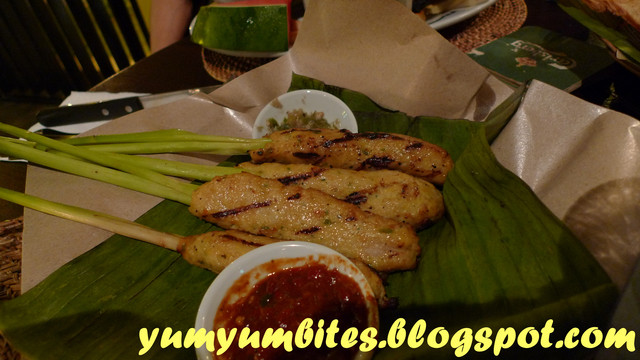 It was actually again, marinated fish paste with the spices and then placed on a lemongrass stalk which also lended its natural aromatic and tantalizing taste to the satay.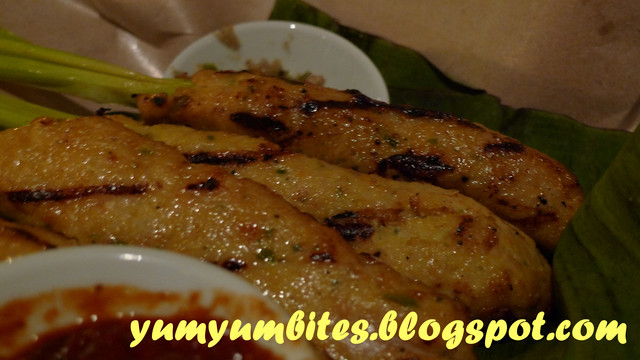 I was just happy that I've found another location for fish satay, and with such a unique and unforgettable taste =)
This place was not just a restaurant, but it was also a bistro and I guess it was pretty evident with the relaxing couches and tables placed around the place.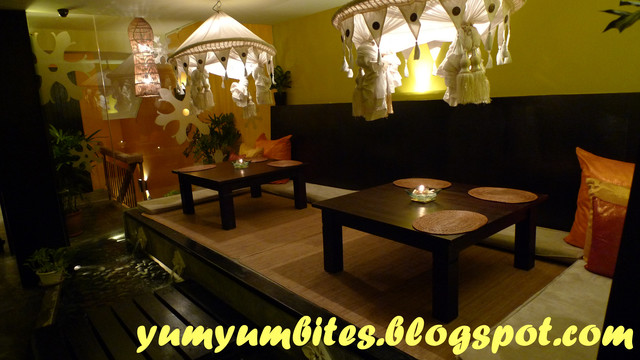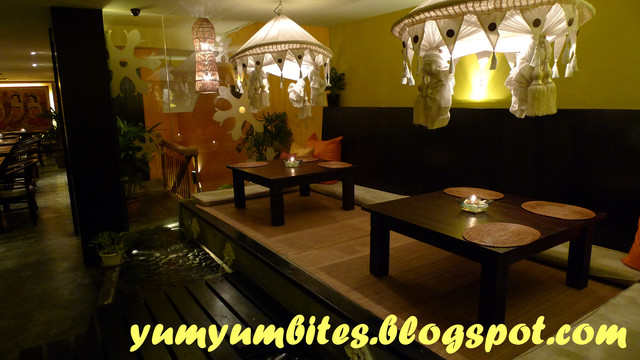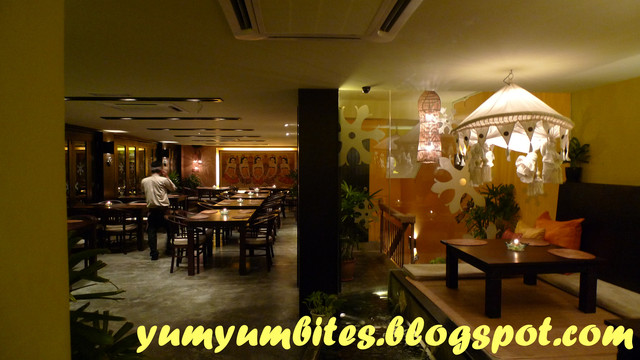 This was my first time attempting cuisine from our close neighbor, and I can't vouch for its authenticity or the quality compared to others (I have none to compare!). From my personal point of view, I must say it was indeed a mesmerizing experience and in such a lovely environment.