(Image-laden post: Please make sure you have a high-speed internet, and healthy with no risk of overindulgence. Not for the faint-hearted or overly health conscious/strict dieters)
This is a post that many health practitioners, dietitians, nutritionists and all health coaches would frown upon, and I can imagine the shocked expressions at the photos on display, and the vigorous shaking of heads in major disapproval at the bold (and perhaps insanely so) act of having a huge meal at late night.
I believe most of us have heard of the ode that food is forbidden after eight or at least 2-4 hours before bedtime (though there are also medical sources negating this); in general, the reason for the food abstinence before bed is to allow proper digestion to take place before sleep and that the major digestive organs get to rest (instead of working their intestines out, pun intended).
While it is a general rule of thumb, but there are still exceptions, of course; I mean, there are people who probably didn't even have time to grab a bite (or even breathe) throughout the whole day, and by the time they are supposed to sit down for their meal, they are not allowed to, because of a rule that they are not allowed to eat late at night? I don't think they are in a hurry in getting to bed; if they have loads of things to do during the day and barely had time to eat, I doubt they would get to rest so quickly (or so, in my thoughts).
I have been through crazy times like these; I am sure we all have been - the crazy deadlines, the back-to-back meetings, and then the neverending list of things to do (by the day) and the phone just keeps ringing!
A day made to torture and squeeze every ounce of your energy; I can say.
Such was an exception when I was rushing through my day before making my way to the city for a business meeting, and I made the trip after finishing all my things to do on hand and immediately after my last meeting of the day, and arriving in the city past 9 at night.
Traffic was still bad; you would think we would have beaten the rush hour traffic by arriving at such an hour, but no, there are just workaholics in our likes who probably shared the same thought (and curses) to leave the office at that hour and yet get stuck in the major traffic jam. Just great, and to make things worse, it was raining cats and dogs at that very point of time.
Now, while I am a lover of the drops of rain from the skies, I don't welcome these hard pattering raindrops when driving after a hard and long day at work and still barely making it through the traffic.
Thank God that it was not such a long distance to my hotel; and I reached there shortly after entering the city - of course, with some serious navigation and a little madness through the pool of cars honking madly at each other like they were saying
Hello, Give way to me first!
Yeah, I finally arrived at the hotel....and I was calmed by the warmth and cosy room greeting me in return. Hey, that is the very least I can expect from a five star hotel in the city, and I have no complaints.
Only thing is, hunger strikes...and at that hour (almost 10pm when I settled down), the picture of being hungry, tired and oh, feeling cold (it was still raining out there) was not at all pleasant.
I could've ordered room service I suppose, but I didn't want to, and thank goodness the city was where I grew up in and I quickly made my way to the inviting restaurants within walking distance from the hotel.
While most restaurants would be making arrangements to call it a day, this is one Japanese restaurant which does not only close at that hour, but instead happily calling the shots for supper.
Oh, and you get special discounts too for flashing them an app you installed on your smartphone (hehe, the smart me :-)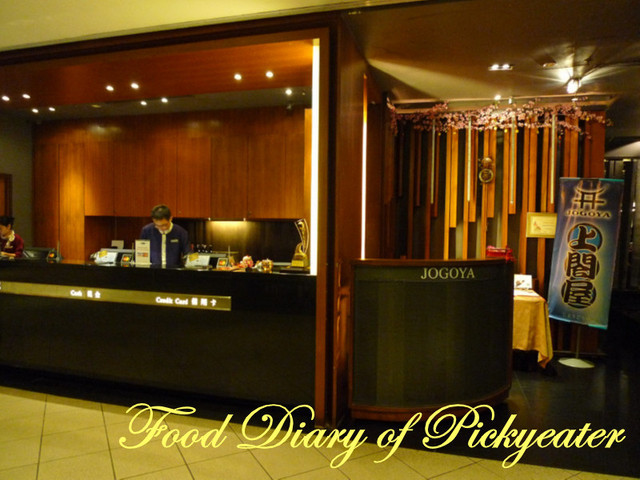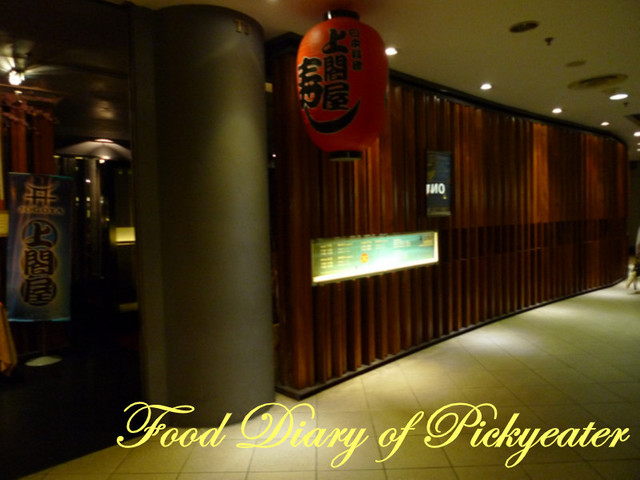 This Japanese restaurant is no stranger to most of the hippy KL city dwellers; with its first introduction to a massive buffet spread in the bustling city and with them being one of the first to do supper buffets, I am sure they are remembered, all the time.
Jogoya,
located on the upper floor of the prestigious luxury shopping mall,
Starhill,
is a crowd magnet and if you think I am a late diner, I was quickly reassured that I was not alone with the crowd still eating their hearts out in the restaurant at that hour.
Oh, a quick observation also told me that there were so many young people there, and even ladies (most men would call body-conscious with their slim and enviable figures) did not seem to be bothered by the fact that they were dining into the late hours, defying all the laws of maintaining a perfect figure and health.
(Or maybe that was the new secret to slimming? LOL)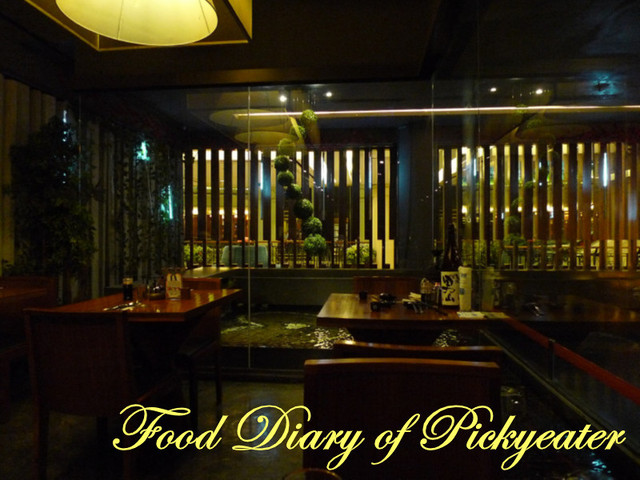 Whatever, I was looking forward to a good meal after a long and crazy day and some time alone with my hubby, and then, I was awestruck by the buffet spread.
Maybe dumbfounded even, when I saw the amount of food and varieties available, that I almost lost my mind for a moment as I did not even know, where do I begin with my pick!
Writing does no justice, so I will let the photos give you the idea~
From the
Appetizers/Starters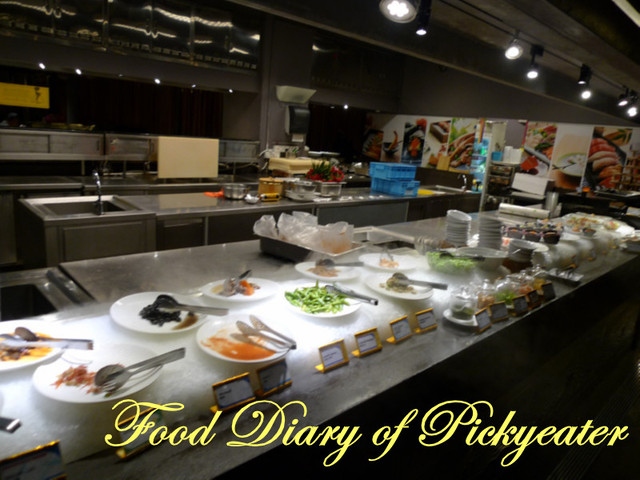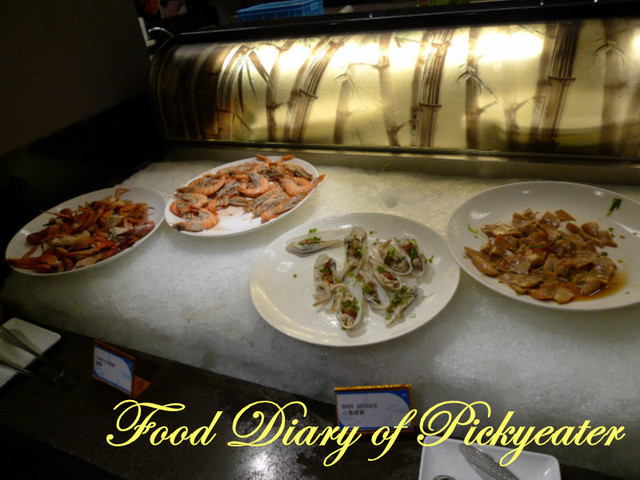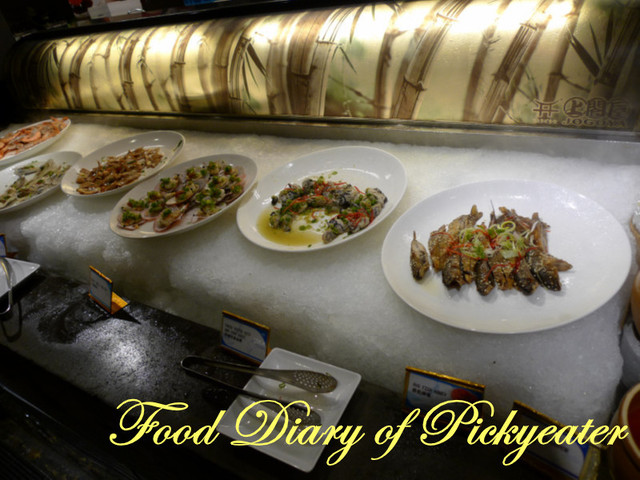 The
Sushi
section was running low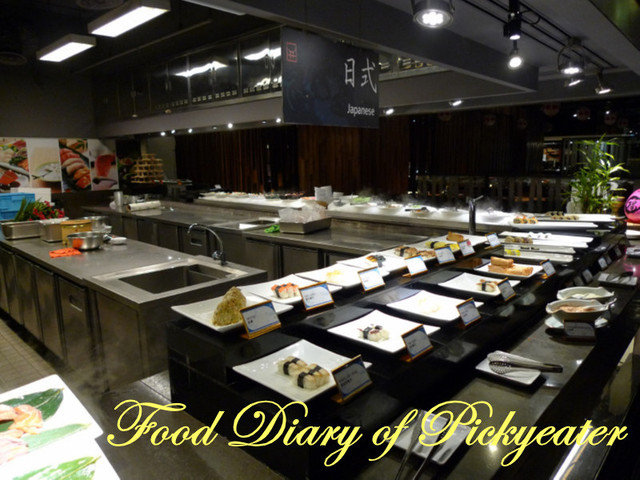 Braised section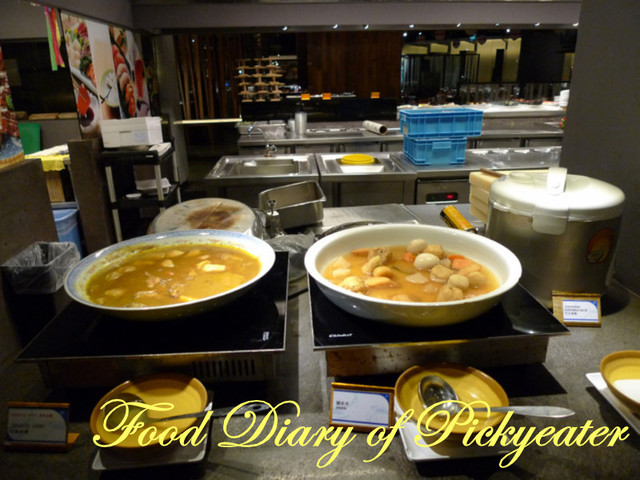 Soups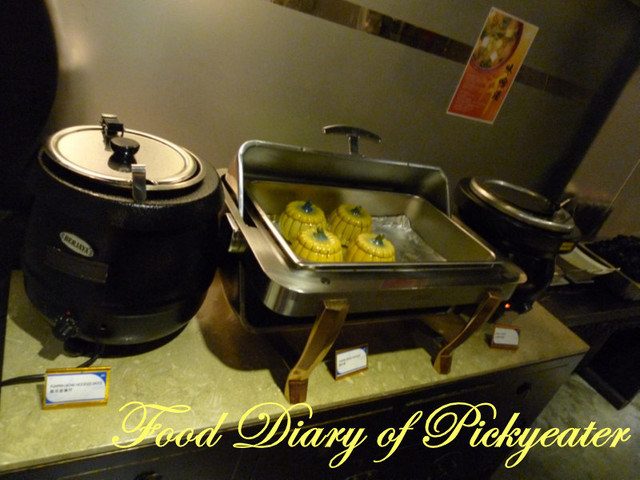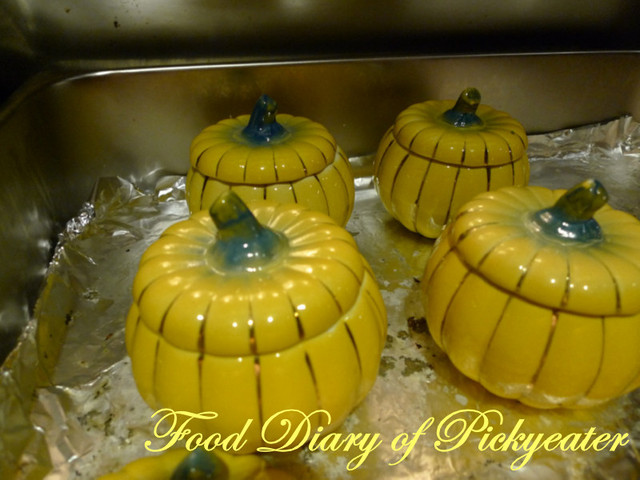 I just think these little soup bowls are so adorable, with their lids on :-)
Main courses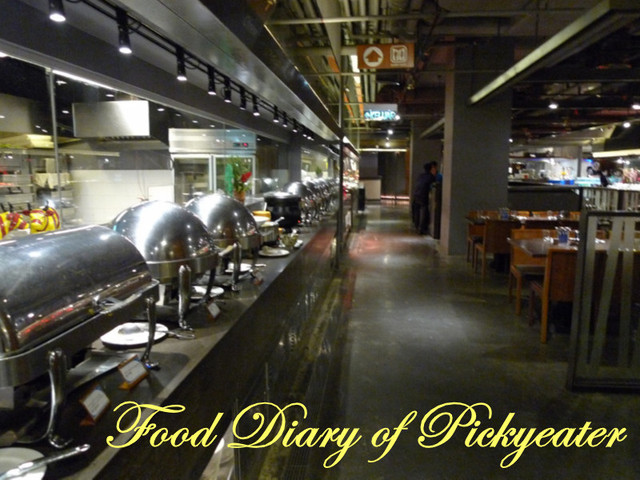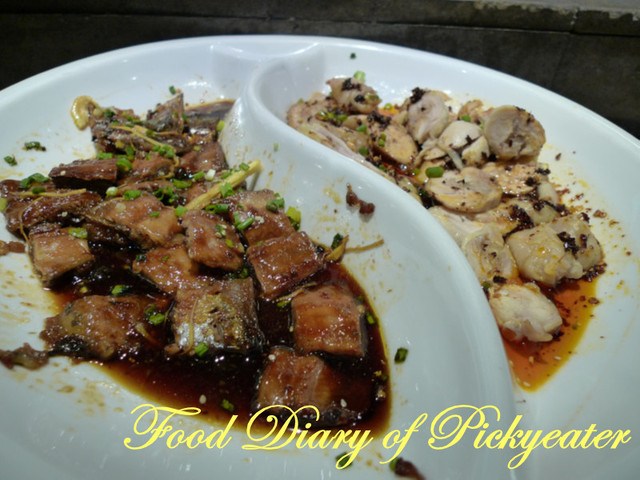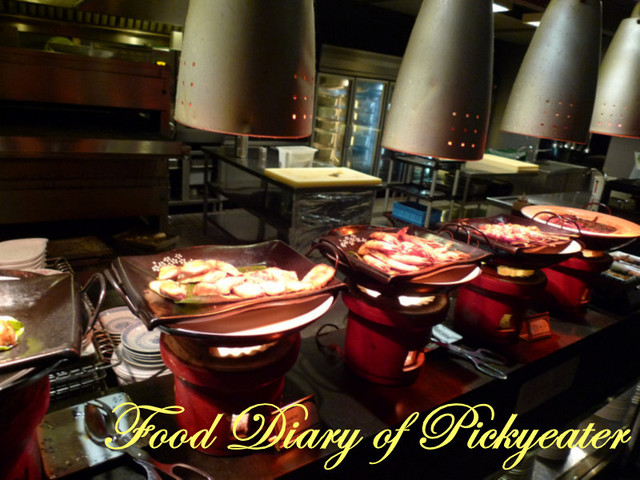 Make 'em cook/grill for you!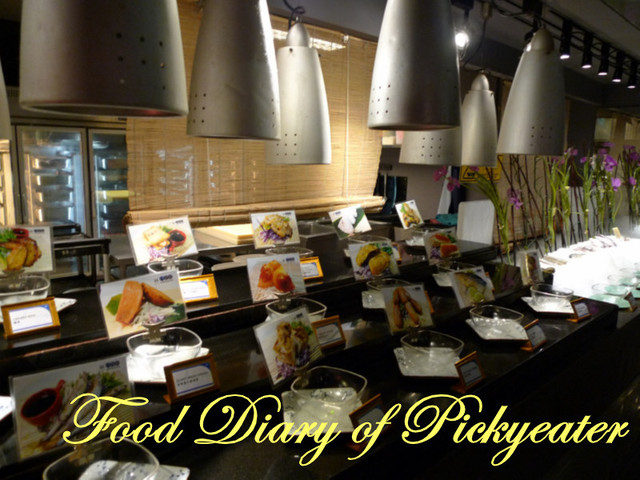 Teppanyaki Section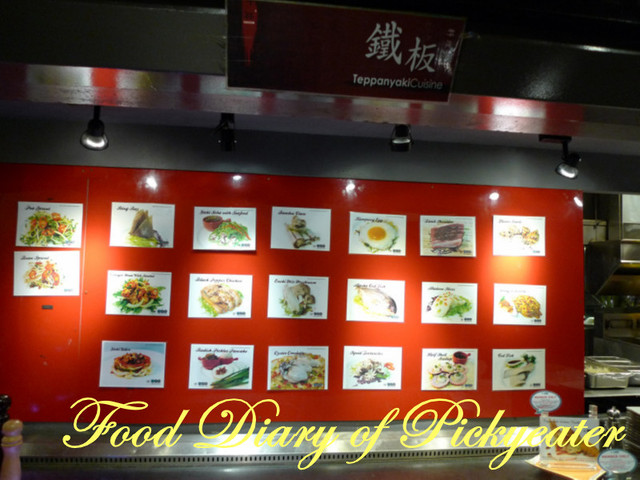 Drinks, beverages, juices, cocktails and mocktails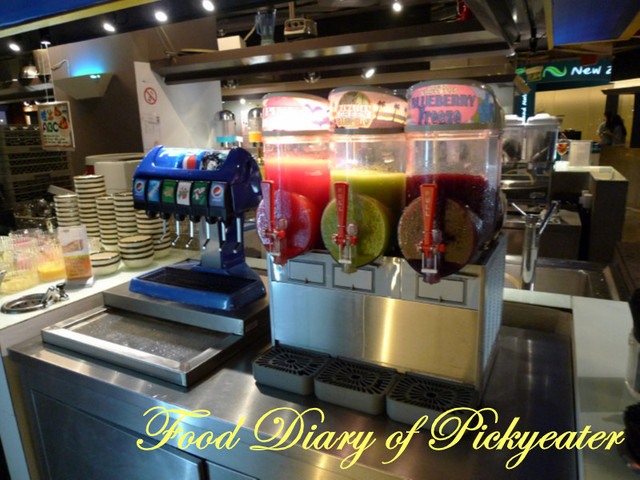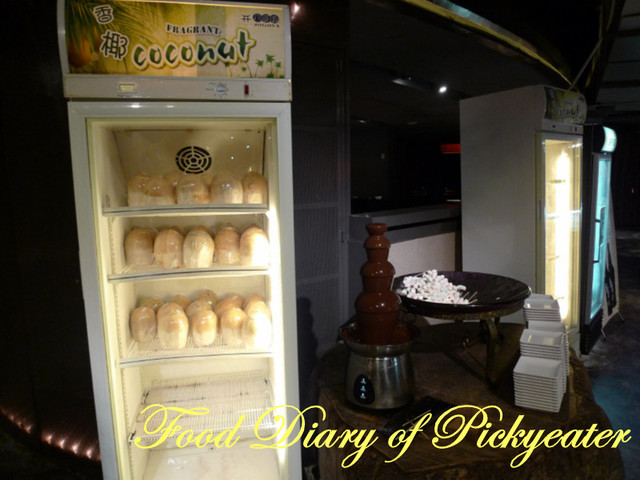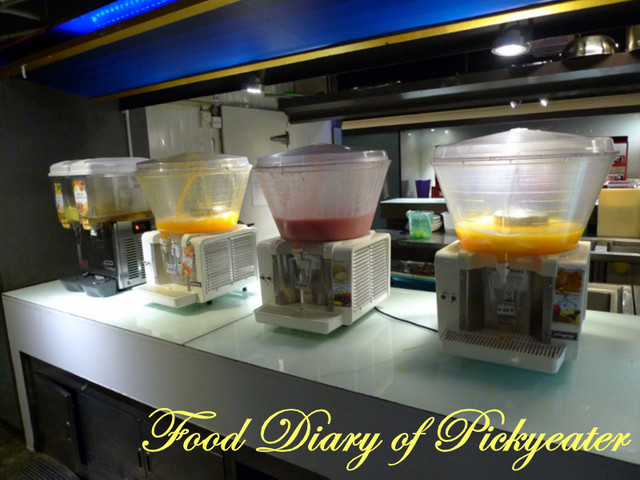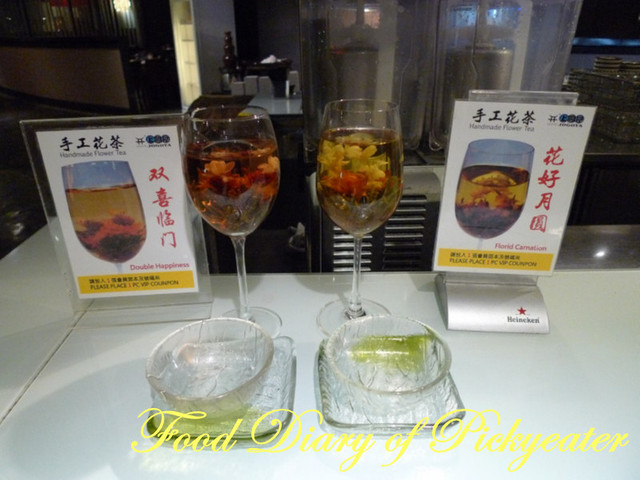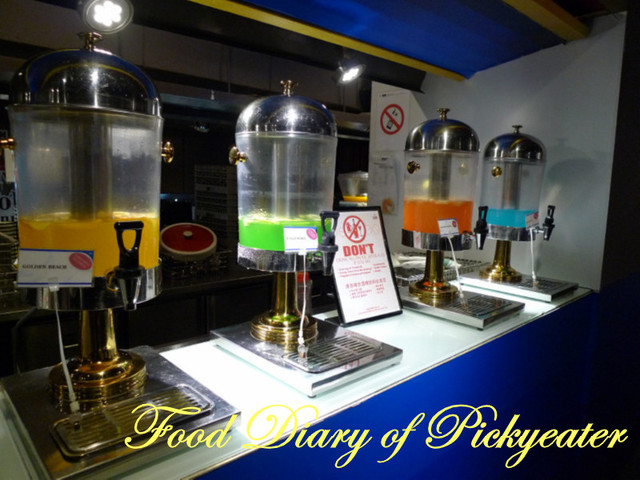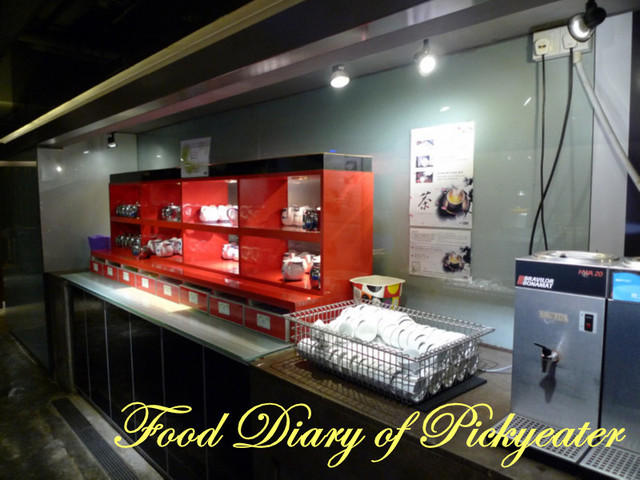 Desserts
From the local delights to fruits, sweet cakes/tarts/pastries and even sweet Oriental soup desserts -almost everything you can or can't think of.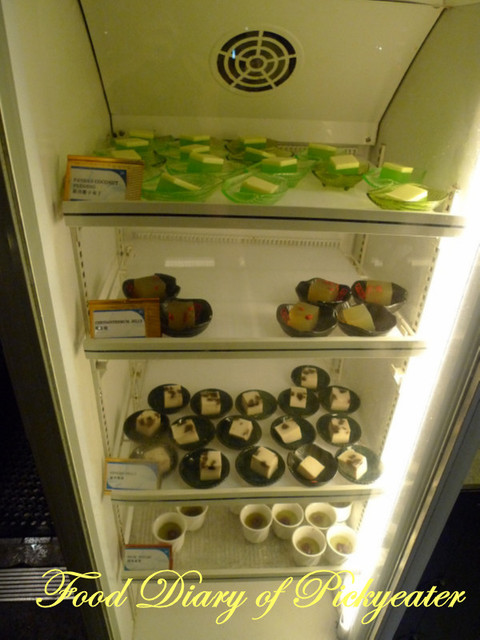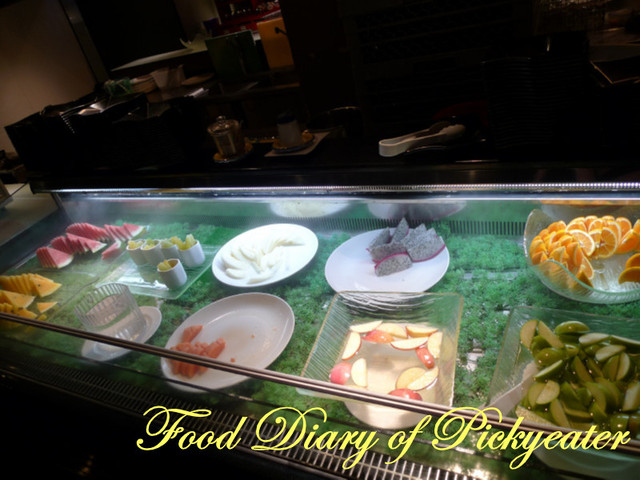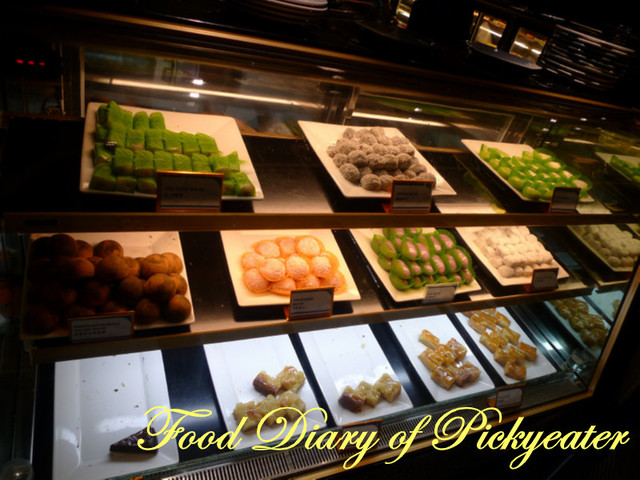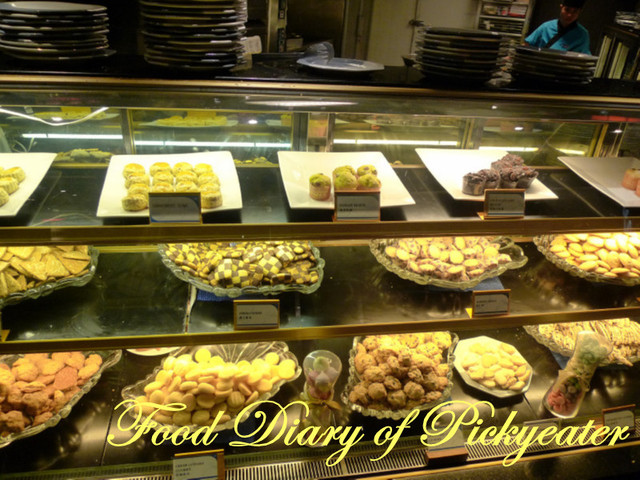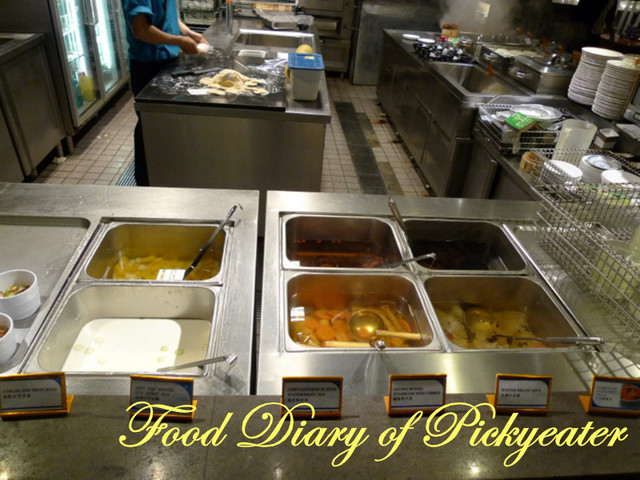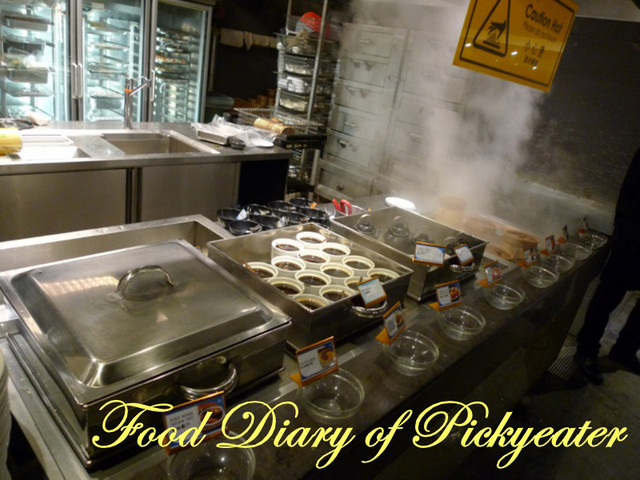 Oh Look, they even have waffles and pancakes, DIY style and the Ice-cream counter is just next to it~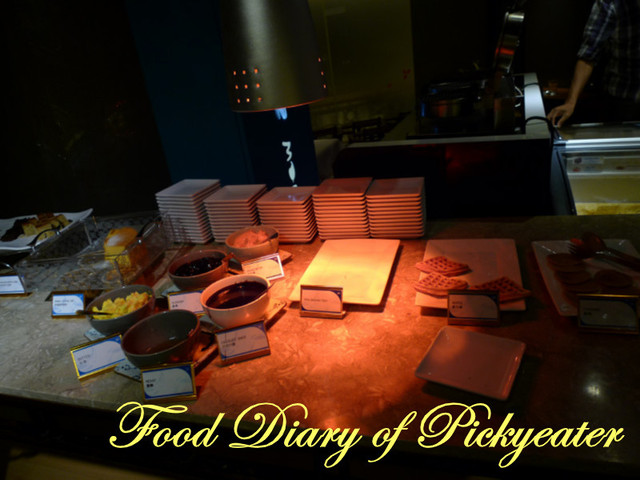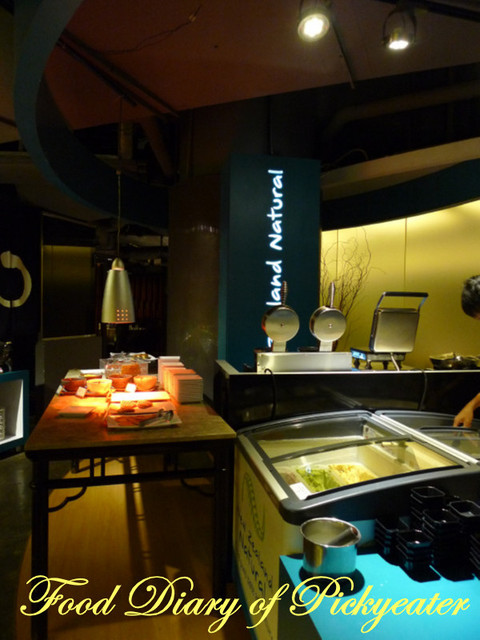 Pastries too, are not missed in this buffet party...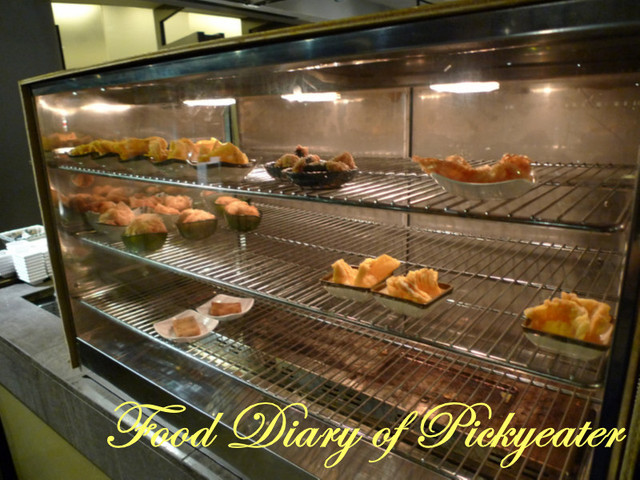 What a feast it was that night, with practically endless choices for supper that one could almost go berserk and forgotten all the commandments of healthy eating (what were they anyway?)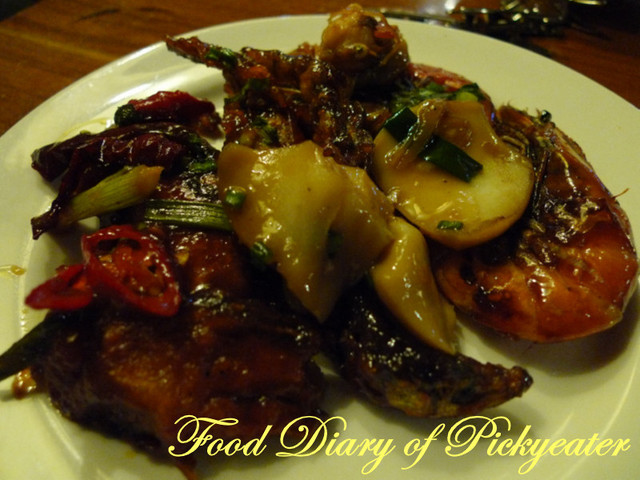 Buddha jumped over the wall
; oh ya, definitely jumped~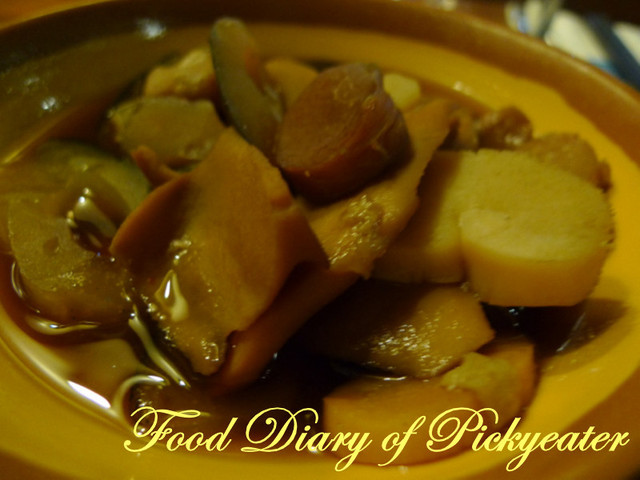 Steamed fish
(not a huge portion)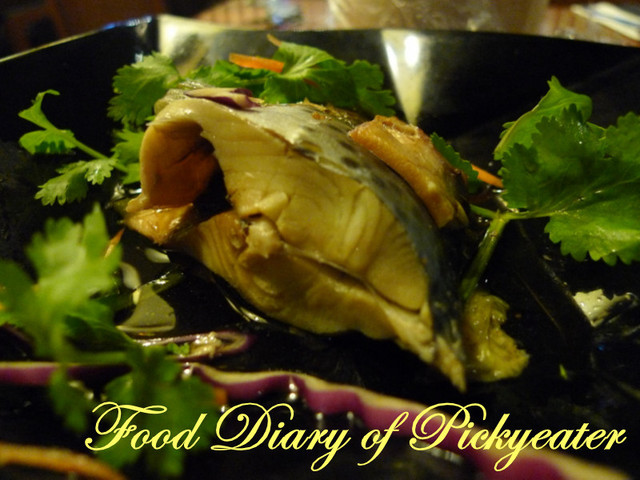 Stir-fry big fat juicy scallops with asparagus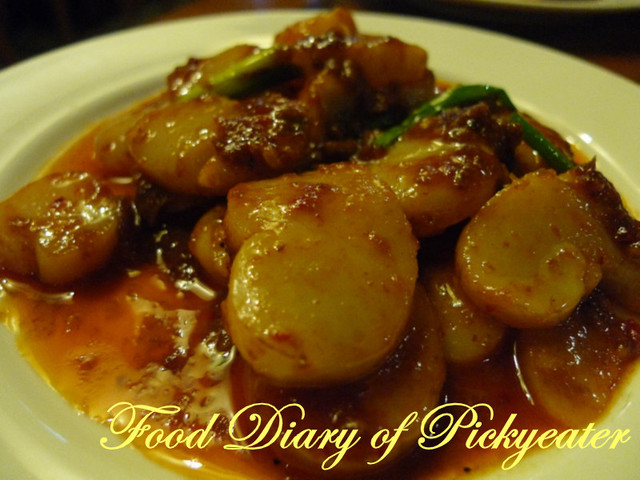 I love these little salads~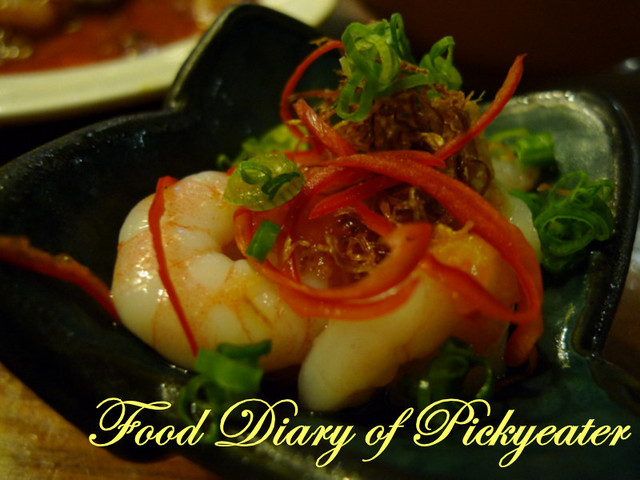 This is the kind of
seaweed
I could have all day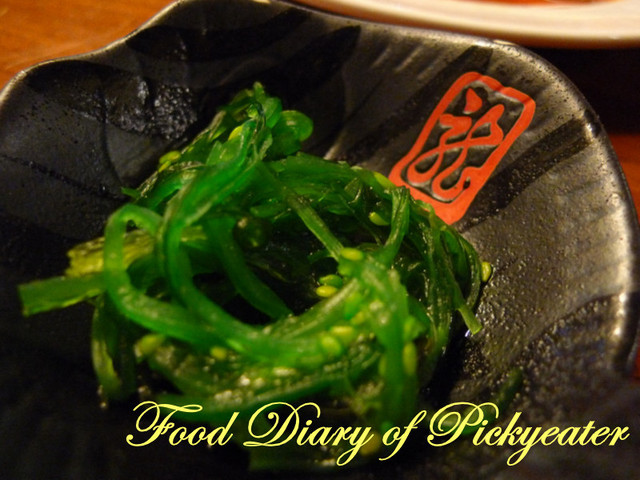 Sweet macha with red azuki beans pudding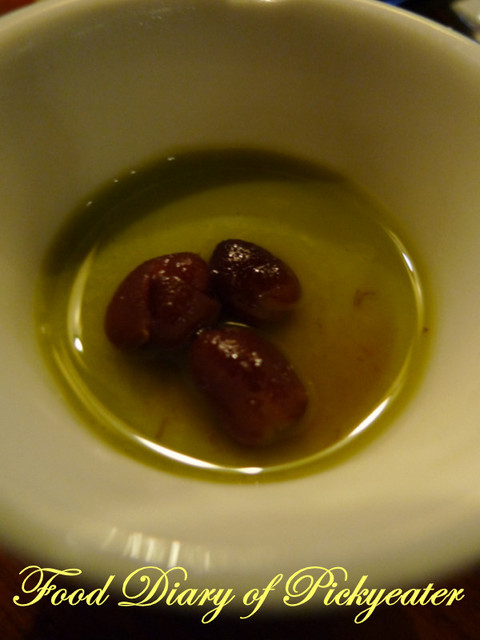 Chilled coconut juice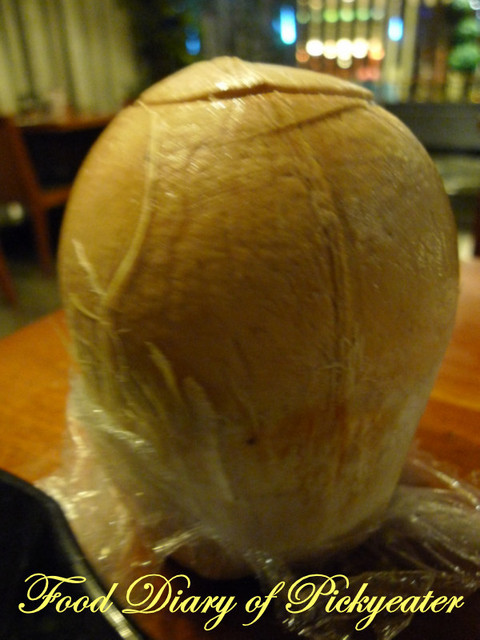 Sweet snow fungus with red dates and gingko in soup for dessert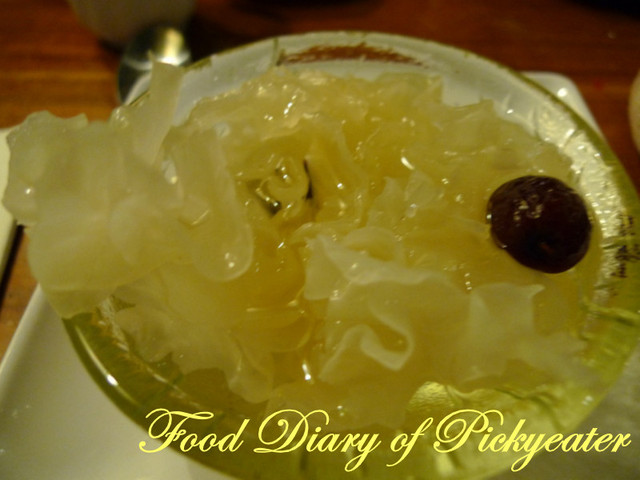 With such an indulging feast, it was worth the whole day's hard work and tiring journey and this certainly brings a new meaning to "Sing for your supper", doesn't it?
Needless to say, I was a happy camper that night.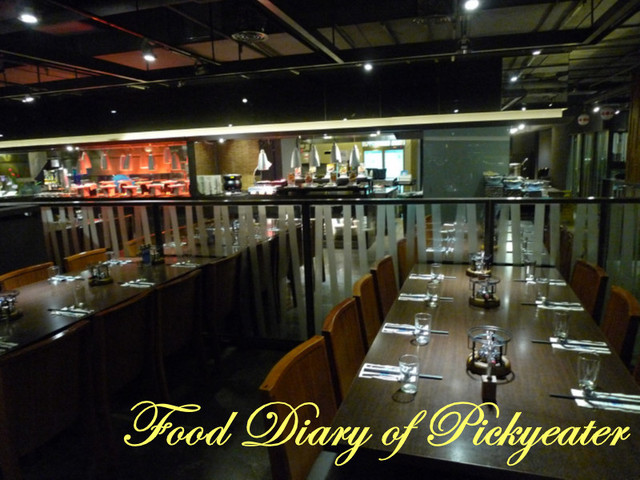 Warning: Not for the faint-hearted and do not do this on a regular basis...or you can, at your own risk!
Prices differ based on their hours (lunch, dinner, supper); but generally MYR70-80++ per pax.
Prices may have changed since my last visit though, I am not sure.
What was your most sinful treat or meal for supper/before bedtime?
I would love to hear, and it has gotta beat this....*grins*