A place for chilling out, with a good cuppa; be it tea or coffee or juices in a cosy and warm ambiance is all the rage is about these days for almost everyone of all ages.
This left little to wonder on the reasons behind the rising number of quaint little cafes popping up all over the country (or anywhere in the world) - to serve the very purpose to satisfy the cravings of the many leisure hunters or just the typical folks looking forward to a place to unwind and relax after a long day at work.
While many cafes are competing to outdo each other with their interior design, menus, privileges, etc, there are still those few evergreen cafes which withstood the test of time and trend and remains on the spot of the list of undying cafes in the midst of the rapid development.
I have my list of my personal favorites, of course, which remains in my stash of local haunts and chains, which is always shared and revealed in my blogs *winks*
One such place, in my list, perfect for whole day dining and just hanging out, is this cafe which hailed from the Land of Down Under; Dome Cafe.
Originally from Perth, this was a cosy little place which opened their doors in our humble turf here in the tropical country in Malaysia way back in the year 1995; making it almost a decade since their first presence here in our region. Well, it was in Perth where I rekindled my love for this cafe for their gorgeous pastries were just too tasty and there is just something about the ambiance that makes me feel at home.
(Think, a good book with a good muffin and cup of tea or juice - since I don't do coffee, lol)
I have even sat in a quiet corner to finish up some work and had my late lunch at the same time; rather rare for me, as I never did like the idea of eating alone but that idea just did not bother me when I was here.
I am not sponsored by Dome's in any way, to write this post, and I am not going to continue to sing my praises in a form of advertisement on this post either or it is going to end up sounding so commercialized when I am supposed to share on the food, and oh well, a little of my personal sentiments and memories of this Australian cafe.
There's all-day breakfast menu if you are a big fan of big breakfasts; loaded with all ham, cheese, eggs, bacon and pancakes. Or there are also sandwiches to bite from; or a more filling option with their fillers.
If you are into usual treats from the kitchen, well, there are options from pasta to cutlets and even fusion served hot right from their kitchen; such as this,
Spicy Chicken and Mushroom Pasta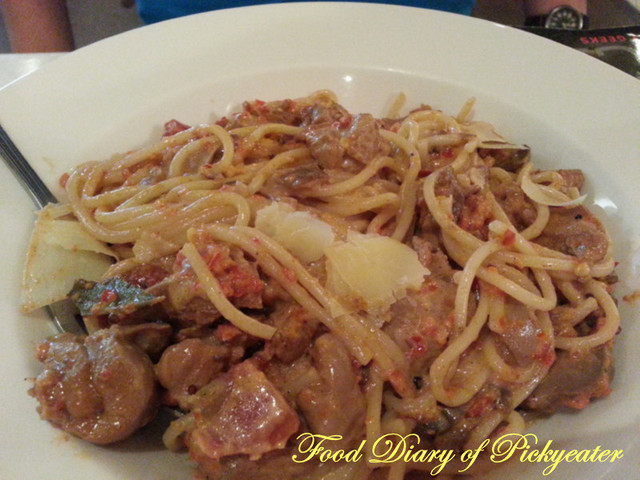 Medium-sized chunks of chicken tossed with sliced button mushrooms served with their, oh, mushroom sauce which was a tad bit spicy and you can opt for either linguine or spaghetti. In this case, it was obviously spaghetti. Quite a handful, I must say, of the portion.
If rice is more of your thing, there's a few options and the
Catch of the Day
, with the sight of creamy hollandaise sauce with prawns and the buttered rice, topped with sauteed vegetables and a fish fillet grilled then served with cajun spices might just do the trick to tempt your palates.
If food isn't really on your mind, then the drinks might be of your interest.
If you are a non-caffeine lover like us, then you can try the options from their juicy treats.
Apple Crush
One of my personal favorites whenever I am here; loved the icy taste with the sweetness from the red apples, not to mention the fragrant taste of the apples?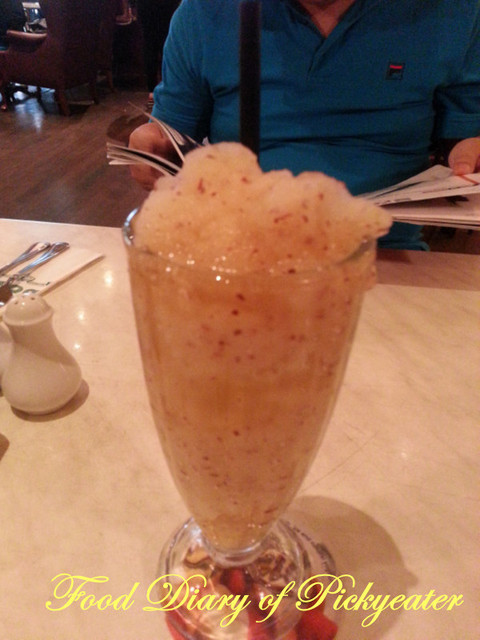 Or for a smooth and creamy health boost, the
Banana Shake
sounds interesting?
(It depends if you are really, a banana fan, for it is really all bananas in this drink... :-)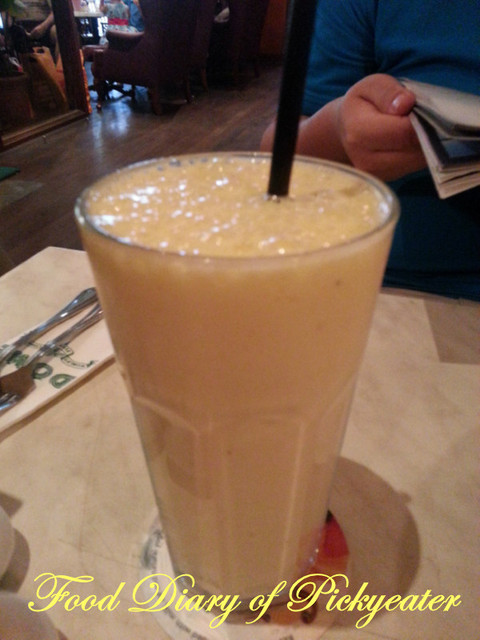 What is your idea of a simple and relaxing meal?
What is your favorite place to chill out?