Malaysians are a spicy lot, and I mean it with a zest! If you have noticed, most of the local Malaysian cuisines have been heavily influenced with the use of spices and can range from mild to the type that can send one jumping off the chair; or shooting off to the skies (literally so).
It is also a blessing that our cuisines have assimilated into the variety of flavors borne from the intermarrying trends of the multi-racial culture we have in the country; yet at the same time uniquely distinguished to reflect each of their own identity.
That being said, it does not mean that all Malaysians are immune to the spicy tastes in the flavors of their food; there are always exceptions (like myself, humbly so), and it is only fair to say that hot and spicy is no longer an exotic trend in the country but rather, a norm infused with the everyday dishes served at the table.
Some, as I know, don't go by without one spicy food (at minimum) a day and some even proclaim that they breathe 'spicy food', such was the importance of these spicy food in the local cuisines here.
With such a huge population lusting after the spicy cuisines, it is not surprising to see many eateries popping up to serve their very own homemade dishes to tempt the cravings of the hungry patrons, and especially popular is the cuisine from our neighboring country; Thailand. It is really a familiar face to spot in our local eateries; Thai themed restaurants are just making their homes here, with the warm welcome from our fellow countrymen and it is no wonder too, with their tantalizingly tasty (and spicy) food which just warms our souls (oh ya, warm to the max!)
Spotted a side stall or a rather humble abode of this Thai restaurant; which was running more on a fast food mode of operation and just my kind of place for lunch with my parents while beating the crazy crowd at the ever busy Gardens mall on a typical weekend.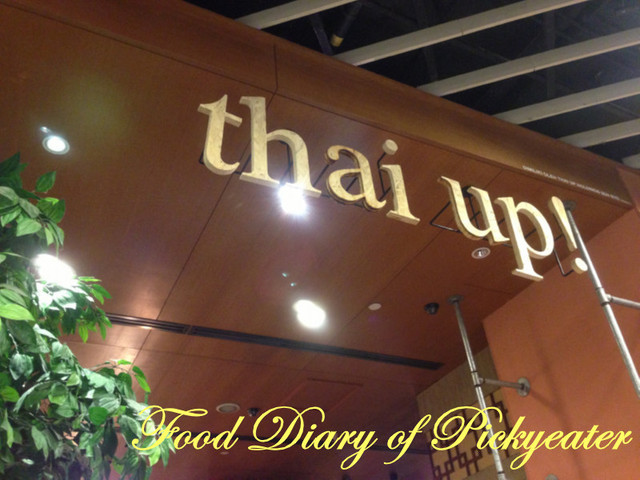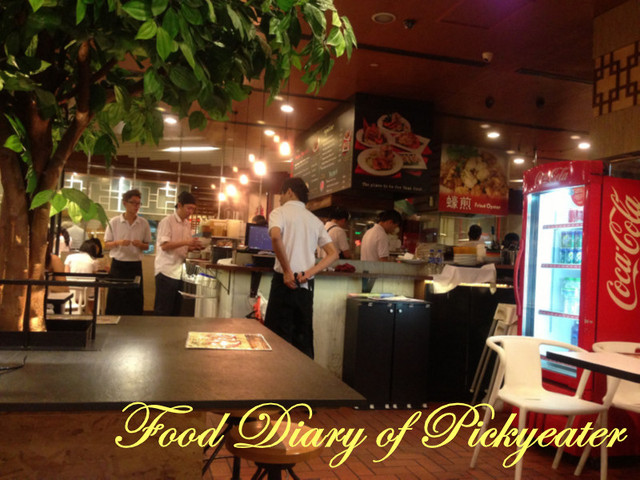 Tomyam noodles
- choice of hor fun (smooth flat rice noodles)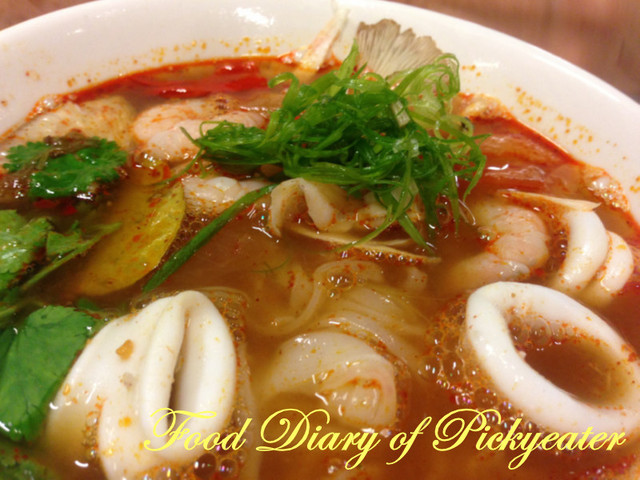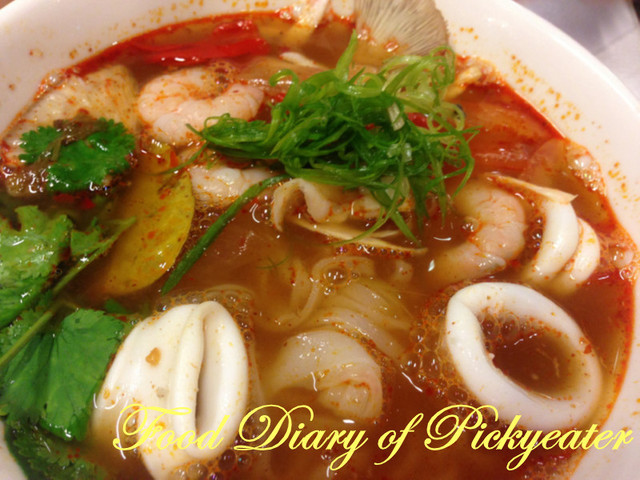 Fiery colored and the hor fun was smooth; paired with the flavorful tastes from the tomyam soup and the generous servings of fresh shrimps, squids and oyster mushrooms, this was a delightful bowl of comfort - especially on rainy days.
Green curry with roasted chicken rice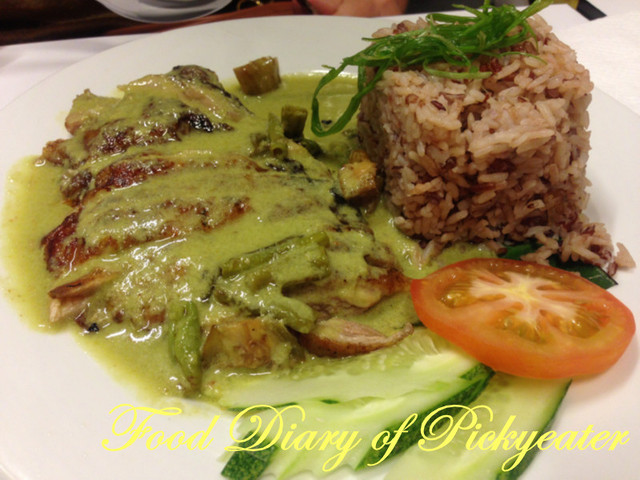 Fried Fish cakes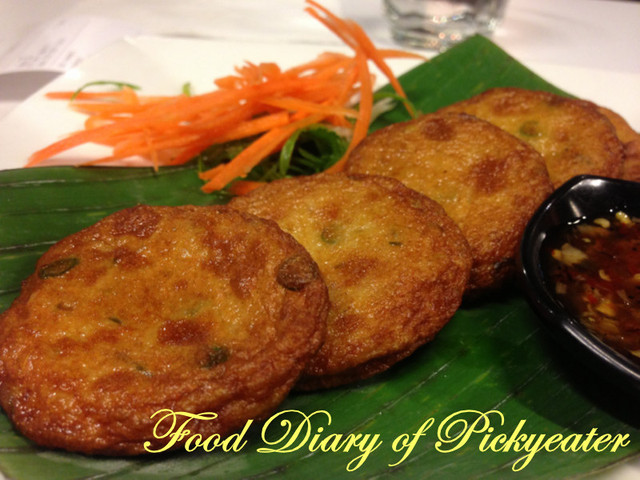 The highlight of the post is this following dish which took me by surprise; as I was quite intrigued by the sound of it when I saw it on the menu.
While most Thai restaurants serve the signature mango salad and raw papaya salad, I was surprised that this outlet offers one more on the list; pomelo salad.
While it was rather pricey, the taste from this refreshing mix of the citrus fruit with fried shallots and grounded nuts with lime was just appetizing! Somehow I love the combination :-)
(Forgive the sudden appearance of the prawn; it was from the tomyam soup and it just ended up looking so forlorn there. It may have lost its way and ended up in the wrong place. Hey prawn, go back to your bowl of tomyam soup so you may swim, you're not supposed to be on land, let alone next to a hill!)
I would love to try to make this at home someday; while I can't really cook yet (yes, still), salads are still manageable - so share with me any good (and please make them easy) recipes for salads ;-)
This made me crave for pomelo, and sent me pomelo hunting for weeks!~
I have had my pomelo fix, thank goodness though I would never refuse a good share of pomelo fruit again if any!