My very first post for the new year and after such a long break is to share with you on this particular "Tai Chow" Chinese restaurant tucked away in the vicinities of Desa Aman Puri.
Judging from the physique of the place, there does not seem to be anything unique or attractive about this place which can make it to one of my family's list of places to eat.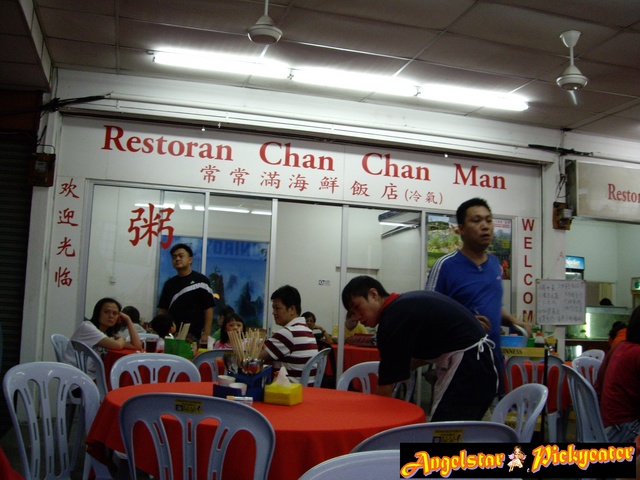 I have to admit, we were not impressed the first time we passed by but I guess it was that first "chance-upon-this-place" which made it on our family list of places to eat =)
That was what I had in mind during my first visit here anyway; and we were just game to try it out and break away from those usual places which spell boredom on those lazy days.
So, what's so special about this place?
Perhaps I should say the name itself is rather interesting; "Chan Chan Man" which means "Full House everyday" or literally also "Full house every meal"
I would say that is a pretty intelligent choice to have such a meaningful and auspicious name for a place operating for business and I am sure most of the Chinese readers agree with me.
Besides the name, there is nothing much special about their menu as they offer almost all the dishes which can be found in most of the Tai Chow restaurants.
However, one smart move they made was also the special promotional price for their Talapia fish (somehow a lot of restaurants are also doing the same thing) which was on for only RM9 per fish.
That was also one of the reasons which brought us here to sample for ourselves their dishes and as mentioned, add one more 'makan' place to the family list =)
Assam Talapia (RM9)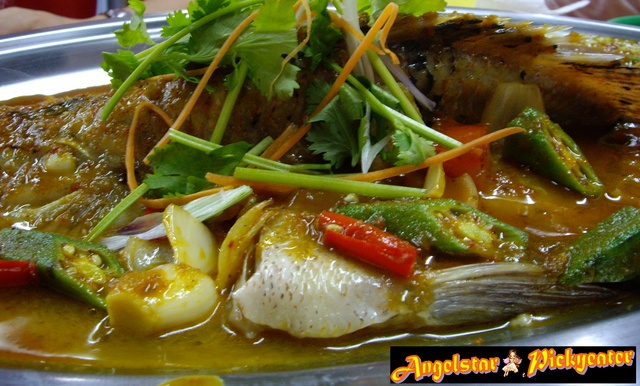 Despite being on promotion, you can see that the size of the fish served was not small either.
The fish was also really fresh as the owners rear it in their own aquariums.
Furthermore, this is one dish which is truly enticing to the appetite, I must say!
Another thing I observed about their fish is the unique way they cut up the fish's body into half to spread it around the fish's head in a fan-like shape.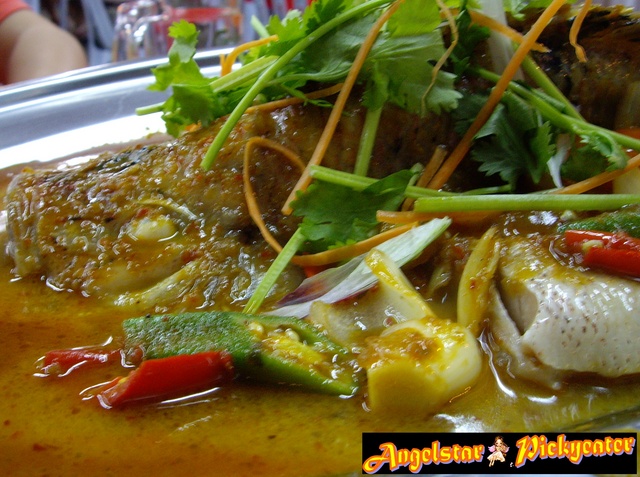 Wonder how they did that, but I'd rather not know if I want to have my appetite left for the nice gravy.
Another style which is recommended would be their Tomyam fish =)
Claypot tofu (RM10)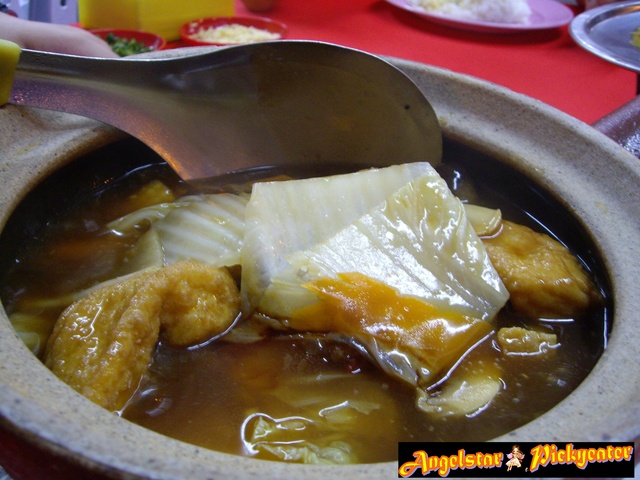 I love how it was served piping hot in the claypot; smokin' hot and with loads of veggies in it!
The beancurd was just so soft on the inside; and they were pretty generous with the thick slices of shitake mushrooms cut up in quarters.
It also came with lots of gravy and is definitely favored by children =)
This is one must-order for my family; the Spinach with egg white batter (RM8)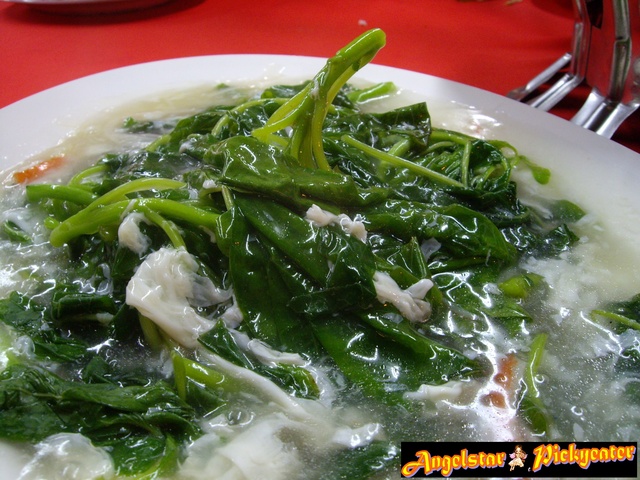 If you like Wat Tan Hor (thick flat rice noodles or Hor Fun fried with a starchy egg batter broth), you can expect to like this as well.
The best part of it is the broth is not too starchy or murky; it was actually quite clear and tasty with the light batter of egg white covering Popeye's favorite vegetable.
Overall, you can see most of the dishes were quite reasonably priced and the portion were quite generous as well.
I like that it is not too oily or heavily loaded with MSG or extra food additives as well.
By the way, I don't think they are still offering the fish at a promotional price anymore; but it is still worth a try as the price is not exorbitantly high either.
Don't worry about the portions, they are pretty wise and honest about the estimation and you will not be loaded with huge dishes with a huge price as well.
Not a bad place and you can definitely expect to see more of this place in my blog from now onwards with more dishes sampled with my family!~