This was a way OVER-dated post (notice I used OVER and not OUT) which was left in my stack of to-blog lists since Chinese New year.
When I finally dragged myself out of the crazy and hectic reality of work and work, I realized that this was still in the loot and so, here it is, a review of a restaurant in Cheras which I went with my family for lunch during the HOT weather of Chinese New year (and it is stil hot right now too!)
Due to the HOT weather, hawker stalls/food courts or any open-air restaurants were not really favorable or even in the consideration and since it was in the afternoon, there were not a lot of places available for a good rice meal with a few dishes (what's with all the restaurants only opening for dinner anyway?)
That was how we spotted this restaurant tucked away in the row of shophouses with most of the shops closed or open without much business (think furniture, curtains, hardware, Hotlink and Mamak)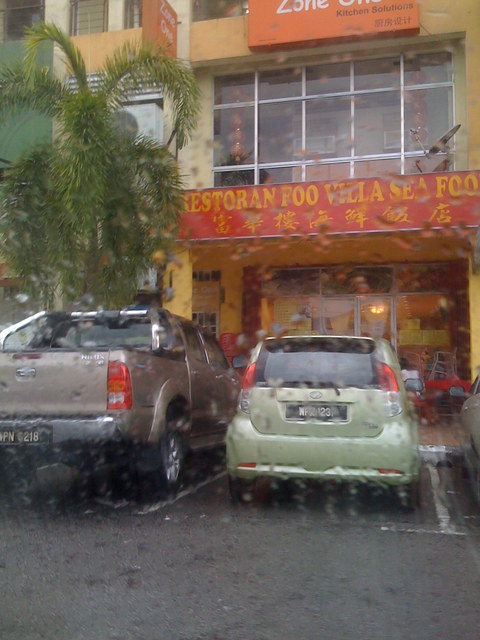 (this photo was taken at a later time when it was raining, LOL!)
There was only one table being served at the time and we had practically the whole restaurant to us, and the air from the air-cond just felt like a relief after being cooped in the car for a while. (Thank the inventor of air-conditioners!)
We left the recommendation of the dishes to the lady boss since this was out first visit here.
Stir-fried potato leaves with belacan (RM8)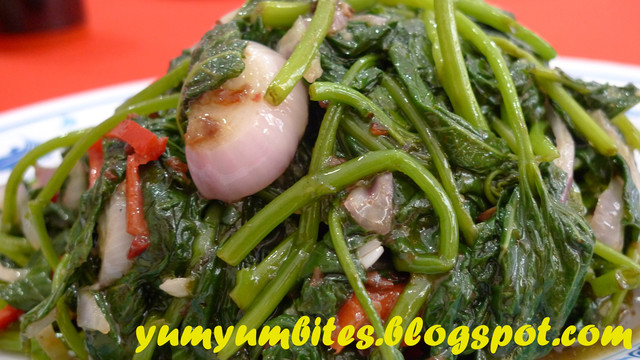 It was quite good; with fresh and medium-sized prawns tossed into the vegetables and there was a generous amount of largely sliced onions and red chilies.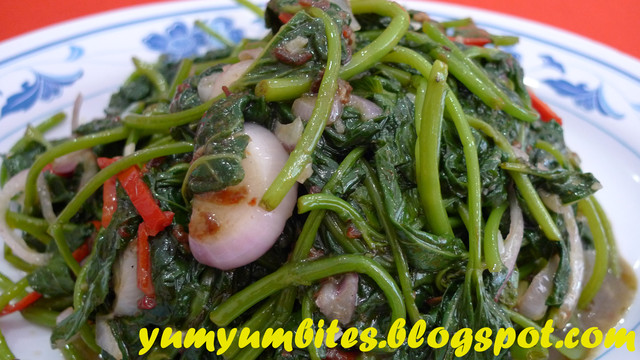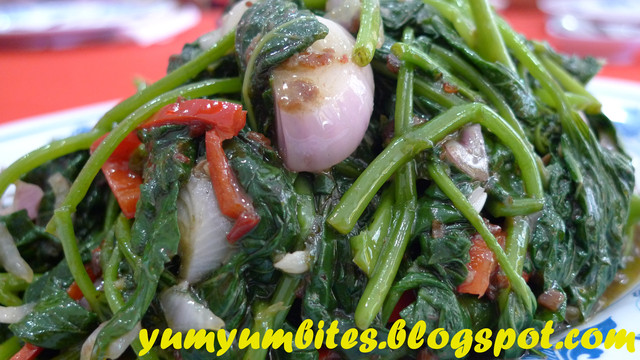 This is their in-house specialty dish; Specialty Beancurd (RM12)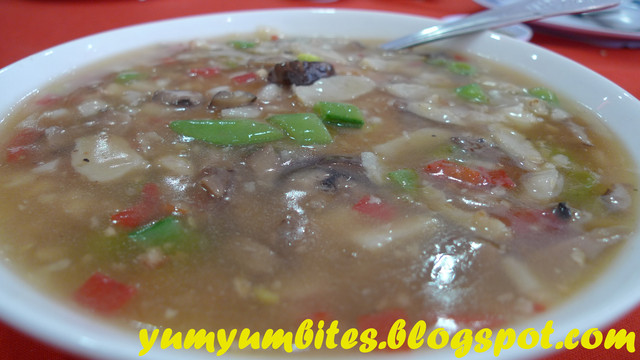 It was basically homemade beancurd cooked in an unique paste-like gravy with a distinct salty taste which reminds you of the fermented soy beans.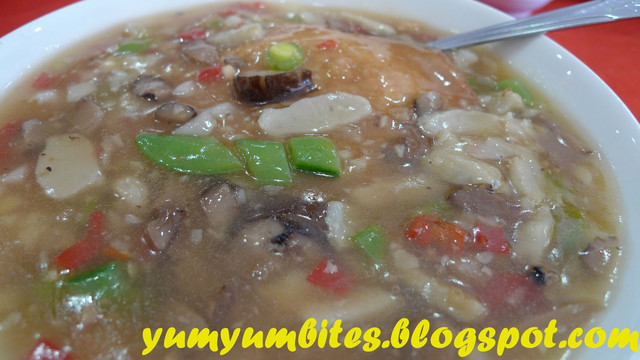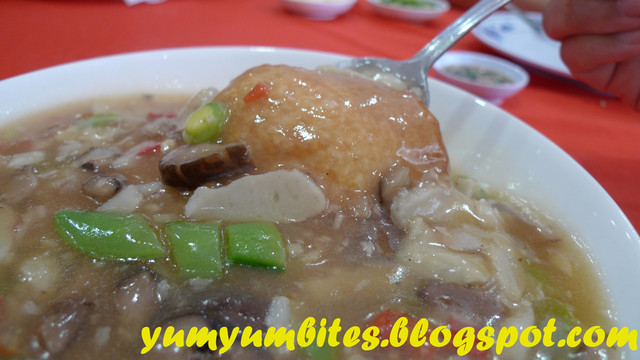 It was served with mushrooms, fishballs, crab meat, prawns, snow peas and carrots, all sliced thinly to condiment the thick gravy.
I liked how this dish turned out to be, and although I cannot recall the name of the dish, I do think this is worth a try and it is just like a pot of treasure with the rich amount of ingredients in it.
Sweet and Sour Pork Ribs (RM15)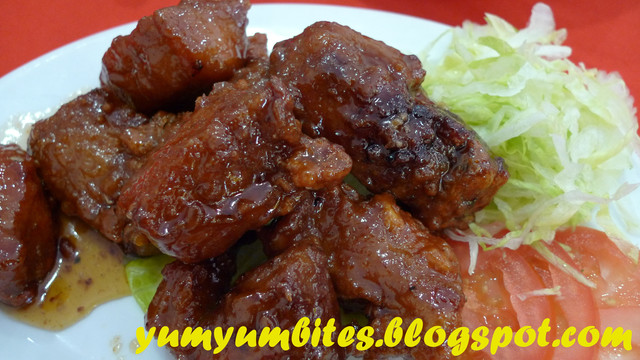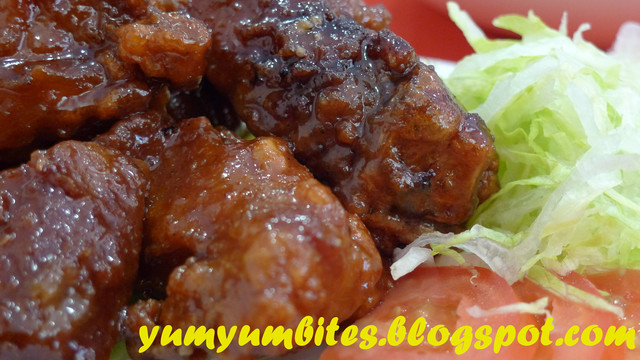 Steamed red talapia fish in Cheong Jing sauce (RM28)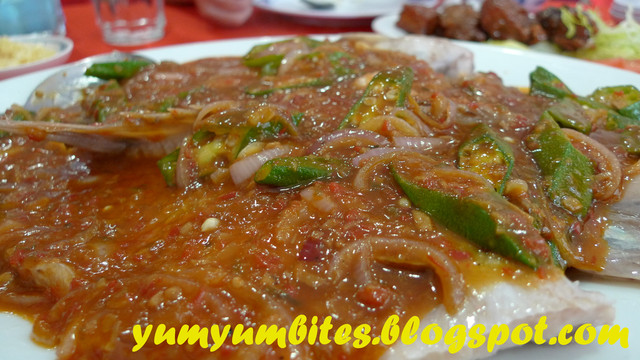 Their Cheong Jing style was quite unique; albeit being more expensive than everyone else.
Their sauce was rather thick and concentrated and a strong hint of spicy and sourish taste in it. I also liked how they complemented the dish with lots of onions and lady fingers which is totally different from other restaurants.
(I've noticed they love to use onions; largely sliced ones too in their cooking)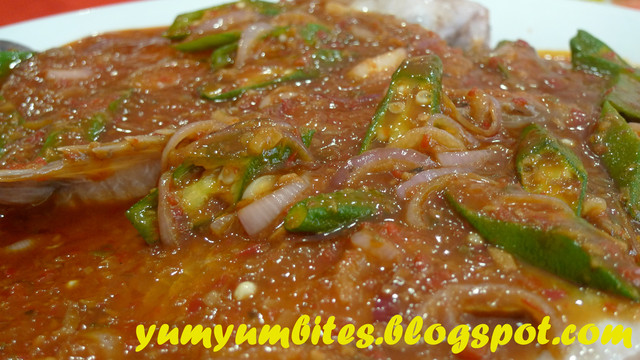 We spent approximately RM60++ on this meal; which was a little pricey for the simple dishes but judging from the portion and unique serving, it was still acceptable (not to mention the cooler air dining inside the restaurant)
If you are staying in Mahkota Cheras and you know the location of the new Jusco, you should be able to spot this restaurant along the row of shophouses facing the junction which you turn into if you come from Mahkota Cheras.
I shall try to get the address and map and upload it soon =)